Businesses frequently realize the necessity of having a web presence, but many fail to understand the relevance of having custom software. Custom software development tackles particular commercial weaknesses and meets the specific requirements of enterprises, and the best tech companies in NY are aware of this.
The best tech companies in NY welcome your input, suggestions, and criticism on essential functionalities and promote your active engagement in the software development process. By working together, you can be confident that the finished product will reflect your goals.
Making an informed choice requires doing background checks on possible software development partners. This article, therefore, discusses the best tech companies in NY that you could choose to outsource for your next project!
Table of contents
The Popularity of Tech Companies in 2023
The tech industry is increasing now more than ever, the year 2022 offered the software industry both difficulties and important milestones. Several well-known businesses, including Oracle, Malwarebytes, Unity Software, and Microsoft, announced large layoffs to reduce expenses after the COVID-19 pandemic originally caused an oversaturation of staff bases due to overhiring. Among these changes, promising things started to happen.
One significant achievement was the $61 billion purchase of VMware by Broadcom. This action represented a significant advancement in the field of multi-cloud services and the fusion of hardware and software. Additionally, Adobe, known for its creative suite, caused a stir when it unveiled new AR and VR tools, entering the dynamic metaverse of 3D experiences and e-commerce platforms.
The software industry is expected to be strong and resilient in 2023, maintaining its growth. Innovative platforms for worker communication and cooperation will receive more attention as remote work continues to rise.
Simultaneously, the adoption of Software-as-a-Service (SaaS) products keeps growing, and data migration from internal infrastructure to the cloud will continue to pick up speed. Furthermore, it is predicted that the worldwide SaaS market will surpass $197 billion in 2023, underscoring the sector's strength and expansion potential.
Benefits of Developing Tech Projects in New York
There are various advantages to working on tech projects in New York that help organizations succeed and expand. These advantages include having access to a large consumer base, talent, and capital.
Access to Talent
The software development industry in New York is home to a large number of highly qualified individuals. Top talent is also more readily available thanks to the state's Workforce Development Initiative, which provides $175 million to promote ever-growing industries like computer science and cutting-edge technologies.
Moreover, numerous prestigious universities, like Columbia University, New York University, and Cornell Tech, are located in the city and draw top students from all over the world. For software organizations trying to hire qualified developers, engineers, and other tech specialists, this generates a robust talent stream.
Tech companies in NY frequently focus on providing solutions customized to the area's demands. This demonstrates their in-depth understanding of how to handle regional problems.
Access to Capital
New York offers convenient circumstances for obtaining finance to support software development ventures. With investments reaching billions of dollars, several banks have started programs to lower racial disparities and improve Black developers' access to funding. This dedication to inclusivity and support fosters development and expansion in the software sector.
Large Customer Base
Tech projects have access to a broad and diverse customer base because of New York's dynamic metropolis and variety of sectors. Businesses in finance, media and entertainment, health care, e-commerce, and fashion are always looking for cutting-edge software solutions to improve their workflows and consumer experiences.
Software companies can take advantage of this large customer base and customize their solutions to match unique needs and specifications by working on projects in New York. The wide range of clients offers chances for development, teamwork, and the potential to demonstrate skills in many industries.
The Best Tech Companies in NY and Cool Alternatives
The following are our top 10 best picks for the Best tech companies in NY.
SARITASA
One of the top custom development companies, Saritasa, offers full-service technological solutions for mobile, web, 3D, and IoT platforms. They use cutting-edge technology to deliver solutions that go above and beyond client requirements, and they have been recognized as a Clutch Leader for Custom Software Development in LA & NYC.
Saritasa's goal is to build a reputation as a leading provider of technology solutions consulting services. Their sizable portfolio of globally recognized clients and successful projects, and a strong team of passionate and knowledgeable technologists demonstrate this. They picture a business run by intelligent, independently motivated international employees doing what they love.
To stay on the cutting edge, Saritasa collaborates with leading business technology companies. They consistently receive recognition for being a top development firm in various industries and tech stacks.
Numerous satisfied customers of Saritasa have commended their work. For example, Megan Vincent from Phillips Industries Inc. said, "We selected Saritasa as our website partner a few years back, and it has been a pleasing experience."
ClickIT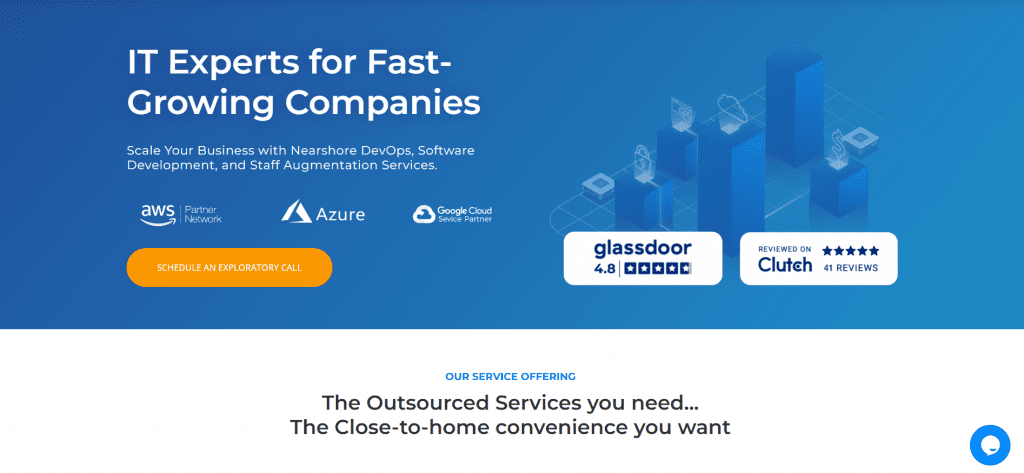 ClickIT is a cloud consulting company that offers DevOps, Cloud-native Development, and Nearshore Outsourcing to speed up the digital transformation of enterprises.
Among the services provided by ClickIT are the following.
Improves the company's cloud infrastructure and cuts costs by offering managed AWS services.
Implements DevOps methods and enhances their software delivery process using DevOps as a service.
Creates and deploys scalable applications in the cloud by offering cloud-native development services.
Clients of ClickIT have given them great reviews. One customer, for instance, said, "ClickIT has helped us to have a better infrastructure on AWS, reducing costs and improving performance." Another said, "ClickIT has been a great partner for us, helping to migrate our SaaS platform to AWS and managing it 24/7."
These endorsements show how much ClickIT's clients value the company's AWS experience and their capacity to assist companies in streamlining their cloud architecture, lowering expenses, and raising performance.

iTechArt Group
iTechArt Group is a custom software development company with a talent pool of over 3500 experienced engineers. They specialize in developing disruptive web products with strong backends and catchy UIs.
ITechArt has just established a fintech practice and center of excellence to support businesses in designing and constructing scalable solutions for challenging issues.
Clients of iTechArt have given them favorable reviews. According to a customer, "iTechart is the best option for employing developers overseas." Another client commended iTechArt for their professionalism and the high caliber of the code they produce, saying that "the effort of the iTechArt engineers has been fundamental and turned into very productive results."
TechNeed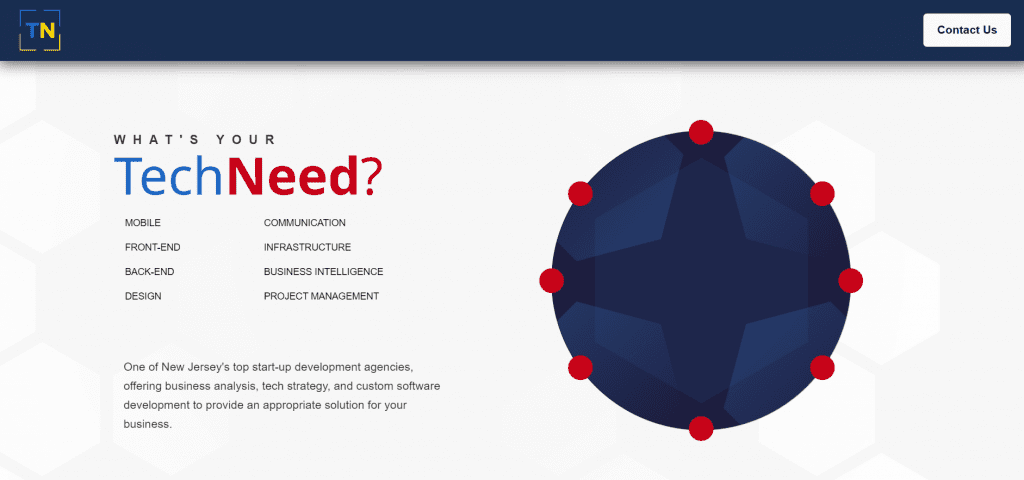 TechNeed is a software development company that provides services such as custom software development, mobile app development, and web development. Additionally, they offer services in blockchain technology, machine learning, and artificial intelligence.
One customer appreciated TechNeed's capacity to provide top-notch work and said, "TechNeed has been a great partner in our journey." Another customer praised TechNeed's crew for being "very professional and knowledgeable" and for their capacity to offer insightful information.
Haven Technologies
Haven Technologies is another best tech company in NY an advanced insurtech platform for the life, fixed annuities, and disability industries. It runs independently and is a fully owned subsidiary of Massachusetts Mutual Life Insurance Company (MassMutual). Carriers can use Haven Technologies' solutions for new business, in-force management, and product development by using a SaaS model to make them available.
Years of first-hand knowledge, successful problem-solving, and ongoing collaboration have led to the creation of Haven Technologies. They have a wide range of features, including distribution management, quote, and illustration.
E-application, e-delivery, case assistance, automated underwriting, underwriting workbench, product management, policy administration, claims policy service, policy migration tools, etc., are part of their services too.
Pro Software Company
Leading outsourcing company Pro Software Company offers a range of services to its customers. They aim to help people find employment possibilities so they can pursue their ideal careers.
The web design services offered by Pro Software Company assist enterprises in developing a polished and user-friendly online presence. Through the iOS and Android platforms, businesses may reach their clients on the go thanks to their mobile app creation services.
Their specialized software development services assist companies in streamlining operations and increasing productivity. Furthermore, their article-writing services help companies produce excellent content for their websites or blogs.
Businesses that use their SEO services can improve their internet exposure and drive more natural traffic to their websites. Moreover, their backlinking services assist companies in raising their search engine ranks and increasing the volume of incoming links to their sites. 
Finally, their YouTube marketing services assist companies in advertising their goods and services on well-known video-sharing websites.
Smartly.io
Smartly.io is one of the best tech companies in NY in SaaS digital advertising platforms, managing nearly $5B in ad spending with 700+ brands worldwide.
Their platform has several capabilities, such as budget pacing, geo-targeting, and campaign management. They also provide various ad templates, making it simpler for designers to start and test various paid ad campaigns.
Smartly.io favorable reviews include a customer that described them as an "excellent video and social media advertising and creative management software." The client also highlighted its capacity to test and roll out various paid ad campaigns.
Smartly.io's website, according to another client, is "a great tool to upload multiple creatives to social platforms at once and adjust bids and signals for them all."
Sisense, Inc.
Sisense is a business intelligence tool that goes above and beyond conventional BI by enabling businesses to embed analytics into every client and employee app and workflow.
Their highly customized, AI-driven analytics cloud platform, Sisense Fusion, injects intelligence at the appropriate moment every time. More than 2,000 multinational corporations use Sisense to innovate, disrupt markets, and bring about significant change in the world.
Clients of Sisense have given them favorable reviews. One client stated that "Sisense is extremely powerful for easily connecting to data, mashing them up, and letting non-technical users build the dashboard they need." Customers also commended Sisense's user-friendly dashboarding and data modeling interface.
Hyperlink InfoSystem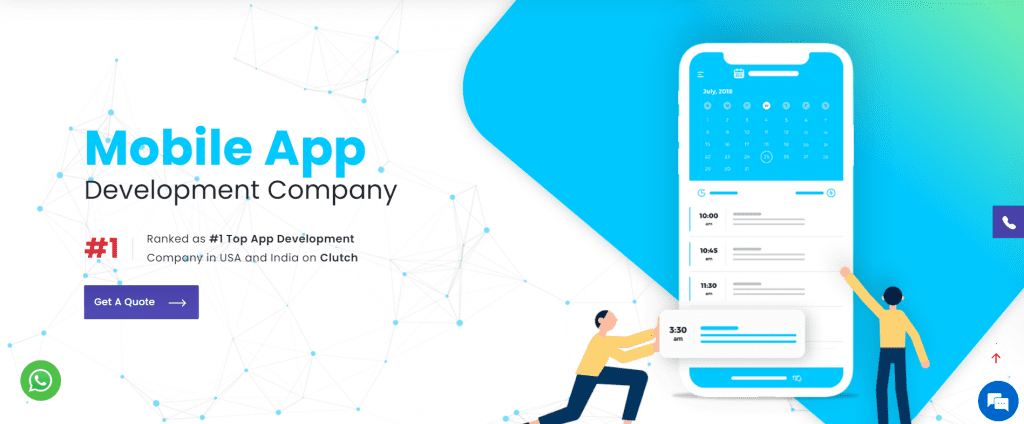 Hyperlink InfoSystem is an IT solution provider company that offers best-class solutions to all businesses and enterprises covering most domains and realms.
The company was founded in 2011, and it provides organizations with cutting-edge expertise to create innovative and unique mobile applications. Each application (including web and native mobile apps, games, AR/VR, etc.) is creatively designed by their team of professional developers in partnership with customers.
Additionally, they offer services for building blockchains.
For its clients, who are based all over the world, Hyperlink InfoSystem has a committed and knowledgeable team of professionals who develop innovative and affordable solutions.
Why do New Yorkers choose ClickIT as a Nearshore Tech Company?
New Yorkers choose ClickIT as a Nearshore Development Company due to several key factors that set them apart.
First off, ClickIT specializes in offering state-of-the-art solutions to enterprise, SaaS, and startup businesses. They can produce top-notch, cutting-edge solutions specifically suited to their client's needs. All because of their knowledge of DevOps and software development.
ClickIT provides extensive services that cover analysis, consulting, design, and implementation of unique cloud projects as an AWS Advanced Partner. They can create scalable and effective cloud solutions for their clients with their expertise in utilizing AWS technologies.
There are many advantages to choosing ClickIT as your nearshore software development partner. Through the process of outsourcing, you can begin contracting with a group of skilled employees in a nearby country. With this strategy, New Yorkers can take advantage of simple time zone connections and common cultural experiences. Businesses can streamline processes and improve communication effectiveness by working with independent contractors or a reliable local software development outsourcing provider.
ClickIT takes pride in being a group of knowledgeable issue solvers who highly value constant client communication. Strong partnerships are fostered by this dedication to open and honest communication, which also ensures that the development process is in line with the objectives and expectations of the clients.
To Wrap Up
When a company wants to develop custom software that meets its unique requirements, it must turn to the Best tech Companies in New York. These businesses' clients are actively involved in the development process as the companies recognize the value of their opinion.
With a focus on remote work, SaaS products, and cloud migration, the software sector is anticipated to stay resilient in 2023. A varied consumer base from sectors like banking, media, healthcare, e-commerce, and fashion is available to software developers in New York, with access to a skilled workforce and abundant funding.
Top tech companies in NY include Saritasa, ClickIT, iTechArt Group, TechNeed, Haven Technologies, Pro Software Company, Smartly.io, Sisense, and Hyperlink InfoSystem. These businesses offer creative ideas, get good feedback from pleased customers, and exhibit knowledge in their specialized fields.
If you are still wondering, give ClickIT a shot to accelerate your digital transformation and streamline your cloud infrastructure.

FAQs
Who is the no. 1 tech company in the USA?
Microsoft Corporation.
What tech companies are located in New York?
Saritasa, ClickIT, BairesDev, iTechArt Group, TechNeed, Haven Technologies, Pro Software Company, Smartly.io, Sisense, and Hyperlink InfoSystem.

Is New York a good place for software engineering?
New York, although known as an expensive city, is a fantastic spot for software developers to launch their careers. 

Is NYC a good place for tech jobs?
New York is one of the top places for IT careers. The diverse economy of New York offers tech employees special options.