As technology continues to prove its importance in the world, more and more tech enthusiasts seek the right opportunities to become a part of it. Nevertheless, looking for the best tech companies to work for in 2023 can be challenging. Tech companies are very different from each other, and not everyone might offer what you are looking for.
We will discuss the best tech companies to work for in 2023; what do they offer? What makes them the best? Let's start by painting a general outlook of today's panorama when working in tech.
Although many consider 2023 to be a "sober" year in tech compared to the last one, the industry will keep its innovation and dynamism that characterizes it. Technology keeps maturing and evolving, and we will see the development of several technologies that have proven potential to change how we work and live.
Artificial intelligence, virtual reality, cloud computing, and augmented reality will be some of the themes in the main focus. And, as data breaches and cyber threats become more common, cybersecurity will be of paramount importance too.
Tech companies will search for very competitive workers. And there will be a great demand for high-skilled collaborators with experience in emerging technologies. Companies may look for professionals capable of bridging the gap between technical and non-technical roles (like software developers and project managers). So, it's important to know the top tech companies to work for in 2023.
Table of contents
What Are the Benefits of Working in the Tech Industry?
Working in tech is a great opportunity for both professional and personal growth. Being part of an industry in constant evolution allows you to witness the progress firsthand and evolve with it. Even though some might feel intimidated by the idea of working in IT, a field conventionally associated with academically-difficult subjects, tech workers come from all educational backgrounds.
In the best tech support companies, you will find the opportunity to be curious, passionate, and creative. Perform independent work and collaborate on exciting projects too.
Here are some of the top benefits you may access when working in tech.
Excellent earning potential
There's a high demand for tech workers due to an increasing focus on collecting and storing big data, cloud computing, and information security.
UX designers, software engineers, digital marketers, and other positions are in great need. Consequently, many organizations pay top dollar to hire talented and qualified individuals to fill these roles.
In recent years, tech workers have become a fundamental part of how we do business and almost every other activity globally. Taking this into account, working in tech means all roles inside an organization, even the junior, entry-level IT roles, are invaluable.
If you are not part of the industry yet, remember that the earlier you get in, the earlier you pave the way for career progression, excellent job benefits, and generous earnings.
Variety
Just as we mentioned before, IT is a varied field that requires tech workers of all kinds. From Digital Marketers to DevOps Engineers, Security Experts to AI Developers, and Support Technicians to Project Managers. They are all welcome. 
As the industry continues to grow, we might see even more roles available in the future. Remember that you don't need to know everything about computing programming to become one of the many people working in tech. For example, you can find graphic design, human resources, project management, marketing, and more opportunities.
Working in IT gives you a great chance to explore your creative side and develop solutions for possible challenges. Tech workers are constantly looking for innovative ways of solving problems, which requires them to employ their creative thinking. Assuming those challenges and facing them could help you feel satisfied with your career, as new goals never stop appearing.
Flexible hours
As long as a product is developed and delivered on time and is capable of performing according to the client's wishes, standard business hours don't matter too much for most tech companies. Creating a quality product can not be done only between 9:00 AM to 5:00 PM.
Moreover, depending on the position and the agenda, not all IT workers need to attend the office on a daily basis. Even some of the best tech companies to work for offer the option of remote work; from the comfort of your home, a beach, or almost anywhere in the world.
Such flexibility can help create a healthier work-life balance, allowing you to accommodate your needs easily. As long as you have the necessary conditions to fulfill your duty and are responsible for the liberty given, you mustn't face any significant problems.

Growth opportunities
If you are consistently looking for learning opportunities, we assure you that the best tech companies to work for will provide them. That feeling of being "stuck" will not come, as you'll always be learning new tools to apply or different programs to master.
Although it plays a massive role in our lives and has been playing for the last 25 years, technology is still a relatively new field. The current demands for security specializations and all the diverse subjects that arise keep it as fresh and challenging as ever.
Other industries, offer employees a relatively limited set of job responsibilities and opportunities to expand their capacities outside their daily tasks. On the other hand, working in IT helps you grow and build a set of skills that will enhance your value as a worker the more your career advances.
High demand
From education to retail, healthcare, finance, and more, most sectors depend on tech to function. As we've mentioned, digital transformation and development have become permanent factors in our lives. On that account, some consider working in tech a safer choice than ever before.
The high demand for IT workers provides employment opportunities for those with appropriate skills. Tech's permanent evolution increases the need for more people to fill more positions. This translates into the need for more IT workers and more competitive wages too.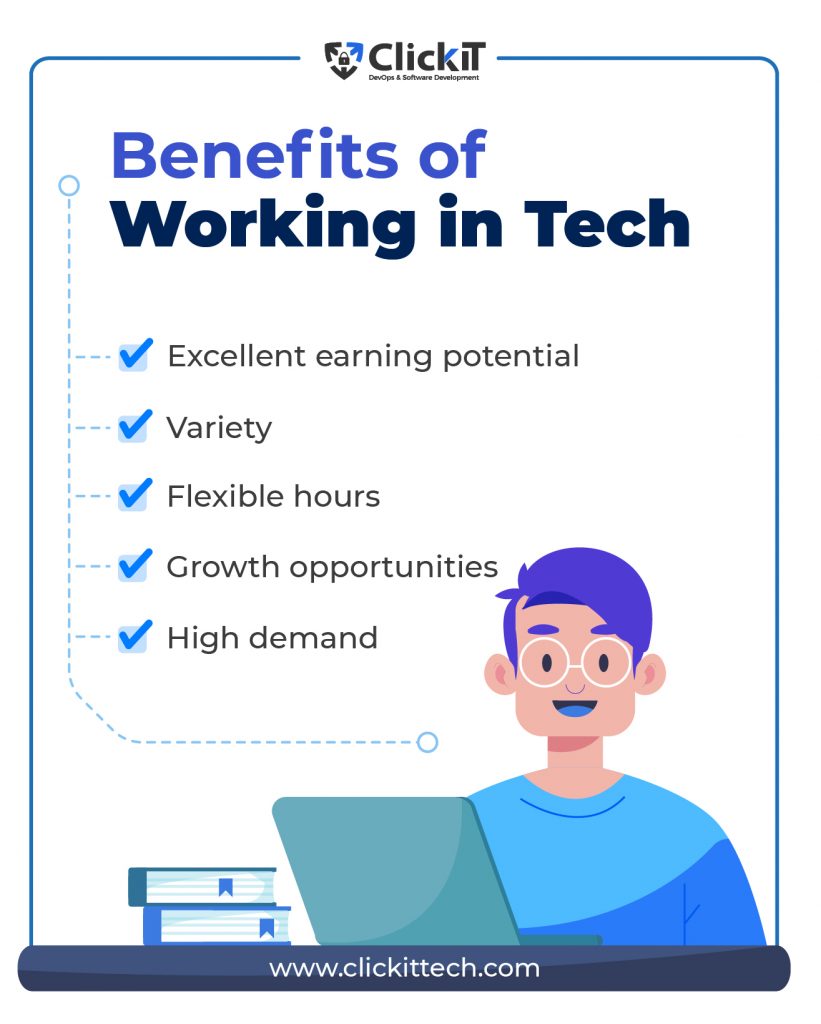 How to Choose the Best Tech Company to Work for
Salary and benefits
It may seem obvious, but as an IT worker, you must select a job that offers a salary and benefits that accommodate your needs. They reflect the value an employer places on its employees. They recognize a tech worker's unique skills and talents, motivating them to grow and professionally develop.
Such aspects can significantly impact the lifestyle and performance of a tech worker. Feeling appreciated for the work you do goes a long way. It inspires you to perform better and give all you can to reach your (and your company's) goals.
Work environment and culture
Look for a culture that fosters a positive and productive work environment. Tech workers want to feel safe and empowered at their jobs. A company with a clear mission and values reassures employees even when risks or important challenges are in sight.
When working in tech, remember to choose the best tech support companies company that celebrates learning from mistakes and encourages curiosity by preaching a growth mindset. You value your job even more when you feel cared for and supported.
Be a Clicker and experience a unique and rewarding culture.
Professional and personal life balance
Does the company emphasize work-life balance? Does it allow IT workers sufficient time off to develop their professional and personal lives?
Always remember the relevance of balancing personal and professional life, especially working in tech. Such equilibrium grants you the best version of yourself. Only focusing on your career makes you forget about your personal life, which can eventually lead to burnout. On the other hand, neglecting your job may limit your future professional goals. Balance helps you stay motivated, focused, and productive in your career.
Career development
The right company must offer opportunities for personal and professional growth. In a field like this, enterprises should provide the required training for their workers to stay on record with the latest discoveries and trends.
Access to career development opportunities ensures that employees grow their skills, advance in their careers, and stay competitive when working in IT. Additionally, it can provide employees with a sense of satisfaction and fulfillment, benefiting the company and the employee.
Values alignment
Your personal values align with those of your company should not be overlooked when working in IT. A member's daily work must connect directly to their organization's mission. This way, you'll see how your work contributes to achieving the company's goals.
When employees align with the company's values, they are more passionate about their work, contributing to its success. This creates a strong and productive culture that employees feel proud to be working in tech.
Accountable leadership
Tech workers must believe that their organization and the people they work for believe in them and their work. The best tech companies to work for have leaders who monitor whether employees thrive in their environment. Accountable leaders remained focused, organized, and optimize the use of talent.
Managers must clearly understand employees' skill sets and their expectations of the job. Poor management leads to delays, inefficiencies, and lowered morale that making them the best tech support companies.
Challenges
IT workers enjoy feeling challenged in their work; it motivates them. Challenges provide an opportunity to grow professionally, develop technical aptitudes, solve problems, and improve communication skills.
The best tech companies to work for take on challenges that build a sense of accomplishment and satisfaction when completed. These projects create an energized and exciting work environment, boosting morale and job satisfaction.
Company reputation
When looking for a job in tech, remember to check companies reputation, as it provides insight into the company's culture, the quality of its products, and its treatment of employees.
A good reputation can indicate the availability of creative opportunities, a positive working environment, and competitive salaries. Conversely, a poor reputation may signal a non-dynamic work environment, low values, and insufficient resources. Committed organizations carefully craft a positive reputation, as it helps them attract and maintain a talented team. You can look at their review platforms to learn what their collaborators say.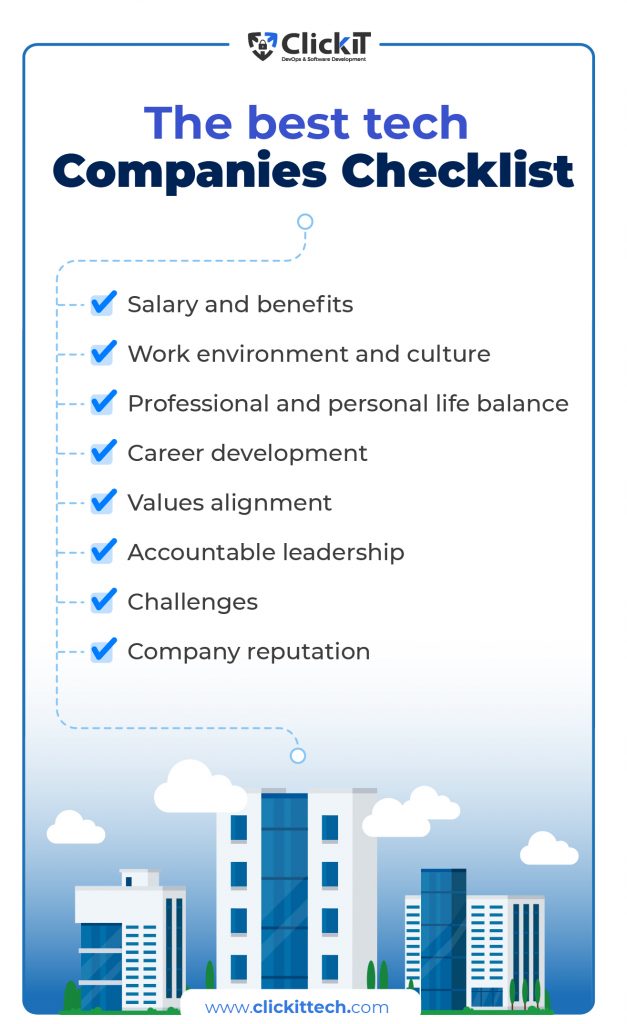 What are the Best Tech Companies to Work for in 2023?
To nobody's surprise, you'll find some of the most successful IT companies in this section. Google, Hubspot, Microsoft, Gainsight, ClickIT, and more are listed here due to their compromise of listening to their workers and providing excellent work environments, ideal for professional and personal growth, here are the top tech companies to work for in 2023.
Google
"Great culture, excellent benefits, and flexible work-life balance."
This tech giant provides a range of internet-related products and services. Google's participation in the market includes cloud computing infrastructure, smartphones, cloud-based productivity softwares, and more.
Thanks to its vast budget, the company excels in its supply of benefits to IT workers. Jobseekers sought-after Google the most, as working in it lets you interact with some of the brightest tech people in the world.
Nevertheless, a challenging aspect of working in tech with the giant are the astonishingly high expectations of performance and loyalty from employees. There's a lot of competition between workers too, which has strong rumors of not always being fair and limiting advancement potential.
Benefits
Google's famous benefit plan encompasses health and wellness insurance, financial and retirement plans, free lunch and snacks, pet-friendly installations, tuition assistance, and more. There are also hundreds of free internal courses and the option of educational reimbursement.
HubSpot
"Great people, great autonomy, great management"
The software provider's primary business is a CRM platform that hooks into products for sales, marketing, content management, operations, and customer service. HubSpot is renowned among digital marketing organizations as its wholesome platform caters to large and small businesses. It also has an excellent reputation among tech workers, who constantly flatter the company's values and willingness to assist its team. HubSpot provides opportunities for career growth as well.
On the other hand, HubSpot employees work under strict deadlines and have to meet high expectations.
Benefits
HubSpot's plan of benefits and perks is designed to foster employees' professional and personal development. Flexibility sits at the core of its workplace culture, which focuses on creating each team member's ideal work-life fit.
The company offers good health insurance, 16-week parental leave, and company equity. In addition, workers enjoy unlimited vacation, annual tuition reimbursement, coaching and therapy sessions, free books program, and paid holidays.
Microsoft
"Supportive culture. Excellent company!"
Microsoft has been in the IT industry's main stage since its foundation in 1975. Nowadays, it positions itself as a multinational technology corporation offering enterprise applications, software for businesses, personal computers and devices, consumer electronics, and one of the largest cloud platforms in the world.
Microsoft is dedicated to manufacturing innovative products that help the industry evolve, and it considers employee retention an essential aspect of achieving its goals. Hence, it provides exemplary benefits that encourage innovation and competitiveness within its workforce.
The corporation also has a great interest in diversity, inclusion, and its social impact. They are constantly searching for different perspectives and positions to enrich, inform and innovate the company's activities.
Some of the cons of working with such a big company (around 90,000 employees) include the struggle to stand out and move up. According to workers' reviews, managers tend to care primarily about finishing projects and neglect advocating for their team and career goals.
Benefits
Microsoft benefits cover health insurance, mental health care programs, employees' stock purchase plan, fertility assistance, and military leave. Paid holidays are also included, free lunch or snacks, gym membership, tuition assistance, apprenticeship, and diversity program.
Adobe
"Adobe is one of the best employers in the state."
Adobe's broad market encompasses marketing trends, creativity, and document management products. Photoshop, Premiere Pro, Adobe Acrobat, Adobe Sign, Adobe Analytics, and Marketo Enagage are some of the many applications in the company's portfolio. Moreover, at the end of 2022, Adobe acquired Figma, a developer of collaborative design technology tools used by the world's largest software companies.
Adobe's main goal is to change the world with digital experiences; that is why its solutions seek users' empowerment through programs that help bring their ideas to life with core values that promote equality, inspire creativity, and make you feel comfortable.
The company is said to treat its staff well, offering competitive benefits and focusing on cultivating a work environment based on rewarding loyalty and commitment. Nonetheless, the enterprise's bureaucracy hinders meaningful progress, making employees feel stuck in a position for an extended period.
Benefits
Adobe shows its care for its staff by providing benefits that support special life moments. For example, the "welcome back" initiative applies when employees return from an absence, sabbatical, bereavement support, and educational assistance. Workers can enjoy a 4-week sabbatical (after completing five years of employment) and purchase Adobe stock 15% below fair market. Yearly educational reimbursement is also available.
LinkedIn
"Love LinkedIn."
As LinkedIn commits to providing transformational opportunities for its employees by investing in their work, there's no surprise in its inclusion in such a list. The Microsoft-owned platform is ideal for businesses and job seekers. Being the world's largest professional network, LinkedIn creates economic opportunities for everyone in the global workforce.
The corporation believes that everyone deserves access to economic opportunities. LinkedIn has different initiatives like its Social Impact team, which helps building connections for professionals facing barriers with the networks and resources needed to build their careers.
With a lot of effort and perseverance, the platform is now a valuable tool for making powerful colleague connections, discovering exciting positions, building skills, and gaining valuable insights daily. Additionally, LinkedIn makes many efforts to make employees feel appreciated and valued with commendable ratings, attractive benefits, a healthy work culture, and team-building events to motivate teamwork.
Even though it is difficult to find a negative comment regarding LinkedIn's working experience, some employees have commented on its slow project development process and high expectations to meet sales numbers.
Benefits
According to employees' reviews, LinkedIn has one of the best benefits packages in the tech industry. It has some of the top-rated health, dental, disability, and mental health care insurance. Stock options, equity incentive plan, vacation, and paid time off are included too.
Gainsight
"The best place you will ever work."
Gainsight is a venture-backed tech company specializing in product experience software and customer success. The enterprise helps businesses grow by increasing upsell, driving customer advocacy, managing customer relationships effectively, and transforming the way organizations orient around the customer. It is the platform of choice for Adobe, Box, and other leading companies and is part of the top 100 private cloud companies by Forbes.
Its core purpose is to help businesses surpass their customers' needs and desires, and deliver great experiences. To accomplish it, Gainsight orchestrates the businesses' customer-facing teams and information into dashboards and playbooks. Inclusion and diversity are the core of Gainsight's values.
The staff promotes a culture that celebrates inclusiveness, and diversity, regardless of race, sexual orientation, gender, religion, age, etc. Gainsight commits to achieving its success and that of its employees, customers, and partners. On the other hand, workers have complained about the lack of work-life balance when working for the company, no employer-sponsored savings plan for retirement, and no funds for continued education.
Benefits
Gainsight is a remote-first company with complete health, dental, eye, and life packages. They give performance bonuses, vacation and paid time off, holidays, and free lunch or snacks.
ClickIT
"The work environment is just the best, and I have always been supported to grow as a professional."
This IT and software outsourcing company has over ten years in the market, and it's known for supplying the best cutting-edge solutions to help startups, enterprise companies, and SaaS. ClickIT excels at developing holistic solutions that integrate consultancy, design, analysis, and implementation of custom cloud projects. It assists tech companies in building cloud applications and implementing DevOps through its remote nearshore collaboration model.
ClickIT is one of the top tech companies to work for in 2023 as they always looking for new exceptional talent ready to build a career suited to its personal and professional needs. It truly believes in education; that's why it never stops supporting Clickers' learning curve and providing the best certifications and courses to improve their technical knowledge and skills.
One of the company's main characteristics is being 100% focused on its collaborators, its flexible and friendly environment, which lets employees feel comfortable in their workplace while giving them all to deliver top-quality products.
Benefits
ClickIT likes to recognize its team members' efforts with performance bonuses. They also have the option of comfortable remote work, international certifications, courses, and workshops, generous private health insurance, mental health support, and an assigned leader to mentor their team.
Additional benefits include: personal work computer and accessories, virtual and physical library, accounting support, English classes, and physiotherapy. Retirement savings accounts, savings accounts, and integration activities are covered too.
Don't wait any longer; create the professional life of your dreams with ClickIT! Become a Clicker!
Box
"Great product and great team."
Box is a top tech companies to work for in 2023, revolutionizing how organizations and people work by offering a cloud-based content management, file sharing, and collaboration tool. As a cloud content management leader, Box helps businesses access and control their information in the cloud. It seeks to upgrade how the world collaborates in a single platform for secure content collaboration, management, and workflow.
Back when one of the best tech companies to work for started, its objective was to ease access to information and collaboration between associates. Now, even when the company has evolved, the focus on delivering transformation to organizations prevails. Furthermore, its compromise with clients now involves the company and its collaborators too.
Box seeks to build a diverse workforce where "Boxers" (its employees) feel comfortable and empowered to champion all their ideas. Boxers' community is one driven by values that welcome diverse backgrounds, ideas, experiences, and perspectives with open arms.
The company dedicates to building a diverse and safe workforce where every employee feels like they belong. Its environment functions due to the collaborative work of each team member and the trust and respect for one another.
Box is not free of areas of opportunity, and a few employees have manifested their non-conformity with the absence of a 401k program.
Benefits
Like companies mentioned before, Box has a well-rated health insurance program. In addition, it offers an employee stock purchase plan, equity incentive plan, employee assistance program, and mobile phone discount.
NVIDIA
"Stable and secure company to work for."
NVIDIA is also one of the top tech companies to work for 2023, the leading provider of graphics processing units and a full-stack computing company with high-performance chips, enterprise software products, and purpose-built systems. It is a pioneer in accelerated computing and, in 1999, invented the GPU, which led to the evolution of the PC gaming market. The invention also ignited the era of modern AI, redefined computer graphics, and fueled the metaverse creation.
The company's employees can advance their careers in the industry only through the dedication and hard work. However, you may need to work extra hours, especially when seeking promotions. NVIDIA's high competition between team members can sound a bit scary, but it will help show commitment and initiative in your role.
Benefits
NVIDIA's comprehensive benefits package provides life and disability protection, health care coverage, and pre-tax savings opportunities. Furthermore, it also offers a health savings account, charitable gift matching, employer-sponsored savings plans for retirement, maternity and paternity leave, and tuition assistance.
MathWorks
"Great culture, great impact in the world"
This leading mathematical software developer is the house of projects like MATLAB and Simulink. MATLAB is a programming habitat for data analysis, algorithm development, numeric computation, and visualization.
MathWorks develops the software that shapes most of the things we rely on daily. Our cell phones, cars, planes, medical technologies, and more, most of them were developed in some way thanks to MathWorks and the incredible team behind every one of their projects.
Meanwhile, Simulink is an environment for simulation and design of multidomain and embedded engineering systems. Both are fundamental research and teaching tools in different learning institutions and universities. Such products accelerate innovation, discovery, and development in aerospace, financial services, automotive, biotech-pharmaceutical industries, and more.
MathWorks is constantly praised due to its good work-life balance and the incorporation of young talent into the team. Nonetheless, low salaries is a persistent employee complaint.
Benefits
Besides the traditional benefits program, innovative perks of working at MathWork are the stakeholder bonus program and EV charging stations. Onsite fitness centers, access to services for work-life balance, and cash bonus for referring someone who became an employee are included too.
Working at ClickIT
Working at ClickIT means improvement; it means being part of one of the best tech companies to work for.
At ClickIT, we care for our team; we are aware they make us stronger, they are our boost, and together there's nothing we can't achieve. ClickIT's accomplishments belong to our Clickers too. We are a team, and we work towards the same goals.
From the very first interview, candidates are presented with our values, as they encompass every single action and decision the company (and our staff) takes. Here, we always have time to meet our objectives, enjoy fun moments with the team, and learn from each other that what makes them one of the top tech companies to work for 2023.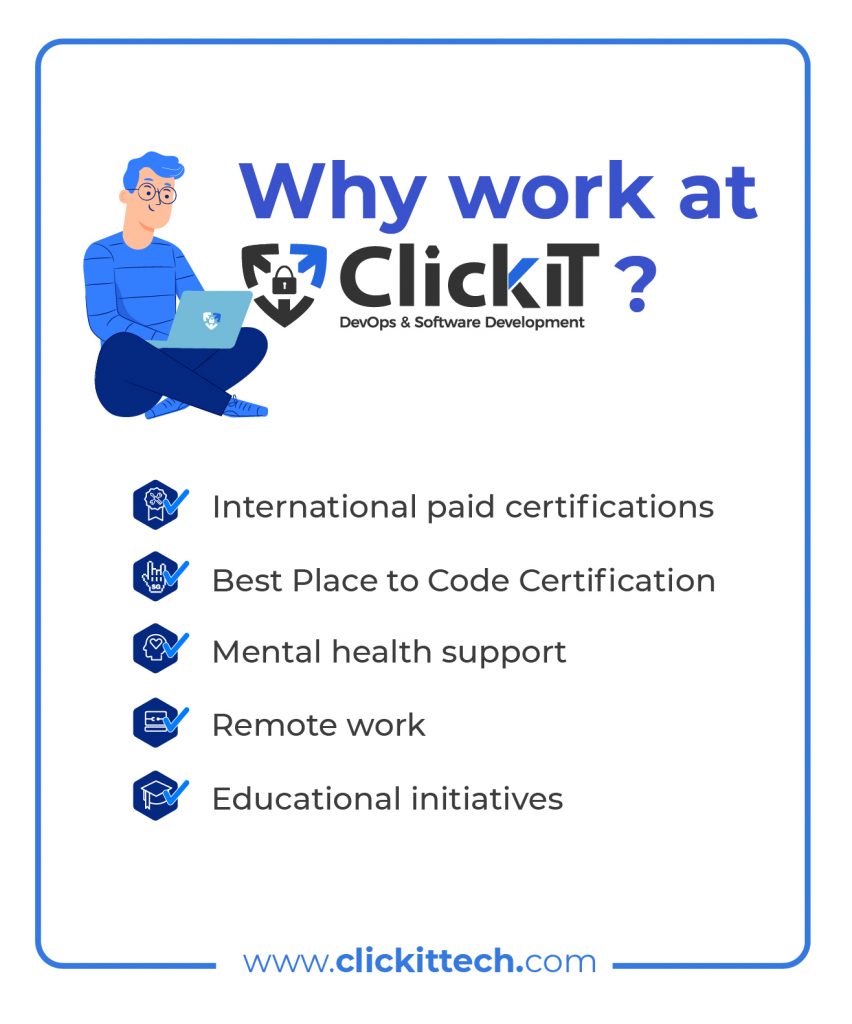 We recently received the Best Place to Code Certification, ending at the Top 3 position on the rank. Only the best tech companies to work for, that also provide excellent work environments for their employees, receive this recognition. Moreover, employees anonymously grade their company and award it with the certification whenever appropriate.
This speaks of the great appreciation our Clickers have for ClickIT and each other. The company will continue generating spaces where our team can grow and create while having a wonderful time.
Career Development
Clickers never stop learning! As we mentioned, the company offers international paid certifications, courses, and workshops to guarantee our constant refinement of knowledge. Other initiatives that incentivize the acquisition of expertise are Level Up and ClickIT Academy.
Level Up is a reward system with which the company motivates our team to take courses and certifications with curricular benefits. On the other hand, ClickIT Academy lets Clickers become speakers for a day and share topics they know about with the rest of the company.
ClickIT Culture
ClickIT is aware that not everything can be work-related and that we need a little time off to focus on ourselves and our well-being. That's precisely what the "Wellness program" is all about. With it, we want to protect our Clickers' mental health by providing them with the right tools. We also invest in creating a space where our team members feel safe to speak about their mental health and whatever they go through.
There are also plenty of cultural events that help us get to know each other and become the family that we are. For example, we have tech conferences, (the very anticipated) Gamer Day, Mexican Night Party, Anniversary Celebrations, and many more.
If you are interested in learning more about the Clicker's world subscribe to our Newsletter
Conclusion
As you can see, there are several aspects you must consider when looking to become an IT worker and several job options too in one of the top tech companies to work for in 2023. Remember your needs, your expectations, and what you have to offer. The tech industry is an exciting field with arms wide open to anyone willing to give their best in what they do.
We are sure you can find the option best suited for you if you are careful (and patient) enough to see it. Good luck with the job hunting!
Keep an eye on our following blogs, where we'll be sharing even more information about tech, the industry, and other topics of interest.

FAQs
What is the top tech company to work for?
One of the best tech companies to work for in 2023 is Google. Other great tech companies to work for include HubSpot, Adobe, LinkedIn, Gainsight, ClickIT, box, NVIDIA, and MathWorks.
Which tech company pays the most?
When working in tech, your salary depends on your position inside a company. Nonetheless, Google and Adobe have two of the highest salary rates in tech. An early career median salary in Google is said to be around $106,900, and $91,900 in Adobe.
Which tech company is best for work-life balance?
According to Glassdoor reviews, MathWorks and Box are some of the best tech companies to work for. They take great care in fostering work-life balance among employees.
Which tech company has the best perks?
Thanks to their large budgets, Adobe, Google, and Hubspot have the best perks and benefits in the tech industry.