LA, the world's entertainment capital, is also one of the major hubs for software development. The city is not far behind Silicon Valley in this department, boasting the third-largest tech-worker pool on the West Coast. Tech companies are already shifting towards the city by opening up new offices regarding software development in Los Angeles. But finding suitable Software companies in Los Angeles can be a hard job if you do not know its growing IT industry.
So, we have made the research easier for you by listing the top companies of software development in Los Angeles.
Table of contents
Top 10 Los Angeles Software Development Companies and Alternatives
The choice of a development team depends on your requirements in terms of the software's type, prices, features like artificial intelligence, etc. LA has a range of software development companies you can choose from, including:
ClickIT
ClickIT is a Mexican IT company with a department in LA. It specializes in cloud migrations, DevSecOps, AWS management, and microservices. The team is driving digital transformation for their clients through staff augmentation and has already completed more than 500 projects.
They are focused on:
Staff Augmentation – 60%
Custom Software Development – 10%
Web Application Development – 20%
UX/UI development – 10%
Minimum project size – $10,000
STRV
STRV is a California-based software company focusing on creating next-level software development in Los angeles and engineering experience. This company was formed in 2004 to help organizations drive success by creating human-centered products.
Here's a quick snapshot of the service development focus of STRV:
Mobile App Development – 50%
Custom software development – 30%
UX/UI design – 10%
Other – 10%
Minimum project size – $100,000+
Endertech
Endertech is a web design and software development agency headquartered in Los Angeles. Endertech was established in 2000 by Gabriel Richards. The agency has been serving clients by providing solutions to operate their businesses better using modern software designs.
Here's where Endertech focuses most:
Custom software development – 30%
E-commerce development – 30%
Web development – 20%
Other – 20%
Minimum project size – $1,000+
nb
Wonderment Apps runs a scalable team to create well-designed tools and software. The organization iterates, tests, and implements projects to upgrade the software creation process of businesses constantly.
The development focus of the company:
IT staff augmentation – 25%
Web development – 25%
Mobile app development – 20%
Other – 30%
Minimum project size – $5,000+
Cleveroad
Cleveroad is a Clutch Top 1000 Companies Global 2020 qualifier for web, mobile, and software solutions. The company has 10+ years of experience in the software industry and has completed more than 170 projects for businesses around the world.
Here's a quick snapshot of their development focus:
Mobile app development – 45%
Web development – 45%
Custom software development – 10%
Minimum project size – $10,000+
Goji Labs
Goji Labs is one of the Los Angeles-based software companies that help customers plan, build, and execute products, mobile apps, websites, IoT platforms, etc. The company takes the client's idea and executes the strategies using a user-centric software design formula. Goji Labs claims they are highly experienced in mobile app and software development.
They are mostly focused on the following:
UX/UI design – 35%
Mobile App development – 35%
Web development – 20%
Other – 10%
Minimum project size – $25,000+
AE Studio
AE Studio provides development services for businesses and executives who need custom software and machine learning solutions. This company can develop quality mobile and web-based applications using agile teams.
AE Studio has the most focus on:
Mobile app development – 25%
Web development – 25%
Artificial intelligence – 20%
Other – 30%
Minimum project size – $100,000+
Inexture Solutions
Inexture Solutions is a studio for businesses and organizations who want to create software solutions for their AI development, Python development, mobile app development, and many more. This LA based company offers competitive rates for creating software of all kinds. They have already converted 300+ project ideas into real digital solutions for businesses.
Inexture Solutions mainly provides these services:
Custom software development – 40%
Mobile app development – 40%
Artificial intelligence – 20%
Minimum project size – $10,000+
Niftic Agency
This is a creative agency for optimizing digital experience through software development. Niftic claims that they are creating "new-school technology" for the digital needs of the world's businesses. The agency has a mixed team of engineers and creators who can help you serve your audience using Niftic-designed high-quality digital platforms.
Most of the focus area of Niftic is on:
Branding – 60%
UX/UI design – 20%
Advertising – 10%
Other – 10%
Minimum project size – $10,000+
PHD Labs
PHD Labs is one of the unique companies based in Los Angeles that loves creating software. Building amazing web or mobile-based platforms and making clients happy has been a core task of this company. They take pride in having a multi-disciplinary team that makes software development a form of art.
The focus of PHD Labs is on the following:
Mobile app development – 35%
Web development – 35%
UX/UI design – 20%
Other – 10%
Minimum project size – $10,000+
After learning about the top ten LA software development companies, let's compare them briefly.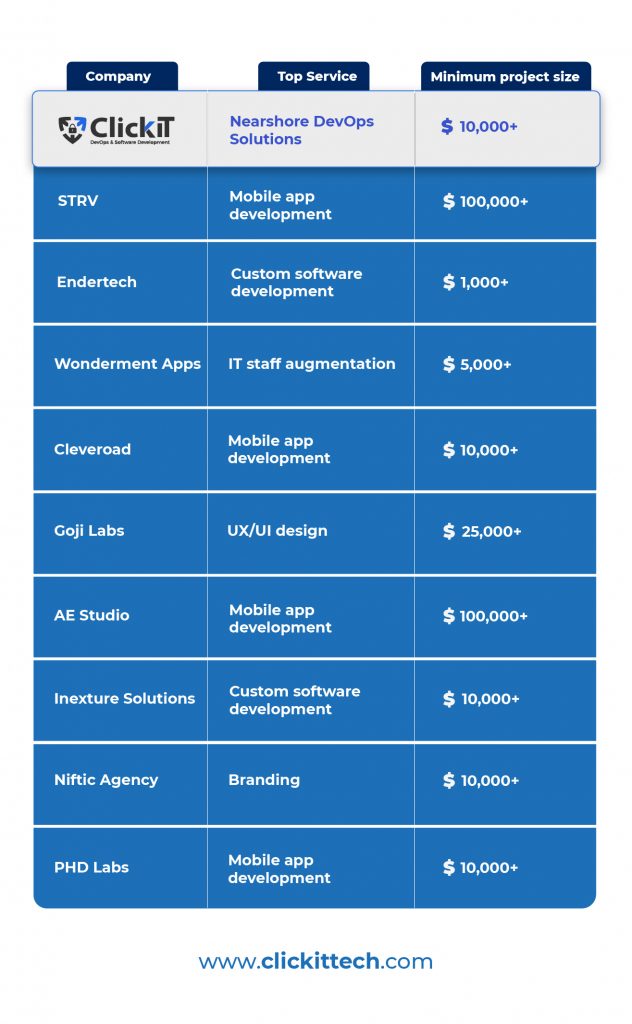 After going through the above list of software development companies in LA, you will easily find one that suits your needs. But you are not limited in your choice. There are many other companies worldwide where you can order software development without even leaving LA.
Of course, it is very convenient when a company's office is located in your city, and you can visit them or call at any convenient time of the day, as you are in the same time zone. However, the prices in LA can be quite high, and you might think about outsourcing companies. Even large corporations such as Apple or Cisco Systems outsource web development, customer support, and other services.
At the same time, outsourcing does not only include offshore, which can be inconvenient due to management issues, language barriers, different cultures or time zones, etc. Outsourcing can also be local or nearshore and eliminate most of the issues. And now, let's take a look at the pros and cons of both outsourcing types so that you can choose the most suitable option.
Local Outsourcing vs. Nearshore Outsourcing for Software Companies in Los Angeles
To understand the idea of these two outsourcing types of software development, let's start with their definitions.
What is Local Outsourcing?
Local outsourcing means you hire a developer or software company in your own country.
What is Nearshore Outsourcing?
Nearshore outsourcing means delegating software development or IT-based projects to a country located not far away, on the same continent, and with similar time zones.
Both local outsourcing and nearshore outsourcing have some advantages and disadvantages we will highlight here:
Criteria
Local Outsourcing
Nearshore Outsourcing
Advantages
You can meet the team or individual developer and review the project physically.
Onsite monitoring of the software development is possible.
You are secure as an American citizen because you are working with people in your country.
You don't have any language barriers and can always explain what you want.
Nearshore companies present good communication possibilities since they are based in a similar time zone to your country or region.
There are little or no language barriers, as a lot of countries use English as a second language.
Nearby countries share man cultural similarities (from social norms and movies to work culture).
Disadvantages
Local outsourcing can be expensive, in cities like LA, because of rents.
Local outsourcing companies demand high salaries in first-world countries.
Nearshore companies sometimes increase the rates to provide better quality and value.
If you don't do good research to find a lower-cost option, you might end up spending more.
So, a nearshore development team can bring you the same value for a significantly lower price. In Mexico, for example, the regular wages of a front-end developer can be up to 38% lower than those in the US. A report shows that software engineers in LA charge $52.20 per hour, whereas software engineers in Mexico and Brazil charge starting from $8.58 and $7.56 hourly, respectively.
Now let's take a look at the hiring process for a nearshore team.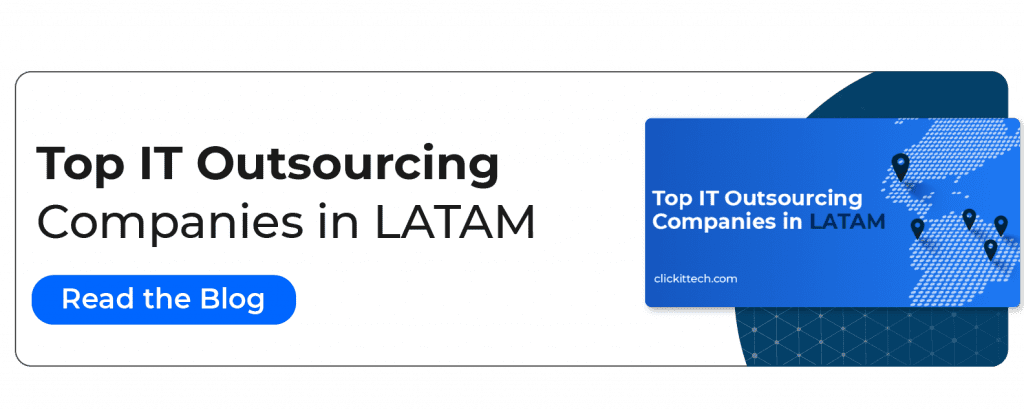 How to Hire a Nearshore Development Team?
Hiring a software development team other than through local sources can have many advantages, but you should look for certain requirements. You can easily bring value to your software development needs using the quick checklist we outlined below.
What to Look for
To hire a good nearshore company for software development, here are some of the characteristics you should look for:
Technical expertise. There's no point in delegating technical software projects if the nearshore team has no technical experience. In addition, the technical experience should be aligned with your business needs. So, if the nearshore business is serving technical skills unrelated to your project, you can easily turn down the choice and look for another nearshore company.
Use of modern infrastructure and technology. Since technology is moving faster, you have to look into the infrastructure and the technological side of the nearshore company. Finding a nearshore team that uses modern tools and techniques will improve your business scope and reduce the development budget and time.
Protection of your data. Undoubtedly, data protection and security should be your major concern. You can check the data protection laws of the country where the nearshore company is located. Also, research whether the company follows GDPR (data protection policies) or has data security certifications (ISO 27001).
Experience and portfolio. Study the company's portfolio, case studies, and other resources to understand whether they have enough experience or not. It's also important to go through a due diligence procedure to understand whether the portfolio is real.
Client satisfaction. Using the previous step of going through due diligence can be done by checking out the client satisfaction and market reputation of the nearshore company. You should go through testimonials published on different reputed platforms.
Professional work culture. You have to search for nearshore companies that ensure a strong professional work culture and values (for example, how they interact with businesses or the public). This will help the nearshore team and the client bond and solve problems.
Good communication. Poor communication can ruin your software development project and create unnecessary costs for your business. So select nearshore companies that can regularly update you about the project professionally during the term of the contract (for instance, companies that use the Scrum framework).
Workforce vs. expertise. Whether you need a larger or a smaller workforce, you must understand the team's skills, knowledge base, and work history. This is how you can match the workforce with your business's requirements.
After going through the above checklist, you may ask if there's a company that can convert your ideas into a real product. A solution that will reduce your efforts, time, and spending is hiring nearshore developers.
How to Hire Nearshore Developers with ClickIT
ClickIT is a Mexican software company specializing in transforming our clients' software development needs. We provide cost-effective solutions within a time zone that is already aligned with your region. ClickIT focuses on providing autonomous and proactive services that are suitable for many businesses.
Our benefits are:
A dedicated team. Regarding your software development project, you need to have a dedicated team since no project can be similar in nature. ClickIT can assign you a dedicated team for the job.
Daily reporting (Scrum). ClickIT uses the Scrum framework for reporting purposes. Hence, you get daily notifications of work until the project's completion.
Time zone support. We cover different time zones to get customer service catered to your schedule. Our company is a good fit for US clients, as Mexico shares the same time zones.
Faster team building. ClickIT ensures that team-building activities are done quickly, so you save time and money.
Constant support. We will have professionals monitoring your project, so you don't have to spend time doing that.
Cost-effective service. ClickIT ensures both time-effectiveness and cost-effectiveness so you can achieve your goals faster at the cheapest rate possible.
Cultural closeness. Being a Mexican company, ClickIT is very close to the US and its culture, so rest assured, our team will understand you well and answer all your questions.
Our company has vast experience working with businesses of all sizes worldwide, and we've set up our workflow processes well. You can schedule a meeting where we will discuss your goals, preferences, and specific criteria for your development team. Then, we will evaluate your needs, and our team will create a proposal. If everyone is happy, we will begin our cooperation.
So, hiring developers using the ClickIT service can be a good start to your software development project.
Final Words
We have covered the best resources, so you don't miss out on the chance to learn about the top Software development companies in LA. You can compare the companies and find one that is relatable to your project. Also, you aren't limited to the Software development companies in LA and can hire offshore, nearshore, or local outsourcing teams. The comparison of the latter ones shows that nearshore is a golden mean.
Nearshore teams can deliver quality software, closely competing with local outsourcing and even beating it in terms of price. ClickIT has been providing faster team-building services to businesses needing quality software development.
FAQs
What are Software Companies based in Los Angeles?
LA is one of the major hubs for software development. Here are some of them:
1. Goji Labs
2. Inexture Solutions
3. PHD Labs
4. Endertech
5. Wonderment Apps
How to choose a Software company?
You should look for certain requirements when you are on the lookout for a Software development company, such as;

1. Technical expertise.
2. Use of modern infrastructure and technology. 
3. Protection of your data. 
4. Experience and portfolio.
5. Client satisfaction. 
What are the costs of a Software company?
The costs of software companies range approximately from 1,000 to 100,000.