IT Experts for Fast Growing Companies
Upscale your business through Software Development & DevOps Services.
We Transform the Development & Delivery of your Software Business
Increase productivity of your software development lifecycle. 
We help businesses to build robust, secure, and high-quality software-based applications designed to increase business productivity and efficiency. Design, plan & develop from ideation to final release. 

Enable continuous delivery & DevOps practices for faster time-to-market.
We help organizations align development and operations teams with a DevOps Service Company to improve the quality of code, undertake continuous integration, and deliver faster.

Strengthen your business with our driven talent & dedicated teams.
Integrate highly-skilled DevOps and Software Developers in your IT projects, and let your business grow. Our engineers join your staff and collaborate as part of your company.
ClickIT is the #1 IT Outsourcing Company in Mexico, as a Software Development & DevOps service provider. We employ Top "A" Players to create highly-skilled engineering teams that provide end-to-end solutions to a variety of businesses and industries.
From Product Development to DevOps and Automation, you can count on us to create your web applications. ClickIT team ensures you'll have a Long-term Partnership Success.
We help companies to upscale
ArcusFi began to develop a technology that enabled immigrants to pay bills. Now, it is a Fintech Inc5000 company that helps businesses to make fintech accessible for users across the Americas.
They required ClickIT to improve their security within their AWS environment, servers, and software. Apart from this, they required a Staff augmentation to their team & some DevOps services to be PCI compliant.
Book a short, 20-minute remote demo session to understand ClickIT from a technical perspective
and how it can deployed in your organization to accelerate DevOps adoption
The company required a DevOps services company to build a cloud-based PCI compliant infrastructure to secure their Fintech app. As well as to implement DevOps best practices to improve their coding standards on Laravel.
Rufus Labs required to extend their web development team by adding Javascript developers for the release of new features in their NodeJS + ReactJS + Android-based application named Work Hero.
Brandverge needed a refactor of their AngularJS based application, by migrating it to ReactJS, to improve the overall performance of the application and extend its capabilities for adding new features.
You didn't hear it from us
"ClickIT consistently delivers quality work on time. Creating a structured plan for the engagement, they meet milestone after milestone. They communicate effectively and are top-notch professionals."
"ClickIT establishes an effective workflow through clear communication. The team successfully integrates with the client to ensure effective collaboration. "
"ClickIT communicates regularly with the client and holds well-structured meetings. The team provides a high level of customer service and support. "
What are DevOps services?
DevOps services are a set of development and operation best practices integrated on a server application in order to improve data delivery. The aim of DevOps services is to ensure that every action on the software delivery process is well implemented, optimized and able to be tracked.
What does DevOps mean?
DevOps is a combination of cultural practices, philosophies and tools implemented during the entire software development lifecycle. DevOps states for Development and Operations best practices in order to have a continuous delivery.
What is a DevOps services company?
A DevOps Services company is in charge of the entire software development lifecycle of DevOps implementation. A Devops company combined practices of continuous integration and continuous delivery in the infrastructure to enable more frequent code deployments.
What is DevOps culture?
DevOps culture is a shared understanding among developers and operations teams. DevOps isn't a role, it is a set of cultural practices on the web. DevOps culture is about working with multidisciplinary teams that take collective accountability of projects.
Accelerate Your Project Delivery with DevOps
Don't be shy and ask any questions you have
About ClickIT and DevOps Culture
Learn 3 different ways to build a Dabatase Multi tenancy for your SaaS application that can be applied to any of your database systems.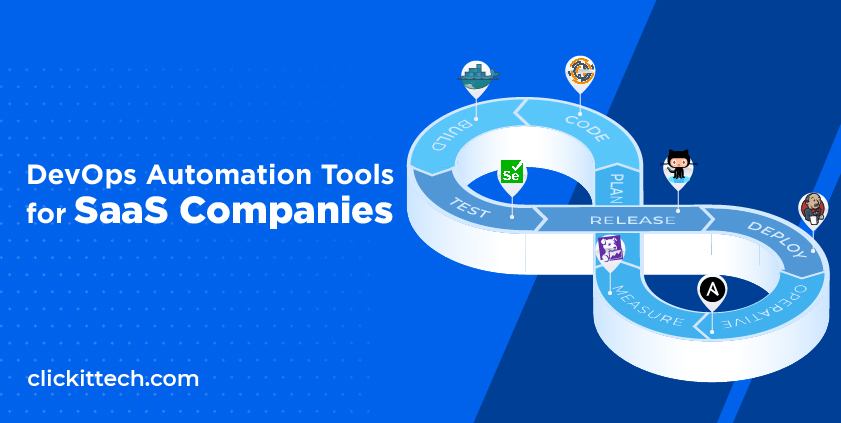 DevOps
DevOps is a methodology that integrates development and operations teams to seamlessly collaborate throughout the product development lifecycle. While it started with Dev and Ops,
Read More »
Software providers are looking to transform their web applications into a Software As a Service application, the only solution is to build a Multi tenant Architecture SaaS Application
Top IT Talent for Top Companies