Are you looking to hire one of the top software companies in Dallas? Search no further! If you are still reading this, chances are that you want to build software and are looking to lead a custom software development company in Dallas. If that sounds like you, you are reading the right blog!
The expertise and efficiency of the company you hire for your project matter significantly. They determine the success of the product or solution you want to create. There are many software development companies in Dallas. As a result, picking the top software company that suits your needs can take time and effort.
That said, we have done the heavy lifting for you! To enable you to make the best choice with little or no stress, this article covers the top 8 software development companies in Dallas. Keep reading to select the best for your project.
Table of contents
How Can Software Development Companies Help You?
There is a massive acceleration in digital transformation. Consequently, consumers and employees rely more on technology for their day-to-day activities. Any business that wants to stay ahead of the curve must adopt cutting-edge technology solutions. From business operations solutions to software products and tech-powered services, top software companies help businesses to build industry-standard solutions.
You need a top software company to help you develop advanced tools and products which enable you to stay on top of the game in your industry. Software companies can help you improve productivity with automation tools, outsmart competitors with innovative solutions, and raise your bottom line by cutting down operation costs and increasing revenue.
Read our blog Top Software Development Companies in LA
What are the Top Software Companies in Dallas? (Alternatives)
Explore Dallas's top software development companies and the best company to consider. To help you understand what the agencies offer, their services and the industries they work with are briefly covered. Let us dive right into it!
1. Ascendix
Ascendix is a leading IT company with over 26 years of experience in customer relations and custom software development in Dallas. Thousands of commercial real estate brokers rely on Ascendix's products for the day-to-day running of their businesses.
CRM Consulting: Helps companies streamline their sales, marketing, and customer service activities with one-of-a-kind CRM solutions.
Salesforce Services: A certified Salesforce service provider with 26 years of experience in the CRM market and custom software development in Dallas.
Dynamics 365 Consulting: Ascendix offers Microsoft Dynamics 365 consulting services. Since 2003, the company has been helping users overcome their Dynamics 365 challenges.
CRE Technology Consulting: This software company has been helping commercial real estate companies build custom software development in Dallas and applications for over a decade.
Software Development Outsourcing: Ascendix has a sister company, Ascendix Tech, which offers software development outsourcing. There are team members in Dallas and Europe that help build new software or revamp existing systems.
Industries they Work With
Ascendix provides CRM solutions for a wide range of industries or niches, including commercial real estate, commercial mortgage banking, legal services, financial services, private equity, venture capital, capital markets, real estate, property management, tenants-in-common investments (TIC), insurance, construction, travel & logistics, SaaS & technology companies, and more.
2. ClickIT
ClickIT is a top software development company that offers innovation through nearshore talent. A Mexican IT and software outsourcing company. With over ten years of experience in the IT market, ClickIT is known for providing top-notch solutions to companies of all sizes worldwide. This is a leading service provider of DevOps and Software Development with 50+ certified engineers, over 500 successful projects, and 100% cloud-native solutions.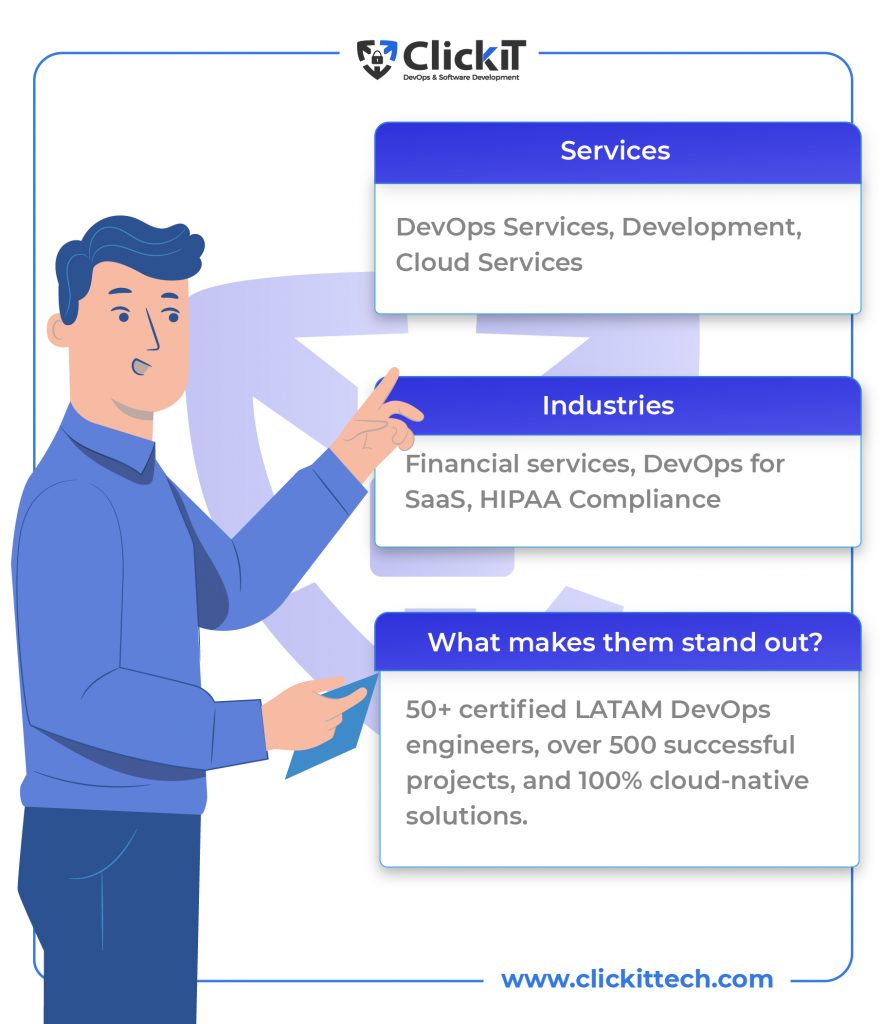 DevOps Services: Whether you need a DevOps engineer or a complete team, ClickIT can help you automate your applications, decrease time to market, increase efficiency, and reduce IT costs. The services include DevOps Outsourcing, DevOps Financial Services, and DevOps Consulting.
DevOps outsourcing enables DevOps for faster time-to-market, DevOps financial services help businesses get SOC2 compliant with DevSecOps, and DevOps consulting helps build & scale your cloud infrastructure.
Development: ClickIT offers one of the best development services – leveraging a super-experienced team of developers. The development services include software development and SaaS application development.
The software development service helps you increase productivity and deliver products faster using cutting-edge technologies like Python, React, and NodeJS. With SaaS application development, you get tailored SaaS apps for your business idea.
Cloud Services: Covers AWS managed services, Google Cloud services, and Cloud assessment.
The company runs, automates, and optimizes applications on AWS. They help businesses manage and monitor their AWS Cloud resources & applications. Their services on the AWS Cloud are AWS migration, AWS well-architected, and AWS consulting.
Industries they Work With
This leading IT company works with clients in financial services, DevOps for SaaS, HIPAA Compliance, and more.
Check out on Clutch the reviews about ClickIT's services
3. ISHIR
This global diversified outsourced IT services company helps businesses meet offshore outsourcing needs. ISHIR brings offshore outsourcing to clients' doorstep, aiding companies to outsource their non-core business processes and functions in technology and digital marketing. ISHIR is a leader in the outsourcing industry with over 20 years of experience.
Software development: Helps organizations with offshore software teams that build top-notch solutions with great speed and a friendly budget. The software services include software application development services, software product development, MVP software development, custom web application development, product development for startups, legacy system modernization, software maintenance, and more.
Consultancy: ISHIR provides consulting services. They offer guidance and help client's through some delicate decision-making processes. This involves IT project consultancy services and agile project management services.
Testing: Helps provide comprehensive testing, including QA automation and independent testing.
Emerging: This includes machine learning as a service, artificial intelligence, robotic process automation, blockchain development services, the internet of things (IoT), and big data analytics.
Other services are DevOps and office 365 consulting.
Industries they Work With
ISHIR has over 1500+ clients, such as leading companies and startups.
4. Projekt202
Projekt202 is one of the top software companies in Dallas, with over 500 experts and 18+ years of industry leadership. The software development agency helps organizations design and build better experiences. With innovative technologies and excellent development culture, Projekt202 facilitates business success and solves complex problems for some of the world's biggest brands.
Experience Strategy & Insight: This involves customer & market understanding, prioritization & roadmaps, experience benchmarking & testing, journey maps, service blueprints, personas, playbooks, consolidated workflow diagrams, data analysis, and more.
Brand & Marketing: Brand naming & identity design, brand positioning, brand strategy, traditional & digital advertising, campaign strategies, integrated marketing campaigns, experiential advertising, and social media management.
Experience Design: This service includes interaction design, visual design, heuristic review, strategic ideation, prototyping, concept validation, content strategy, and more.
Technology: Projekt202 helps businesses build cutting-edge software solutions. The company provides software development, front-end development, native/hybrid mobile, REST services, DevOps, Cloud, Database, NoSQL, Distributed Systems, Performance monitoring, and microservices.
Program Management: Workshop facilitation, agile team management, release management, application lifecycle management, product owner services, customized project KPIs, etc.
Industries they Work With
Projekt202 has worked with 23+ industries, including government, financial services, automotive, retail, healthcare, startups, etc.
5. Sparkfish
Sparkfish is a custom software development company in Dallas that helps businesses build innovative solutions and products. It is a 100% US-based custom software development and consulting firm. They build IT solutions that enhance productivity, streamline processes and help clients raise their bottom line. Sparkfish started in 2017 and has grown into one of the top software companies in Dallas.
Healthcare Tech: Sparkfish provides custom healthcare technology and data analytics. The company helps healthcare institutions improve productivity, streamline operational processes, and boost collaboration by integrating new or existing technology solutions and business partners. Solutions they create include Electronic Health Record (EHR) Systems, Self-Service Platforms, Schedule Management Systems, and custom software development in Dallas.
Project Rescue: This involves helping clients put their software development back on track. A team of experienced engineers dives in and performs a comprehensive software assessment, assisting in planning the rescue process and fixing poorly performing software from the ground up.
IT Staffing: Sparkfish provides first-rate software professionals and IT talent without breaking the bank. They have a well-structured staffing system and a metric-based approach to talent evaluation – helping them recruit the best talents for the problem.
Industries they Work With
Sparkfish has worked with clients from Startups to Enterprise
6. FIVE PACK
Five Pack is a top software company with over 13 years of experience. Since 2008, the IT agency has been helping entrepreneurs, and Fortune 500 companies get amazing results with cutting-edge solutions of custom software development in Dallas. Five Pack is creative and friendly, with talented top-tier mobile designers, developers, and strategists.
They have human resources and proven processes for solutions design, development, testing, and post-deployment support. The services include app development, web development, design + UX/UI, discovery/planning, and staff augmentation.
Five Pack creates scalable and customizable iOS and Android applications. With recent technologies and tools, they help clients build fast and highly efficient apps. The company uses technologies such as React, Angular, Vue.js, Node.js, PHP, and C#, to develop highly responsive, fast web solutions.
When it comes to design and UX/UI, they help with branding and user experience optimization. Five Pack relies on research to get data-driven insights for result-producing design and UX/UI.
Discovery/Planning involves user journey mapping, root problem analysis, wireframing, and product road mapping. The staff augmentation service gives clients access to a nationwide network of top talent – with a contract, contract-to-hire, and direct placement options available.
Industries they Work With
Five Pack has worked with recognized brands and entrepreneurs since 2008.
Unique Software Development
Is one of the top software companies in Dallas. The agency has teams of high-end strategists, technologists, designers, and developers who are proven experts. With over 12 years of experience and 100+ builds, Unique Software Development has been fortunate to work with popular brands.
Solution engineering: Project plan & SOW estimation evaluation, user journey & core system workflow, page & wizard breakdown, cloud resources & licensing analysis, module workflow & notifications, automated & manual QA testing, and product & technical requirement definition.
Product & UX/UI design: The process involves user personas & system goals, competitor & market research analysis, branding guidelines & stylesheets, wireframes & design elements, web & mobile full sketch designs, corner case design resolution, etc.
Web applications: They build web applications with these technologies: react, angular, flutter, vue, elm, typescript, razor, jquery, and more.
Mobile Apps: This service helps you build fast, scalable, and future-ready mobile apps with top-notch technologies like react native, ionic, flutter, xamarin, swift, java, titanium, and unity3d.
Machine learning: Unique Software Development delivers reliable and accurate machine learning solutions. They do machine learning with python, R, apache, TensorFlow, GPT-3, IBM, azure, AWS, and more.
Industries they Work With
The type of industries Unique Software Development works with are startups and non-profits
8. Quisitive
Quisitive is a leading IT company that provides clients with high-value services through cloud infrastructures and payment solutions as a top global Microsoft partner. The company focuses on five areas:
Building the Microsoft partnership of the future
Helping enterprises drive cloud innovation
Driving business outcomes by connecting enterprise needs with technology
Building first-rate products
Using cloud solutions to revolutionize modern payments
Cloud solutions: Quisitive helps clients drive innovation, operate efficiently, and build state-of-the-art products with cloud solutions. The company has the tools, technologies, and expertise to help organizations reach their goals and stay relevant by providing outstanding value. Quisitive's cloud solutions include application development, business applications, cloud innovation, data & analytics, digital transformation, digital workplace, infrastructure, managed services, and security.
Payment Solutions: They invested in payment innovation and can leverage the power of the cloud to offer highly efficient systems. Quisitive builds innovative payment solutions that seek to shake up the conventional payment processing industry and create something new, convenient, and engaging. They build payment products, payment services, and payment innovation.
Industries they Work With
They provide top-notch tailor-made solutions to organizations across various industries, including healthcare, retail, manufacturing, financial services, and state & local government.

The Overall Best Software Development Company in Dallas
There are many software development companies in Dallas. But ClickIT stands out. Amongst the eight agencies listed above, you can rely on the IT and software outsourcing company for all your software needs. They have everything you need to build efficient and super-secure products.
What makes ClickIT the best? The company has experienced engineers and has successfully taken care of many projects. Their clients range from Inc 5000 global enterprises to well-funded startups. As an AWS select partner, ClickIT helps businesses implement DevOps and create cloud applications – leveraging a remote nearshore collaboration model.
Read our blog on how to build a software development team.
Advantages of Nearshore Outsourcing
Next, we will show how your company can benefit from nearshore outsourcing.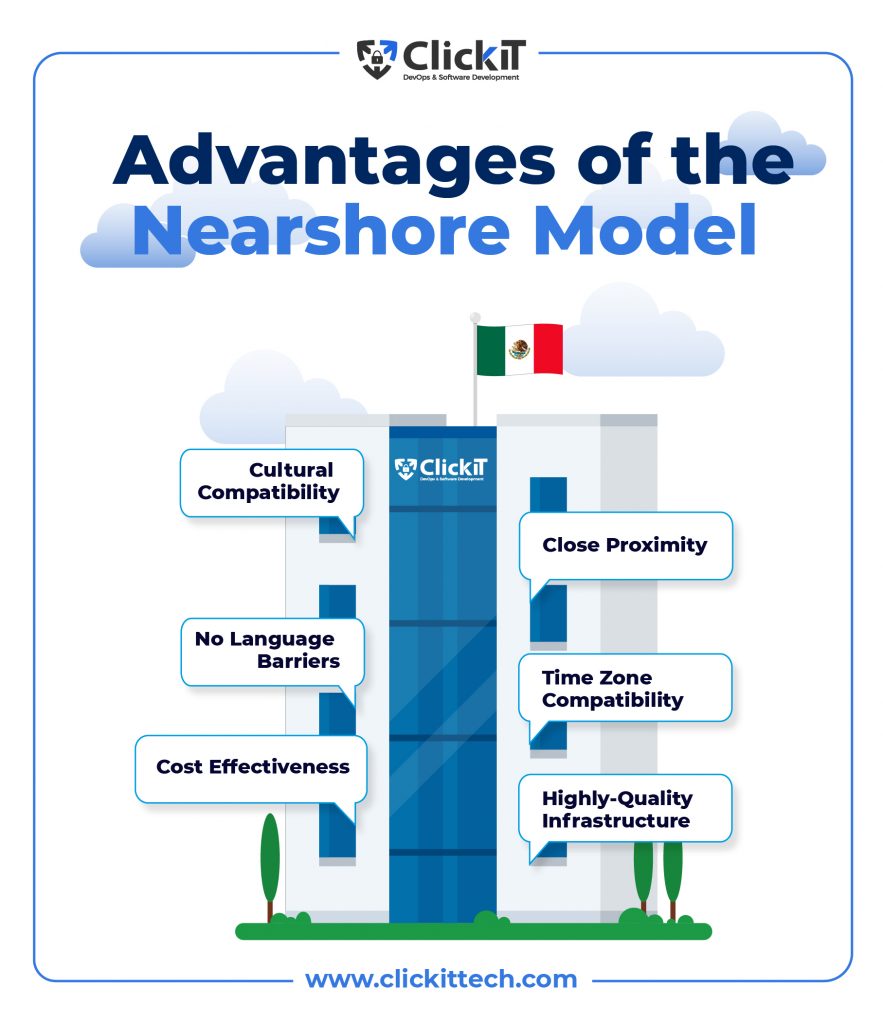 1. Close Proximity
Nearshore outsourcing gives you better control over your project. This is because nearshore partners are close. Therefore, you can easily hop on a plane anytime to see how your project is going. This is unlike some offshore teams, which might take a full day or more to reach. Being able to check in easily helps you to ensure your project is progressing as planned and according to your standards.
2. Cultural Compatibility
People's way of life and values affect how they work and collaborate with companies outside their country. Outsourcing to agencies in distant countries like India and China comes with some cultural barriers. A team in a nearby country has a better understanding of what Americans want. As a result, they are in a better position to build great experiences and create content that resonates with American customers.
3. Time Zone Compatibility
A shared time zone is one factor that puts nearshore outsourcing ahead of offshore outsourcing. Engaging with your outsourced team can be challenging when they are in a different time zone. It is hard to schedule a phone call or online meeting when your developers often sleep while you are active, and vice versa. Shared time zones make a lot of things easier!
4. No Language Barriers
Nearshore partners understand English. And communicate better than average offshore agencies. With a nearshore team, you do not have to worry about language barriers. With the language problem out of the way, you will find it effortless to discuss the project and relay feedback.
5. Highly-Quality Infrastructure
One of the major potential challenges of outsourcing is ending up with a firm that lacks the necessary infrastructure. Nearshore partners will likely have good infrastructure since they are close to the USA. And when in doubt of the capability of a team, you can easily meet them for proper assessment.
6. Cost Effectiveness
Onshore software companies are always more expensive than nearshore options. Outsourcing enables you to cut down on operation costs and remove the need for more employees. This helps you to focus more on your core business needs.
Read our blog of Top IT Outsourcing companies in LATAM
How to Choose a Top Nearshore Software Company?
There are essential things to consider before choosing a nearby software agency. Given the wide range of companies that provide nearshore outsourcing services, you must learn how to spot competent ones. That being said, consider the following factors:
Technical expertise
Look at their reputation
Experience
Good Communication
Analyze costs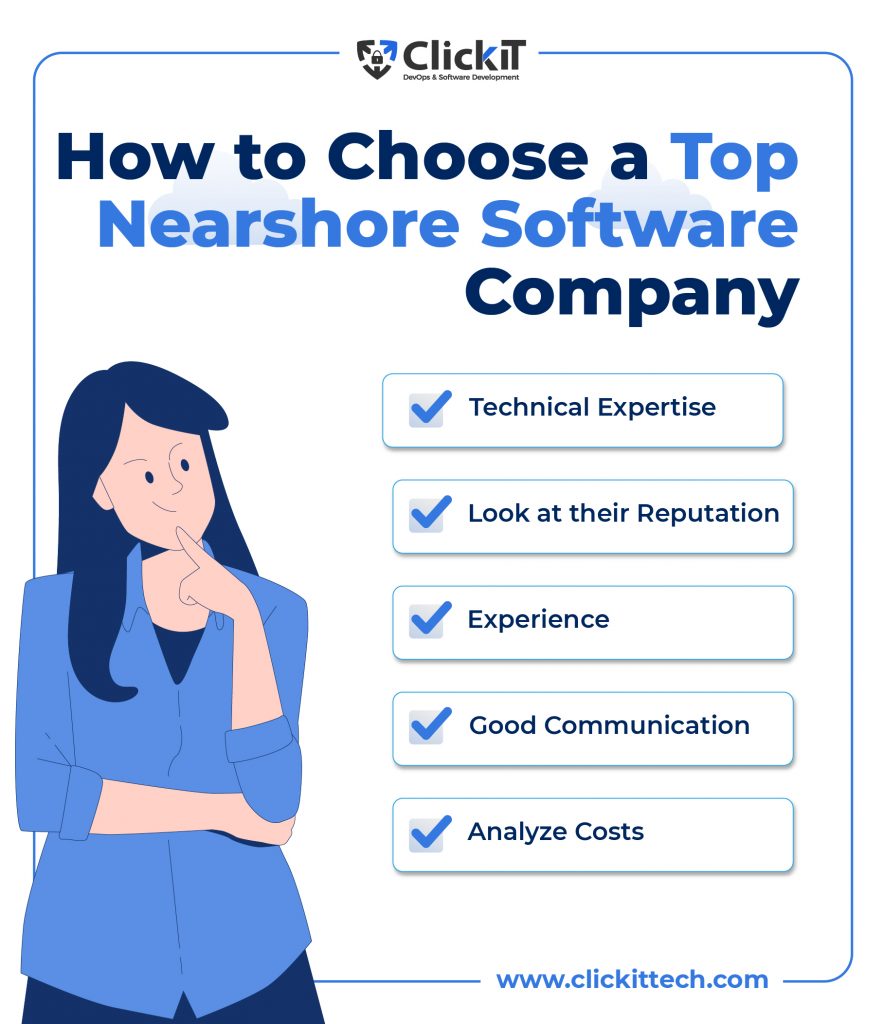 Check out their skills and capabilities. A good agency should have a team of experts in various areas of software development. Go for a company that has a pool of specialists and experienced developers.
Look at their Reputation.
Do not choose solely based on fancy words on a company's website. Take a step further to discover their past clients' opinions about working with them. Look for online reviews and testimonials. Talk to past clients or look at some projects via the company's portfolio.
A software development firm that has been in the industry for some years is expected to be competent. In addition, go for an agency with proven experience in the type of solution you want to build.
Working with a team that is not good at both spoken and written English can be exhausting. Check if you can easily communicate with the company before striking a deal. In this regard, language and time zone compatibility are essential factors.
Everything revolves around affordability or profitability. Analyze costs thoroughly and ensure there are no hidden costs. Before signing a contract, make sure there are no ambiguous phrases. This is to avoid getting into what you cannot finance.
Why Hire Nearshore Developers With ClickIT?
1. 10 years in the market: ClickIT has over ten years in the software development industry, helping companies worldwide with best-of-breed solutions.
2. 50+ certified Engineers: The company has a pool of DevOps and software development engineers with substantial experience and outstanding results. They are committed to delivering the best solutions possible.
3. 500+ successful projects: ClickIT has built more than 500 projects. This means the company has sufficient exposure to transform your ideas into a successful product.
4. 100% cloud-native solutions: The agency leverages cloud technologies to offer efficient, fast, scalable, and future-fit cloud-native solutions.

Conclusion
Dallas has several top software companies you can trust for your project and custom software development in Dallas. Each company listed above has proven results and can help you reach your goals speedily and cost-effectively. However, we recommend you take the outsourcing route.
This is because it gives you access to an extensive talent pool and enables you to save a lot of money in the long term. If you are considering working with a nearshore company, search no further than ClickIT. The company can provide all you need to stay ahead of the curve.
FAQs
What are Some Best Software Companies in Texas?
The top software companies in Dallas, Texas: Ascendix, ClickIT, ISHIR, Projekt202, Spark Fish, FIVE PACK, Unique Software Development, and Quisitive
Which is the Best Software Company in Dallas?
The best software company in Dallas is ClickIT. It is a Mexican IT and software outsourcing company. Click provides innovation and 100% cloud-native solutions through nearshore talent.
What is the Best Way to Hire Dedicated Developers in Dallas?
The best way to hire a top software company is through nearshore outsourcing. Consider the following factors before choosing a nearshore company: technical expertise, reputation, experience, communication, and cost.