You may have considered the possibility of hiring a nearshore software development company for your business, but do you know everything about this business model?
There are a lot of outsourcing companies that streamline the process of screening, hiring, and developing software geared towards IT solutions. According to a Deloitte global outsourcing survey, many businesses outsource development to such companies for cost reduction and flexibility. Is it the right choice for you?
With the eight essential characteristics of a nearshore software outsourcing company given in this article, you can make an informed decision of whether or not you need to go for a nearshore outsourcing option.
Table of contents
Nearshore Software Development at a Glance
Nearshoring refers to a model wherein the outsourced work is delegated to a software development outsourcing company or a freelancing team in a nearby country. Businesses in the United States would approach either neighboring countries or countries in close proximity for their professional services by employing specialists to handle certain business tasks.
More often than not, these tasks are related to IT and software development. Between nearshoring and offshoring, the former holds several advantages, such as cultural similarities and time zone correlations that offset costs.
The most common countries usually employed by the United States for nearshore software development are Latin American countries, such as Mexico, Columbia, Argentina, Peru, Uruguay, Venezuela, Ecuador, and Costa Rica.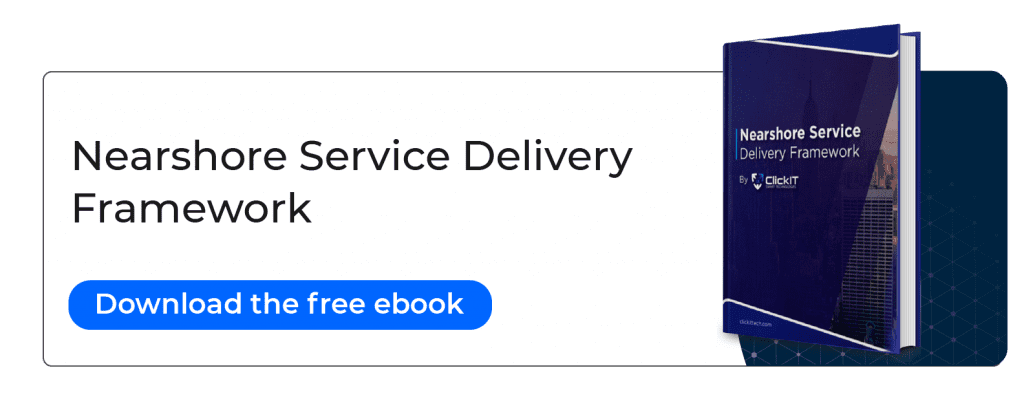 Advantages of a Nearshore Software Development Company
The team you're hiring for software development services in a nearshore company is just as important as your team at your home base. Various departments will have to correlate on matters pertaining to the overall goal of the business regardless of whether they're communicating in person or via the internet.
Keeping this in mind, here are a few advantages that can make nearshore software development services a good option for your business.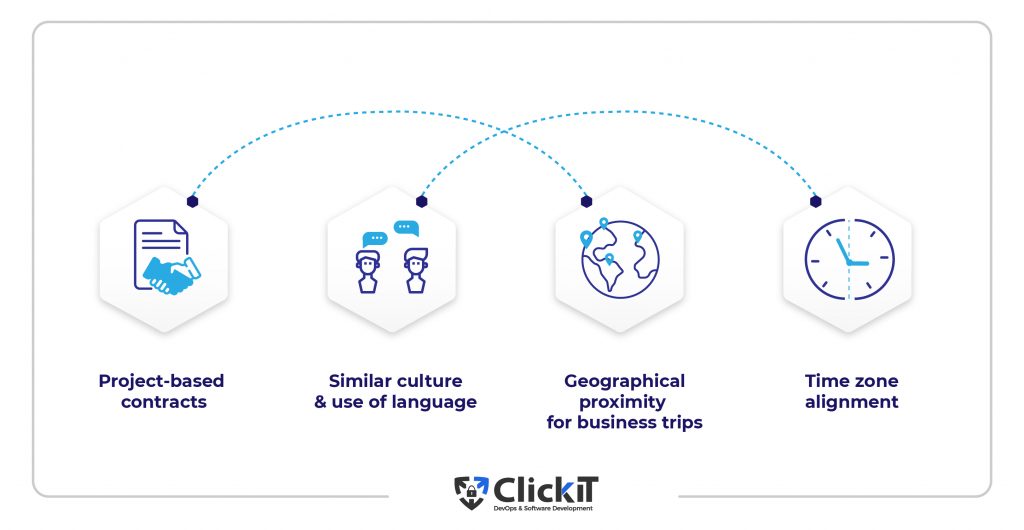 Project-Based Contracts
With modifiable contracts that range from part-time, seasonal, and full-time employment, the facility of having a dedicated team working for your business can serve many benefits.
Nearshore companies working routinely with US companies are often employed on a full-time basis following their performance as project-based contracts.
Based on statistics and performance reviews, most nearshore teams are contracted several times by trusted businesses—eventually becoming full-time employees.
This is an added value that comes as a result of employing nearshore teams for your business.
With the core focus being on forging long-lasting working relationships with their clientele, the underlying values of sharing cultural affinity, geographical proximity, and immediate communication define the way nearshore companies offer their assistance to clients.
These employment agreements are also a way to cut down on in-house maintenance costs for the team.
Similar Culture and Same Languages
Cultural affinity is key to any outsourced partnership. Including the obvious need for speaking the same language as other teammates, cultural similarities allow businesses to gauge offshore software development teams' thinking, work ethics, and organizational skills.
Having a similar culture goes beyond having the same holidays and personal beliefs as the rest of your team:
It ensures streamlined communication with the same business models.
Helps mitigate unforeseen business risks.
The same principle applies when you're talking about languages. Nearshore software development companies, more often than not, speak similar languages. For example, 98% of our IT team working in a nearshore software development in Mexico either have IT engineers who speak English or have one person who's able to communicate in English with team members in the United States.
Two-way communication is necessary if you want to be able to convey your business models, plans, and strategies to teams working off base.
In comparison, offshore software development companies usually require third parties to delegate work and run the risk of miscommunication.
Time Zone Alignment in nearshore outsourcing
If you were to take the United States and Mexico as an example, both countries share the same time zones. In business terms, this would relate to the same working hours. Nearshore software development teams working in Mexico will be able to correlate with teams working in the United States regarding projects in real-time.
Convenient collaboration between teams is necessary to avoid excess costs, establish streamlined communication, and limit employee fatigue.
To combat such issues, outsourced companies working from beyond the border ensure the quickest response times by communicating on the very same day—mostly in under 30 minutes—for immediate solutions.
This means that teams collaborating across the border are able to respond to queries and concerns in real time. From the moment the first notification comes in, the team will acknowledge, respond, and solve the issue at hand within minutes.
If one thinks of it in relative terms, collaboration between teams with varied business hours can often delay project submissions and fail to meet deadlines solely because neither team would be able to communicate with the other timely.
On the other hand, nearshore companies can corroborate in less than thirty minutes with one another—solving problems within the same day. There is practically no lag between when a concern is raised and when a solution for it is implemented.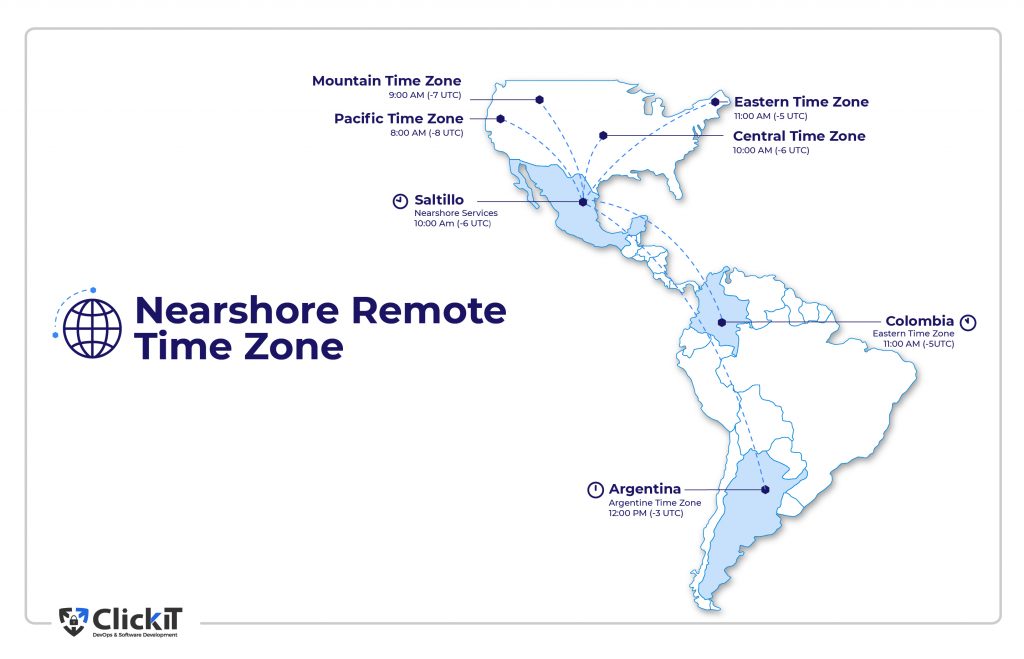 Geographical Proximity if Business Trips Are Required
The life cycle of a project is likely to run a course of several months to a few years. During this time, in-person meetings or delegations might become necessary. This is where nearshore outsourcing is more than useful. By definition, nearshoring is outsourcing projects to companies that are in neighboring countries and in close proximity to you.
Proximity is important for several reasons:
Cost reduction on travel expenditures
Easy going and easy coming
Mitigates miscommunication risks
And the most important, time zone alignment
Ideally, business trips shouldn't be required if you've outsourced a project. However, several things can happen during the life cycle of a project and as a business owner, it's important to factor in those risks and give yourself enough leverage to allow for business trips.
How to Choose the Best Nearshore Software Development Company: 8 Essential Characteristics
If the benefits of nearshore software development satisfy your objectives, here are eight essential aspects that can help you choose the right software development company.
1. Technical Expertise of a Nearshore Team
The United States has been outsourcing IT projects for the past three decades as it is more cost-effective, and it's still the top reason. However, money isn't the only aspect you should consider. Another one is a team's technical expertise.
This is essential because a team that's not experienced in the technology you need won't be able to cater to your needs. For example, having a team of full-stack developers doesn't imply having the right skills for your business. Every project deserves to have the needed attention and aligned skill efforts. If your application is already written and running in javascript, a company with only .NET developers won't be able to help you, no matter how good they are at that specific language.
If you're looking to outsource a project to a nearshore software development team, your first job would be to ask the vendors more about their tech stack and skills. Also, before signing off on a project, make sure you familiarize yourself with how the vendor scouts or hires talent in the industry you're looking for and how they assure results. It is essential for every nearshore company to use an IT staffing process for selection; make sure they have one that fits your needs.
2. Infrastructure and Technology
Along with the necessary expertise to satisfy your project requirements, an outsourced team has to have the necessary tech. If a company simply promises to create a suitable infrastructure, you'll waste time—most likely, they don't know how to operate the tech already and will need time to master it. This translates into the risk that you won't get the desired deliverables.
There are two key things you need to do while or before you look for an outsourcing agency:
Research. Find information about the technology stack required to build the application you need, such as the programming language, development environment, databases, cloud technology, storage, and version control tools, among others.
How a company behaves. You don't have to know exactly what technology a particular platform requires to be developed, but the software development company in question sure has to. Pay attention to how well they are trying to offer you a solution and if it's something concrete.
I recommend that you ask about testimonials and reviews on the specific area that interests you the most; there's nothing better than a third party to confirm or deny the skills of a team.

3. Security and Data Protection
Data protection authorities are becoming more active in Latin America. For example, Mexican law subjects international and domestic data security to detailed rules.
Many companies have also adopted the GDPR policy, while the countries issued GDPR-inspired laws. The LATAM countries are also taking steps to increase cybersecurity and create specific laws against cybercrime.
The outsourcing company you choose should also have certain security protocols in place. Data breaches, personal information loss, and other security issues are a no-go at any point in a project's life cycle.
Make sure that the company complies with data protection policies, such as the GDPR, and has a security certification, ideally ISO 27001. In addition to that, ask if it signs NDAs with employees and draw up an agreement specific to your project.
4. Experience and Portfolio
Nothing speaks more for a company, or a team, than its portfolio. A portfolio highlights the team's experience as a collective, and the projects they've undertaken. Plus, it also mentions each team member's specific skill set and what every member has to offer.
The work experience of a team is a great opportunity to demonstrate their problem resolution and tech skills. Many companies use extra resources, such as success stories, case studies, e-books, or videos, where you'll be able to find their previous work on a similar project.
It is incredibly important for businesses to do their due diligence when employing potential contractors. The team should have a positive roster of clients to attest to their skills. Be wary of teams that have several reviews, but no way of getting in touch with any of their previous clients.
5. Market Reputation (Vendor Satisfaction)
In continuation of the aforementioned point, you can never be too careful when hiring a potential team to oversee software development outsourcing or sensitive information pertaining to the success of your company.
Vendors are keen to advertise prospecting teams and team members with their credentials, certifications, and badges.
These credentials serve as testimonials for each team member. Companies are therefore able to ascertain whether or not these teams are a good fit for them or not.
Outsource a team that has been recognized by firms certified by top software development companies, such as Clutch, Accelerance, Good Firms, etc. Also, verify that the potential vendor that likes you the most has the needed partners for your business, such as Amazon, Google, Azure, etc.

6. Professional Culture
Every company strives towards success despite different business models. Of course, everyone wants to succeed, but not everyone shares the same professional or work values. At the very least, they should share the same professional and work values as your business.
We have found, as an outsourcing team, a better and strongest bond among customers and employees when sharing mutual organizational values. Finding such a company can save you a lot of stress during the project. So, pay attention to how they communicate and their work ethics when discussing the goals of your projects, requirements, and deliverables.
7. Communication
Businesses and nearshore teams should be able to collaborate on projects simultaneously to prevent miscommunication. Aligning work hours to your in-house team is one way, but also, using a single communication channel helps make sure your project is on track. Our team is able to work through the platform or tool that best suits your needs, be it Slack, Trello, Asana, or any other project management platform of your preference.
Communication is important before and during the contract. Initially, it is to establish what the client wants from the team and set forth the terms of the contract.
During the project, teams will have to communicate back and forth at every part of the project and keep one another in the loop at all times. Live communication among teams breaks the physical limitation and makes a nearshore software development team feel closer to the company's achievements. When working with a nearshore company, collaboration happens simultaneously, problems are solved within the same day, and improvements are continuously being implemented.
8. Available Workforce
Based on the complexity or the magnitude of your project, you might request a larger workforce or a smaller one. Ask vendors if it's possible for you to review their hiring process and assess individual team member's files wherein their skill sets and previous work history are mentioned.
The amount of available workforce also allows you to familiarize yourself with the team and their expertise in handling the project that you're assigning them. It is important to compare the knowledge, discipline, hard and soft skills your business requires with any potential team.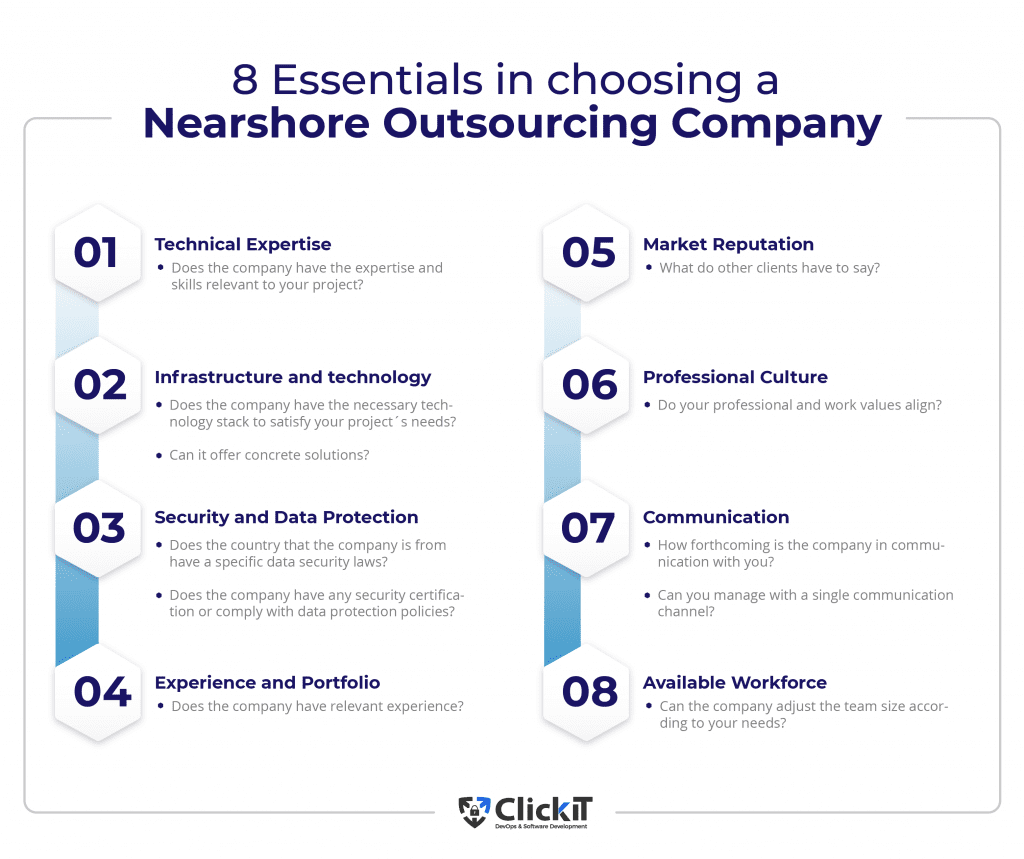 How to Avoid Failure When Choosing an IT Nearshore Software Development Company
The nearshore outsourcing market is big, and it may not be so easy to find the one company that suits your needs the most. So here is some advice to help you ease the process.
Agile Mindset and SCRUM Implementation
An agile mindset allows companies to adapt to various environments and changes. In terms of business, changes are often pertaining to market fluctuations, development needs, and such. Agile methodology basically factors in any possible risks as well as providing any leverage for the company to counter unforeseen risks.
SCRUM is one of the two frameworks (besides Kanban) that utilizes agile mindsets for developing software products. The framework is designed for teams of ten or fewer members.
The goals of the final project are broken down and allotted to each individual member or group of members within certain time limits known as sprints. The general time limit of a sprint is anywhere from two weeks to a month. At the end of the time limit, the overall team holds two meetings.
Daily meetings are held to assess each member or group of members' progress, called daily scrums. The first meeting is to review the work done for the stakeholders, and the other one is for the team to reflect on their efficacy and improve if need be.
Scalability and Flexibility
Teams are required to keep in constant communication with one another. This means that the team working in-house maintains a steady stream of conversation pertaining to the project and the overall goal of the company with the team working nearshore.
To avoid failure, teams are required to communicate as quickly as possible with one another. This could go from either end. The in-house team could review with the nearshore team over possible concerns of the effectiveness of the project, and the nearshore team could communicate timelines.
In any event, both parties need to be in real-time communication with one another and align their working hours. Therefore, fixes can be made as quickly as possible.
Cost Efficiency
Using nearshore software development companies in Mexico as an example, companies in the United States pay around 60% more in salaries. The price difference doesn't account for lower quality in the overall product itself. Instead, it's based on the standard of work in IT development and the state of the economy in both countries.
Easy Collaboration and Communication
To ensure success and mitigate any risks, companies looking to outsource their projects need to perform due assessments. This includes checking the employee's portfolio, their previous vendor satisfaction rates, and communicating with previous employers.
Haven't decided to choose Nearshoring yet? Get the free ebook to dive into the Nearshore experience.
Conclusion
Companies in the United States are becoming increasingly aware of the numerous benefits that come with outsourcing projects to nearshore software development companies.
Some of the aforementioned benefits include cultural affinity, time zone similarities, ease of communication, easy travel (if need be), and cost-effectiveness. All of which are essential characteristics of a nearshore software development company. Nearshore software companies like ClickIT are the best solution to adopt and scale to meet the unique needs of their clients. From startups to Fortune 500, all-sized companies have tried our services and decided to stay.

Frequently Asked Questions
What is a nearshore company?
Nearshoring refers to a model wherein the outsourced work is delegated to a company or a freelancing team in a nearby country. Businesses in the United States would approach either neighboring countries or countries in close proximity for their professional services by employing specialists to handle specific business tasks.
What is the difference between onshore, offshore, and nearshore?
Onshore means outsourcing certain parts of your business operations to a company located in the same country or region as yours. Offshore would be doing the same but with a company located in another country, most often in a different time zone. Nearshore lies in the middle and refers to outsourcing work to a company or a freelancing team in a neighbouring country.
What is nearshore software development?
Outsourcing your software development to a company or a freelancing group in a neighbouring country is called nearshore software development. It can be of great help as you are essentially working with people of similar cultures and languages who are more likely to understand exactly what you need and deliver according to your requirements.
Why do companies nearshore their software development?
Companies nearshore their software development to enjoy the benefits of outsourcing work while staying closer to home. This way, they can avoid any risks and hidden costs associated with outsourcing and can work with top talent in similar time zones, languages, and shorter geographical distances.
How to hire a nearshore software development company?
Before hiring a nearshore software development company, make sure you are clear on what you need and have jotted down the requirements document. You can start approaching popular nearshore software houses, reviewing their portfolios, comparing them against each other, and finally shortlisting the one you want to go with.
Is nearshore software development good?
Nearshore software development is good and generally less-risky than off-shore firms. You can get hold of experienced developers who are well-equipped with the latest development techniques and can deliver according to your requirements. You can build long-term partnerships and utilize global talent to create what you need.
What are the advantages of nearshore software development?
Nearshore software development is often cheaper than on-shore or off-shore development and saves you a lot of time and resources. You don't have to deal with complete foreigners as the language, culture, and time zones often overlap, and there are some similarities between the two of you. Plus, the geographical distance is not that much, so you can easily travel back and forth if need be.