The Golden State offers a vibrant lifestyle with activities from hiking in Yosemite National Park and exploring vineyards to surfing on iconic sandy shores. In addition, California is home to the largest IT hub which hosts numerous web development companies in California. Silicon Valley makes California a perfect fit for tech-driven ambitions. Web development is important for businesses, and the state offers top web development companies.
Table of contents
The Importance of Web Development for Businesses
Web development plays an important role in establishing your brand's online presence and effectively promoting your products or services. It serves as a platform for engaging with customers and fostering meaningful interactions. Let's see why web development is important to your business.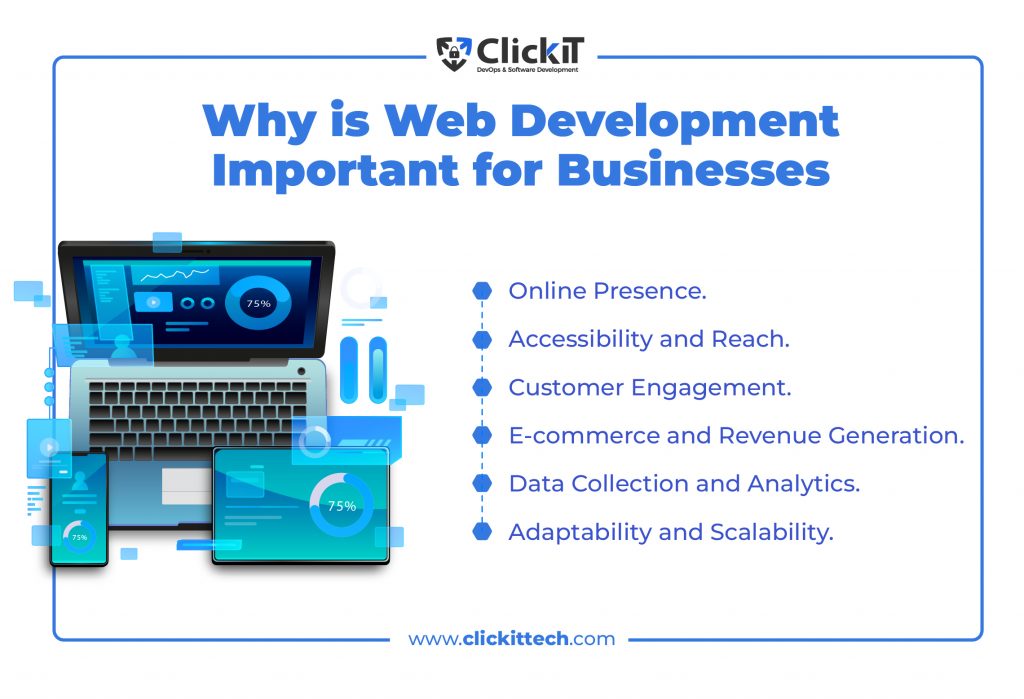 Online Presence
Having a professional and engaging website that serves as the business's online face can help you make a positive impression on the customers and stand out from your competitors.
Accessibility and Reach
Unlike traditional brick-and-mortar stores which are limited in operational hours, a website can reach a global audience 24/7. A website allows customers to access information about the business, make purchases as well and make inquiries at any time, which expands new market opportunities and increases in customer base.
Customer Engagement
Enabling the business to engage with the customer helps the business to build up vital features such as customer loyalty and understand and meet customer needs through live chats and contact forms. Email subscriptions and social media integration help the business boost engagement and approach target audiences.
E-commerce and Revenue Generation
Increasing the online presence helps the business offer its products or services beyond just physical stores. Integrating shopping carts and secure payment gateways provides convenience to customers and increases revenue potential.
Data Collection and Analytics
Web development allows the business to collect valuable data about website visitors, online interactions, and customer behavior which helps the business to optimize its market strategies and make informed decisions.
Adaptability and Scalability
Due to its flexibility and expandability, businesses can adapt to changing market trends, and customer demands with the help of web development. This ensures the business can stay competitive and effectively meet the evolving needs of the targeted audience.
Why Choose a Web Development Company in California?
The web development industry in California is known for its innovation and technological advancements. At the heart of California is the world's largest IT hub, Silicon Valley. Other significant IT hubs include Los Angeles, known for its thriving entertainment and media industry. San Francisco is also recognized for its diverse range of startups and established companies.
These regions attract tech giants, venture capitalists, and visionary entrepreneurs, creating an ecosystem that fosters collaboration, creativity, and rapid growth.
The industry embraces innovative technologies such as AI, machine learning, virtual reality, and augmented reality. California's tech companies and startups are at the forefront of innovation, pushing boundaries and exploring new possibilities.
Moreover, being in the same region as tech giants like Google, Apple, and Facebook gives web development companies in California more opportunities to keep pace with the latest industry standards and best practices, such as fintech trends.
The industry's diversity is a key aspect of California's web development domain. Not just that, web development companies in California have access to top talents. It's home to top universities, which attract the best talent from around the world. Moreover, California web development companies cater to a variety of industries, such as e-commerce, finance, healthcare software development, entertainment, and education.
In California, the web development industry integrates closely with digital marketing strategies. Web developers work hand-in-hand with digital marketers to create visually appealing, user-friendly websites that optimize search engine rankings. This collaboration engages visitors and converts them into customers, ensuring a comprehensive approach to customer engagement.
How to Choose a web development company in California
When starting a web development project, it's important to evaluate your needs and select the right web development company in California to bring your vision to life. This process should involve identifying your requirements, goals, and target audience. Choosing a web development company in California based on their expertise and experience will help ensure the creation of a high-quality web application.
Let us dive into the specifics you must follow with your web development project.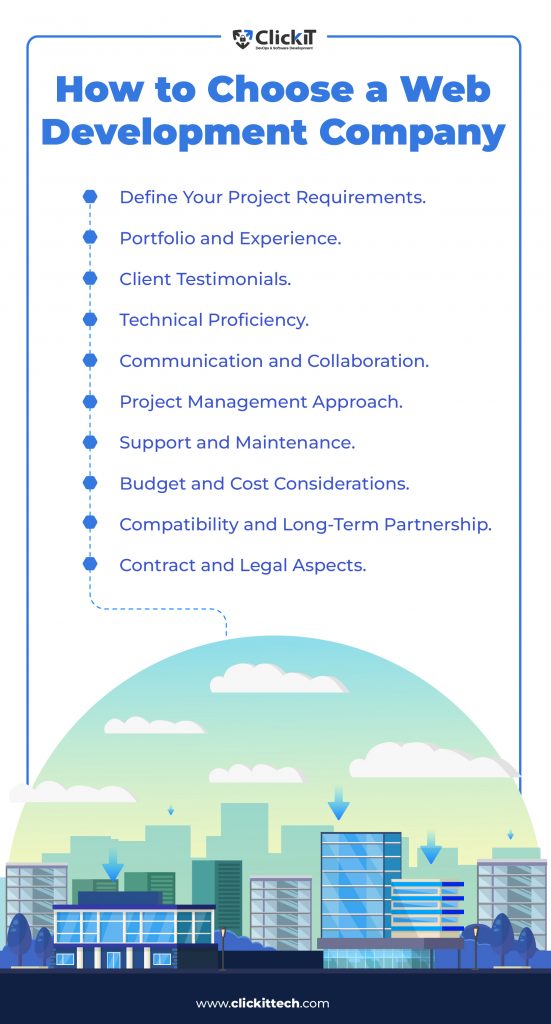 Define Your Project Requirements
You need to clearly outline your project requirements, including the website's scope, functionalities, design preferences, and any specific technologies or platform preferences. This will allow you to assess the potential web development company that can meet your requirements.
Portfolio and Experience
Check out the portfolio of the web development companies in California you and look for relevant website development experience similar to your project in terms of industry, scope, and complexity. This will demonstrate their expertise and ability to manage your specific project.
Client Testimonials and References
Read testimonials of previous clients and explore references from web development companies. Feedback from previous clients gives us insight into their professionalism, quality of work, communication skills, and punctuality. Look up references and hear about their first-hand experience with the company.
Technical Proficiency
Examining the web development company's technical skills and expertise ensures that they use proficient frameworks and tools. Also, make sure that the developer's technical skills match the project's needs. This is particularly relevant if you have specific technology preferences or need integration with multiple systems.
Communication and Collaboration
Effective communication and collaboration are essential to the success of any web development project. Evaluate corporate communications' responsiveness, clarity, and transparency during the evaluation process. Consider their ability to understand your requirements, provide valuable suggestions, and maintain open communication throughout the project.
Project Management Approach
Understand your company's web project management approach. Ask questions about development processes, methodologies, project plans, milestones, and how potential changes are addressed. A well-defined project management approach ensures efficient execution, effective coordination, and on-time delivery of web development projects.
Support and Maintenance
Address the web development company for post-development support and maintenance. A reputable web development company in California should provide ongoing support, updates, and maintenance to keep your website secure, functional, and up-to-date. Clarify the terms of use, response time, and associated costs for such services.
Budget and Cost Considerations
Evaluate web development companies in California in terms of pricing models and cost estimates. Make sure the costs are within your budget while considering the benefits provided. Be mindful of unusually cheap providers, as they can compromise quality and expertise by providing a website that does not meet your requirements.
Compatibility and Long-Term Partnership
Consider the compatibility between your company and the web development company California. See if the web development company understands your business goals, culture, and values and is willing to create a long-term partnership. These partnerships benefit ongoing development needs as well as future updates and scalability.
Contract and Legal Aspects
Review the contract and legal aspects carefully. Ensure that the contract clearly defines and agrees upon all project details, schedules, deliverables, intellectual property rights, and confidentiality clauses. Seek legal advice if necessary.
By evaluating your project needs and conducting thorough research on potential web development companies, you can ensure a successful collaboration that delivers a high-quality web application that meets your requirements. Let's explore companies and alternatives that are prominent in the web development industry in California.
Top Web Development Companies in California
LogiGear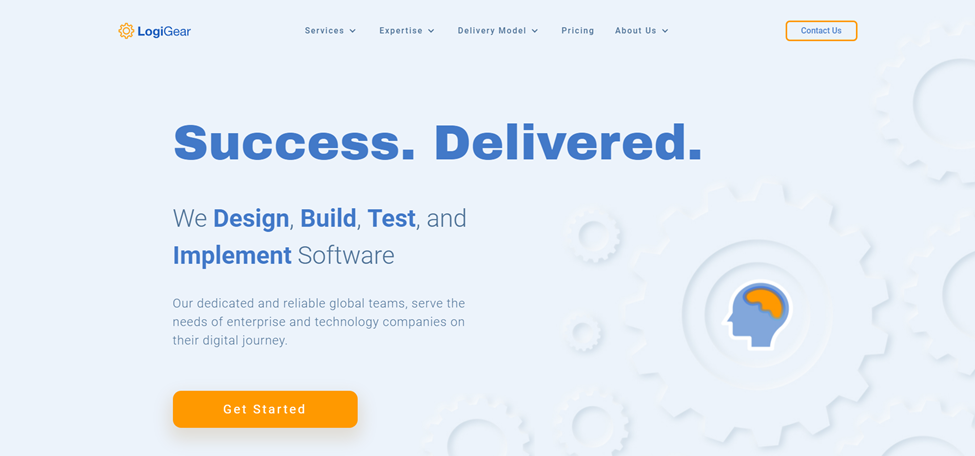 LogiGear is a software testing and automation company headquartered in California. They specialize in designing, building, testing, and implementing software solutions tailored to various industries' specific needs. With its comprehensive range of services, LogiGear aims to improve the performance and efficiency of software testing efforts for companies.
Their offerings include test planning and strategy, test design and execution, test implementation, performance testing, and continuous testing. Moreover, LogiGear provides business consulting services to quality assurance processes and implements industry best practices. Their expertise in specialized areas such as ERP services and Salesforce ensures efficient and effective use of CRM systems.
At LogiGear, they recognize the significance of choosing the right delivery model that aligns with the unique requirements of each organization. Their team of experts will assist you at any product stage, helping define your market business and managing projects with complete scope control to deliver successful outcomes that meet your specific needs.
2. GlobalLogic
GlobalLogic is a digital product engineering company that provides software development and design services to clients across various industries. Headquartered in California, GlobalLogic has a global presence with offices in multiple countries.
The company offers various services to help organizations develop and deliver innovative digital products and solutions. Several notable achievements from GlobalLogic include a global presence and a great client base. They have a prominent industry recognition, receiving numerous awards for their services and solutions, successful product launches, strategic partnerships, and innovation.
GlobalLogic's accomplishments reflect their expertise in digital product development, commitment to customer success, and ability to drive innovation.
3. ClickIT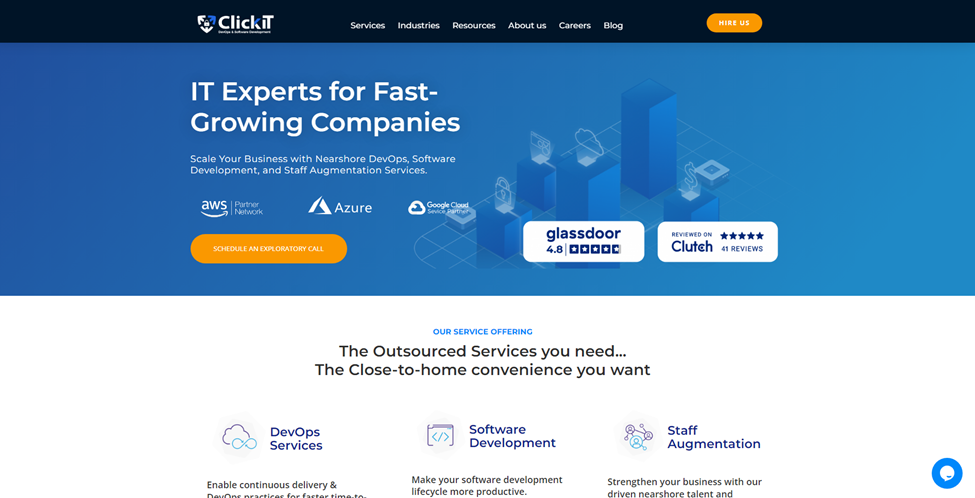 ClickIT is an IT company based in Mexico with offices in California. As a software outsourcing company, they have been in the industry for over ten years, supporting start-ups, SaaS companies, and other businesses with modern solutions. As an AWS select partner, they offer a comprehensive solution that includes analysis, consulting, design, and implementation of cloud projects. Their services range from migration and DevOps to automation, software development, and cloud computing.
Notable Achievements
Years of experience: With a focus on DevOps and software development processes, ClickIT has completed over 500 projects in the cloud. With a team of over 50 certified engineers, the company provides quality solutions for applications of all sizes.
A 100% cloud-native approach: ClickIT follows a 100% cloud approach, optimizing systems in the cloud with flexibility and on-demand infrastructure. They use cloud technologies like microservices and containers to develop scalable and efficient solutions.
Recognition and authentication: ClickIT is an AWS Managed Partner with numerous awards and certifications, including being recognized as a Top Company by Clutch and Google Cloud. The company appears in prestigious lists such as the Top IT Outsourcing Companies and the Clutch Global 2020 list.
Cooperation at Sea: ClickIT values ​​close cooperation with customers in the same time zone to ensure smooth communication. This allows companies to expand their business efficiently.
Industries of interest: ClickIT SaaS companies serve multiple industries, including financial services, healthcare, and more. Our expertise in cloud solutions, DevOps, and software development allows ClickIT to meetto meet various industries' needs.
4. Urban Insight
Urban Insight is a digital agency specializing in web design, web development, and digital strategy. The company focuses on developing innovative and effective digital solutions for public sector, nonprofit and educational customers. Urban Insight is headquartered in Los Angeles, California, and has been in business since 2000.
The company offers numerous services to help its clients establish online visibility. Urban Insight has achieved notable feats of achievements such as successful projects, great acknowledgment from the industry through design awards, and featured in industry publications. Urban Insight is known for its collaboration with the public sector and non-profit organizations in digital transformation efforts in these institutes.
5. Cubix
Cubix is a software development enterprise specialized in custom software solutions, mobile app development, and gaming development services. The company has headquarters in California and additional offices in the United Arab Emirates and Pakistan. Founded in 2008, Cubix serves customers in numerous industries, including healthcare, finance, education, and entertainment.
Cubix has a successful track record of high-level customer satisfaction. They have gained industry recognition through awards for their innovative delivery. With their consistent dedication to quality and innovation, Cubix remains a trusted partner for businesses worldwide.
6. Creatif Agency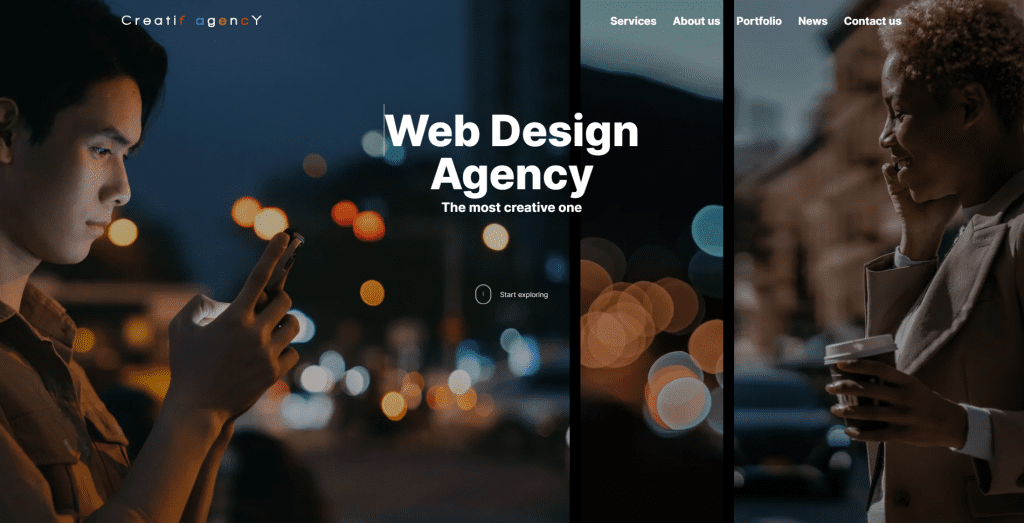 Creatif Agency is a full-service digital agency offering a wide range of services, including web design and development, marketing and branding, and blockchain solutions. They are known for their creativity, quality work, and ability to deliver exceptional results.
With a focus on contemporary design and a commitment to client satisfaction, Creatif Agency has gained recognition and success, including multiple awards for its web design and development services.
Over 92% of their customers continue collaborating with them due to high satisfaction, demonstrating Creatif's ability to build long-term relationships. Their inclusion in the list of the world's most creative organizations is another proof of the company's experience and creativity.
7. Epsilon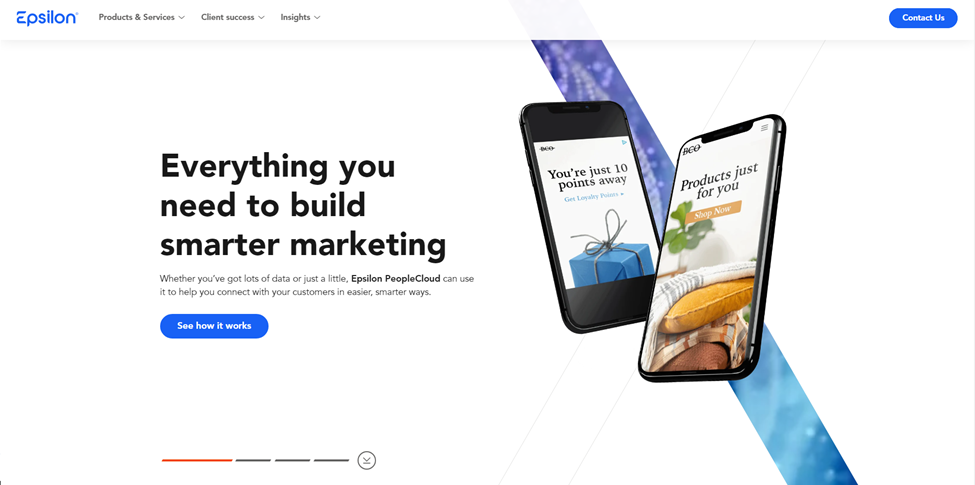 Epsilon is a worldwide marketing organization offering services and solutions that help corporations improve their advertising strategies, customer engagement, and data-driven insights. The agency focuses on regions together with Customer Relationship Management (CRM), loyalty programs, personalized marketing, and statistics analytics. Epsilon has been around for several decades and has stationed offices in many nations.Epsilon has a massive client base in various industries, such as retail, finance, telecommunications, and automotive. Epsilon is recognized for its expertise in leveraging data and analytics to drive marketing effectiveness.
8. LIVEWEBMEDIA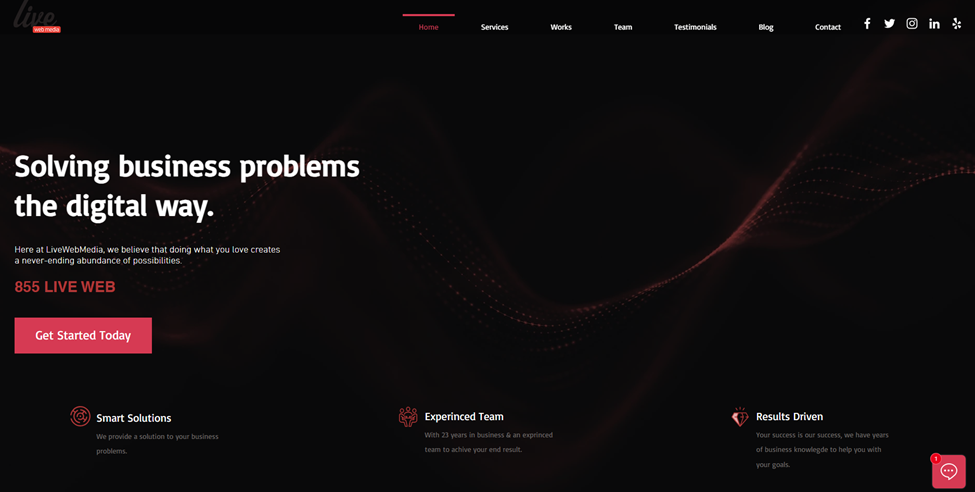 LiveWebMedia is a Los Angeles-based digital marketing and web development company. They specialize in a range of services, including website design, optimization, pay-per-click (PPC) advertising, and social media marketing. With over 23 years of experience, they offer expertise and innovative solutions to assist businesses in brand growth. Their primary focus is to deliver impactful results, thus ensuring the success of their clientele.
Success Stories from ClickIT's Clients
ClickIT Empowers MONETA to Launch Seamless Payment Solutions
MONETA partnered with ClickIT DevOps & Software Development to implement a new infrastructure for their product launch in 2023. ClickIT's strong reputation, competitive pricing, robust offerings, and alignment with MONETA's values made them an ideal choice.
ClickIT took charge of the development, architecture, and implementation of MONETA's cloud infrastructure, providing solutions that reliably meet their needs.
A team of 2-5 experts from ClickIT provided consultancy, guiding MONETA in selecting the best tools and technologies. ClickIT developed and implemented the cloud infrastructure across three environments: Dev, UAT, and Production. Key deliverables included a scalable architecture and integration with MONETA's payment solutions.
MONETA was impressed with ClickIT's professionalism and dedication. ClickIT delivered the requested infrastructure with minimal issues and provided timely support through virtual meetings, email, and messaging apps.
Streamlining Infrastructure and Software Development with ClickIT
Reconstruct, a company specializing in SaaS-based solutions, engaged ClickIT DevOps & Software Development for their infrastructure and software needs. ClickIT assigned a DevOps engineer and a Senior Software Developer to steer infrastructure-as-code initiatives and enhance software development capabilities.
The collaboration with ClickIT yielded remarkable results. They rapidly advanced in infrastructure automation and CI/CD implementation, completing tasks in half the projected time. Furthermore, ClickIT's Senior Software Developer accelerated the software development process, delivering new features and optimizing performance.
ClickIT Delivers Exceptional Workflow Tool for Advertising Platform
A US-based advertising platform partnered with ClickIT to develop a new workflow tool for their platform. Based on their positive experience with ClickIT's expertise in a previous collaboration, the client confidently chose them to handle the development of this new feature.
The company surpassed expectations, delivering a remarkable workflow tool. They completed the project on time, and the work and communication quality was exceptional. Moreover, ClickIT's project management strategies, which used tools like JIRA and Slack, ensured effective collaboration.
The tool developed by ClickIT, now integrated with the client's team, functions as a vital extension of their workforce. ClickIT's ability to expertly handle projects and deliver on time left a significant impression.
ClickIT Empowers Stellar Menus to Achieve Success with Innovative Restaurant Platform
Stellar Menus is a platform dedicated to assisting restaurants in managing their menus and boosting revenue growth. They partnered with ClickIT to build a commercially viable version of their product on AWS. After evaluating multiple vendors, Stellar Menus selected ClickIT for the exceptional work ClickIT had done in the past.
ClickIT delivered high-quality work, enabling Stellar Menus to launch its MVP successfully. Any bugs that surfaced were promptly resolved, proving ClickIT's commitment to its clients. Stellar Menus greatly appreciated the approach to the development and responsiveness of ClickIT.
Conclusion
ClickIT emerges as a superior choice in the web development industry in California. With its extensive expertise in cloud solutions, emphasis on DevOps practices, and a proven track record of successful projects, ClickIT stands out as a reliable and experienced provider. The nearshore collaboration model, and their competitive pricing make them an attractive option for companies seeking efficient and cost-effective web development services.
By partnering with ClickIT, businesses can benefit from their innovative technologies, processes, and ability to deliver scalable and high-quality web applications that meet your needs.
FAQs
How long does it typically take to complete a web development project in California?
The timeline for a web development project can vary depending on the complexity of the project, the scope of work, and the responsiveness of both the client and the development team. It is crucial to communicate clearly with the web development company in California from the start to establish realistic timelines and milestones.

How can I ensure the security of my website or application developed in California?
Web development companies in California prioritize security and follow best practices to protect your website or application. They implement measures such as secure coding practices, data encryption, regular security audits, and adherence to industry standards. It's essential to discuss your security concerns with the web development company in California and ensure they have security measures in place.
Who are the tech giants in California?
California is home to tech giants like Apple, Google, Facebook, Netflix, Adobe, Intel, Salesforce, and Twitter. 

Are there any legal and compliance considerations when working with a web development company in California?
Yes, it's vital to ensure that the web development company in California adheres to legal and compliance standards, such as data protection regulations (e.g., GDPR, CCPA) and industry-specific requirements (e.g., HIPAA for healthcare). Verify their compliance measures and data security practices to protect your business and customers' information.