Similar to other fields, the history of women in tech is one to be incredibly proud of, as it was built on the efforts of remarkable women who have worked tirelessly to pave their way in this field mostly dominated by men according to women in tech statistics that we will discuss later on.
Although many believe that women in tech (WIT) have only significantly impacted the industry during the last few decades, that's a big misconception. One of the first appearances of women in technology dates to the 1700s with Nicole-Reine Lepautre and the Halley's Comet.
Lepautre was a French mathematician and astronomer who predicted the comet's arrival with almost precise accuracy. The result is considered an astronomical triumph that marked a before and an after in the field.
In the closer century, we had the great Ada Lovelace. Her work was only recognized in the 1950s but is now considered to be the first computer programmer. Her contributions to technology changed the field for the better, and opened new opportunity-doors for the next generations of women.
There are many more examples of women who have dedicated a big part of their careers to bringing down the barriers around knowledge. Thanks to them, we can now see and learn from the works of Nicole Forsgren, Chief Scientist at DORA (DevOps Research and Assessment), and Charity Majors, co-founder of DevOpsDays and CTO of Honeycomb.io.
Although today's technology environment has evolved significantly, there's still much to accomplish. The lack of safe work environments is one of the many reasons women comprise only 25% of the U.S. IT workforce. Such a percentage is even less than the 34% WIT represented in the 1990s.
Other DataProt's Women in Tech Statistics data, reveals that WIT leave at a rate 45% higher than men. Moreover, last year's devastating layoffs in the sector disproportionately affected workers, with 69.2% of those losing their jobs being women. The situation not only affects women in IT, as turning over this unfairness costs companies around $16 billion a year. 
So, for women in tech day, we will dive into the world of women in technology. We'll talk about tech women's struggles, women in tech statistics, and how companies can create a safer environment for WIT. The importance of their active participation in the field will also be discussed.
Table of contents
What does it mean to be a woman in tech?
Being a woman in tech means dedication, hard work, and courage to face the different challenges you might find along the way. Still, the fight is worth it. According to McKinsey's 2020 report, companies with high levels of diversity have more engagement among their employees and perform better. They improve workers' retainment too and hire better talent.
Those and many more benefits regarding diverse work environments have been around for a couple of years. However, urgent action is still a need as the underrepresentation of women in IT remains evident.
Gender equality in the workplace means more than just having the same number of women and men in a department. It means opportunities without limitations regarding gender, sexual orientation, or race.
Today's high reliance on tech creates the perfect occasion to increment women's involvement in the sector. Furthermore, the Internet's accessibility provides women with a tool for training, inspiration, and professional and academic development.
It's on tech companies and the whole tech community itself to shift the trajectory of WIT simply by advancing their equality.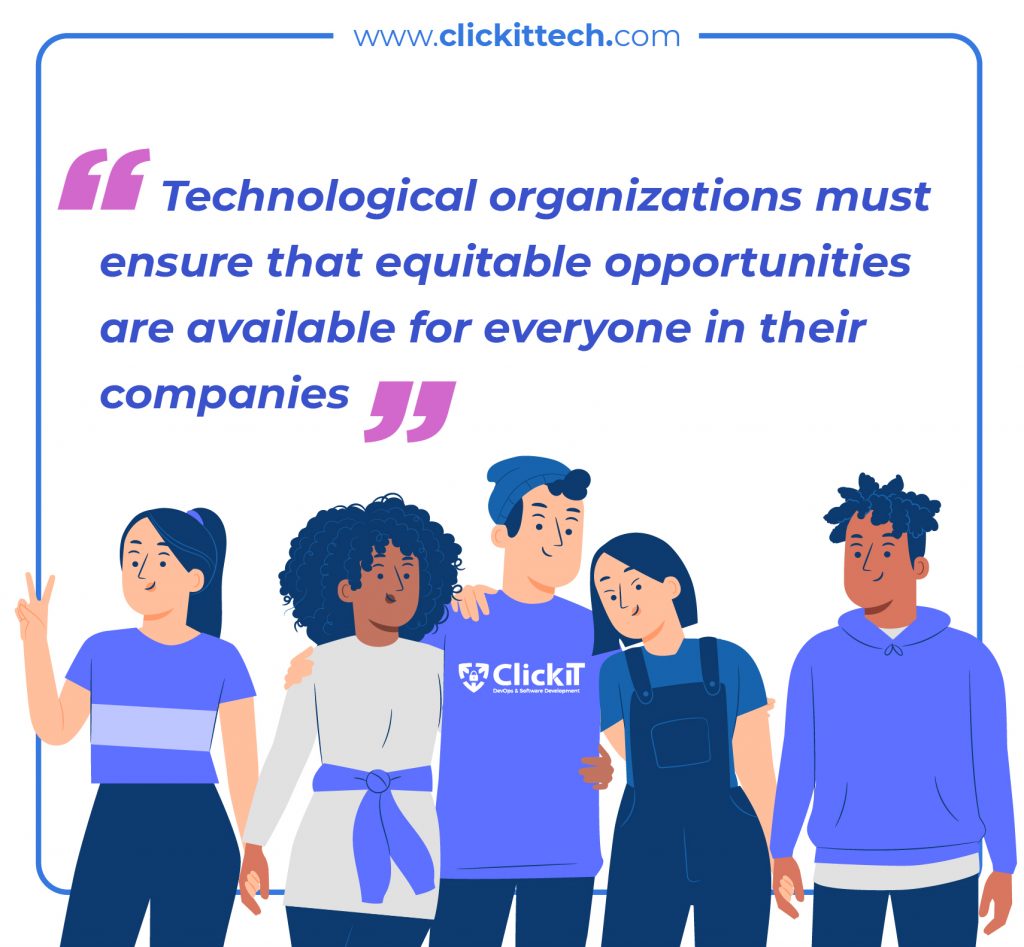 Top 8 Inspiring Women in Tech
The main element you will find in women's history in technology is courage. A sort of braveness that makes you believe everything is possible and achievable because all the women that came before us have done and achieved it all. They almost seem like heroes from fairytales, with the little exception that they are real (and much more powerful).
Besides having remarkable careers, the women mentioned below have dedicated their lives to empowering other women in IT. They have overcome the industry's difficulties and now use their tools to help others scale up the tech ladder.
Their careers are not only exceptional and inspiring, but they're also a testament to how there is no strong enough barrier to stop women's desire for knowledge and improvement.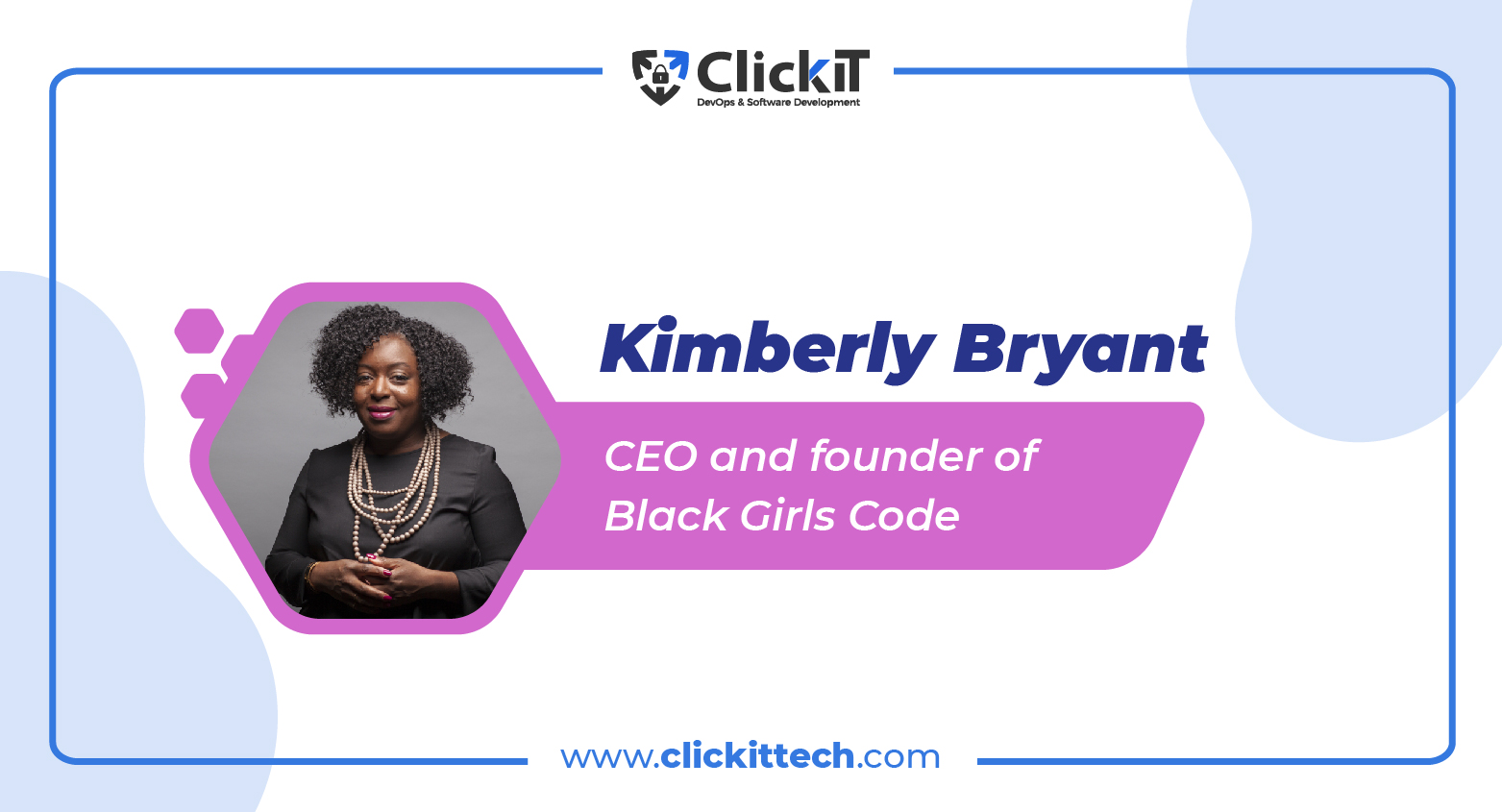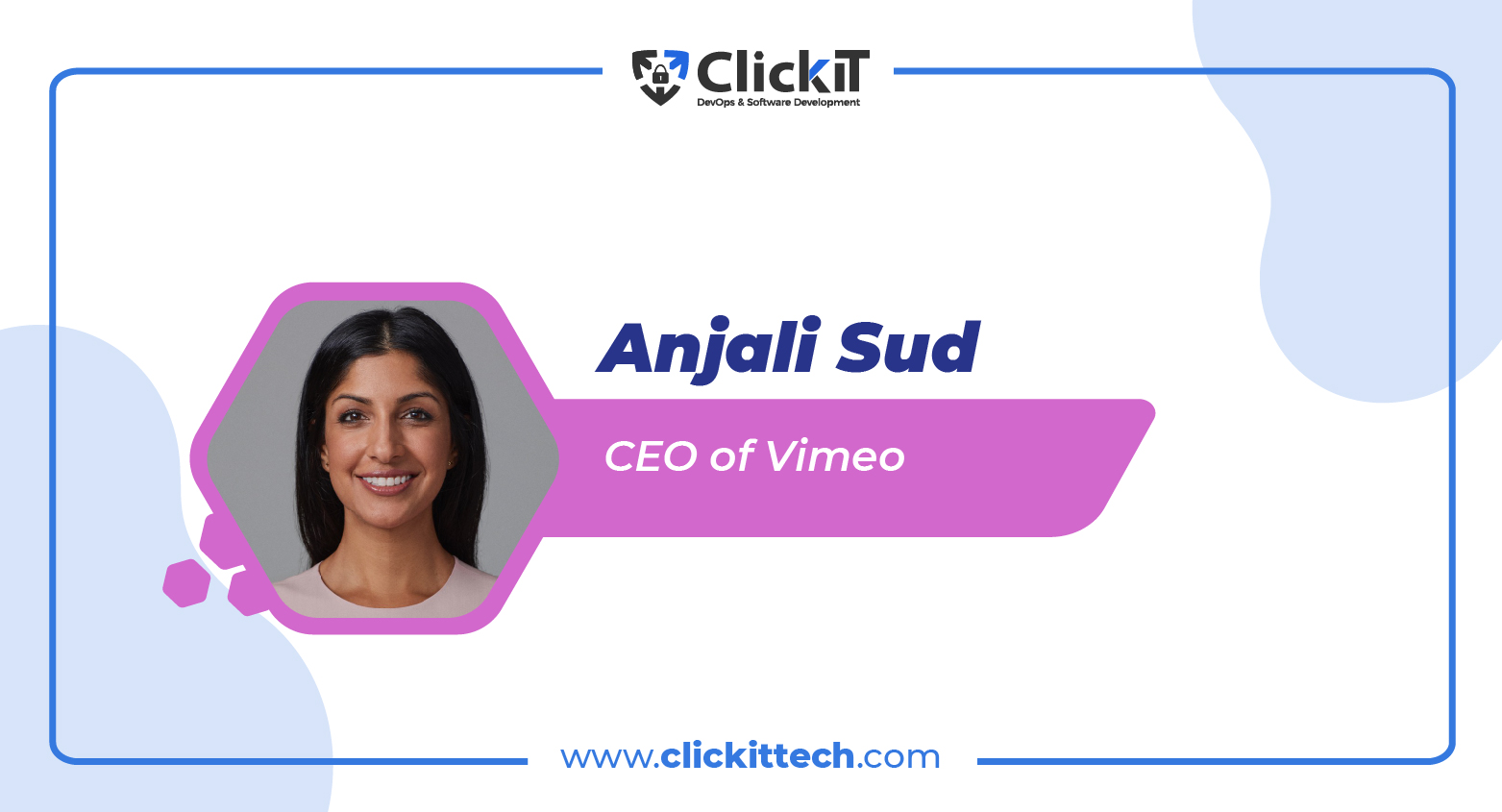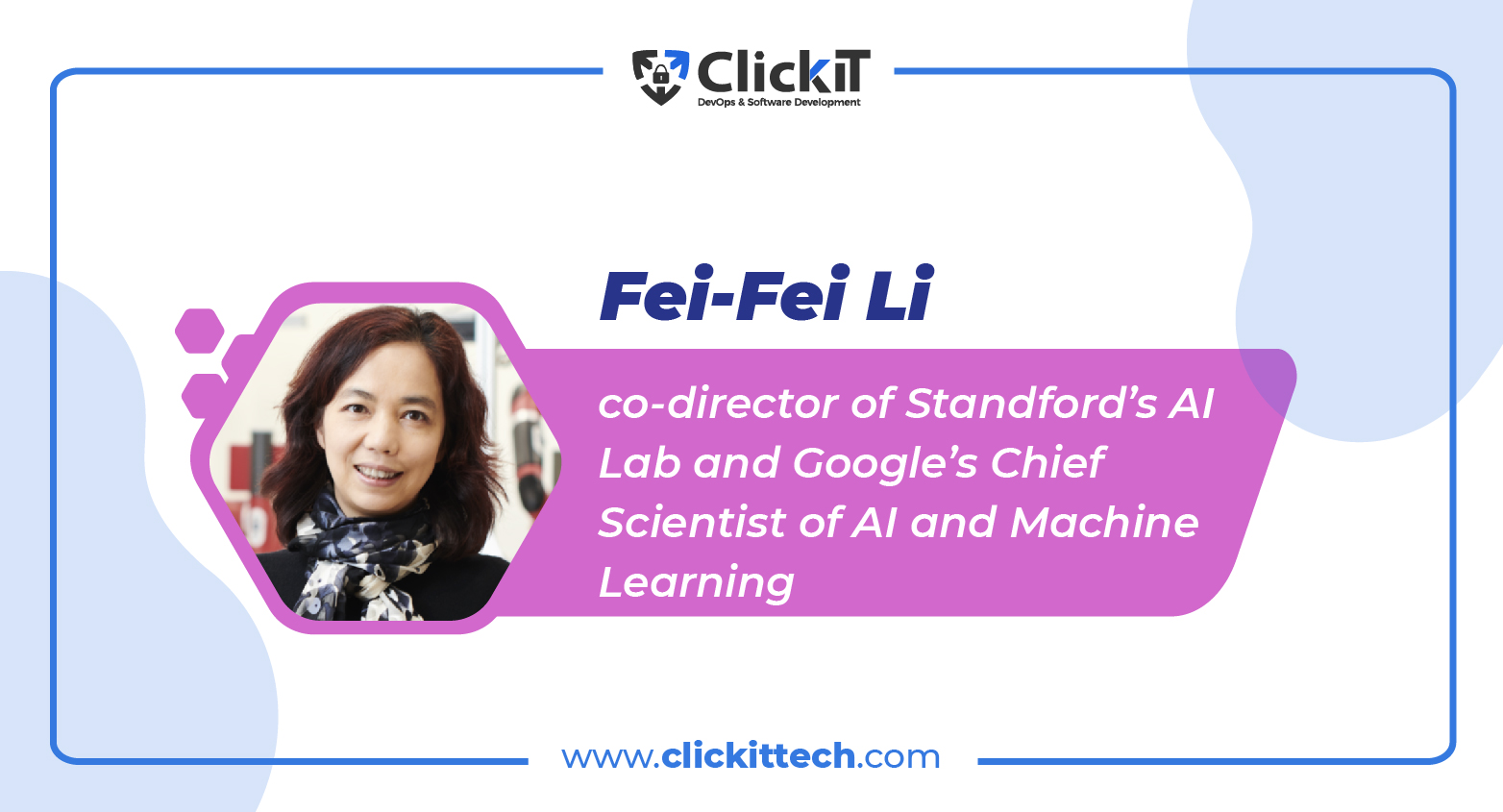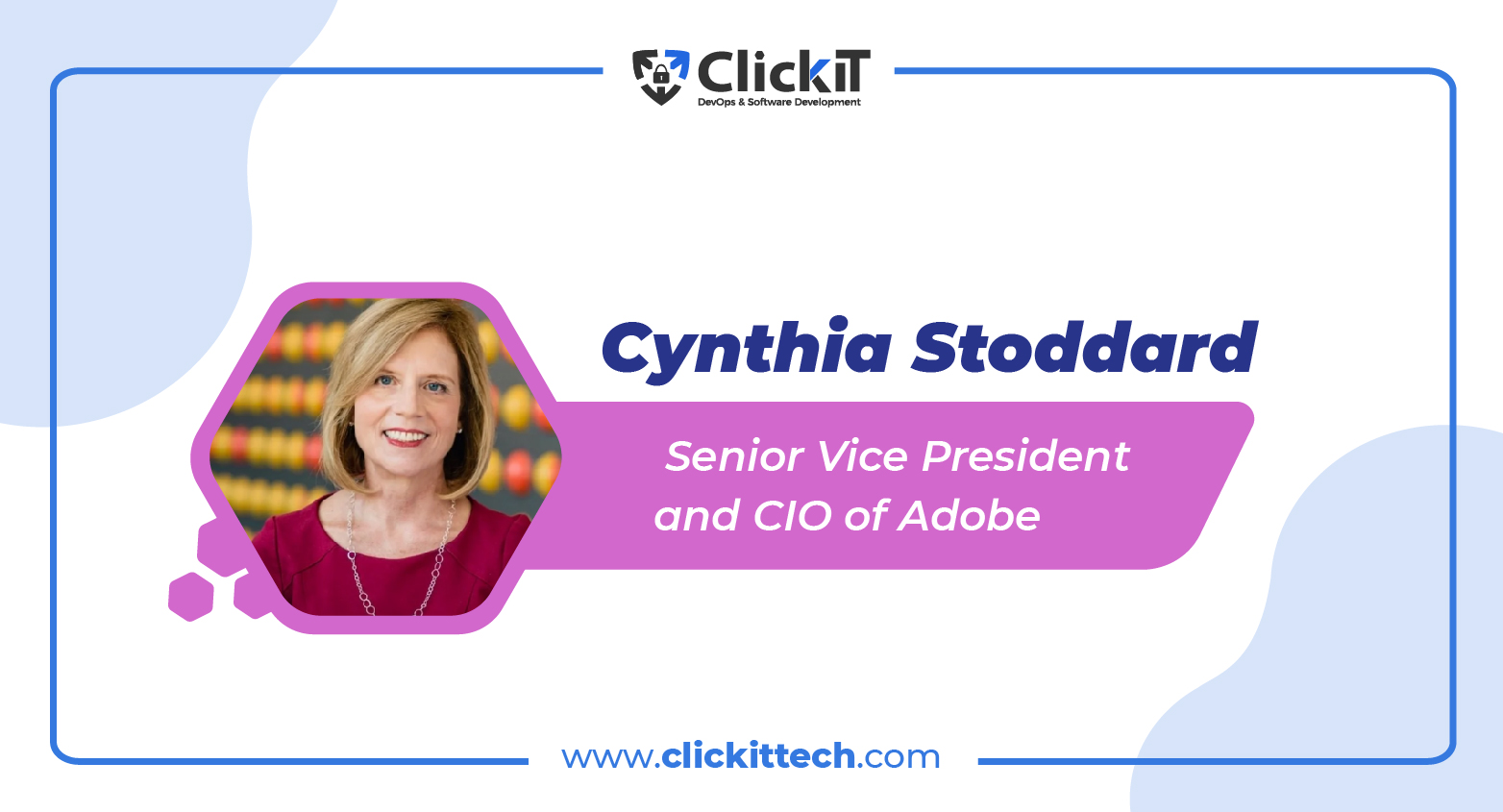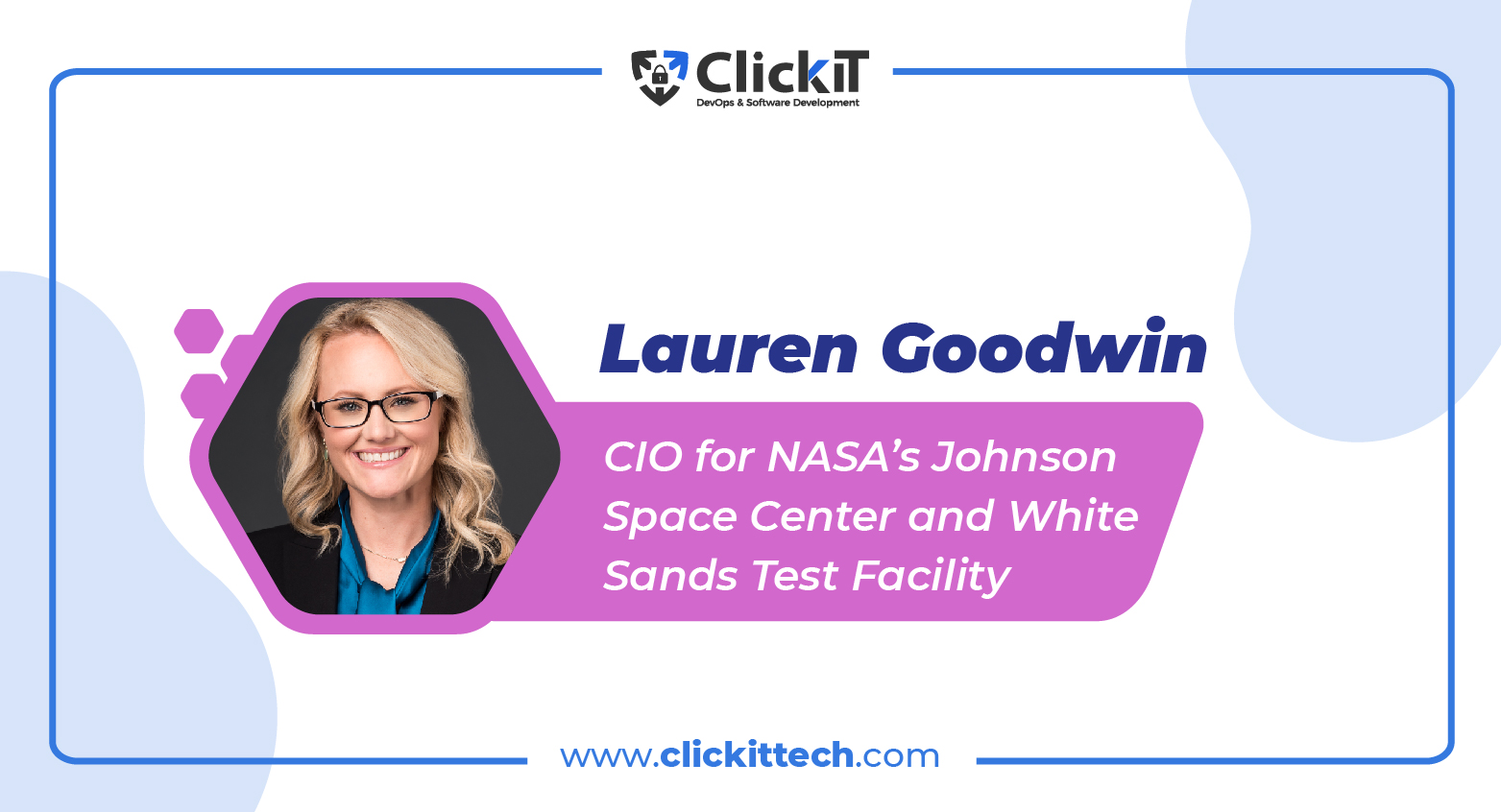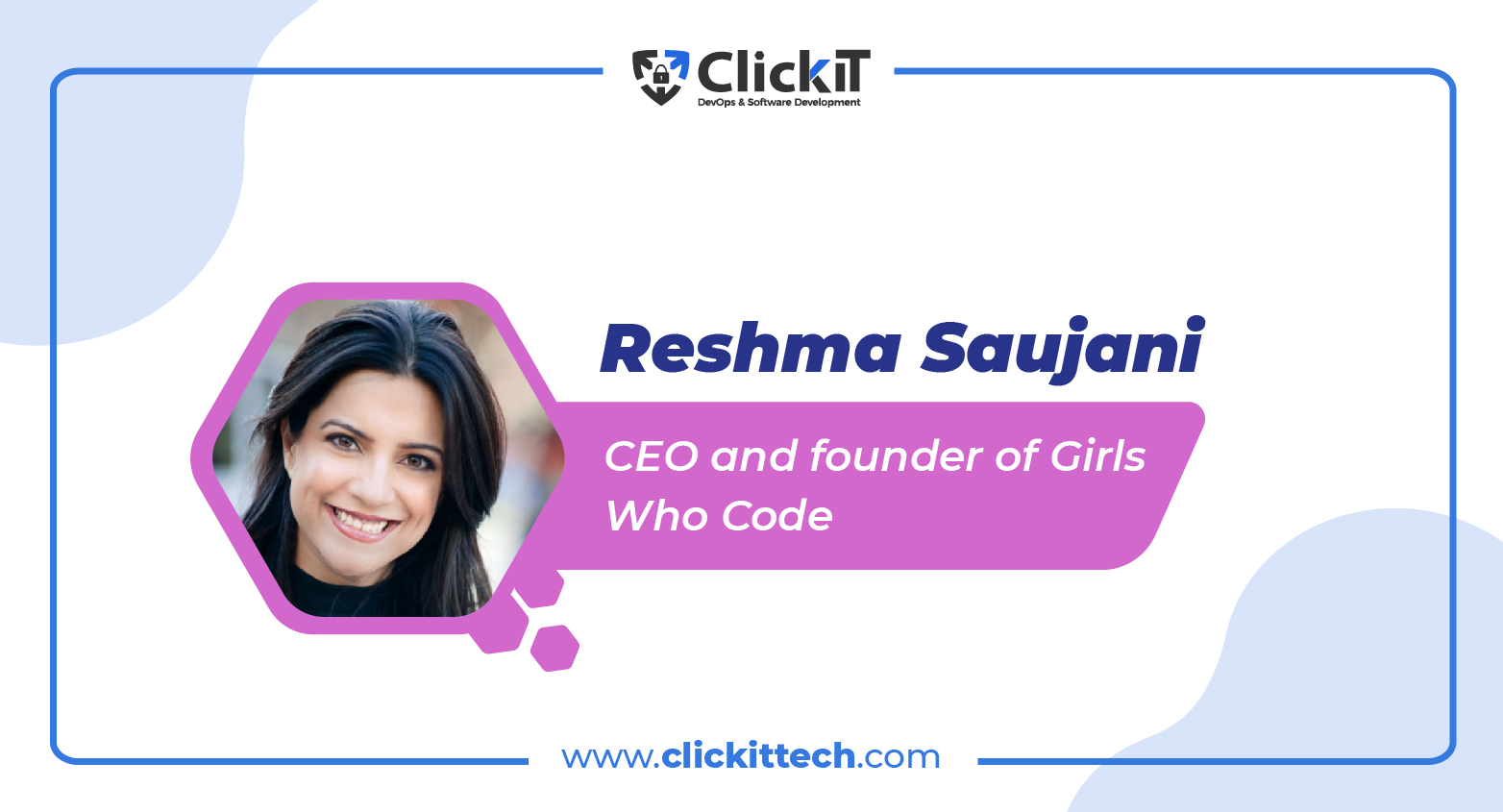 Kimberly Bryant
Kimberly is the CEO and founder of Black Girls Code, a nonprofit organization providing empowerment STEM tools to girls of color. As a child, her interest in mathematics and science motivated her academic journey. That led her to become a Bachelor in electrical engineering.
Later in life, Kimberly realized that the lack of black women in STEM she had seen her whole life was a result of the absence of exposure and access. She soon began to work against this situation; she founded Black Girls Code in 2011.
In this organization, girls from underrepresented communities learn in-demand STEM skills. They receive hands-on instruction and mentorship and participate in programming workshops. If everything goes as planned, by 2040, the organization will have taught 1 million girls to code. Besides coding, young girls learn computer science, robotics, and other STEM-related topics.
Besides Black Girls Code, Kimberly has advocated for inclusion and diversity in the industry. She has launched initiatives to increase the number of girls and women in the field. In 2015 she received the Jefferson Award for Public Service. Moreover, Fortune Magazine and Fast Company have recognized her as one of the most influential WIT. 
Aicha Evans
Aicha is an American engineer and the Director and CEO of Zoox, a self-driving technology company that develops an autonomous ride-hailing service with headquarters in Foster City, California.
Evans began her work as the CEO of Zoox in 2019. Nevertheless, prior to her arrival at the company, she had already developed an extensive and admirable career. At Intel, she performed several relevant positions like General Manager of Communication and Devices, and Chief Strategy Officer.
She became the first African-American female CEO in Silicon Valley when she entered Intel's board of directors in 2019. Since then, her impact on the industry hasn't stopped. She has been an avid advocate for diversity, investing her time in creating valuable opportunities for other women in IT.
Aicha has also mentored other women in tech jobs, providing them with support and guidance to improve in their WIT careers.
Anjali Sud
Anjali is the CEO of Vimeo. She is largely responsible for the significant growth the video-sharing platform has experienced in the last few years. By implementing leading marketing strategies, the community of filmmakers and brands uploading content to the platform reached 60 million users.
She has over 20 years of experience working in e-commerce and media with Time Warner and Amazon. Previously, she also collaborated with executive roles in companies like AOL, YouTube, and Microsoft.
Anjali has made a major contribution to the industry by transforming Vimeo into a user-friendly and accessible platform. This has also increased the company's revenue, retention initiatives, customer acquisition, brand building, and international expansion efforts.

Besides vocally advocating for gender diversity and inclusion through accessible and diverse workplaces, Anjali has also launched diversity initiatives. With Black Creators Fund, she is able to support underrepresented individuals with creative natures.
All her efforts seek to motivate WIT; give them enough courage to pursue careers in a field where they can feel secure, accepted, and with enough opportunities to bloom.
Safra Catz
Safra is an Israeli-born American business executive and the current CEO of Oracle Corporation. Oracle is one of the largest software companies in the world, located in Redwood City, California.
Her commitment to gender equality motivates her to advocate for more diverse boards in tech companies and defend women's crucial role in the industry. She also promotes equal pay, career development, and mentorship opportunities. Catz has become a role model for international WIT and an essential voice in the inclusion conversation. 
Under her direction, Oracle initiated more than 130 acquisitions, some of which include its direct rival PeopleSoft, which Oracle acquired for $10.3 billion in 2004.
Safra is also an accounting teacher at Stanford School of Business, is a board member of Hewlett Packard Enterprise, and has been part of the board of directors of Walt Disney Co. since 2017.
Fei-Fei Li
Fei-Fei is a remarkable computer scientist and AI expert who currently serves as co-director of Standford's AI Lab, Google's Chief Scientist of AI and Machine Learning, and a professor at Stanford University since 2009.
In 2017 she and Olga Russakovsky founded AI4ALLL, a nonprofit organization that increases diversity in the AI community with education, mentoring, recruiting, and training students in underserved environments. Nowadays, it offers summer programs in 16 locations around the U.S.
Her long list of accomplishments helps her demonstrate that women can achieve success in the AI sphere. Along with being a great role model, Fei-Fei promotes inclusion in the area and is always part of the conversation surrounding the lack of minorities' representation in IT and WIT.
Cynthia Stoddard
Cynthia is a highly experienced WIT executive that currently holds the position of Senior Vice President and CIO of Adobe. She received the 2017 CIO 100 Award and the Innovative Ways to Deliver award in 2018. In 2019, she became a CIO Hall of Fame inductee. 
She has over 25 years of experience in the retail, supply chain, and technology development sectors. Prior to her arrival at Adobe, Cynthia served as CIO of eBay and Senior Vice President and CIO of NetApp. She held executive positions at firms like Symantec and Apple.
At her current company, she oversees Adobe's Global Information Technology organization, which includes strategy, delivery, and operations. She is also in charge of Adobe's Reliability Engineering team, where she ensures the security and stability of the company's services and systems.
Cynthia's contribution to the history of women in tech is mainly based on her defense of the representation and visibility of women in tech jobs. She has always been an active speaker on inclusivity and has participated in several panels focused on mentoring young women in tech jobs.
Lauren Goodwin
Dr. Goodwin is the CIO for NASA's Johnson Space Center and White Sands Test Facility and a course associate for Columbia's SPS Cybersecurity and Executive Response course.
She gained her Ph.D. in Planetary Science from California's Institute of Technology and is a neuroscience and artificial intelligence doctor. Her studies specialize in surface processes on icy moons. Some of the projects in which she has collaborated revolve around exploring the outer solar system, for example, the New Horizons mission to Pluto and the Cassini mission to Saturn.
Dr. Goodwin's work has gained great recognition from the industry, and she has received several awards from the National Space Club and the Society of Women Engineers. In addition, she has always used her platform to mentor and inspire young WIT to pursue STEM careers.
Reshma Saujani
Reshma is an American educator, writer, lawyer, and politician. She is the CEO and founder of Girls Who Code, a non-profit organization that seeks to end the gender gap in technology and change the prejudiced image of programmers.
She received her bachelor's degree in political science and speech communication from the University of Illinois and her Juris Doctor from Yale Law School. In 2008, she was the first Indian-American woman to run for U.S. Congress and campaigned for a New York House seat in 2010.
During her campaigns, she witnessed first-hand the consequences of the gender gap in technology and decided to make something about it. That's when Girls Who Code was born. Through it, she empowers thousands of women from all backgrounds while teaching them how to code and become leaders in the discipline.
Since its foundation, Girls Who Code has been offering campus programs and summer immersion, books, online resources, and even after-school clubs. To date, the organization has served more than 450,000 girls, of which at least half are part of underserved and low-income communities.
Thanks to her advocating job, Saujani has been named one of Fortune's Most Powerful Women in Business. Other recognitions include being part of Forbes' Most Powerful Women Changing the World and Fast Company's Most Creative People.
Women in Tech Statistics
As one of the fastest-growing industries in the world, the opportunities newcomers can find in it seem almost unlimited. Nevertheless, women's struggles in IT are still persistent and represent significant challenges for those interested in finding their way in the sector. Here are some women in tech statistics to prove it.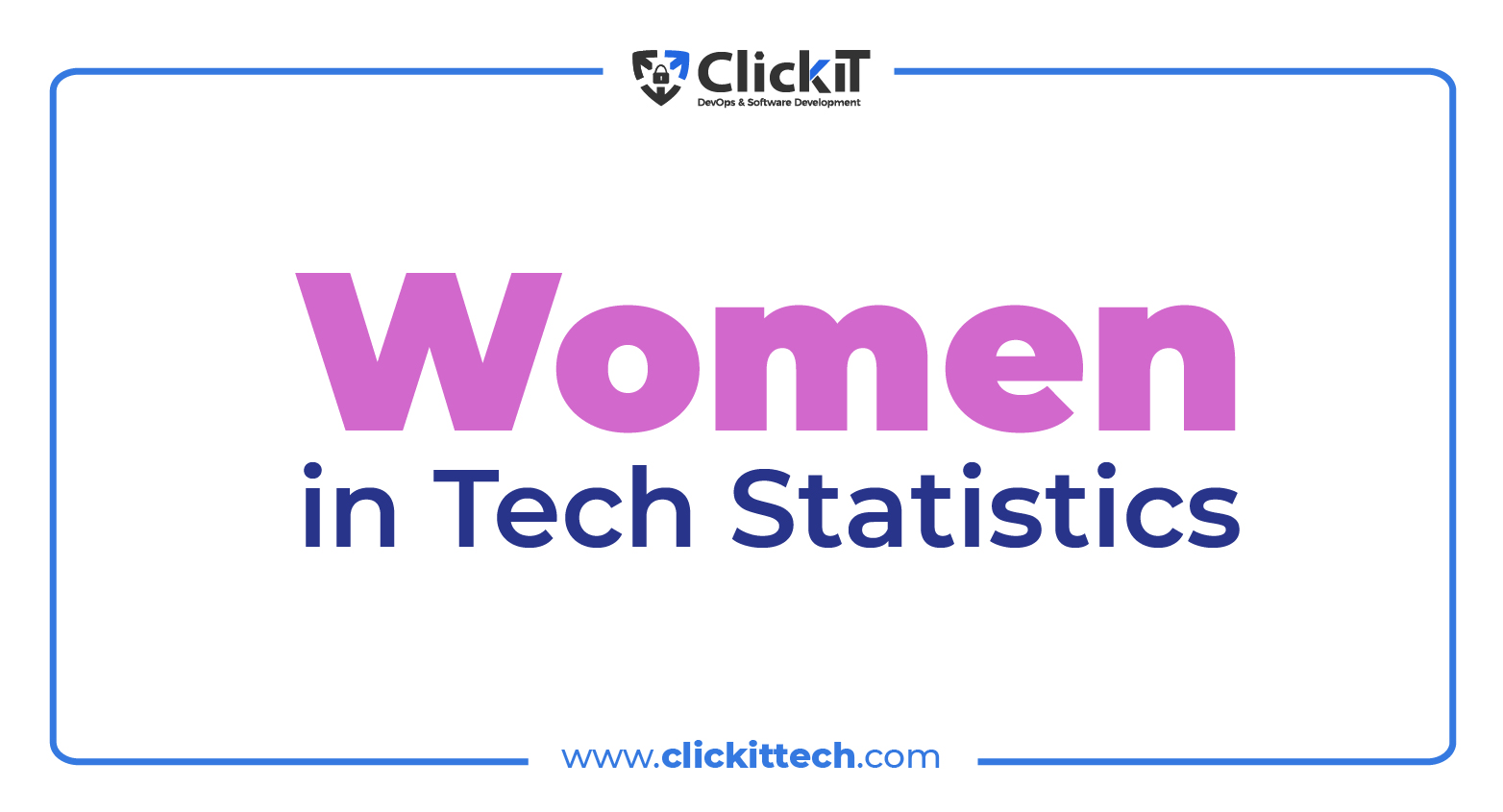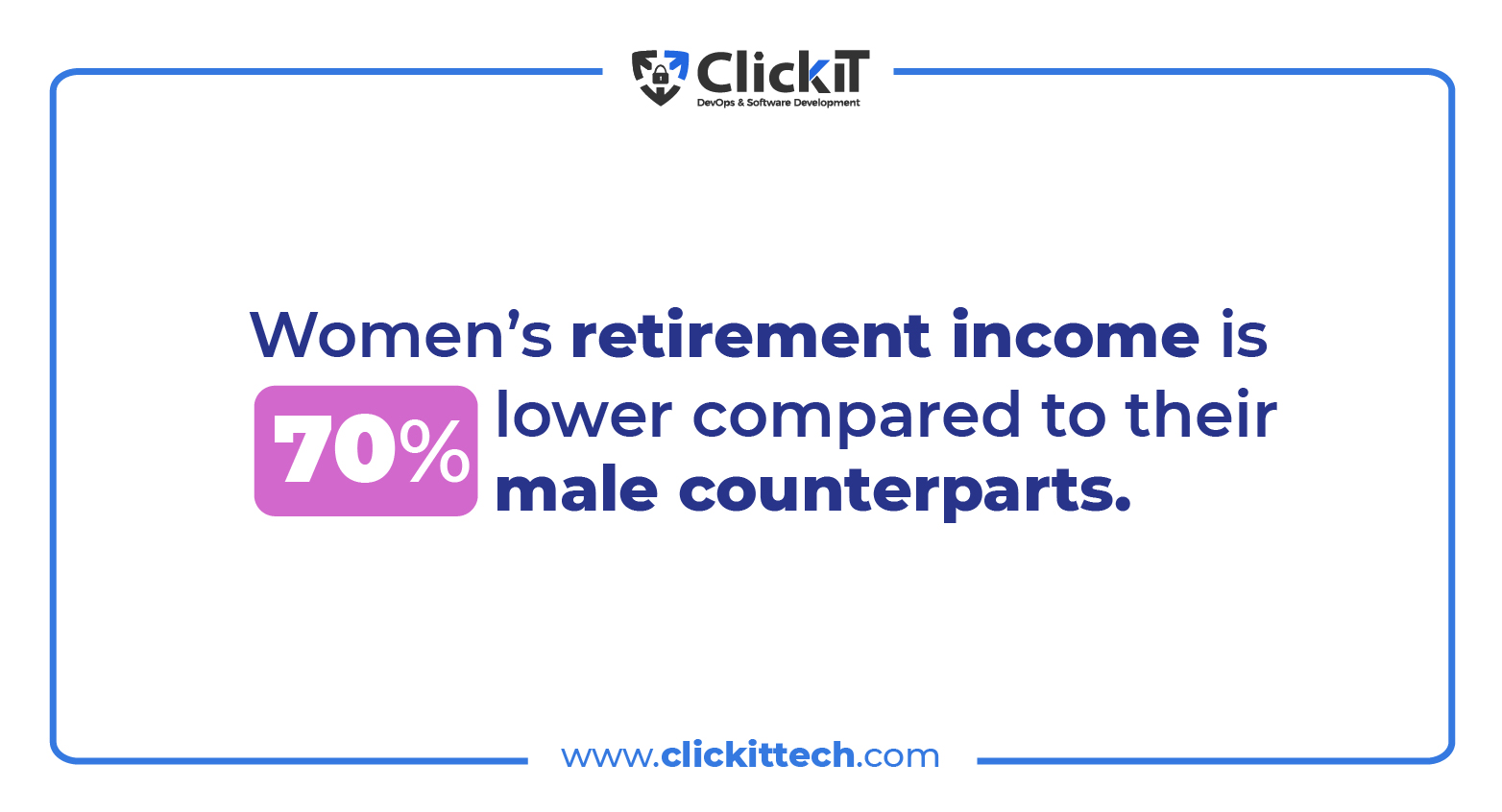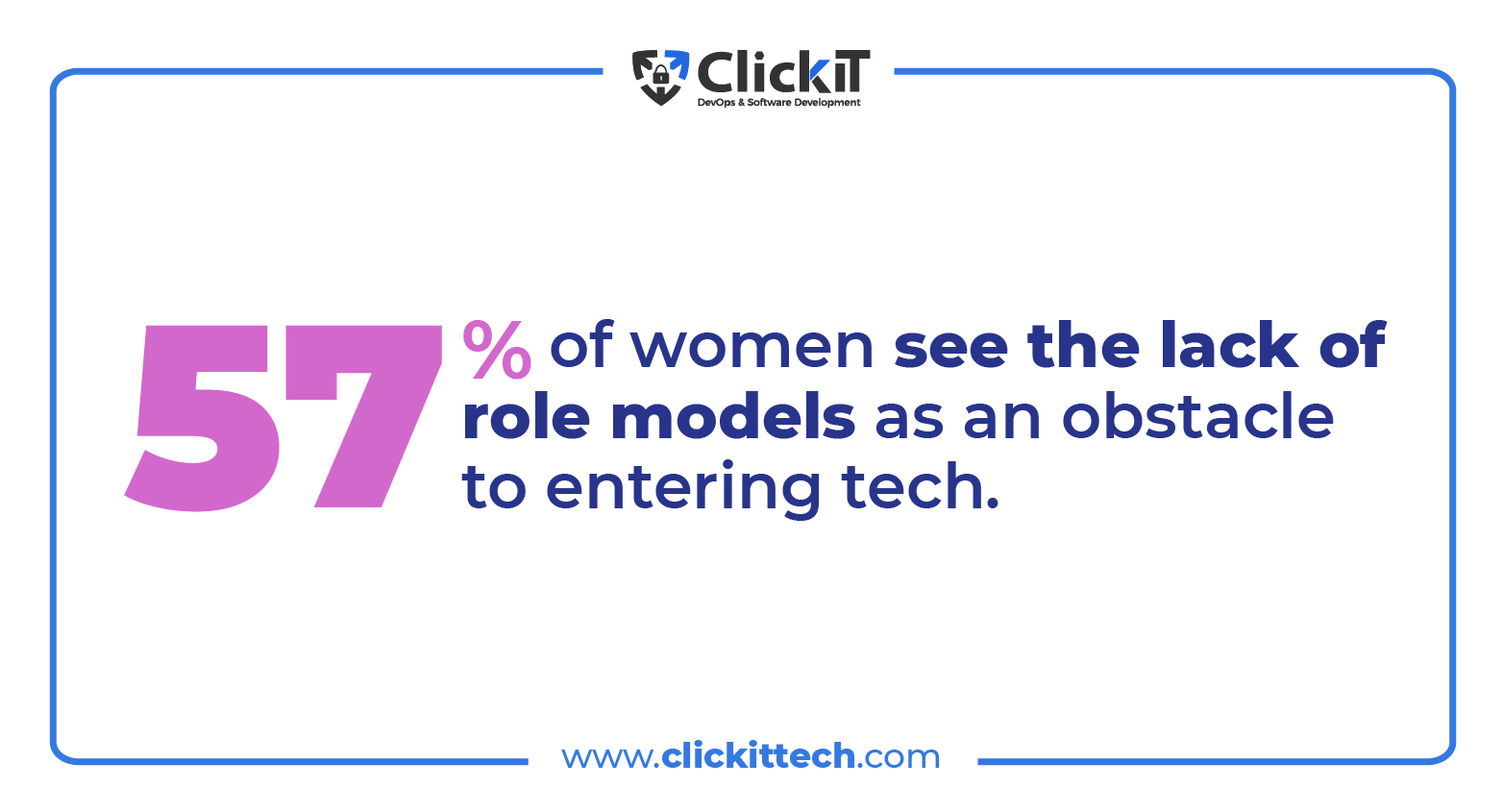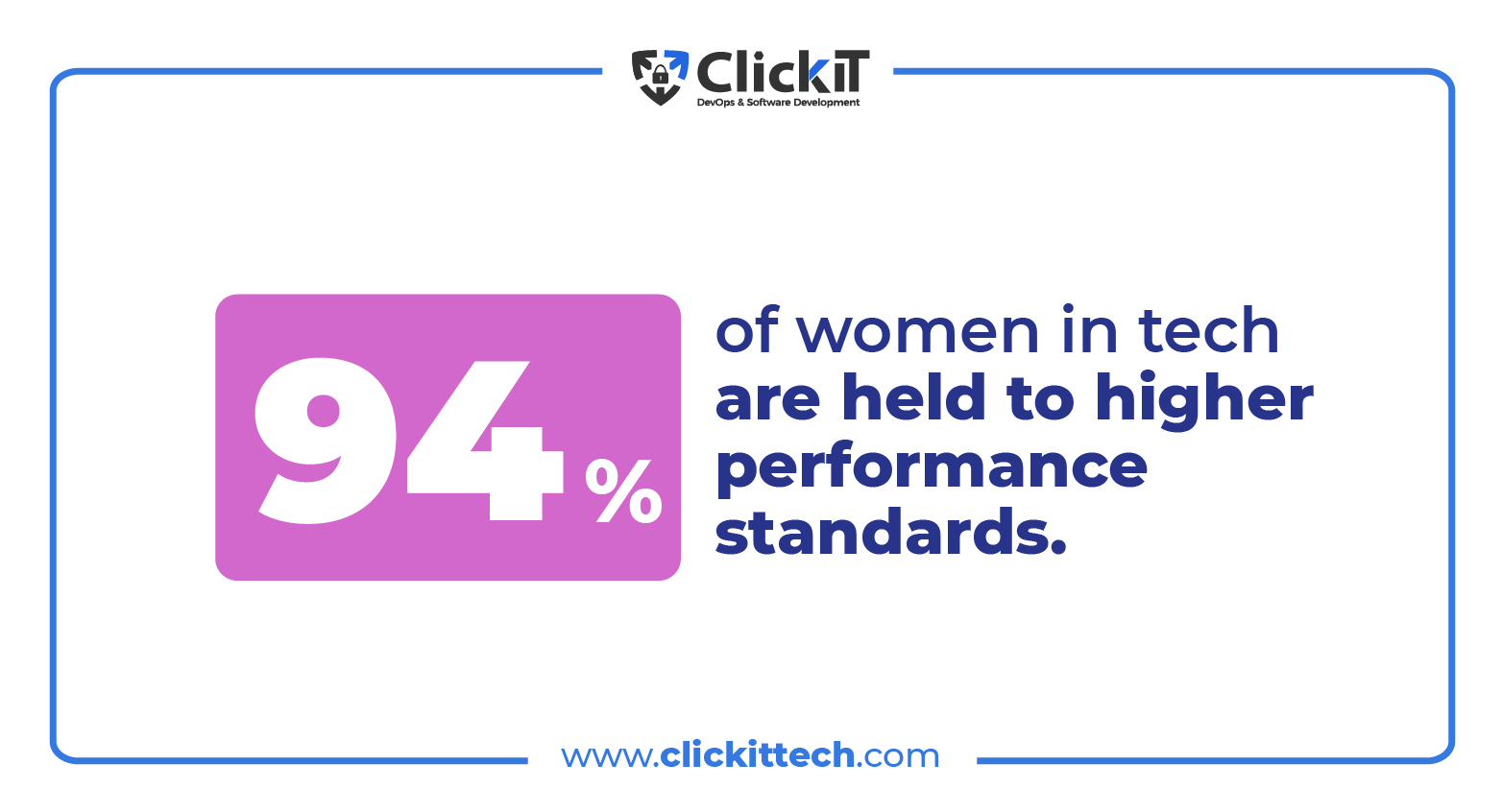 Pew Research Center declares about women in tech statistics, that 74% of women in tech jobs report suffering from inequity practices. Such practices are often the result of gender bias (the tendency to prefer one gender over another and unintentionally attribute certain stereotypes to someone else).
Circumstances like unequal pay, scarcity of advancement opportunities, sexual objectification, or harassment are just a few examples of the consequences gender bias can have. Furthermore, all the situations previously listed create environments that dissuade women from pursuing tech jobs.
Did you know that women's retirement income is 70% lower compared to their male counterparts? According to the American Association of University Women (AAUW) such difference comes from the difference between women's and men's median earnings, aka the pay gap.
This pay gap also affects women's economic future and can even affect their mental health. Women's future social security and pension benefits also suffer the damages of lower compensation. Moreover, it can cause severe stress, foster depression, and decrease job satisfaction.
Women in tech statistics also show that the lack of role models in the industry can be an entry barrier for future tech women. London Tech Week data captured for last year's International Women's Day found about women in tech statistics that 57% of surveyed women saw the lack of role models as a significant obstacle to entering the sector.
The scarcity of women in the area means there are also few near role models young or novice women in tech can look up to. As a result, women in tech jobs can feel underrepresented, outnumbered, or even excluded and unmotivated to reach their full potential.
A recent survey conducted by Navisite indicates that 94% of women in tech jobs believe to be held to a higher performance standard than their male collaborators. Part of this is attributed to the historical male domination prevalent in STEM contexts.
Such different standards also involve performing activities different from those their positions specifically require. 75% of the women considered for Navisite's survey also agreed to be constantly asked to take care of tasks like preparing refreshments or sending meeting invites.
Another women in tech statistics conducted by Ensono, more than 1 in 5 women in the tech industry in the U.S. has experienced intimidation, verbal abuse, or sexual harassment in their workplaces.
Due to the lack of trust in reporting mechanisms and fear of reprisal, most women in tech jobs are unlikely to report harassment. This exacerbates the culture of impunity, where harassers continue to misbehave without being punished or facing the consequences.
How can companies support women in tech?
There are different actions companies can incorporate to offer workplace environments where women feel safe and motivated to grow. Some include equal access to projects and training; advancement opportunities; fair work-life balance and payment; and others.
Access to projects and training
Everyone wants to thrive in their work environments, and tech women want no different.
Challenging projects and training programs that give women a chance to demonstrate their growth and readiness to advance are an imperative need. Continuous improvement is critical for IT success as it increases their confidence in problem-solving while also boosting their skills. Receiving structured guidance on professional development can help too.
The training offered can even involve resources that go beyond technical training. Sessions on prioritizing career development, being active in networking groups, and formalizing professional growth are great examples.
Fair work-life balance
Companies must be careful when crafting their work-life balance policies or measurements as they can significantly influence the decision of WIT to stay or leave a firm. Some consider it one of the main reasons why tech companies constantly lose bright and capable women to other industries. 
A culture that encourages a healthy work-life balance can provide remote work options and flexible job hours. Mentorship programs, parental leave, and prioritizing mental health and well-being can be supplied too.
A healthy work-life balance is easily achievable for Clickers. Join Us!
Filling the pay gap
Getting rid of the pay gap is much easier than it looks. Pay gap audits can be useful if your company is committed to improving such aspects. Audits help identify the necessary steps to ensure staff members receive fair salaries.
Building a culture of transparency around salaries and investing in training programs oriented toward women in tech positions is essential. Another aspect that is often overlooked is the creation of gender-neutral job descriptions based on the required skills.
Encourage people to speak when something is wrong
Every company must have a platform where collaborators can share their opinions and speak up against injustices they experience or witness. An anonymous reporting system accessible to everyone can be a convenient instrument. In that case, the adequate department must take all submitted reports seriously and investigate them thoroughly.
Companies can also promote a reward system that recognizes those who stand up against wrongdoings.
How can you identify a company where women thrive?
Socially committed companies typically submit themselves to examinations to verify that their actions give them positive results. You can find out about this information by checking companies' profiles on review platforms such as Glassdoor. You can also check their results in certification examinations like the one applied by Great Place to Work and Best Place to Code.
Great Place to Work is an organization that helps corporations construct culture and business environments of trust and respect. They recently launched "For all," an initiative that validates companies' diversity and inclusion of minority groups within their workforces.
"For all" focuses on measuring employees' experience by race/ethnicity, age, gender, and more. It pinpoints inequality situations and provides advice to take action. After a plan is implemented, the initiative can also measure if the change is evolving as expected.
Best Place to Code is a guarantee stamp of software development companies' healthy practices and environments that Software Guru awards. BP2C determines if institutions are devoted to supplying enough tools to make their team members feel safe and appreciated.
The certification includes a specific segment where gender friendliness is evaluated. You can have access to the results in the BP2C profiles of each company.
On the other hand, Glassdoor is a website for anonymous reviews and ratings. Each company has its profile, where they receive evaluations on their salary, benefits, work environment, and more. It also includes a section dedicated to each company's Diversity, Equity, and Inclusion (Glassdoor's DEI).
Its purpose is to serve as helpful information that can strengthen job searchers' decisions.

How does ClickIT support women in tech?
As a software development and DevOps company, ClickIT is more than aware of the distress and unfair circumstances women in tech jobs confront to advance or even remain in the discipline. That is exactly why we participate actively in the equality movement and align ourselves with the diversity practices that create attractive environments for women to work in.
This International Women's Day, we honor the women that make ClickIT with a special video where we commemorate your strength, courage, and motivation to keep pursuing your dreams. Thank you for defying any barrier you may have faced on the path; you inspire us to become and do better.
Women in ClickIT perform their duties in an environment of empathy, respect, and welfare. They have access to reporting systems in which they can share discriminatory or unwanted experiences without fear of repercussions, as we see in the women in tech statistics.
Strict regulations are also instituted to guarantee that harassment doesn't occur or that appropriate measures can be taken in case it does.
All our Clickers have access to courses and workshops that propel their professional and personal development. There's also an internal initiative that rewards them when they get certifications or classes that raise the value they bring to our institution.
We invite you to check our Glassdoor and Best Place to Code profiles. There, you will get a trustworthy insight into the life of our collaborators and the current situation of our workplace.

ClickIT will continue supporting women in tech and making their roads through the area an enriching and satisfactory experience. We consider it a permanent responsibility, a commitment to society and our Clickers. Together, we can make the industry a growth space that welcomes talent and knowledge without prejudice or conditions.

FAQs
What does it mean to be a woman in tech?
Being a WIT means dedication, hard work, and courage to face the different challenges you will most likely find along the way. Still, the fight is worth it. According to McKinsey's 2020 report, diverse companies have more engagement among their employees, perform better, retain workers, and hire better talent.
What is the status of women in tech?
Women in tech jobs represent only 25% of the IT workforce in the U.S. Moreover, WIT still face plenty of trouble when being part of the tech industry. Some of WIT biggest problems include: pay gaps, harassment, different performance standards, gender bias, and a lack of role models.
Who is the biggest woman in the tech world?
One of the most powerful tech women is Safra Catz, the CEO of Oracle Corporation. Other relevant WIT include Reshma Saujani, Fei Fei Li, and Cynthia Stoddard.
Which country has the most women in tech?
The level of participation of WIT varies from country to country. Nevertheless, countries with the highest levels of participation of women in tech jobs include India, the United Kingdom, the United States, Australia, and Canada.