Before saying goodbye to a wonderful year, we want to remember some of our most remarkable accomplishments with the 2022 ClickIT highlights. This has been an incredible year for us, filled with challenging moments, opportunities, knowledge, and growth. Thanks to our Clickers' hard work, we were able to go above and beyond our goals, setting an extremely high standard for the year to come.
Therefore, let's proudly look at this year's long list of achievements without further ado.
Table of contents
Welcome home, New Clickers!
We are happy to share that our family doesn't stop growing. This year, we welcomed many new Clickers, becoming almost 100 of us! Our expansion will enable us to provide our clients with more and better services.
At the same time, we embrace our new members with excitement. We can't wait to see how we improve together!
Clickers know no borders!
We also said hello to many new Remote Clickers. Now, the ClickIT family is present in nine countries within Latin America: Venezuela, Perú, Argentina, Dominican Republic, Chile, Colombia, Ecuador, and Brazil.
There's a piece of ClickIT's heart all around the world!
To our Remote Clickers, let our time together be filled with unforgettable memories and eagerness to become better.
Best Place to Code
Ranking high in our 2022 highlights list is ClickIT recognition as Best Place to Code Company. And not only that, we reached an impressive 97% satisfaction in the evaluation! We are committed to providing the best working environment for our Clickers, in which they feel reassured, proud, and inspired. We are sure next year's evaluation grade will be even higher.
More women in the ClickIT family
Our girl power has become stronger! As we strive and preach for a space of equality, we will continue welcoming more and more women into our family.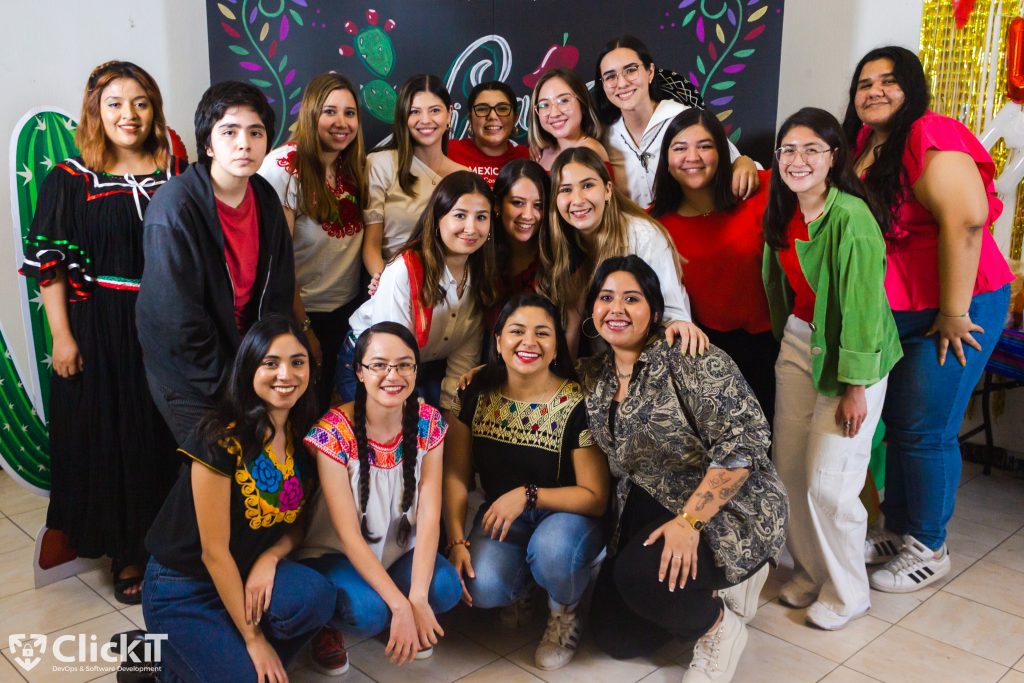 90% of certified engineers in AWS
ClickIT supports its talent. We always encourage our Clickers to learn and do more. Therefore, it is a pleasure to announce that 90% of our engineers are certified in AWS. We will continue providing our team with certifications and courses that improve their knowledge and skills.
Our First "One Day at ClickIT"
A recent 2022 highlight was our "One Day at ClickIT," an event for all the new talent out there. We invited engineering students to ClickIT to experience the company's culture through activities, conferences, and fun games. The students' positive responses were amazing. We can't wait for next year's event.
Engineering 2022 highlights
This year, our engineering team was busy managing new and challenging projects. They participated in more than nine projects in different areas such as construction, digital marketing, healthcare, the restaurant sector, cloud consulting, credit analysis, AI in multimedia content, energy saving, and carbon footprint reduction.
To give our clients the solutions they needed, our Clickers' expertise was reflected in their work with AWS, Kubernetes, Nodejs, Reactjs, MongoDB, Java, Python, React Native, and more.
Human resources 2022 highlights
We have said more than once that our Clickers' well-being is what we care about the most. In that sense, our HR team invested part of the year looking for initiatives to protect our Clickers' mental health. That's why they adopted a "Wellness program" where they implement different programs like therapy plans with Terapify. Clickers can access monthly therapy sessions with psychologists and experts on the platform.
As a company, we recognize our responsability to create a safe environment that allows Clickers to speak about their mental health and, if needed, assist them the best we can.
Marketing 2022 highlights
Our creative room also has many achievements to highlight this 2022. During the first part of the year, we launched our profile on Instagram and Tiktok. The release has allowed us to share more about what we do, our culture, and ongoing projects.
We welcomed new members to the team. As ClickIT keeps on growing, so has our team. The addition of new members helps with the production of more awesome content.
Last but not least, we reached 1100 subscribers on YouTube! We are grateful for the public's reception of our videos, and we will continue using our YouTube voice to share our knowledge in exciting and entertaining ways.
Level Up and ClickIT Academy
These two initiatives go hand in hand, as they both seek to help our Clickers' professional development.
Level Up focuses on talent development. With a reward system and healthy competition, ClickIT encourages our team members to get certifications and take courses and workshops that give them curricular benefits.
With ClickIT Academy, Clickers participate in conferences that boost their knowledge in the professional world. They get to become speakers for a day and share what they know with the rest of the Clickers.
Clutch 1000 and Top One B2B Leader of 2022
Thanks to our clients' reviews and the efforts of our team, Clutch rewarded us with great distinctions this year; we became part of the 2022 Clutch 100 Global Companies and a Top One B2B Leader. Clutch's criteria for awarding these accolades consider aspects like clients' reviews, recognition, and presence in the industry. Therefore, we congratulate our collaborators for their dedication to each project. You brought us this far; let's keep going!
Case studies
A highlight of 2022's achievements wouldn't be complete without mentioning the case studies we released during the year: Reconstruct, ChannelMix, SaaS Company, and Financial Services.
Reconstruct is a solution that combines reality capture, design, and schedule, ensuring full project visibility, coordination, and quality. Nevertheless, its app had scale and performance issues. Therefore, with a nearshore collaboration model, ClickIT implemented the most appropriate practices, infrastructure, and features needed for the app. Now, the Reconstruct App is better organized and more secure, improving its workflow for developers and DevOps.
In the case of ChannelMix, a provider of marketing analytics, ClickIT built a functional application with the capacity to receive support and stay updated.
Thanks to ClickIT, the SaaS Company "Venture Studio" augmented its staff to support its clients' projects.
In the area of financial services, ClickIT provided a fintech company with a secure and scalable Laravel application compliant with the 12 basic principles for PCI security standards.
Continuous improvement
Another ClickIT 2022 highlight worth mentioning is the creation of the Continuous Improvement Department, where our Clickers focus on giving the best possible performance in every task, they tackle. It aims to create a culture of responsibility and improvement by practicing habits. Some of these include: living the values and purposes of the company, keeping a healthy and aligned team, communicating fast and precisely, and others.
We are eager to see the results of such innovative measures.
Cultural events
Besides working hard, Clickers also had the opportunity to carry out various cultural events and celebrations while making new lifetime memories with the ClickIT Family.
ClickIT Academy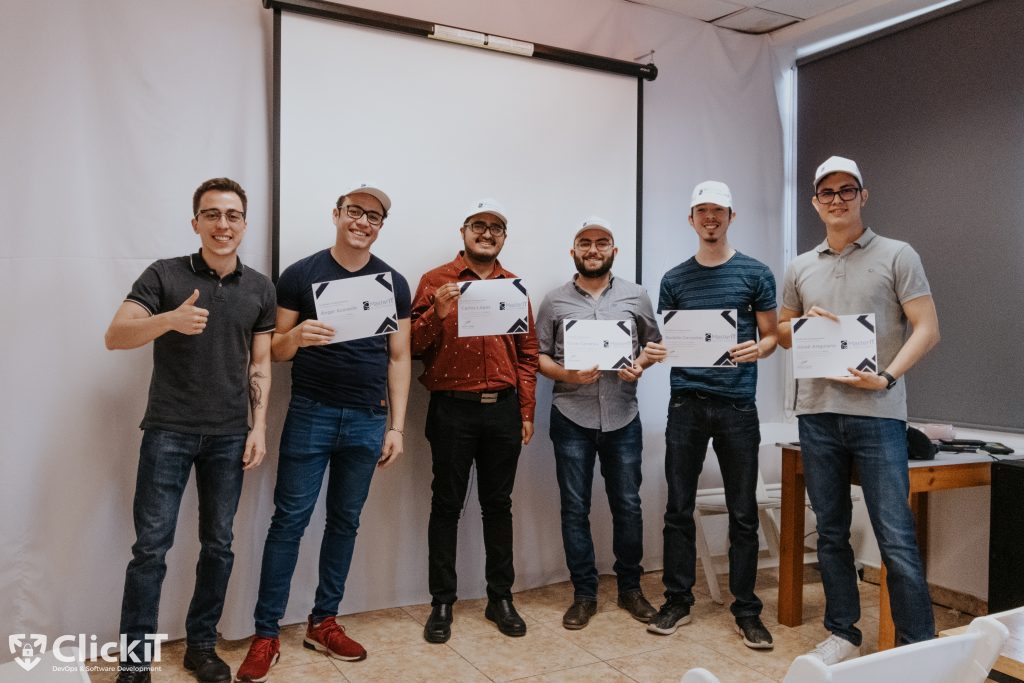 Anniversary Celebration
ProClickers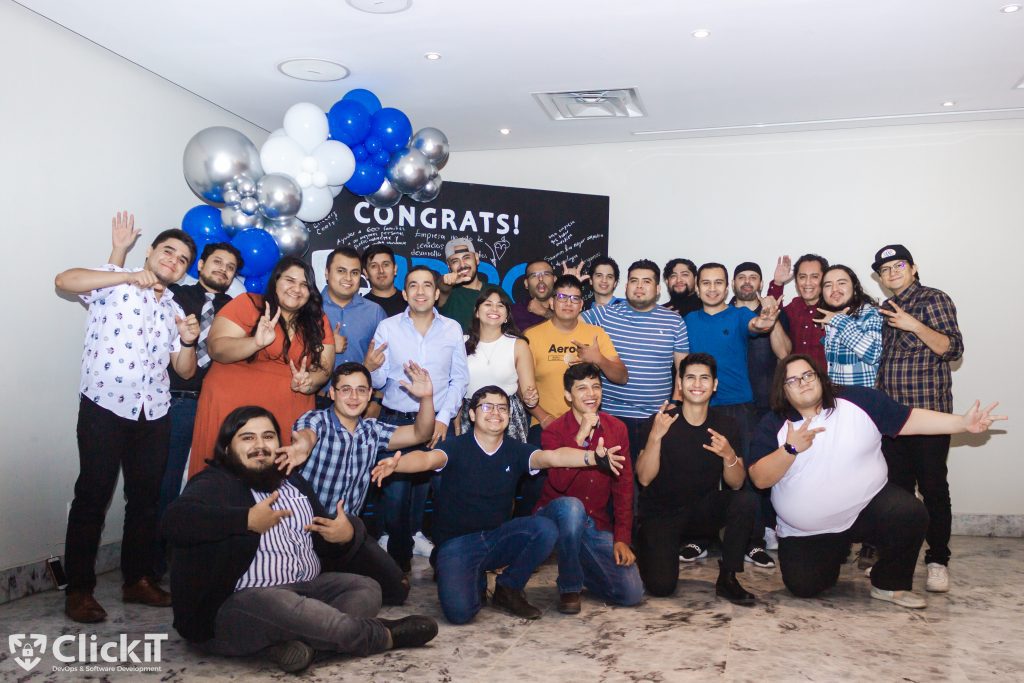 Tech Conferences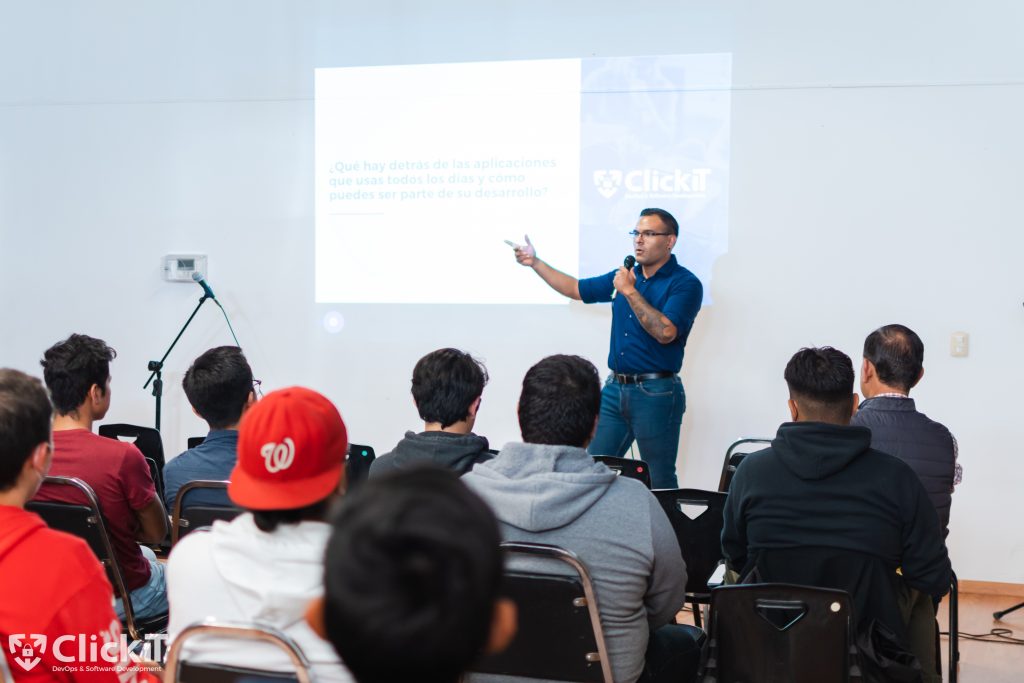 Gamer Day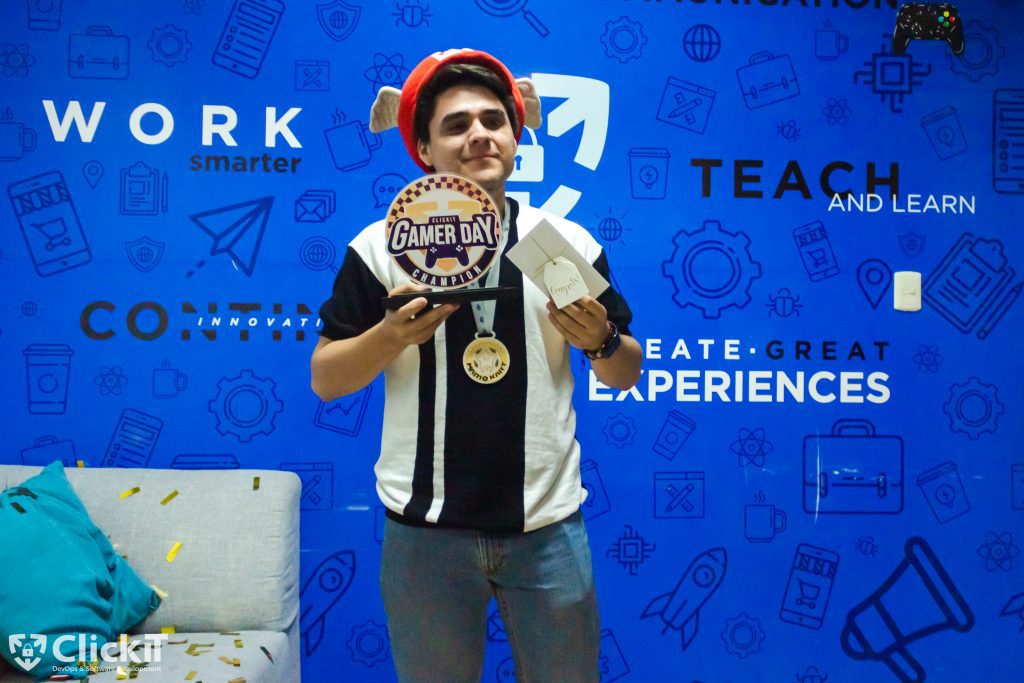 Mexican Night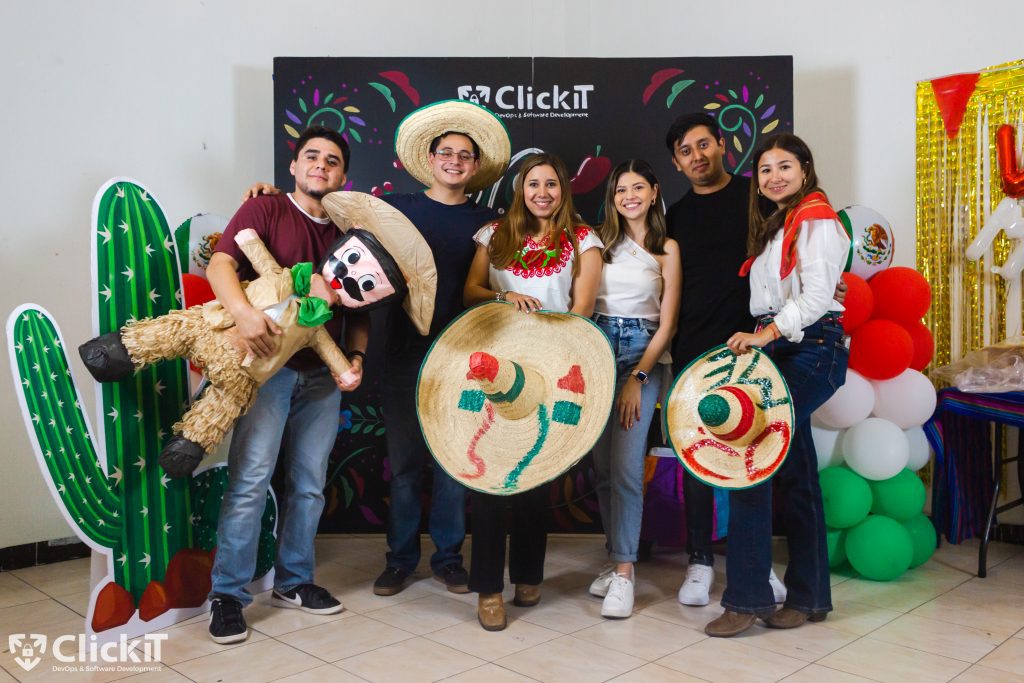 Halloween Party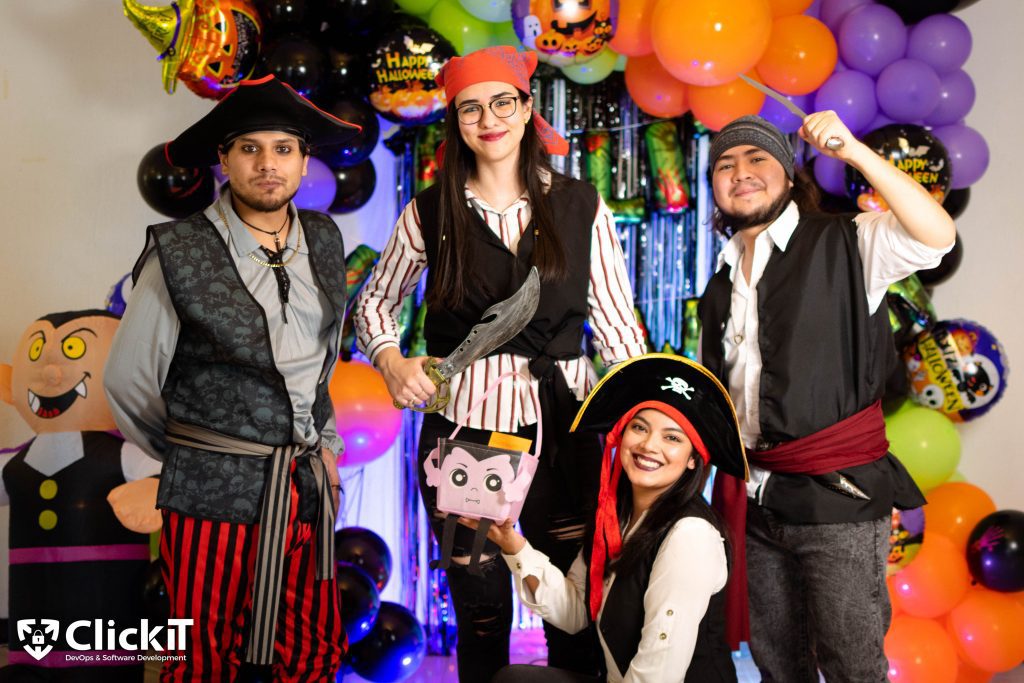 What's coming for 2023
In 2023, ClickCare will evolve to a new and better-adapted level that will benefit our Clickers. We are looking for all the possible ways to increase the benefits you get from working with us, so there's no doubt how valuable you are to the company. Talking about our Clickers, we are preparing to receive even more. Also, ClickIT hypergrowth will prevail by 60% in revenue and 40% in people.
The future is certified! We are working very hard to achieve the Great Place to Work Certification, and we are sure that, with your help, it will be ours. ClickIT also plans to increase our AWS Certification and Partnership to the best possible level.
Lastly, our service delivery process for Software Development and DevOps will mature. And we will get the chance to experience more Bootcamps, Hackathons, and Engineering Programs that will increase the expertise of our engineers.
Hopefully, you enjoyed looking at these 2022 ClickIT Highlights. We are sure you are just as excited as us for everything that's coming, so are you ready for this unprecedented journey?
Here's to a phenomenal year, Clickers! May there be many more!