Outsourcing services, valued at a whopping $92.5 billion worldwide in 2019, are expected to rise by $98 billion, globally, by 2024. Why the popularity? Because IT outsourcing companies allow making strategic decisions in areas that need in-house focus vs. areas that can be managed efficiently through a third-party vendor.
Software development outsourcing is when you hire a software development team or agency—known as an IT partner—to manage projects or activities. It could be for general coding tasks or a whole project if you don't have any developers in-house.
And even if you do have a tech team, delegating all, or some, of your software development tasks, allows you to concentrate on your core business operations, goals, and objectives.
Outsourcing is not restricted to software development. You can outsource customer support or relationship management, accounting, social media marketing, recruitment and selection, payroll processing, and much more.
However, in this article, we'll talk more about the software side of things and provide you with a list of the top IT outsourcing companies in LATAM.
Table of contents
Benefits of Outsourcing
Outsourcing offers many benefits for any company, whether you're a new small-scale business or startup, or an established multinational company. Let's explore a few of these benefits:
Reduce Costs
According to Deloitte, approximately 59% of organizations delegate their responsibilities to an external vendor to control or reduce costs. And what's saved in the process can be invested in other areas of business.
Here's how hiring a top IT outsourcing company can be a more cost-effective option:
Recruiting and selecting new employees or a team. It could take months to get through the screening process, which makes hiring in-house quite costly. An established outsourcing company, on the other hand, has already done that work for you. So you're basically looking for a suitable technical partner that can operate at a reasonable rate.
Project-based payment. If you hire in-house, you will have to manage all staff activities, i.e., payroll, insurance, leave, training, hardware, etc. With an outsourced partner, you only need to cover project expenses and supervise the work.
Access Global Capabilities
Unless you're a fully remote company, the hiring process can restrict you to specific parameters, such as location. And relocating employees from other cities or states is costly.
Conversely, the best IT outsourcing companies in LATAM empower enterprises to select and choose their desired talent from a diverse global platform instead of from restricted regions. It eliminates unnecessary boundaries and enables partnerships with experts to better compete in the market by enhancing overall performance. If necessary, outsourcing companies also facilitate travel for engineers.
Save Time and Effort on Recruitment of Specialists
As mentioned, hiring software developers in-house takes time – an average of 23.7 days just for the interviews. And, you need to add to that the time needed for advertising the job on various websites, waiting for applications to arrive, screening and shortlisting applicants for technical assessments and then onboarding your new hire. Plus, you need to take into account vacation time for anyone involved in the recruitment process, in case it coincides.
And if you need a whole team, that could take up to a month or more.
The best thing you can do is hire IT engineers and scale IT talent as needed.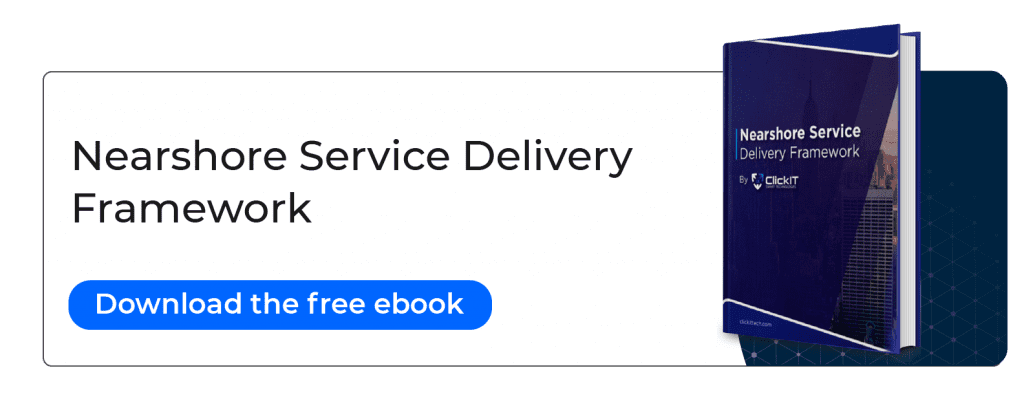 Enhance Flexibility of Scaling Your Project
Outsourcing a project to one or more third-party vendors increases the project's scalability. Suppose the project requires additional resources or expertise. In that case, you'll be able to coordinate with the vendor and arrange additional professionals, as per your requirement, rather than hiring and training new employees. You'll be able to respond quickly to changes in projects and take action accordingly.
Reduce Project's Risk
Diversifying a portfolio by introducing and launching a new product carries a high risk for businesses, especially new startups or SMEs with limited funds and experience. You just can't afford high risks and product failures. However, outsourcing software development to talented and experienced specialists with a robust and diverse portfolio of successful projects can mitigate such risk and instigate new ideas and opportunities.
LATAM as an IT Outsourcing Hub for the USA
Latin America has achieved an esteemed reputation in the IT sector, thus becoming the most preferred destination for software development outsourcing from the United States.
Let's look into some key reasons why you should consider delegating your projects to some of the top IT outsourcing companies in LATAM.
Geographic Proximity and Time-Zone Alignment
Latin America is approximately in the same time zone as the USA. This makes team communication more effective as responses are swift during business hours.
Timely responses and convenient communication help in resolving tasks and issues without long delays. Business visits and face-to-face meetings also become easier and more affordable.
Language Proficiency
Latin American residents, especially in the IT field, tend to be fluent in spoken and written English. This also positively affects communication as English is considered the primary language of commutation in the business sphere.
According to Forbes, South America has surpassed China's level of English proficiency, which will have a huge impact on the outsourcing industry.
Education
Latin American IT programmers have created an IT hub thanks to their expertise and experience. Latin America has been blessed with a highly skilled workforce, so conglomerates or IT giants, such as Microsoft and Hewlett-Packard, have invested in the development of LATAM to enhance its skill-set and develop careers.
Hourly-Based Software Development Rate
Another reason to choose IT outsourcing in LATAM is the price. The hourly rate of software development in Latin America is around $45:
In Brazil and Chile, it's $40–45;
In Argentina, it's $50; and
In Mexico, it ranges from $45–50.

Top 10 IT Outsourcing Companies to Choose in 2022
You can see that outsourcing software development from Latin America has several benefits. And so that you don't waste time looking for agencies, here's a list of the top 10 IT outsourcing service providers.
1. IT Outsourcing Company: Octobot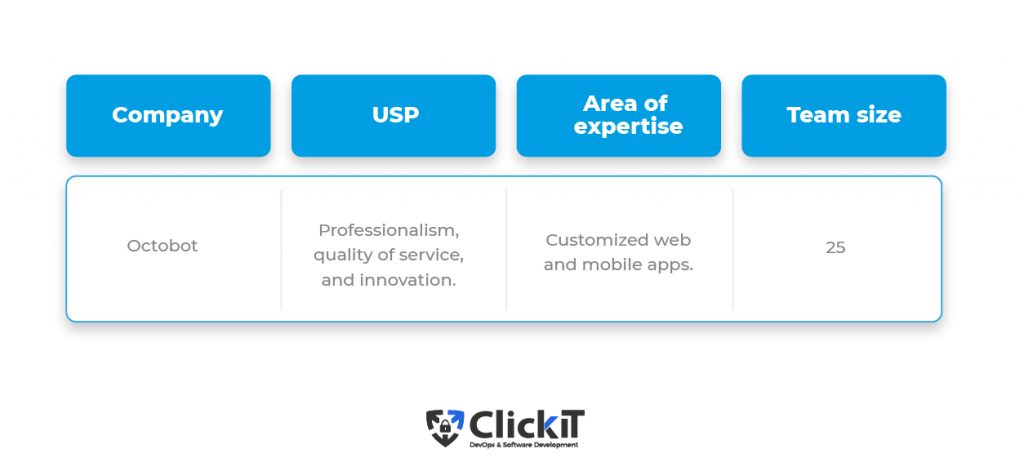 Octobot is one of the top IT outsourcing LATAM agencies based in Uruguay that offers solutions related to product design, web development, and mobile apps. Its key objective is to transform clients' ideas into real products.
The company manages projects effectively by delegating to specific teams that fit the project's deliverables, maintaining efficient communication with clients and using the Scrum framework.
Unique features
Professionalism,
Quality of service, and
Innovation.
Area of expertise
Custom web and mobile apps.
Services
Octobot offers the following services:
Product Design – Product discovery, user-experience design, user-interface design, and interaction design.
Web Development – Python Django, ReactJS, AngularJS, and NodeJS.
Mobile Development – Swift, Objective-C, and ReactNative.
DevOps – Integration, delivery, reliability, scale, and security.
Industries
Octobot has facilitated various startups, non-profit organizations, and corporations with transforming their ideas into amazing products.
Team size
Octobot has more than 25 designers and engineers available to tackle various projects.
2. IT Outsourcing Company:ClickIT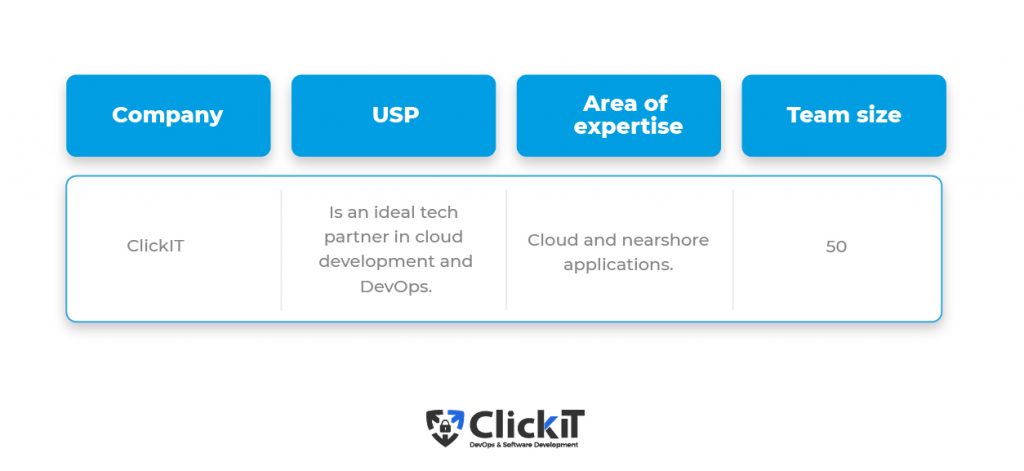 ClickIT offers cloud solutions and DevOps to a broader range of businesses, from fintechs to healthcare companies, including startups, SaaS, enterprises, and corporations. ClickIT is based in Mexico, in the cities of Saltillo and Monterrey, and is complemented by engineers around LATAM, such as Argentina and Ecuador.
Unique features
ClickIT is a top-notch certified solutions provider for firms of all sizes, worldwide, and it's committed to delivering premium quality services by the world's best and most highly qualified specialists. With more than 500 successful projects in over 10 years, they are well-known on the market thanks to:
A reliable, qualified, and certified team;
Better security assurance;
Premium-quality, cost-effective, innovative, and scalable solutions; and
Similar time-zone collaboration.
Area of expertise
Cloud and Nearshore.
Services
ClickIT provides the following services to companies of all sizes around the world:
Industries
It delivers services to various companies, from the healthcare industry to fintech. They also help startups, SaaS, and enterprises in achieving their goals.
Team size
ClickIT has more than 50 talented and certified engineers, however, its core team consists of a CEO, Mr. Alfonso Valdes, a VP Engineering, an HR Manager, a Senior Development Lead, a Marketing Manager, and a Senior DevOps Lead. You can connect with the best talent at ClickIT here.
3. IT Outsourcing Company: Cedarcode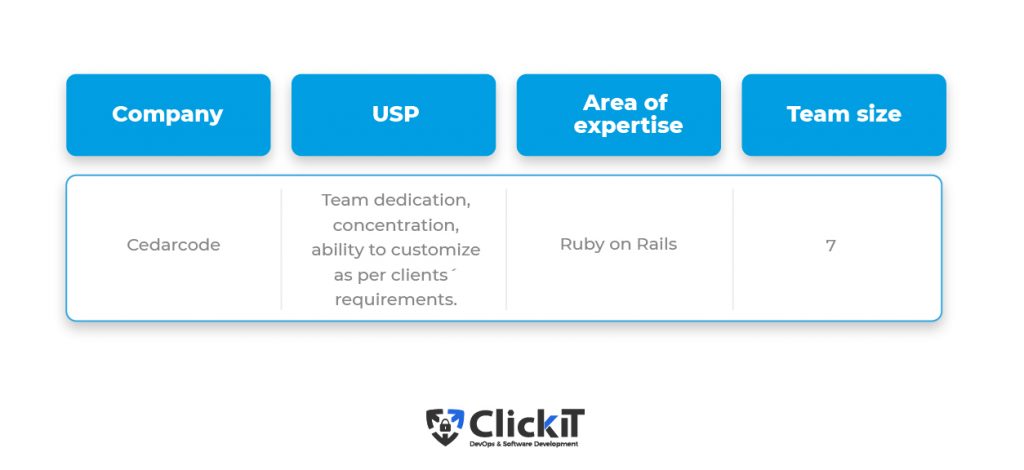 Cedarcode is another Uruguayan outsourcing company that aims to resolve its clients' technology or software-related problems by offering customized services.
Unique features
Team dedication,
Concentration, and
Ability to customize as per clients' requirements.
Area of expertise
Ruby on Rails.
Services
Cedarcode offers the following services under its umbrella:
Partnership – for different projects or tasks, either in terms of knowledge or implementation.
Development – app architecture and maintenance, Rails Web, user-centered designs, and performance evaluations.
Coaching – training of staff through workshops or pair-programming sessions.
Industries
Cedarcode offers its solutions to startups as well as established corporations.
Team size
Cedarcode's team comprises six highly talented software engineers and one administration and office manager.
4. IT Outsourcing Company: BairesDev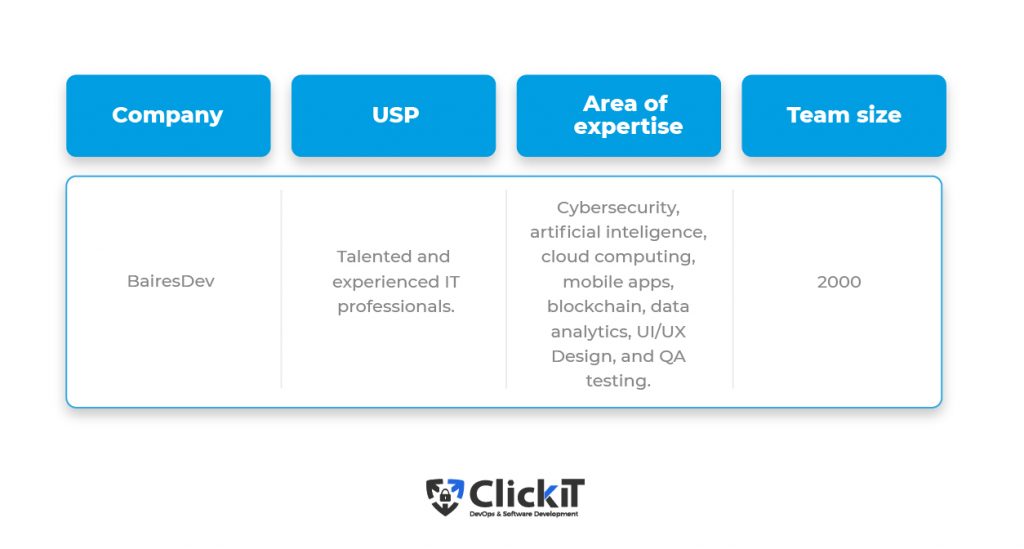 BairesDev is a software outsourcing company with several offices across Latin America. It has highly qualified experts with more than 10 years of experience and offers technology or end-to-end solutions to its clients.
Unique features
Talented and experienced IT professionals,
Time-zone alignment, and
One of the fastest-growing companies in Latin America.
Area of expertise
Digital transformation.
Services
BairesDev provides the following services:
Dedicated Teams – to deliver customized technology solutions.
IT Staff Augmentation – to strengthen clients' teams with expert professionals.
Software Outsourcing – customized software development solutions as per clients' specifications. It also includes cybersecurity, artificial intelligence, cloud computing, mobile apps, blockchain, data analytics, UI/UX design, and QA testing.
Industries
BairesDev has served startups, small and medium enterprises or businesses, and more than 10% of Fortune 500 corporations.
Team size
BairesDev has over 2 000 specialized professionals who have knowledge and experience in various technologies and IT fields.
5. IT Outsourcing Company: Rootstack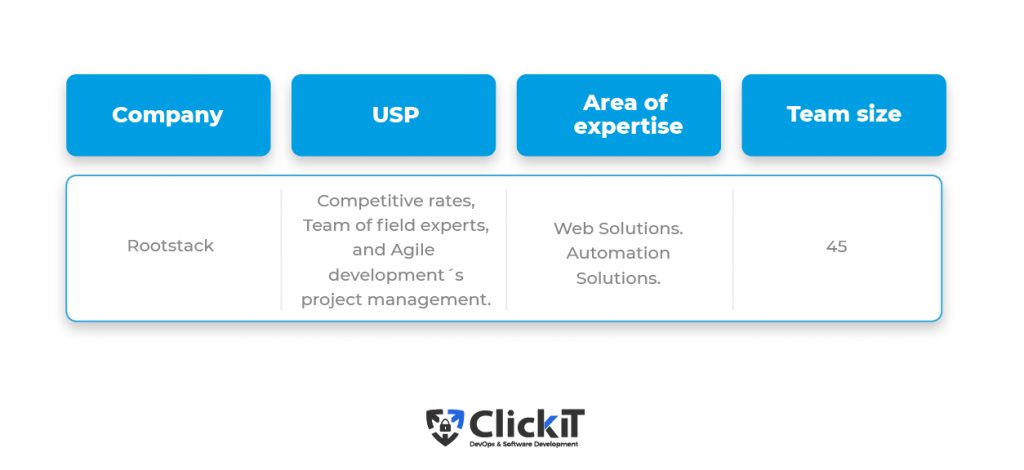 Rootstack is a Colombian outsourcing company that offers mobile, web, and automation solutions to its local and international customers.
Unique features
Over 10+ years of experience working with diverse businesses,
Competitive rates,
A team of field experts, and
Agile development in project management.
Area of expertise
Web, mobile, and automation solutions.
Services
Rootstack's portfolio consists of the following products and services:
Products – PrintoverAPI, Rootnet Sync, Service Desk, Intranet, and CRM.
Web Solutions – Corporate websites (CMS), digital integrated signature software, e-Commerce, and intranet.
Mobile Solutions – Mobile apps, mobile banking, mobile media application, and a service desk.
Automation Solutions – Sales automation, BPMs, chatbots, CRMs, digital kiosks, Enterprise Service Bus (ESB), IT asset management, marketing automation, and project management software.
Industries
It offers various services to several sectors, i.e., automotive, banking and finance, education, entertainment, food and beverages, government entities, health, hospitality, insurance and brokerage companies, non-profit, real estate, and retail, telecommunication, tourism, transport, and logistics.
Team size
Rootstack is comprised of a team of more than 45 certified, creative and experienced executives, consultants, engineers, developers, and designers.
6. IT Outsourcing Company: Clarika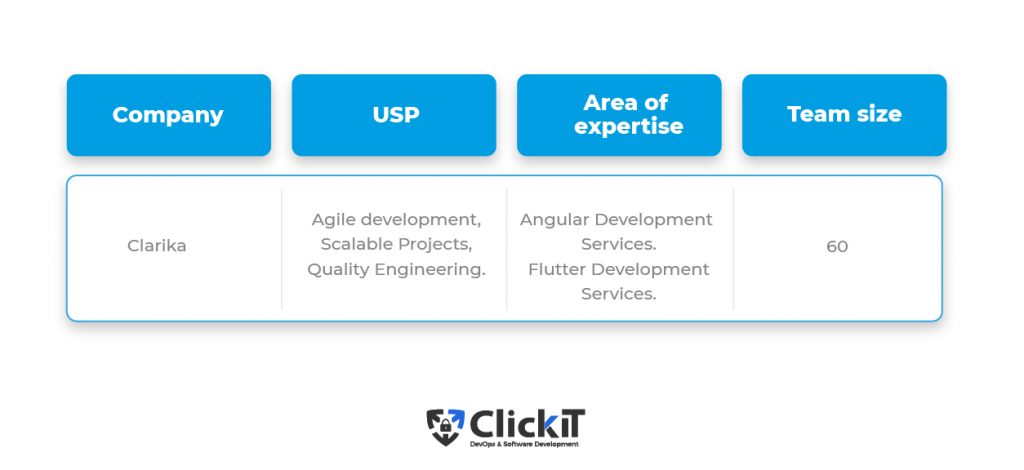 With offices in Argentina and Chile, Clarika facilitates the enhancement of business performance by digitally transforming itself with product design and engineering, quality assurance, web and mobile development, artificial intelligence, and cloud.
Unique features
Agile development,
Scalable projects,
Quality engineering,
Tracking and monitoring,
UX best practices, and
Continuous deployment.
Services
Clarika offers the following range of services to companies of all sizes:
Nearshore Angular Development Services – Component-based architecture, platform-independence, high-performance user experience, and typescript.
Angular JS Development – Flexible development, one-page application, speed and performance, data binding and fast load, cross-platform, multi-language applications, and MVC (Model, View, and Controller) support.
Flutter Development Services – Two code bases, UI components, and easy-to-use technology.
Industries
Apple iOS and Google Android mobile development, Agile development, a client-centered, proven track record, and in-depth testing. As well as web services, data providers, security, user interface, web application, and CMS.
Team size
Clarika's management team comprises six experienced professionals, including a CEO, CMO, Chief Sales Officer, Chief Operations Officer, Chief Financial Officer, and Chief Staff Officer.
7. IT Outsourcing Company: Gorilla Logic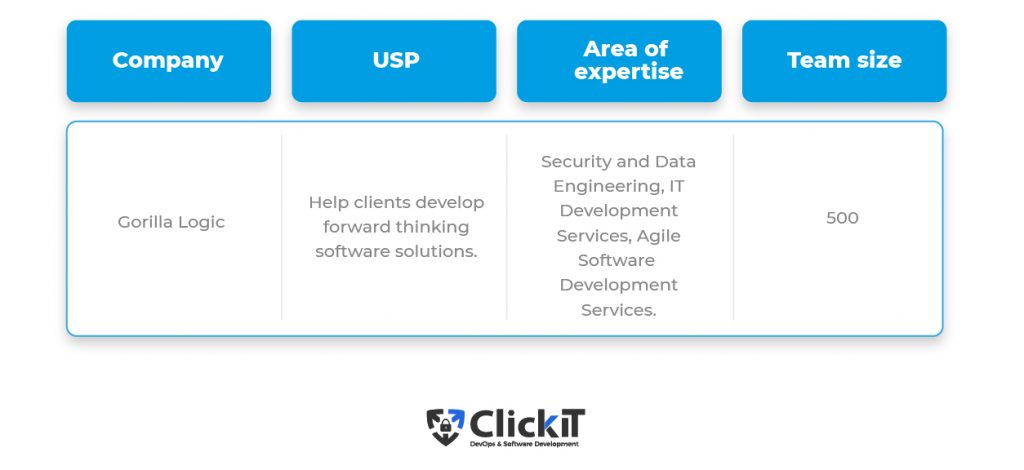 Gorilla Logic is a globally known software development company with offices in Costa Rica and Colombia. It also provides consultancy services that facilitate web, mobile, and cloud applications.
Unique features
Helps clients develop forward-thinking software solutions.
Services
Gorilla Logic offers the following services:
Mobile Software Development Services – iOS, Android, React Native, Appium, Airship, and App Store Connect.
Enterprise Web Software Development Services – React, Angular, Vue.js, JAMStack, and GraphQL.
Back-end Software Development Services – power security, systems integration, data warehousing, and analytics.
Agile Software Development Services – Scrum, Kanban, and Agile transformation.
Quality Assurance and Software testing – Manual testing, API test automation, and release management.
DevOps and Cloud Services – Design, infrastructure architecture, and implementation.
UI/UX Software Development Services – design tools, systems, and prototypes.
Security and Data Engineering, IoT Development Services – code reviews, pen testing, risk analysis, and Amazon IoT.
Team size
Gorilla Logic's team comprises 500 plus professionals.
8. IT Outsourcing Company: Onetree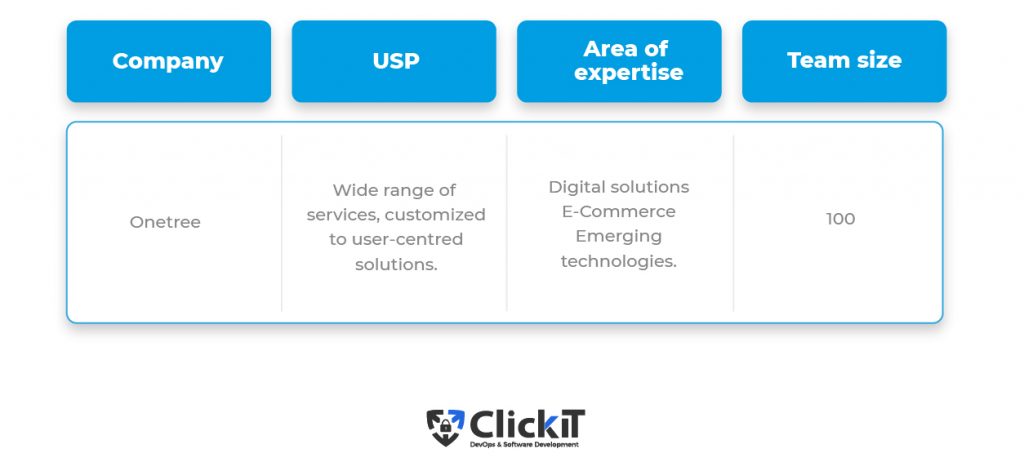 Onetree provides a specific range of digital solutions to enhance businesses' technology as per their needs. It's based in Uruguay and Bolivia.
Unique features
A wide range of services, customized solutions, reliable partners, and passionate engagement.
Services
Onetree's portfolio includes:
Digital Solutions – Web development, mobile development, integrations, and cloud.
E-Commerce – Magento, e-Commerce strategy, customizations, and UI/UX.
User Experience – User interface and oriented designs, usability testing, and information architecture.
Emerging Technologies – AI and machine learning, Big Data analytics, IoT, and chatbots.
Healthcare – Sprints, prototyping, and mobile development.
Team size
Onetree has a team of around 100 experts working to fulfill their clients' needs.
9. IT Outsourcing Company: NaNLABS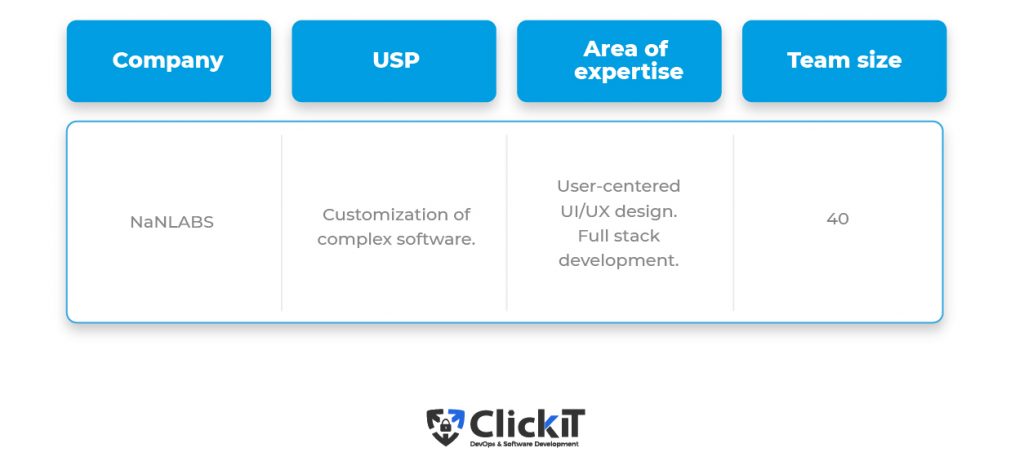 NaNLABS is an Argentinian software development company that helps launch new products, digitalizing businesses, and adapting itself to follow market trends.
Unique features
A focused and concentrated team, close collaboration, and customization of complex software.
Services
NaNLABS' offering includes:
User-centered UI/UX design,
Architecture and DevOps consultancy, and
Full stack development.
Team size
NaNLABS' core team consists of four energetic and creative experts, including a web solutions expert, front-end consultant, solutions architect, and data scientist.
10. IT Outsourcing Company: FusionHit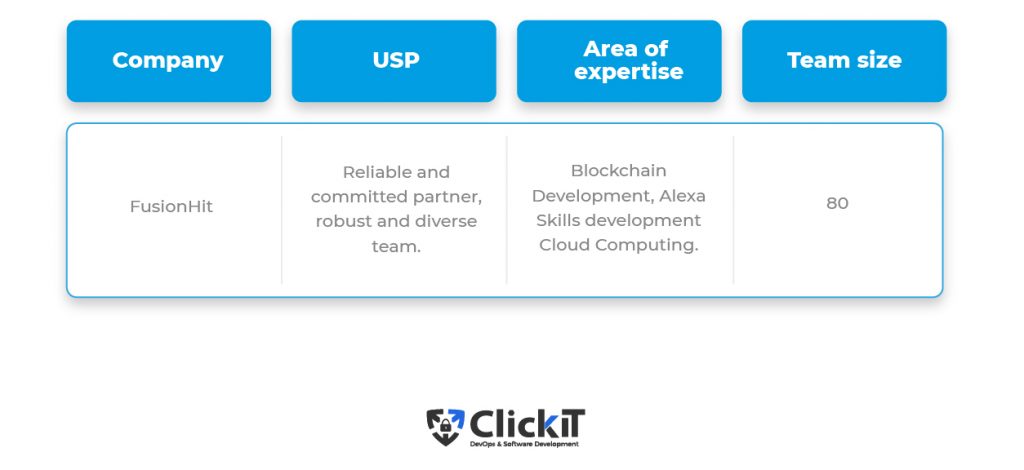 FusionHit is a premier software development firm, with development centers in Costa Rica, El Salvador, and Colombia, that's been competing in the market for around 10 years with continuous growth. It believes in long-term partnerships and collaboration with its clients to achieve a win-win situation and growth for both.
Unique features
A reliable and committed partner, robust and diverse team, same-hours availability, and convenient communication.
Services
FusionHit offers the following services:
Agile development teams,
Mobile app development,
Product development and UI/UX design,
Blockchain Development,
Alexa skills development, and
Cloud computing and DevOps.
Industries
FusionHit works with several sectors, including the consulting, insurance, healthcare, financial, sports, aviation and aerospace, travel and hospitality, marketing and advertising, construction, automotive, information technology, and logistics industries.
Team size
FusionHit has created a diverse team of around 80 specialists to serve its broader range of customers.
Haven't decided to choose Nearshoring yet? Get the free ebook to dive into the Nearshore experience.
Comparison of Top 10 IT Outsourcing Companies
Let's quickly have a look at all the top outsourcing companies so you can make your business decision accordingly.
Company
USP
Area of Expertise
Team Size
ClickIT
ClickIT is an ideal tech partner in software development and DevOps services.
Software Development (ReactJS, Angular, NodeJS, Python, PHP) and DevOps (CI/CD pipelines, container orchestration, Kubernetes and AWS services).
50
Octobot
Professionalism, quality of service, and innovation.
Customized web and mobile apps.
25
Cedarcode
Team dedication, concentration, ability to customize as per clients' requirements.
Ruby on Rails.
7
BairesDev
Talented and experienced IT professionals, i.e., top 1% cream of IT talent who've proceeded through a rigorous recruitment and selection process.
Cybersecurity, artificial intelligence, cloud computing, mobile apps, blockchain, data analytics, UI/UX design, and QA testing.
2000
Rootstack
Competitive rates, team of field experts, and Agile development's project management.
Web solutions,
automation solutions.
45
Clarika
Agile development, scalable projects, and quality engineering.
Angular development services.
Flutter development services.
60
Gorilla Logic
Helps clients develop forward-thinking software solutions.
Security and data engineering.IoT development services.Agile software development services.
500
Onetree
Wide range of services, customized to user-centered solutions.
Digital solutions.
e-Commerce.
Emerging technologies.
100
NaNLABS
Customization of complex software.
User-centered UI/UX design. Full-stack development.
40
FusionHit
Reliable and committed partner, and robust and diverse team.
Blockchain development.
Alexa skills development.
Cloud computing.
80
Conclusion of Top IT Companies
Outsourcing has emerged as a significant trend in the IT industry during the last few years and is continuously growing. And some of the top IT outsourcing companies that provide high-level service to US businesses are based in Latin America. IT outsourcing in Mexico and other LATAM nearshore companies, such as ClickIT, has facilitated many customers in outsourcing their IT-related responsibilities in order to focus on core operations. Moreover, the most preferred destination for outsourcing IT tasks is Latin America due to its skilled and highly qualified workforce and exceptional talent, making it the leading destination for IT-related projects.

Frequently Asked Questions
What is an IT outsourcing company?
IT outsourcing refers to the use of external service providers to effectively deliver IT-related projects such as web design, app development, network configuration, cybersecurity, technical support, and telecommunication. The companies that provide these services as third parties are called IT outsourcing companies.
What are the benefits of outsourcing IT services?
IT outsourcing can be of help in many ways. It reduces overall IT costs, allows you to access global talent, saves time and effort in recruiting IT specialists, and enhances the flexibility of scaling your project. The risk of the project also decreases, and you don't have to upgrade your IT gear with every new task you need to complete.
Can you outsource your IT services?
Yes, outsourcing your IT-related functions can be of great benefit. You should outsource your IT services when you either have unavailability of relevant staff or do not want to invest your time, effort, and other resources into handling these tasks yourself. 
Which IT services should be outsourced?
All IT processes that can be handled remotely can be outsourced. IT functions commonly outsourced include data centre operations, development and maintenance of websites and apps, mobile app management, network management, technical support, data security and recovery, and telecommunication. On-site tasks may also be outsourced, but most companies prefer handling them in-house.
Why do companies outsource their IT services?
Firms that are scaling fast and need flexibility in operations outsource their IT services to take away the burden from in-house teams and focus on their primary market offering. In some cases, they might also not have the right equipment or gear needed. It is cheaper for companies to outsource their IT services as they don't have to build an in-house team and spend internal resources on handling these tasks.
How much do IT outsourcing companies charge?
Most often, the price for software development in LATAM is based on hourly rate. The average hourly rate for such services is $45. Cheaper than expected? The best is that outsourced engineers provide the same quality as an in-house team, with exceptional technical knowledge.

What are the top IT outsourcing companies in LATAM?
Latin America has become the IT hub of the world, with a number of IT outsourcing companies working here remotely. The best ones include Octobot, ClickIT, Cedarcode, BairesDev, and Rootstack.