Ready to identify top SaaS trends of 2022? In today's volatile world, many businesses are trying to achieve a new degree of flexibility and cost-efficiency, and new software as a service (SaaS) offers are pouring into the market to help them reach these goals. The SaaS model makes these services a trustworthy choice for a wide variety of business types and sectors. Let's dive into the top SaaS industry trends of 2022.
Organizations have continued to migrate all kinds of operations farther into the cloud over the past decade. Around 70% of the business apps used by different companies today are SaaS-based, and by 2025, it's anticipated that number will reach 85%. Running a company has never been so easy, from anywhere, with continually improving SaaS solutions.
The current decade has ushered in some significant trends in SaaS. Undoubtedly, a few of the top SaaS industry trend of 2022 are here to stay and change our future.
Table of contents
Top 12 SaaS Trends for 2022 and Beyond
Before investing money in the SaaS sector, you need to know what to expect from the SaaS industry in 2022. Here you will find a round-up of a few of the most prominent top SaaS industry trends of 2022.
Read our blog about how to get started with a SaaS startup.
1. SaaS Trend: Prevalent Micro-SaaS Solutions
Micro-SaaS refers to a company that targets a niche or specific market operated by a single person or small team. It has low expenses, a limited focus, and a tiny but devoted user base without receiving any outside investment.
As a top SaaS trend for 2022 Micro-SaaS solutions are appealing for a variety of reasons.
Primarily, small company owners may earn monthly recurring revenue, like with regular SaaS platforms. They don't have to go through the complications associated with bigger organizations.
Second, they may be operable remotely from almost any location. Just a personal computer with an internet connection will be enough to serve the whole market.
There will be millions of micro-SaaS firms offering micro-SaaS solutions worldwide. These tiny firms are based on e-commerce and require the lowest entry threshold. They will cater to niche markets of virtual clients who have particular demands. Thus, they will generate optimal profit from them.
2. SaaS Trend: Widely Adopted Native Advertising
Native advertisements are those paid media that show up on different social networks, blended with the look and feel of the platforms they're run on. Around 26% of internet users disable advertisements on their smart devices. Revenue lost to such ad blocking is anticipated to reFach around $12 billion in the United States alone by 2022.
Converting your prospects will require you to reach them in their decision-making moments. Mobile users, according to studies, interact almost 2,600 times each day through their phone screens.
Consequently, you have to connect with these mobile audiences at their micro-moments — when they use a device to do, find out, or purchase something. So, it will be possible to scale a marketing effort by engaging your users.
These are some benefits of native advertising:
They integrate nicely with the current content on a page where they appear. It makes them less disruptive and more coherent with the page's tone, allowing you to maintain a consistent flow.
They are capable of bypassing ad blockers.
They earn 53% more responses than standard advertisements.
Native advertisements accelerate purchase intent by nearly 18%.
Ensuring that your content is engaging is the single most important requirement to get the most out of native ads.
3. SaaS Trend: Rise of Machine Learning
Machine learning is the science that discusses and applies a machine's ability to learn and process data based on predefined algorithms. It is also referred to as a subfield of artificial intelligence. Machine learning has a growing impact on SaaS platforms that's why is a top SaaS industry trend of 2022.
Several of the most significant applications of machine learning in SaaS are:
Giving platforms the opportunity to learn about consumers' tastes and behaviors, allowing companies to improve the usability and intuitiveness of their products
Evolving services or products by processing massive volumes of insights and contextual data
Automating and managing marketing campaigns via several channels
Enhancing customer engagement
Using powerful pattern recognition to provide greater data security
There are numerous excellent examples of machine-learning-based SaaS platforms, like EnsoData and CognitiveScale. Also, many sophisticated CRM systems, such as Zendesk and Salesforce, assist sales teams in identifying trends in client behavior.
Additionally, this software collects important data to suggest the next actions for sellers.
4. SaaS Trend: Proper Integrations
Integrations are a way of linking SaaS services to different computer systems to create a broader system in which each solution functions independently. Integration solutions were not available when SaaS platforms were new.
Merging products, solutions, and services was not possible. As a consequence, consumers were dependent on different third-party service providers. It was a hassle for both consumers and institutions — in particular, for those not yet prepared to shift all their data into the cloud.
However, an increasing number of SaaS suppliers are now offering integration abilities. Businesses that want a hybrid solution for coordinating a cloud's back-end with an on-premise system will find them useful.
Integrations are important in SaaS. They enable the elimination of a significant portion of human errors. They use partial automation procedures. Therefore is a top SaaS industry trends of 2022.
For example, ClickIT assists startups, SaaS, and enterprise companies with software development, DevOps automation, and cloud services. It can easily integrate a wide variety of systems and help augment your staff.

5. SaaS Trend: Data Solutions Featured in SaaS
Any services, products, or solutions that involve provisions for data collecting or processing are considered data solutions. The potential of big data is growing every day. Businesses recognize that it contains an enormous deal of value and information — but they still don't know how to use it properly.
Understanding the application of accessible data and using technologies dedicated to the purpose is critical. They will help everything from product creation to enhancing customer happiness.
Additionally, having a large amount of data exposes a business to risk. SaaS software is effective in preventing such concerns. That is precisely why more business SaaS vendors are expanding their offerings of data mining and security solutions.
6. SaaS Trend: Vertical SaaS Solutions
Vertical SaaS is top SaaS industry trends of 2022, refers to a cloud computing service tailored to a particular business, such as insurance, retail, or automobile manufacturing.
Adherence to a company's or industry's particular requirements results in these services having a smaller total addressable market. Logistics and retail analytics software and health business intelligence software all fall under the category of vertical SaaS solutions.
Vertical SaaS is the next-generation proxy for the horizontal SaaS brought up by IT professionals. It's the ability to meet the unique demands of a certain sector. Over the past decade, an increasing number of businesses have established a strong preference for SaaS solutions. They thoroughly address their unique demands. Hence, the vertical SaaS industry expanded by about four times its initial size during that time span.
The vertical growth of SaaS solutions is justified, given their benefits. This delivery strategy increases company value, customer insight, and data control.
7. SaaS Trend: Priority of the Mobile-First Approach
The mobile-first approach is the practice of building an online experience for mobile devices before building for any other devices.
By 2022, around 72.6% of people are expected to use smartphones to access the internet. Moreover, a typical individual spends more than 120 hours each month gazing at a smartphone. These figures give a clear notion about the future of the SaaS sector. They prove that smartphones are the proverbial promised land for business SaaS development.
The move toward mobile experiences is just beginning. As a result, SaaS providers continue developing and upgrading mobile applications for their products and services. There is a need to change more rapidly in order to keep up with the rate and direction in which mobile technology is evolving. This tendency, we believe, will continue long beyond 2022.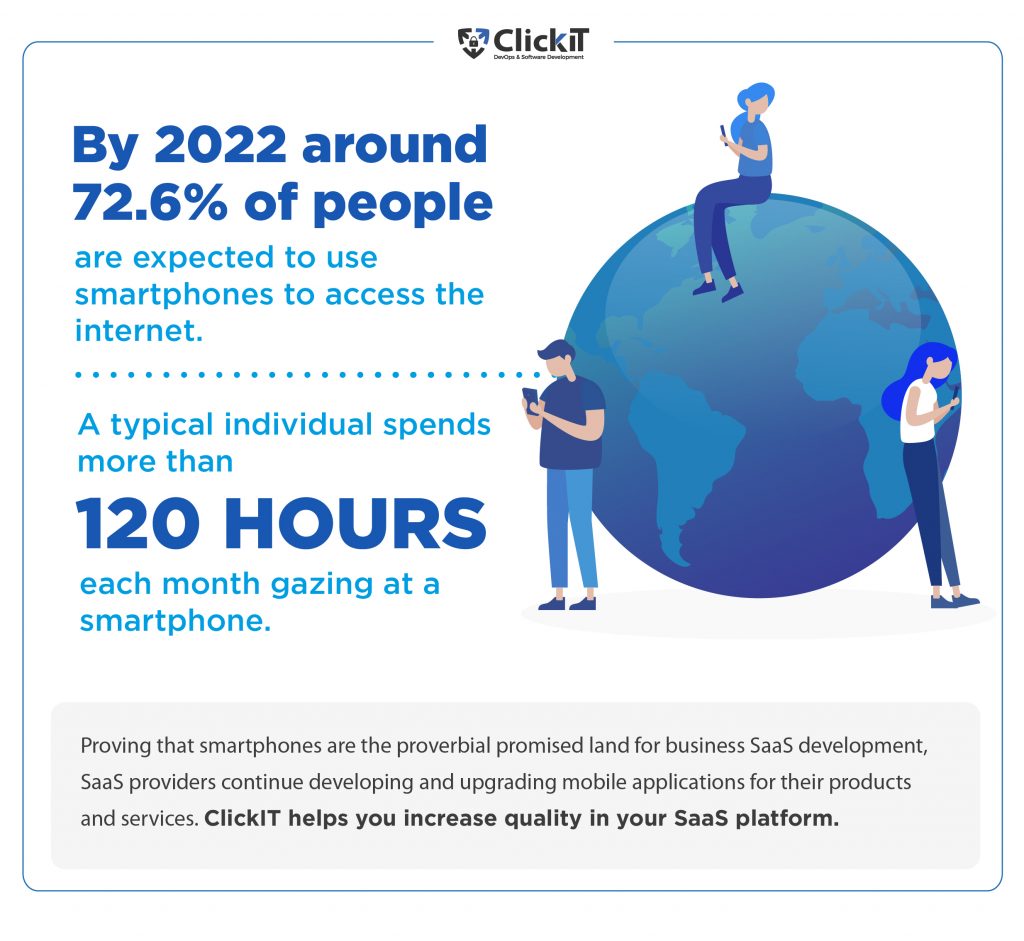 "Smartphones are the proverbial promised land for business SaaS development."
8. SaaS Trend: Impact of Artificial Intelligence
Artificial intelligence (AI) has impacted every aspect of modern life, including SaaS. Since 1950, AI has garnered considerable interest, and now, it opens doors previously only imagined in science fiction films.
From Microsoft's Cortana to Apple's Siri, AI has entered almost every element of this sector. AI now processes massive volumes of information. This enables businesses to automate different customer experience procedures — and also repetitive duties, like training, customer contacts, upselling, and marketing campaigns. In short, it's an entirely new level of customer care.
Pricing Model: Firms such as Amazon, Uber, and Airbnb have adopted AI. Their pricing models leverage artificial intelligence to evaluate data and alter prices. They do it based on demand, market circumstances, consumer behavior, and other factors.
Customer Forecast: This is perhaps the most critical AI feature. It enables businesses to discover and evaluate not only what consumers want now but also what they will want in the near future. This includes tracking past data and setting trends for what a customer or user is likely to do — like opening an email, renewing a subscription, or even purchasing a new product.
Once you've learned this concept, you can begin personalizing your messages for a better user experience.
9. SaaS Trend: Need for SaaS Decentralization
Centralized SaaS solutions still remain viable for certain enterprises. However, the cloud-computing revolution will ultimately cut all-in-one data storehouses. A battle between internet titans over the ownership of data is ongoing, and stringent privacy requirements drive businesses to keep their data on private clouds. Additionally, many shops avoid Amazon Web Services as a result of their competitiveness with the great Amazon.
While owning a SaaS company, you may need to segment client data and deploy software across several clouds. If customers choose to exchange data with a different SaaS firm, both SaaS providers must devise mechanisms for moving or replicating data across regions.
10. SaaS Trend: Business Analytics
Data analytics is a top SaaS industry trend of 2022 and a critical component for many SaaS services. It assists companies in streamlining their operations and accumulating actionable customer information. Experts are hoping for a 23.3% growth in end-user expenditure on analytics-centric SaaS in 2022. They also name business intelligence as a promising SaaS category.
Digitalization impacts both companies and personal lives, so the quantity of data collected from different gadgets continues to rise at a quick rate.
While big data is an important source of insights, analyzing it requires specialized tools. That's why SaaS solutions that offer centralized analytics on business information across many touchpoints are in the near future.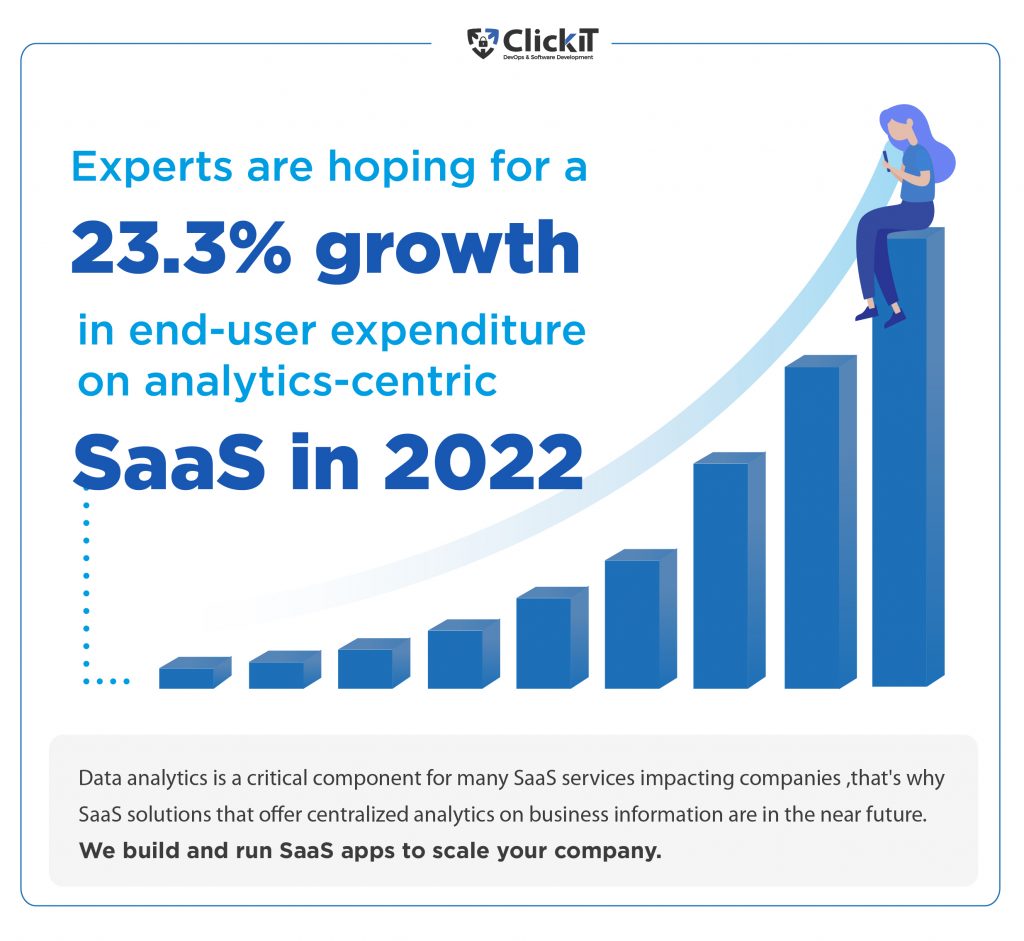 11. SaaS Trend: White-Label SaaS
A white-label solution is an unbranded product a company purchases and rebrands as its own. Businesses, particularly startups, enjoy white-labeled SaaS products. Small company owners work with different software suppliers to complete their tasks. This results in increased management time and paid-out expenditures. It complicates the process of "selling" a brand as a unified entity.
Business owners are adopting white-labeled SaaS solutions to solve these issues. This makes it simple for enterprises to use SaaS technologies that seem native. Additionally, businesses can benefit from the experience provided by the specialized features.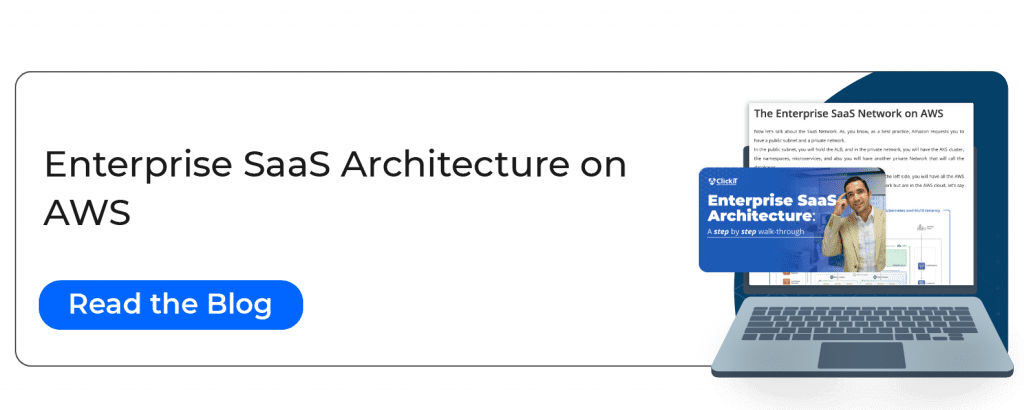 12. SaaS Trend: The Practice of SaaS Unbundling
The last top SaaS trends 2022, refers to a new generation of businesses that, instead of offering typical SaaS packages to their consumers, package their primary services as APIs and a suite of tools. It has nothing to do with traditional SaaS.
Rather, it's a concept to describe the rising number of firms that provide software solutions packaged as APIs rather than the more full-featured solution. These sorts of businesses are growing in popularity in the SaaS market.
If you want to keep up with these types of trends, read our blog Trending App Ideas: What to Expect in 2022.
Conclusion
The drive to integrate digitization in business is ferocious. IT professionals have been relentless, and businesses as a whole will gain from their combined efforts. SaaS has become a focal area, and it's unsurprising to observe the number of top SaaS trends for 2022 driving the field.
You might be overwhelmed with the remarkable growing trends, like AI, micro-SaaS solutions, etc. We have outlined the most important ones in this article. They will catapult the sector to a new height.

FAQs
Is SaaS the future?
The software as a service (SaaS) industry is becoming an increasingly viable choice for organizations, and according to a Better Buys report, the US expenditure alone will reach $55 billion by 2026.

Why do companies use SaaS?
SaaS is a beneficial service, especially for small businesses, because it provides access to expensive software that may have been otherwise unreachable for many through conventional purchasing methods.

What are the pros and cons of SaaS?
The pros of SaaS are relatively low cost, maintenance, and mobility. 
The cons are security, contractual obligations, and a possible loss of control.