What is SaaS, and how should you get started with a SaaS startup? Read on to find out about some SaaS startup ideas.
Before SaaS existed, people were looking for CD-ROMs, DVDs, or even floppy disks with programs. The valuable program was installed on the computer mainly on your own. In tough cases, you had to invite developers to create special programs, but more than 20 years ago, SaaS was designed and changed everything.
Table of contents
What Is SaaS?
When software is stored on the cloud, rather than on-premise, and sold as a service, that's SaaS. In practice, of course, there is a little more to it. From a software development standpoint, the key difference is you are hosting on your servers and allowing your customers access.
This software distribution model has outclassed traditional, on-premise solutions in recent years—and it's not difficult to see why. Installing software on-site is a headache; it requires storage and in-house expertise, and it's a pain to upgrade. Cloud-based software gets around all of these issues, but we will talk about why SaaS is popular later.
It would be a curious company that chose to go down an on-premise route in 2022. After all, we take advantage of SaaS solutions in our professional and personal lives, even if we don't always think in those terms.
What Is a SaaS Company?
Whenever a user plays a song, or a business sends an email, a SaaS company makes this possible. These SaaS startup ideas not only develop and own the software; they host, maintain, and market it.
At this point, there are tens of thousands of SaaS companies out there. If you are thinking about a startup in the SaaS world, then the question is not why but where. Exactly which of the software niches suits you best? Here are some big examples of SaaS companies, when they started, and what they do!
SaaS FinTech. Prosper is one of the SaaS startup ideas that started in 2005. It's the first peer-to-peer lending marketplace in the US. Prosper has facilitated more than $21 billion in loans to more than 1.24 million people as a fintech saas startup.
Communications. Slack was founded in 2009 and is a workplace messaging platform that is now owned by Salesforce.
Customer resource management (CRM). Hubspot was founded in 2006. It started as a traditional CRM but is now recognized as one of the most powerful marketing tools on the market.
Enterprise resource planning (ERP). Oracle ERP Cloud manages functions like financial management, accounting, project management, and procurement. Oracle is a heavy hitter in this space, and they got started in 2012.
Social media. Buffer launched in 2010 and has proved extremely popular. Buffer allows users to manage their various social network accounts.
Accounting and invoicing. Freshbooks, founded in 2003, is accounting software that targets small businesses.
Project management. Asana was founded in 2008 and launched in 2012 and has gone from strength to strength since then! There's been an explosion of project management tools hitting the market in the last few years, and Asana is somewhere at the top of the pack.
Customer support. Intercom was launched in 2011. As the business has moved off the high street and onto the web, customer interaction is one of the challenges to overcome. Since its foundation, Intercom has been a dominant force in this space.
Web hosting and eCommerce. Shopify is one of the SaaS startup ideas that has been making it easier for businesses to sell online since 2006. The success of Shopify is a reflection of the success of eCommerce.
Human resources. SharePoint HRMS (Microsoft) has a suite of different software in various niches. SharePoint HRMS launched in 2001, and it facilitates recruitment.
Data management. Amplitude has been helping businesses make sense of data since 2012.
If you are looking at becoming a SaaS startup, then take a look at the SaaS startup ideas above and assess how far they have managed to come since they were founded and launched.
Why is SaaS so Popular?
After reading the list of ideas for SaaS startup companies above, you are surely well and truly convinced that SaaS is popular—that's if you weren't already. To get a solid idea of why SaaS is so popular, it helps to look at the features and functionalities that come with the SaaS startup distribution model.
Accessibility
The fact that most SaaS companies can make their product available to anyone in the world drives down the price. Moreover, most of them offer a free trial to let users try the product for free.
Once upon a time, the cost of onboarding top-end software was, at times, prohibitive. CRM is a good example of this. Not only would a company need to budget for licenses, but they would also need to think about onboarding and hosting costs. That means having servers and probably entering into a long-term service-level agreement (SLA). This model made it difficult to effectively "try-before-you-buy."
Now, HubSpot can offer their basic sales CRM for free, as they upsell additional features. That means even small businesses can afford top-end software; the more users a solution attracts, the greater the margins and the more affordable the product.
Regular Income
As most SaaS works (at least partially) on a subscription model, companies get a steady income. The old model often meant developers would get a big payday at the point of sale but only a small annual license payment. SaaS flipped that on its head, and developers receive regular subscription fees if they market their product well. This approach is well understood by financers, and it actually makes growth forecasting more reliable and straightforward.
Adaptability
Adaptability is another huge tick in the pros column for SaaS. It is useful when analyzing these features to compare them to on-premise or private cloud software.
Traditionally, an IT department would need to install the latest version of software on a PC directly or run it from a local server when you, as a developer, release an amazing update, adding features and fixing bugs. You would then need to code and release a patch, send this out, and then each user would need to update it. Not only was this inefficient, it often created issues with different users running different versions. With cloud-based software, you simply update at the source.
From a user point-of-view, with an on-premise solution, there is more to worry about than the practicalities and costs of storage.
So Why is On-Premise Still a Thing?
SaaS overcame all of the entrenched problems that came with on-premise. There are some situations where a company might rightly choose an on-premise solution. You could make the argument that you get more uptime with on-premise, as you are not reliant on an internet connection, although this argument is losing credibility as the speed and stability of the internet is forever improving.
Also, if you are running a large CRM with a lot of data, it might make better sense to host on a local server to save on hosting costs.
Overall, though, the cloud is a marked upgrade to on-premise solutions; the popularity of SaaS is well-established, and this model will continue to dominate. For a reliable technical partner, try ClickIT!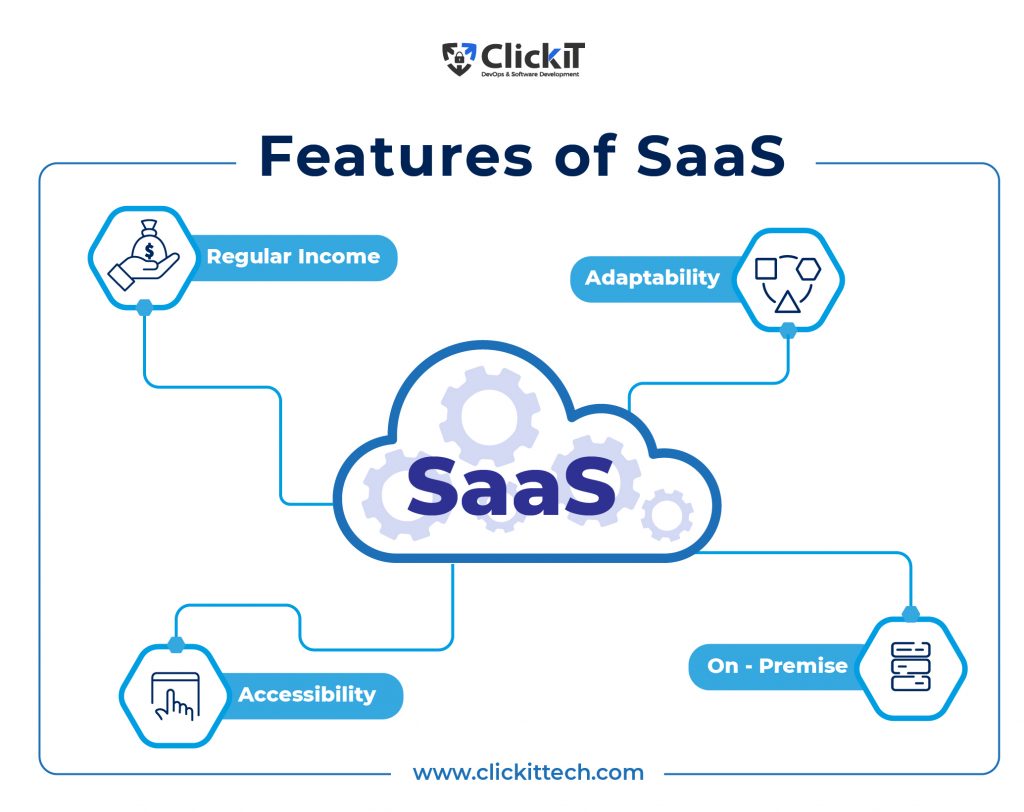 Building the Best Team for your Fintech SaaS Startup
Fintech is still emerging, so for aspiring SaaS developers, it's a fascinating area. Financial technology is a coverall term for any technology (software, algorithms, mobile tools) that looks to transform all things financial digitally.
Finance has dragged a little behind the curve. That's because everyone needs to deal with money, and not everyone wants to deal with tech. Particularly older people who may also have a lot of money! However, with a new generation coming up, fintech SaaS is exploding. There is a huge market for fintech SaaS that is reliable, easy to use, and solves a problem.
When you have your idea, you have your destination, and your development team is the vehicle that will get you there. With a fintech SaaS startup, there are several tried and tested approaches.
Full-Time Team
This is the traditional approach, and this makes it the most comfortable for a lot of people. This means taking on employees with contracts, HR, and the whole deal! Here are some pros and cons of this approach:
Pros
There is an idea that full-time teams are more dedicated, and you can certainly see how this idea comes about. Employees are (theoretically) on-task during working hours. Plus, they have committed to the company and are normally totally financially dependent on you!
It's often easier to assess the strengths and weaknesses of your team, which means that you can assign the right tasks to the right people.
Cons
Finding skilled full-time employees may be a challenge, as the gig economy is becoming more attractive to people, and you may be constrained to a local area. If you rely on remote workers, then you arguably lose some of the benefits of full-time staff.
If you hire full-time employees, you have to worry about pensions, insurance, perks, and the like. It can take a long time to build a team, which costs a lot if it doesn't work out!
Freelance Team
Freelance teams circumvent a lot of the pitfalls of hiring a full-time team. Basically, you rely on a team of individual freelancers to work as a team and get the job done.
Pros
The cost of hiring is much lower for freelancers.
You don't have to worry about perks, sick days, and holidays.
You can curate a team from all over the world.
You can scale up or scale down with ease.
Cons
Freelancers are unlikely to be as committed as full-time employees, as they will generally have other clients.
Freelancers might not be available when you need them, as they often work unpredictable hours.
It is not easy to manage freelancers, which brings a risk of missed deadlines.
It can be a false economy to work with a freelancer if they disappear or misrepresent themselves.
Hire a Reliable Technical Partner
This is perhaps the least known of the options available. A technical partner has all the benefits of freelancing with none of the downsides. A well-worked, experienced, outsourced team of developers, such as ClickIT, can help you develop and scale your software quickly without running the risk of overspending.
Pros
A good technical partner will give you access to a dedicated and experienced team of high-quality professionals.
Like freelancers, you only pay for the work you need, so you can decrease or increase output in a way that suits you.
You totally avoid training and recruitment costs.
You'll be able to understand costs before you start developing, which stops spiraling costs.
Cons
Choose your tech partner carefully: check reviews and relevant experience before hiring.
With any outsourcing, time zones can be an issue. Also, a cultural understanding of the market you are targeting can be missing. The way around this is to hire a partner who is in the same time zone!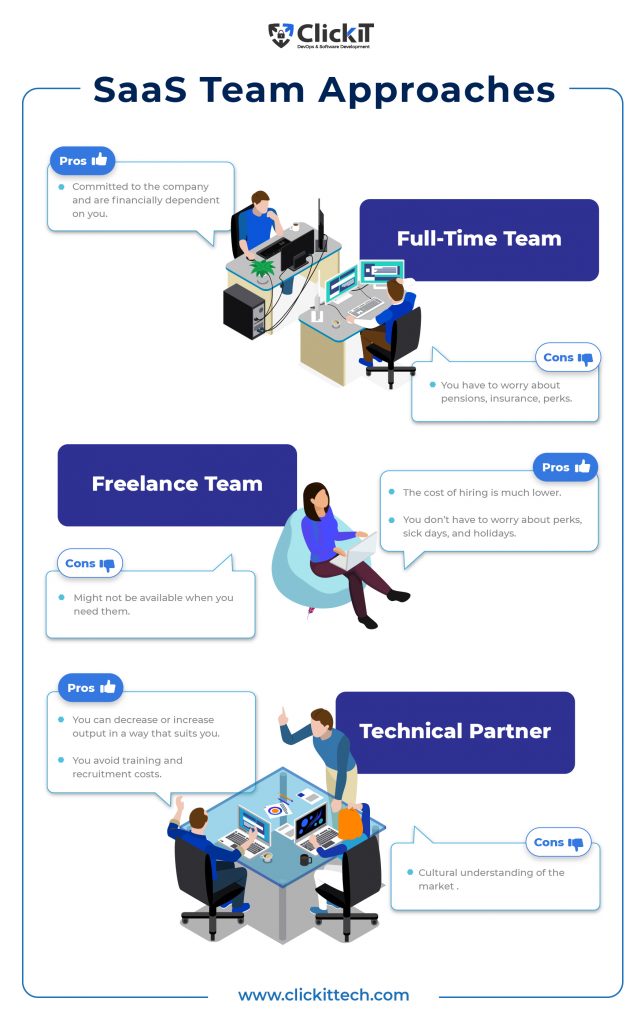 Conclusion
There is no getting around the fact that a SaaS startup is fertile ground for planting the seeds of a new business. A trickier proposition is working out what niche to focus on. Fintech is a safe bet, but there are often a lot of complicated regulations to deal with. Therefore, if you know your stuff, then fintech could well be the way forward.
That's really the crux of the issue. Pick an area you understand, like a fintech SaaS startup or some of the SaaS startup ideas we reviewed; if you can identify a gap, an efficiency, or a problem to solve, then there is the technical know-how and abilities out there that can achieve your vision.
The nuts and bolts of SaaS development are specialized, and not many start-ups have the funding or the time to build an in-house team. Picking a technical partner who is experienced in your niche, understands your goals, and has a track record of success is vital. ClickIT is ready to hear your next big idea, and we have the experience and skills to realize your vision fully.

FAQs of a SaaS Startup
What is a SaaS startup?
When software is stored on the cloud instead of on-premise and sold as a service, we come around SaaS.
This software distribution model has outclassed traditional, on-premise solutions recently because Cloud-based software covers all of these issues.
Why is SaaS startups the future?
SaaS has become a focal area. Around 70% of the business apps used by different companies today are SaaS-based, and by 2025, it's anticipated that number will reach 85%.
SaaS features and functionalities make it popular, such as: 
-Accessibility, most SaaS companies can make their product available to anyone in the world, which drives down the price.
-Regular Income, as most SaaS works on a subscription model, companies get a steady income.
-The cloud is a significant upgrade to on-premise solutions; the popularity of SaaS is well-established, and this model will continue to dominate. 
What is an example of a SaaS company?
There are tens of thousands of SaaS companies out there, and If you are thinking about starting up in the software world, here are some popular examples of SaaS companies.
-Prosper, It's the first peer-to-peer lending marketplace in the US. Prosper has facilitated more than $21 billion in loans to more than 1.24 million people.
-Slack is part of the communication niche. It was founded in 2009 and is a workplace messaging platform.
-Hubspot is recognized as one of the most powerful marketing tools on the market.
-Freshbooks is accounting software that targets small businesses.