The mobile app space is busy and constantly shifting and evolving as new technologies emerge, and consumer needs alter. We've prepared top trending app ideas for 2022.
If you are looking for investment opportunities or are working towards developing your own app, you'll want to gather all the insight possible on what's going to be hot in 2022.
Table of Content
What Apps are Trending?
Stop wasting time and decide what area to pour your time, money, and effort into with these best trending app ideas for 2022.
AR apps
IoT apps
Powered Chatbots
Anonymous Communication Apps
Travel Apps
Voice Translation Apps
On-demand service apps
Event Planner Apps
Augmented Reality (AR) Apps
AR takes your real-world circumstances and superimposes a digital reality. This is a trending app idea 2022 that has been around for a while, but only in recent years have smartphones reached the point where they can carry enough tech to run augmented reality apps efficiently.
The launch of PokemonGo in 2016 was the first time augmented reality hit the mainstream on mobile.
A few years later, the spread of mobile AR shows no signs of halting. Giants like Google entered the space enthusiastically with Google Lens, which lets you identify objects by pointing the camera at them.
Why Are They Trendy?
It's easy to see why apps that are trending of this nature continue to be popular. They are a huge step towards merging the digital and physical worlds. It's a common complaint that in the modern, technological landscape, we are becoming less connected with reality. Well, there is potential for AR to build bridges that keep us connected and current.
The reach and effectiveness of AR are only going to get more powerful. Every year, we can pack more processing power into smartphones, and the data that powers AR becomes less biased and more reliable. So, if you continue to update and reinvigorate your app, it will become more powerful and user-friendly.
Internet of Things (IoT) Apps
IoT (Internet of Things) is an acronym that crops up a lot when we talk about best app ideas that are trending. When something is everywhere, it is in danger of becoming background noise, so it is worth reflecting on just what IoT means and what role it will play in the future of mobile app development. 
IoT is a network of devices connected and communicating with each other. When picturing this, it's helpful to think of smart appliances like fridges and washing machines. Generally, these devices don't have interfaces. If they did, then having to physically travel to the appliance to get information or make a change defeats the objective! So an IoT mobile app provides a handy interface through which you can interact with these objects.
Consumers and business managers are beginning to see the level of control offered by IoT mobile applications as the standard:
In consumer terms. Perhaps the fastest-growing area of IoT mobile apps is related to smart home devices. Initially, the ability to turn your lights on and off from your phone was viewed by many as a frivolous novelty. Now, people recognize the benefits of having total control of all their devices. Namely, it is possible to reduce bills and the time spent managing a household when using an integrated IoT mobile application.
From a business point of view. IoT is becoming an essential part of asset tracking, inventory management, and business analysis. Even small businesses now recognize the path to true efficiency and business intelligence is through technology and data.
The IoT is one of the apps that are that is becoming progressively integrated into our daily lives, and organizations are hungry for more control and insight. With this in mind, you can bet we will be seeing some novel, game-changing IoT mobile apps in 2022 and beyond.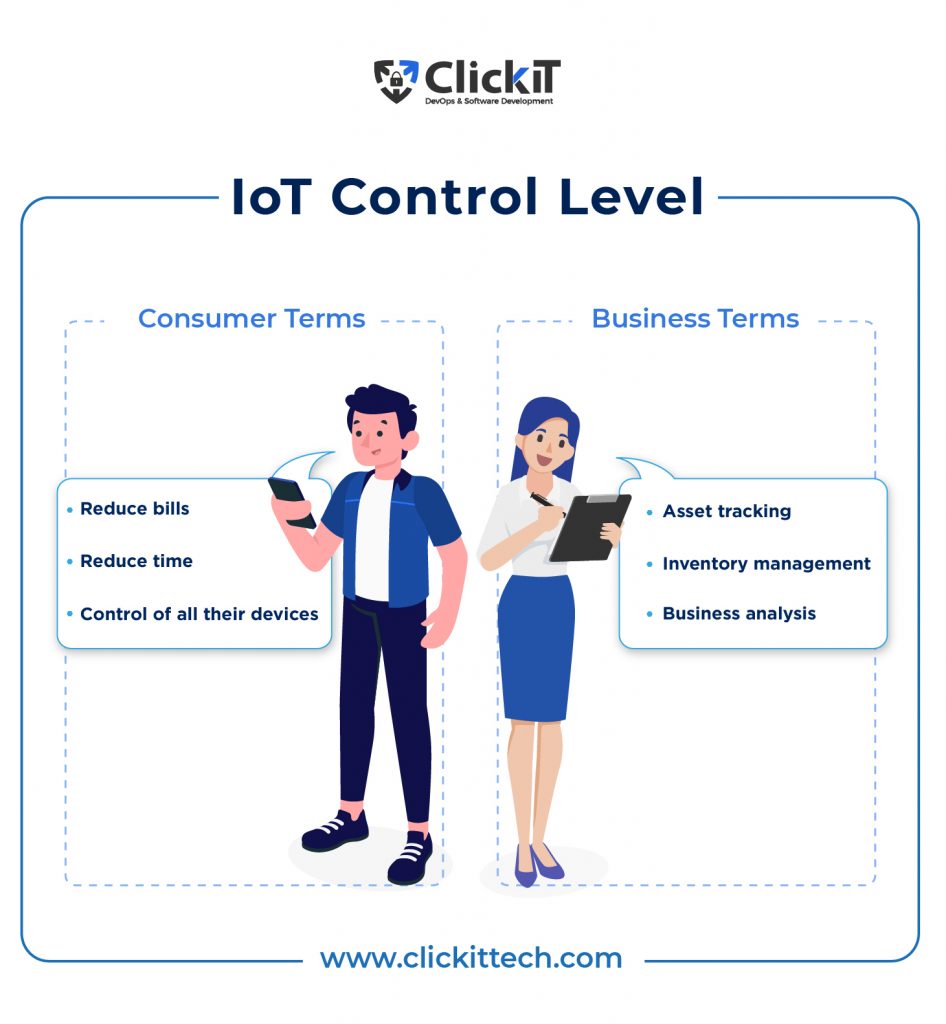 Artificial Intelligence-Powered Chatbots
The rise of the intuitive chatbot is directly linked with the development of AI and machine learning. Bots are now able to manage the majority of user queries and actions. An organization need not worry about training a bot only for it to change jobs as it becomes efficient or that a bot will lose its temper with a customer when it's having a bad day!
Startups in the financial sector have been early adopters of powered chatbots. Banking generates a lot of customer queries, and hiring enough agents to match a decent bot's inefficiency, politeness, and learning capacity is costly and not realistic.
Despite this, only a fraction of businesses are taking full advantage of AI chatbots. This fact alone makes them an attractive space for developers and investors, making it one of the apps that are trending.
Anonymous Communication Apps
We are more connected to each other than ever before. Any person with internet access can communicate with lightning speed to people all over the world. The desire to keep these communications private has been growing. Anonymous communication apps are messaging platforms that encrypt information.
Private communication fits in perfectly with the zeitgeist right now. Tech-savvy people are concerned with free speech and are anti-surveillance. The average app user is more aware than ever that the data they generate is valuable and often tells organizations too much about them.
Apps like telegram are gaining huge amounts of users every day. They guarantee end-to-end encryption and have a lot of the features of traditional communication apps. Although there are several apps already competing in this space, there is definitely scope for improved functionality and greater security.
Travel Apps
Globalization has made exploring the world an option for a huge number of people. Affordable travel options play a role in this, as do travel apps of all shapes and sizes. Whether the user is planning a route, looking for somewhere safe and affordable to stay, seeking out landmarks, or connecting with locals, there is a travel app to suit. Therefore, it is one of the apps that are trending.
One important function of many travel apps is not to tell you where to go but to tell you where not to go! This removes a traditional obstacle to travel.
Following lockdowns all over the world, people are starting to wonder what is beyond the horizon again! For the app developer working in the travel and tourism space, the question is how to improve on the functionality already out there.
Often, travelers need to rely on several apps to get the full set of tools they need to optimize their travel experience. New apps that answer the needs of the growing number of jet setters are sure to win over a lot of users in 2022.
Voice Translation Apps
Like chatbots, voice translation is a trending app that has improved in line with the tech that powers them. This is largely machine learning, but smart headphones and smartphone OS are playing a sizable role. The dream is an app that can reliably translate languages in real-time. Of course, reliability is the key, and the best app ideas emerging apps will all compete on this metric.
An obvious and exciting application of voice translating apps is augmenting the travel experience. Much like travel apps, the need for translation has grown as the world has shrunk.
Google translate is (unsurprisingly) leading the way in voice translation tech. However, a go-to, reliable translation app has yet to hit the mainstream. Accessible, reliable, and affordable voice translation apps are bound to get a huge amount of development time this year. You can almost hear the clicking of developers firing off new lines of code, can't you?
On-Demand Service Apps
Consumers have become used to getting what they want when they ask for it. On-demand service is one of the apps that are trending, and it provides just this.
The success stories will be familiar to most readers. Apps like Uber, Deliveroo, Drizly, and Postmates attracted huge user numbers by connecting consumers to services quickly, affordably, and (perhaps most importantly) on-demand!
There are many niche markets yet to benefit from a high-quality on-demand application. This is a huge boon for developers, as a wealth of data is available on what works for user interface (UI) and functionality. If you can find a niche that could benefit from an on-demand service app and get a top-notch design team together, then all you're left with is a race against the clock!
Event Planner Apps
Apps of this kind attempt to make sense of the confusing array of options available to us! To operate effectively in a fast-paced, connected reality, users need organizational applications to make sense of the noise.
Often, event planning apps attempt to collate information from different platforms to present a simplified, streamlined version of a person's schedule. In this way, you can browse events of interest by analyzing the user's schedule and behavior. Of course, some event planning apps are less ambitious, but this is the general idea!
There are good event planning apps, and there are bad. When they are implemented well, they help people not only make sense of life but get the most out of it! The needs and motivations of the available market change continually, and new mobile applications that genuinely simplify people's lives are always popular.
Keeping these best app ideas that are trending in mind, you might ask if there's a solution that will help you find what you need. Let's check it out!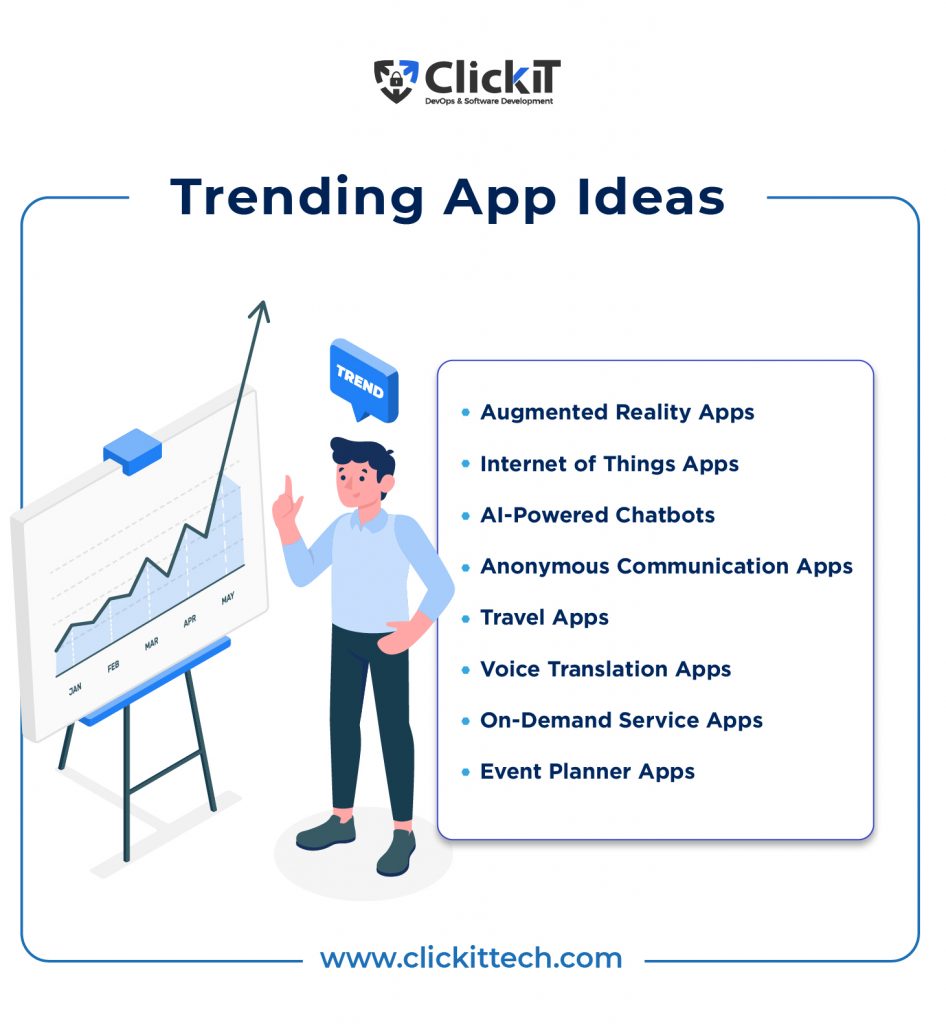 Working With ClickIT
ClickIT assists startups, SaaS, and enterprise companies with DevOps and software solutions. For our clients, we are an outsourcing partner they can rely on to deliver on their web and mobile application goals. We have a holistic approach to development—we look at the big picture and are not limited by only having expertise in a small set of frameworks or industries.
Traditionally, a drawback of outsourcing development is the team you are working with is interchangeable. With ClickIT, you have day-to-day access to a dedicated team that will work tirelessly to create your vision in a way that seamlessly blends functionality with brand identity. We are nearshore, which means there is only a slight learning curve to understanding your culture and target market.
Build your development team with ClickIT and stay on the precipice of mobile app trends.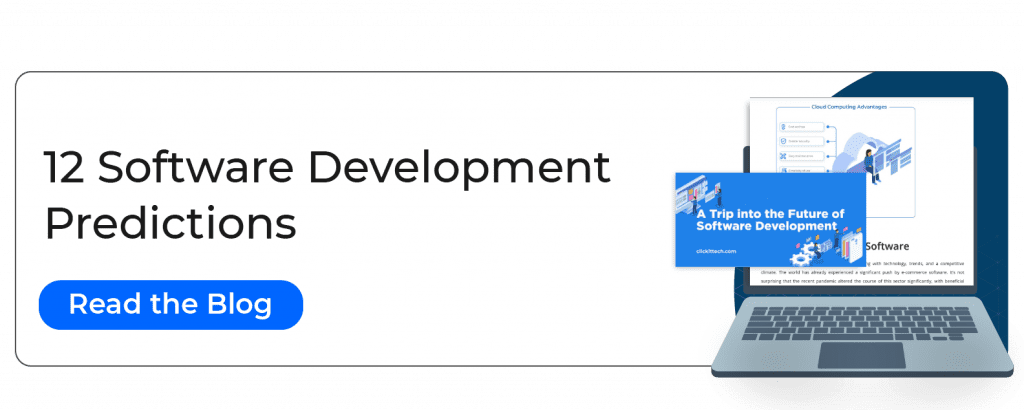 Conclusion of trending apps
Getting reliable insight into trending app ideas is a no-brainer when deciding where to commit your efforts. The development trends identified here are not exhaustive, but they are a solid jumping-off point that will help direct and refine your research and analysis going forward.
The truth is, as processing power continues to grow exponentially and hardware that once required dedicated and generated warehousing can now fit into your phone—anything is possible—or will be!
This is a good problem for those looking into developing or investing in mobile apps but a problem nonetheless. The market is crowded, and it is vital you not only do your research but invest in a dev team that can beat the competition in quality, speed, and scalability in your best trending app idea for 2022.
We are likely to see the best trending app ideas that hit the market in the next few months that match up with each of the areas discussed. To get ahead of the curve, consider working with ClickIT to cut the time it takes to build a dev team that can deliver.