We have to deal with this: no one is perfect in this world. The best you can do is to be an expert in many areas as possible. But what happen when you don't have the time or the needed resources to cover one important area? This is where…
Outsourcing IT services becomes the best alternative
When you do outsourcing of any type of services/products, you acquire help that will form a part of your business process or stage. The advantages of doing this can vary depending on your interest and the business area, but the mainly of them are:
Major efficiency.
Manage difficult tasks that are out of your control.
Highly trained personnel available for your specific needs.
It's cheaper. Reduce and/or control of operating expenses.
Allows you to have access to better technologies without the necessity of training your personnel to use it.
Maybe when you are new in a certain business area you will have troubles finding the right partners or providers, but you don't have to be frustrated about it. The solution – or at least this apply very well at IT services- is to look for companies that offer their services as outsourcing.
As mentioned at the beginning, the main advantages will help you to improve your experience, to make your business progress through the time and to gain knowledge in the areas that maybe you don't have the personnel, the time or any other kind of resource to meet fully.
Outsourcing IT services
When you acquire outsourcing IT services it is very important that you are sure of hiring a specific company. You have to take on account their experience, their work, their case of studies that may help you understand their work. In other words, to choose carefully a company that fully accomplish your expectations.
And it's here where we show up: ClickIT is a company that offers outsourcing in the IT services. We can provide the perfect team to your projects. As you may know, this article is mainly to talk about IT outsourcing services, and that's exactly what we are doing.
Our services are focused on offering our help to Startups, SME's or even big companies. Depending of what you want, what type of business you are, your goals and objectives. We can help you to start, growth or to manage a significant part of your business through these services:
Amazon AWS Cloud: As a cloud migration consultant, our IT service can provide you with Cloud Solutions and migration services, helping enterprise organizations adopt and manage cloud technologies with Amazon Web Services.
Server and website migration: IT service that can help you Migrate your application to the Cloud, from a little blog to a Mission-Critical Application. No impacts and n0 downtime. Evolve with us adding Security, Scalability, and Speed.
Application Development: IT services in charge of Web and Mobile application development for eCommerce sites, startups and SaaS applications.
Security: With this IT service we can rescue you from an intrusion or Malware attack following: DDoS protection, network security, CDN solutions, vulnerability assessments and Pen-Test.
Server and website optimization: IT Service that can accelerate your application deploying a different range of caching layers, CDN solutions and tuning your LAMP services. Transform a heavy server into an agile high-performance Web server using Nginx or Varnish.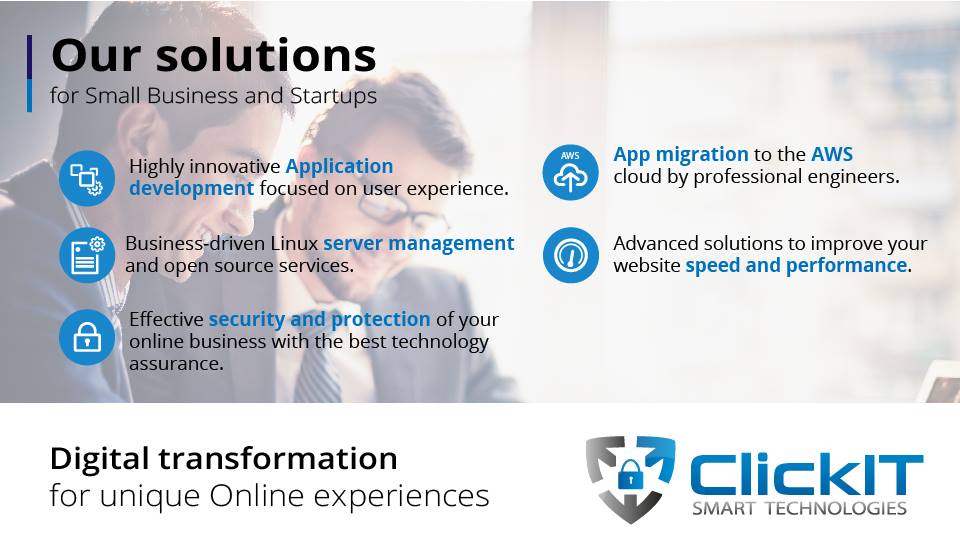 All of our outsourcing IT services are focused on the idea that anyone can create its own website or application and manage them through AWS, Rackspace or any other type of hosting, or can manage servers and give them maintaining. But ClickIT offers you as a value proposal not just create this for you, but to improve it and manage it (your app, website or server) when you cannot find enough resources to do it by yourself.
Our outsourcing IT services will help you improve your business in the way you want. Depending on your necessities, the size of the team you need and the type of project you have, we can fill your expectations in every single aspect you require.
Blade Payments, for example, is one of our client that ask us for help in infrastructure deployment to improve their online business about consumer payments & settlement. In this particular case, Blade belongs to Fintech, and we were compromised to help them innovate and deliver the best payment solution to their clients. Read the whole Blade Case Study here.
The way we work with each client is different, depending on their necessities and the business area they belong. No matter what your business is about, call us!
ClickIT's team is ready to assist you in all IT task you have. If you want to integrate your Startup or your SME to the cloud, Join the Cloud Revolution and request your 40% discount to any AWS Service implementation with ClickIT Smart Technologies".