Software development is a large undertaking; in recent years, businesses have become more inclined to outsource their IT projects. This decision is influenced by factors such as a high price-quality ratio, fewer hiring hassles, a shorter time to market, and so on. The other option is to develop software in-house. Putting together an in-house team requires a lot of time and money, but in some situations, this could be a more suitable option. Which way to go? Is it better to hire a team in house vs outsource?
So that you can make the best decision, let's look at the benefits and drawbacks of in-house development vs outsourcing and see where the best skills may be found.
Table of contents
In house vs Outsource: In-house team
An in-house team is a group of employees formed from people you hire one at a time to work in your workplace. It uses the established resources within the company to complete tasks or accomplish a goal.
Let's look at what you gain and what you lose if you decide to choose to have a team in house vs outsourcing.
What are the advantages of In-house?
On-site availability: You can effortlessly interact with your team if you build software in-house and get prompt answers to your queries.
Awareness of the business: Employees in your in-house team are employees of your firm. They understand what your organization needs to operate efficiently and successfully.
In-depth knowledge of the systems and setup: The employees develop an in-depth understanding of your systems and setup, allowing them to bypass the onboarding steps and solve problems fast.
Deep understanding of the users: Your IT crew is well-versed with your company's workers, users, customers, and prospects. They are aware of your organization's goals and key performance metrics.
What are the disadvantages of In-house?
High expenses: Insourcing or in-house teams necessitate a significant investment in the recruiting process. In addition, due to team expansion, you might have to equip the workplace for each new employee or rent or buy a new office.
Absence issues: If any of your team members fall ill, you'll have to make significant investments in new hires or deal with project interruptions. This may be troublesome with ongoing development since sickness within your existing staff can jeopardize your project's schedules.
Low retention rates: Programmers in Western and European nations change employment more frequently due to increasing demand and enticing incentives provided by competing firms.
Lack of necessary skills: Your staff cannot be experts in every field. You may not have the resources in-house to accomplish a specific project effectively. Team member training may be prohibitively time-consuming or expensive. The time you devote to learning anything new diverts focus away from the things you do well, and your performance may suffer as a result.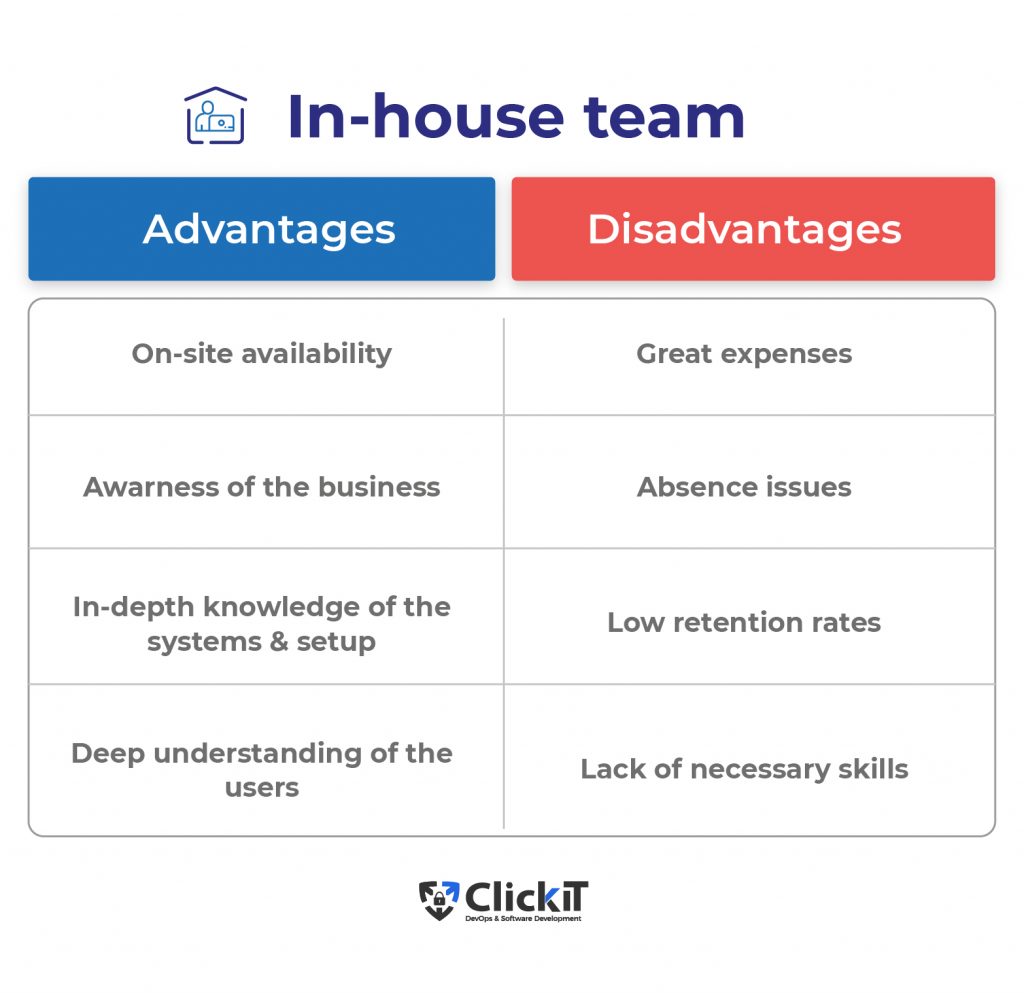 When to use an in-house team?
You need an in-house team in the following circumstances:
You don't have budget constraints: If you are not operating a bootstrapped company and have plenty of money at your disposal, employing an in-house team will provide you with all of the benefits and none of the drawbacks.
You need to be in full control: You cannot afford the chance of issues arising and having little influence over their resolution. You and your team make every choice that impacts the development of the product. Any problems are handled as soon as they arise.
How to hire an in-house team?
You should pay attention to the following things when hiring an in-house team:
Look for someone with a well-rounded skill set: To develop your product, an in-house programmer or crew must have all of the essential skills. A capable in-house team must understand the entire technology stack for the application being created and its interaction with other technologies.
Evaluate strengths and weaknesses: Ask the following questions to your potential hire: Are you able to establish and surpass your deadlines? Do you plan to collaborate alone or in a group? Do you have a preference for front-end or back-end development? What is your degree of proficiency in both? Make sure you choose someone who already possesses the talents you want for your project and compliments and matches the people on your team.
Prioritize your creative vision: People interested in technology tend to think strategically, and as employers, we frequently place a premium on technical abilities. However, you should seek someone with a unique vision as well. Someone who can combine technical requirements with commercial objectives will be able to develop a higher-quality product.
Where to search for in-house team members?
You should look for in-house team members on the following resources:
Recruiting websites
Regardless of the sort of developer you are recruiting, niche job boards directly contact your target demographic. Those placed on specialized employment forums will receive fewer applications but more appropriate dev applicants than jobs posted on mainstream job platforms.
Tech events
Many tech events take place throughout the year. These events are often concentrated on a single technology or programming language.
Hackathons
Hackathons are the best solution for individuals who need to employ engineers for a start-up. A hackathon is a gathering of software engineers collaborating to create new software. Many hackathons are focused on specific technologies, allowing you to select relevant ones for your project.
Universities
You may be shocked to learn that excellent coders can be found among students. If you have relationships at technology institutions, you can ask them to propose their most exemplary students. Even though they have little job experience, they may have completed other projects and are enthusiastic about coding.

In house vs Outsource: Outsourcing team
Outsourcing is the process of engaging a non-affiliated third party to execute certain activities for a firm. Outsourcing employs an outside organization's established personnel to accomplish activities and an external organization's resources for services and producing products. Typically, the main reason for outsourcing work to another company is to save money on expenditures.
Like everything in this world, outsourcing has its pros and cons. Let's check them out to enter the in house vs outsource debate.
What are the advantages of Outsourcing?
Access to a talent pool: Outsourcing companies provide the possibility of accessing an IT talent pool of engineers with different skill sets and work experience. The IT world has the advantage of hiring outsourced candidates in a remote or hybrid mode. Many excellent IT professionals work with outsourcing companies because top-tier talents want variety in their projects to promote their professional skills.
Focus on core business functions: You can delegate some of your jobs so that you may focus more on critical business demands, allocate resources for them, and so on. Outsourced engineers are an extension of your team, extra talent to cover all the areas of a project.
Cost-effectiveness: Unlike an insourcing team, a dedicated outsourcing team will save you a significant amount of money. You will not have to conduct a large number of interviews, pay high wages to top in-house specialists, or outfit workspaces. You pay the agreed-upon rate per hour or for the entire project. You also do not have to pay salaries when the project is completed and the team is idle; the third-party company will take care of all the expenses regarding the engineer, such as vacations, insurance, and work resources.
Flexibility: Building an in-house team takes time. Every time you want to employ a new team member, you must undergo a lengthy hiring procedure. Outsourcing work to another firm will assist you in obtaining the resources quicker while still attending to your project's needs.
Faster project delivery: There are many engineers and companies available that can handle a wide range of assignments. It will not be difficult for you to hire a qualified professional who can accomplish a coding task, DevOps implementation, or any other tech-related task you have in mind. In reality, you may find subject matter experts with the in-depth, comprehensive expertise that your staff cannot match.
What are the disadvantages of Outsourcing?
There are, however, some disadvantages to outsourcing vs. in-house teams:
Management issues: You can be active in the project but cannot control everything. Actually, with a reputable outsourcing company, you won't need to control each step. However, many business owners still dislike delegating key management responsibilities. In this situation, you may employ a dedicated team and seek the assistance of your in-house project manager.
Communication issues: This is not a significant issue in the twenty-first century, but you must be aware of the time zones and select the MSP that corresponds to them.
Problems with quality: Despite all of the advantages of outsourcing, it is only beneficial if you receive the quality you anticipate. So, you should choose a team wisely. Get involved during the hiring process of the engineers, require them to prove their abilities, and cleverly select the best candidates for your team according to expertise and project needs.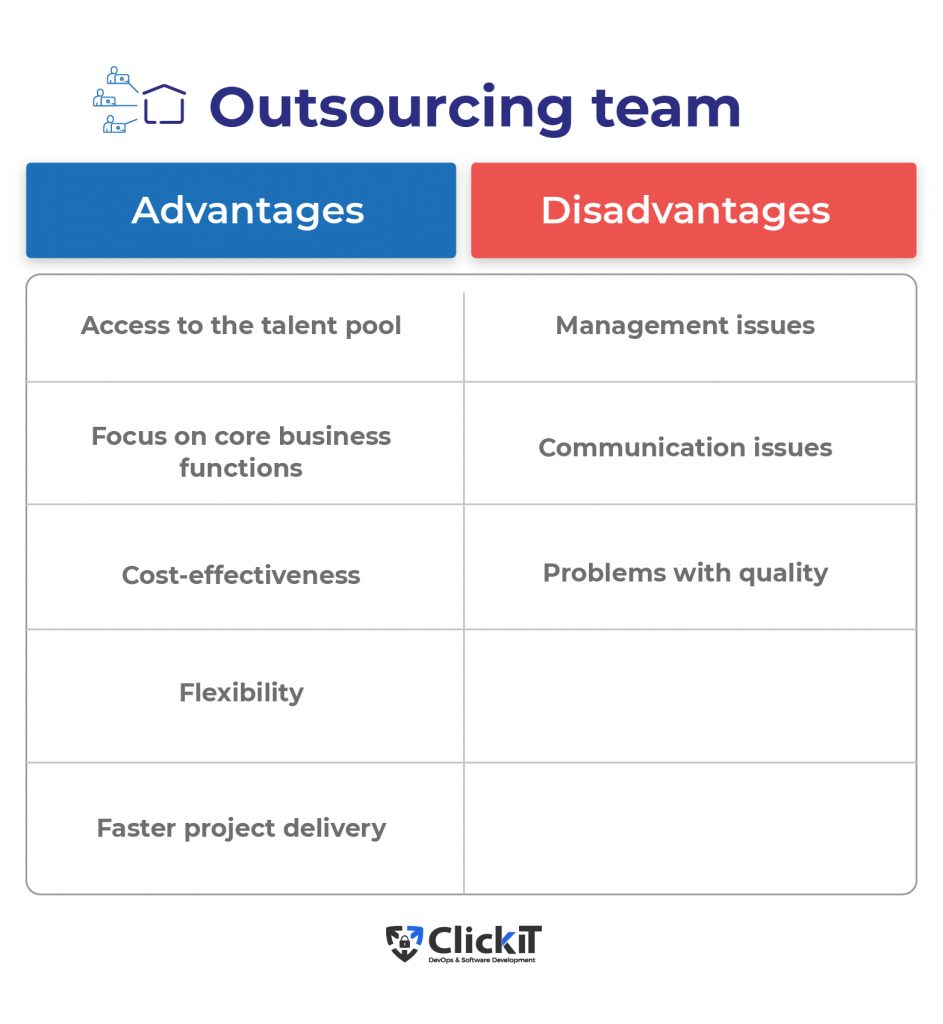 When to use an outsourcing team?
When we talk about the outsourcing vs. in-house discussion, we need to know the best option for Outsourcing in the following scenarios:
Budget constraints: When you're working with a limited budget, outsourcing allows you to be more flexible with your cash flow and somehow avoid the commitment of monthly payments. Besides, outsourcing an IT team is more cost-effective in comparison to an in-house team.
Lack of available talent: You can't seem to locate the right talent in your city. Instead of spending a few months training one, you're better off hiring an IT vendor with a pool of talented developers and DevOps engineers to perform the work.
Tight launch deadlines: If you have no past expertise in software development, you may be caught off guard by frequent stumbling blocks. When you have a deadline to meet, you cannot afford delays that may be avoided by working with a competent IT provider with professional team experience with similar projects or deliverables.
Lack of clarity: Even with an in-house staff, developing a sophisticated IT solution can be a considerable effort. There is a stumbling block in translating corporate needs into technical specifications. An outsourced vendor will frequently have a business manager who may liaison between you and the developers.
How to hire an outsourcing team?
You should look for the following skills when hiring an outsourcing team:
Establish industry experience and technical expertise: To determine an outsourcing vendor's level of experience, inquire about how many assignments it has undertaken and how rigorous those projects were. Your outsourcing partner should presumably be certified in crucial areas of your interest, such as the technologies your application is running in or the cloud that hosts it. Technical competence can guarantee that your firm receives uninterrupted services or support and the best service delivery.
Ask for client references and samples: Request feedback from former and current clients on the range and quality of services they got and any difficulties during the collaboration.
Inspect communication and client management systems: If you operate in a distinct time zone, your outsourcing provider must ensure that both of your working hours coincide to some extent to avoid miscommunication. You should also agree on a single interface for all of your inquiries.
Check infrastructure and technologies: A technologically prepared service provider can better assist your company's needs and requirements. Your vendor may also need to invest in acquiring and implementing other business-specific technology.
Calculate costs: Fixed project expenses can result in significant savings; therefore, ask your potential partner whether this option is feasible. Otherwise, you must investigate and examine any hidden costs associated with project implementation.
Evaluate the workforce: You should evaluate your vendor's hiring rules and practices to emphasize the knowledge, discipline, and technical and soft skills your company demands.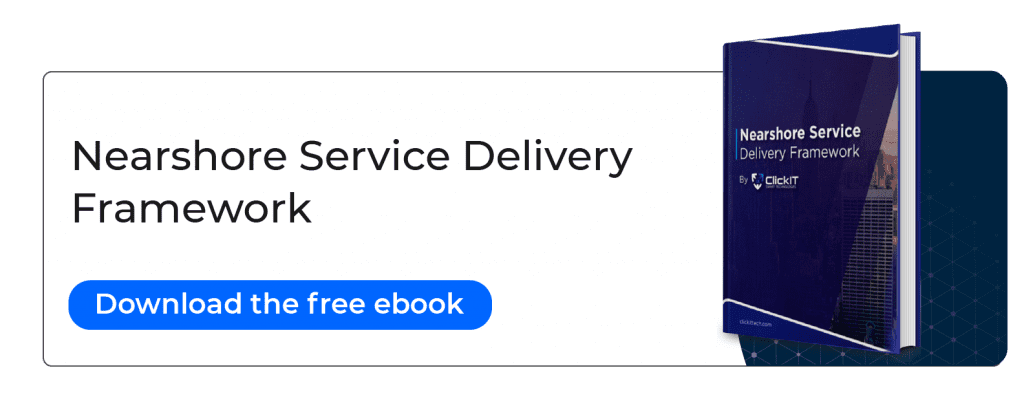 What to search for when hiring an outsourced team?
Below are some tips to help you hire a team for your project.
Understand the outsourcing model your business needs
We have defined outsourcing as the concept and practice of hiring an external company to perform specific business functions, in this case, DevOps and software development activities. First of all, identify the outsourcing model you're interested in or the one that better suits your business needs.
Here are the top outsourcing models for businesses willing to hire extra IT talent:
Onshore: Outsourcing services with a team located in the same country but whose headquarters or business operations are usually in a different city.
Nearshore: Outsourcing services to a company in a different country but sharing similar time zones and cultural affinity. A more cost-effective solution than other types of outsourcing, and it ensures the same level of expertise as in-house teams.
Offshore: When a company outsources projects to a company in a different country, with an opposite time zone.
Trusted sources to find the ideal outsourcing company
Trust the facts, certifications, and project reviews, and trust the sources that recognize top outsourcing companies in the IT field. Starting with the most popular:
Clutch: A leading ratings and reviews platform for IT, marketing, and business services providers. A data-driven field guide for B2B buying and hiring decisions.
The Manifest: A platform with the latest survey data on consumer and business priorities, challenges, and preferences related to the IT field. The Manifest gathers and verifies the hard data, expert insights, and actionable advice companies need to build their brand and grow their business.
Good Firms: A full-fledged research and review platform that helps buyers of professional services and businesses opt for the best application and software development companies to increase new user acquisition, market share, and brand awareness for customers.
Accelerance: Accelerance identifies the leading 250 software development firms and the work done by software outsourcing companies, primarily in LATAM.
Review outsourcing websites
Freelance websites serve as an online marketplace for the best-outsourced developers and coders. To meet their business objectives, CEOs, CTOs, and management at Fortune 500 companies and start-ups rely on freelance websites to substitute their development teams for application development, web development, and other software development projects. Some of the most popular websites for finding freelance software developers are Upwork, Freelancer, Guru, and Design Hill.
Open-source coding platforms
Open source software is code that is intended to be publicly available—anyone can view, modify, and distribute it as they see fit. Peer review and community production are used to develop open-source software in a decentralized and collaborative manner. Open-source websites like GitHub, tech blogs, and even referrals from your peers can help you find and hire a developer team.
Read our blog, How to Build a Software Development Team.
In-house vs. Outsourcing: Comparison table
We've prepared a convenient table for you to review the most important things when comparing in-house development vs. outsourcing: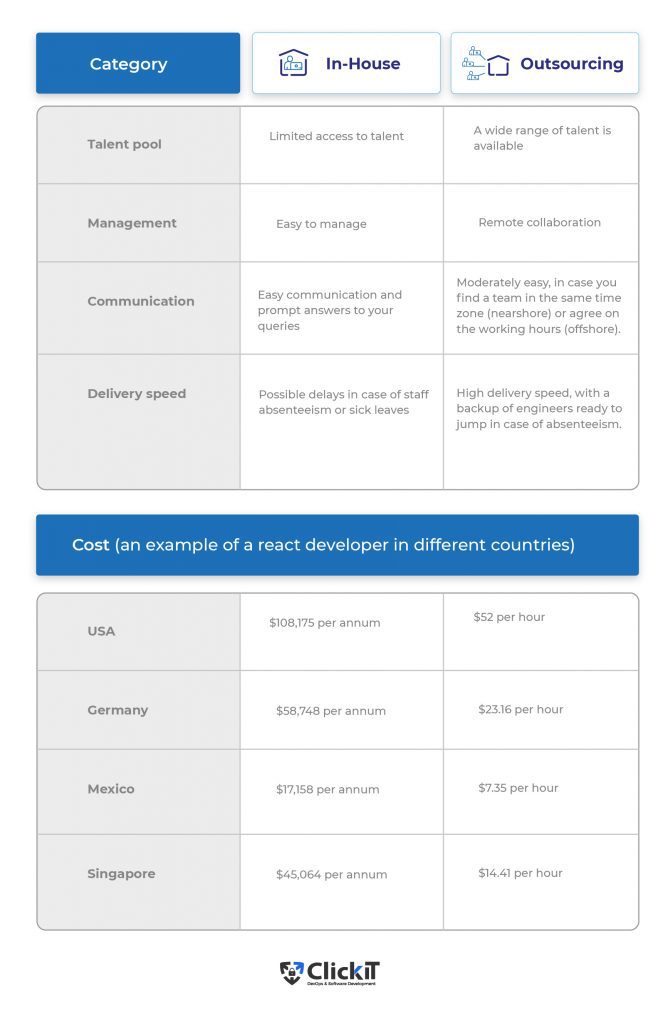 It is obvious from the table that each team approach has its pros and cons, and your decision should solely depend on your needs and possibilities. If you're willing to outsource, make sure it is nearshore.
Outsourcing to ClickIT
If you decide to outsource, ClickIT is definitely the right partner for your business. Here is why:
Benefits of ClickIT:
Proven expertise: We have been in business for almost ten years and have completed over 500 projects.
Security of customer data: We focus on securing our customers' assets and information.
Big talent pool: Our team comprises over 50 qualified engineers who are eager to help you with your project regardless of its complexity.
Live collaboration: Daily updates on the project status boost productivity and reduce communication gaps.
Cultural affinity: Cultural alignment promotes a more harmonious working atmosphere and mutual understanding. Engineers tend to live our company culture and adopt our clients.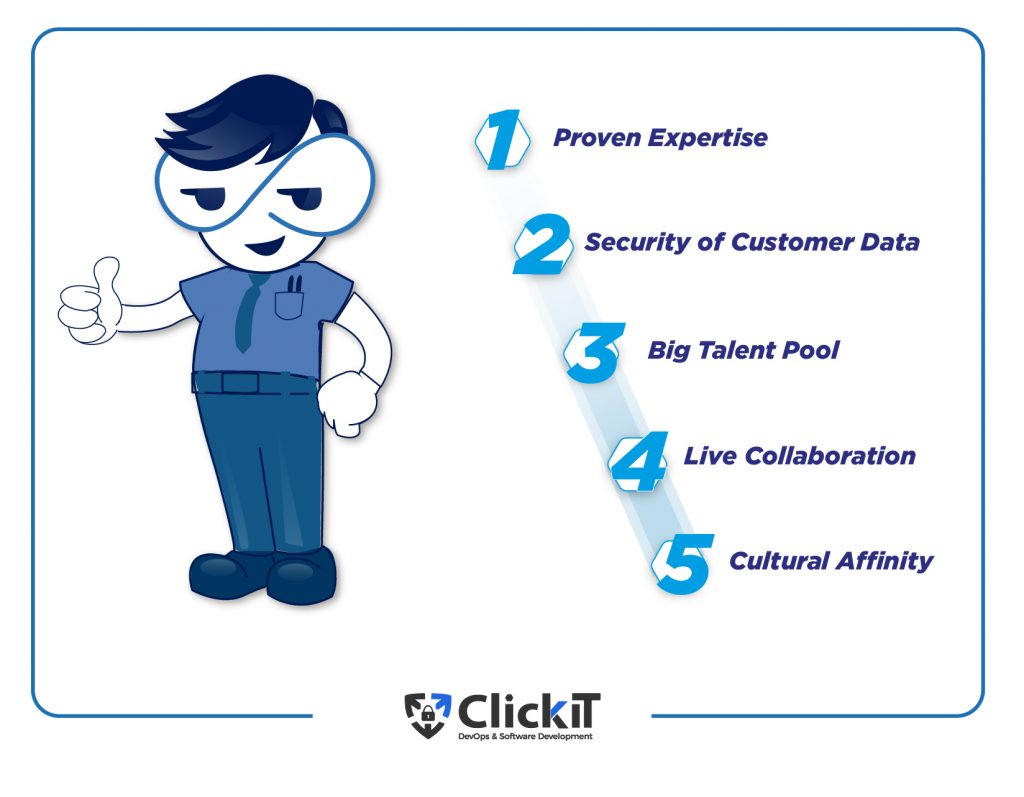 Key verticals and customers
We worked with many companies and have extensive expertise:
SaaS companies
Financial and banking
Healthcare
Owlinsights
HealthTechConnect
Kinetik
Martech
BrandVerge
Alight Analytics
Inmarket
IT companies
So, why not trust ClickIT since so many reputable organizations do?
Nearshore model
Outsourcing nearshore IT services is the perfect model for enterprises needing to decrease expenses and continue developing high-quality projects. Nearshore outsourcing is about third-partying IT projects to a less expensive country that is geographically and culturally close.
This way, a nearshore IT team will dispel the problems caused by time zones and language differences.
What are the advantages of Nearshore?
Cost-effective solutions: We make our service delivery budget-friendly to our customers.
Like in-house engineers: We work to make the customer feel like we are in-house engineers.
Continuous communication: We hold daily SCRUM meetings with every customer.
Easy contracting process: We have a fast and simple contracting process.
Same time zone: We share a similar time zone with North America (USA and Canada), which allows us to have continuous communication and proactively be problem solvers and doers.
Read our blog Nearshore Software Development Company: Essential Characteristics to learn more about this model.

Conclusion of In house vs Outsource
Regardless of what you decide: to have a team in house vs outsource, both options have advantages and disadvantages. In-house teams provide a deeper grasp of a project, but they also require more significant expenditures. Outsourcing offers you access to a large talent pool, even if the engineers are not in your country.
If you opt to outsource, choose the ClickIT team, which has been in the market for ten-plus years and has established a reputation as a trustworthy business partner.
FAQ
Why is outsourcing better than in-house?
When you decide to outsource, it means you automatically have access to a wider pool of talent with greater expertise than you could find close to you. Besides, you can save time and money by outsourcing the work and focusing on familiar tasks.
What is the difference between in-house and outsourced?
A team of engineers who work in your workplace is referred to as an in-house software development team. The term "outsourcing development" refers to working with a software development team from another region.
What are examples of outsourcing?
As explained below, nearshore, offshore, and onshore are examples of outsourcing. 
Here are the top outsourcing models for businesses willing to hire extra IT talent. 
Onshore: Outsourcing services with a team located in the same country but whose headquarters or business operations are usually in a different city. 
Nearshore: Outsourcing services to a company in a different country but sharing similar time zones and cultural affinity. A more cost-effective solution than other types of outsourcing, and it ensures the same level of expertise as in-house teams.
Offshore: When a company outsources projects to a company in a different country, with an opposite time zone.