In this second edition of The Voice of the Customer: SaaS Edition, we listened to our friend from Stellar Menus.
Good is not enough for Clickers; we want to be the best at what we do, and for that, we carefully seek and listen to our client's feedback. To ensure our service quality is top-notch, we use our customers' recommendations or comments to fuel our improvement.
On this occasion, the CEO of Stellar Menus, Steven Latasa-Nicks, took advantage of his visit to ClickIT to share his experience working with us. Let's listen to The Voice of the Customer: SaaS edition.
About Stellar Menus
At Stellar Menus, we service restaurants. We improve the customer experience by creating a menu and a QR code experience that is better than the existing pinch and zooms people use with PDF. We like to say, "We create QR code menus that don't suck."
Stellar Menus is based out of Massachusetts in the United States. We've got resources in a couple of different areas in the US, and, of course, we've got our software development relationship with ClickIT here in Mexico.
Advanced SaaS Application with ClickIT
For this project, we decided to rebuild our application from scratch onto AWS so that it would be set for scaling. We also wanted to deploy a lot of the Serverless technology available in AWS, so we did it. After that, we started encountering a few challenges.
I was interested in Nearshore resources. Mainly people in Mexico and further south in Latin America. We wanted people in our time zone who shared more with the US. That's when I came across ClickIT.
We've got five engineers working with us, all from ClickIT. Together, we built what I would call a beta platform that we had in the market. It was a hosted platform, but we knew we needed to create something different to scale and let people go on the website, sign up, and all these things.
One of the best qualities of the team is that it had a lot of solutions. That way, we could re-architect some of our data structures to make them fast and affordable to the host system.
The culture of the company attracted me; the technical skills and culture. The team has been willing to come forward when they think something could be more efficient. To me, that's very helpful because I ultimately have to make the final decisions.
ClickIT has a remarkable ability to recruit and attract new people. Moreover, the things they do keep everybody cohesive and culturally engaging, which for me, as a client, are essential.
Honest Customer Review
Steven was also kind enough to give us his genuine opinion regarding ClickIT's services in our Clutch profile. There, he described our team as
"very customer-focused", and highlighted our success in delivering "high-quality work in a timely manner."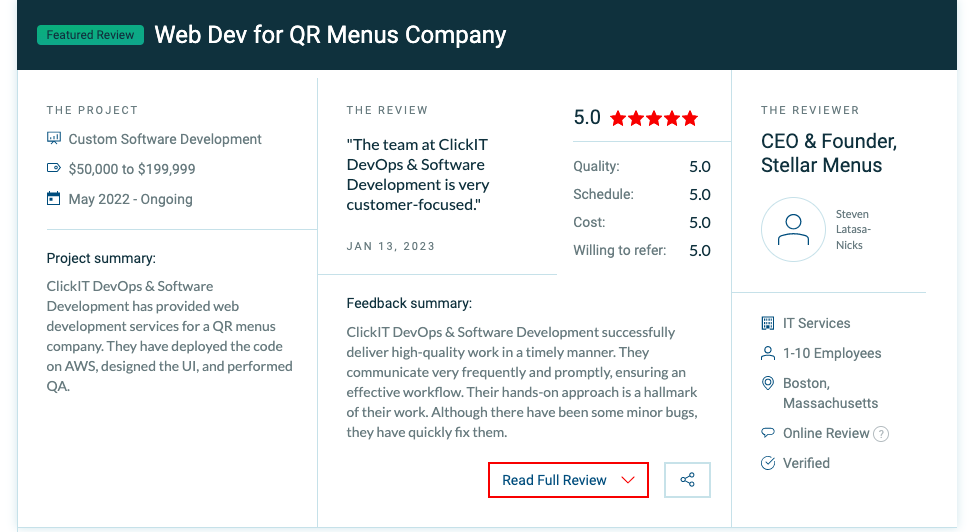 Stellar Menus team fondly remembers the early stages of the project in which everyone involved got together in daily meetings. That commitment shown by the collaborators is exactly what they consider the "level of engagement required to bring a new product to market."
The project's cost was in line with the market, and ClickIT is acknowledged as one striving "to ensure you (clients) are happy with their work and outcomes. They see feedback and make adjustments when necessary".
Currently, ClickIT continues collaborating with the company, supplying two dedicated developers, a project manager, and an on-demand DevOps. Stellar Menus also has a QA resource from ClickIT on the project.
"I think there's a great opportunity in the Nearshore solution; I've already talked with some of my colleagues who have other companies about ClickIT. I gave you all a 10".