Learning about top startups across different industries is necessary for beginners to be successful in 2022. Digital transformation will allow the world economy to add $100 trillion by 2025.
At the same time, ever-growing industries will get new and promising startup companies to lead certain industries through exciting digital technologies, innovations, and business models that could disrupt the industry. Various innovative startups have arrived, as well as serial entrepreneurs and novices launching startups based on growing industries and trends.
As a result, we have researched aspiring and important startups from the four major industries worth following this year.
Table of contents
Top Tech Startups to Follow
As of 2022, over 900 tech startups are valued at $1 billion. The following are the best tech startups on the list.
Seedata.io
Apervita
Hastee
ClickUp
Graphcore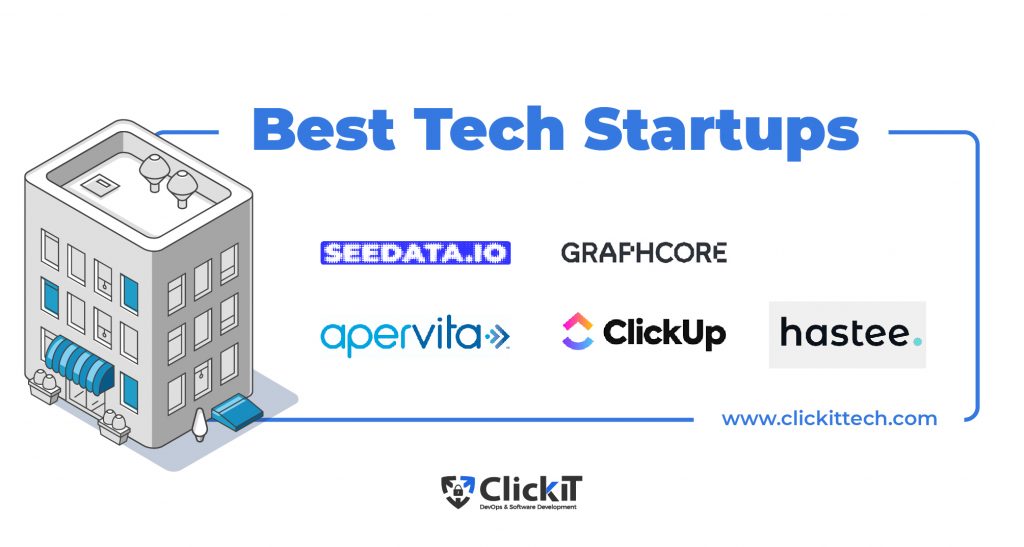 Seedata.io
Location: London, England, United Kingdom
Founded: 2021
Seedata.io is a cyber security platform to help businesses reduce the risks of criminal threats, leakage, and data breaches, alongside reducing incident costs. Using AI and its deception technology, the company can identify potential threats and data breaches before they happen. Their advanced threat intelligence technology can identify threats, including previously unidentifiable ones.
Apervita
Location: Chicago, Illinois, United States
Founded: 2012
This cloud-based service and healthcare collaboration company allow sharing of analytics, patient data, and other crucial information by medical professionals securely for clinical intelligence (CI) and quality measurement. Apervita is one of the most impactful and successful health-tech startups. Through their exclusive CQL (clinical quality language) ingestion engine, the company was certified first by the National Committee for Quality Assurance (NCQA) for electronic clinical quality measures.
Read our blog, Top things to get your Healthcare App migration on AWS.
Hastee
Location: London, England, United Kingdom
Founded: January 2017
Hastee is one of the promising startups in 2022, a mobile app that provides benefits to employees, such as permitting workers to immediately and on-demand collect a portion of their earned pay. It provides more liberty to employees to use their salary according to their needs, along with earning investments. Employees can take their salary in advance when a company or business makes a sale. The company is well-appreciated and praised for its high service quality.
ClickUp
Location: San Diego, California, United States
Founded: 2017
ClickUp is a SaaS-based startup and an all-in-one platform for productivity by providing workplace tools that help in team collaborations. It prevents constant switching between apps by integrating Dropbox, Slack, and GitHub together in their platform in one app. It saves time and helps make collaborating with teams, managing people, and tracking projects easier. ClickUp is a trusted platform for over 100,000 teams, including companies such as Uber, Google, Nike, and Airbnb.
Graphcore
Location: Bristol, United Kingdom
Founded: 2016
Graphcore helps develop microprocessors for machine learning (ML) and artificial intelligence (AI) applications. Its intelligence processing unit (IPU) has a uniquely designed architecture, enabling AI researchers to increase the computing capabilities of their AI on unexpected levels to manage different projects.
With the knowledge of these tech startups, let's move onto the list of the best food startups to follow in 2022.
Top 4 Food Startups to Follow
From time-saving and quick food delivery services to providing gourmet delicacies, these are some of the best startups that have leveraged technology in the food industry.
Banza
Chef Avenue
Leilo
Pepper
Banza
Location: Detroit, Michigan, United States
Founded: 2014
Banza provides pasta products with chickpeas as their main ingredient. It is the fastest-growing pasta brand in the United States and is sold across the country in over 8,000 stores. The brand has ventured into other areas besides pasta with the same primary ingredient, such as pizza, rice, and mac and cheese. Its products reduce net carbohydrate intake by 25% and provide 50% more protein than regular whole grain and wheat-based food.
Their combined chickpea food is sold in over 17,000 stores in the nation. TIME magazine named Banza one of the best inventions of 2015.
Chef Avenue
Location: San Jose, California, United States
Founded: May 2019
Founded by Seema Shenoy, a serial entrepreneur based in Silicon Valley, Chef Avenue is a startup for cookware that combines modern science with culinary art. The startup's main goal is to streamline and simplify home cooking by creating creative and useful cookware.
Leilo
Location: New York, New York, United States
Founded: 2019
Leilo infuses Kava, sourced directly from Vanuatu, along with vitamin B6 and l-theanine, to offer a healthier and calming alternative to energy drinks and alcoholic beverages. They have various flavors, including their Leilo Luna, which uses Kava and melatonin. The effect of the melatonin combined with the healing, stress-relieving, and clear-headed calming effect of Kava relieves insomnia and puts you to sleep within 30 minutes. Since the company's launch, they have partnered with grocers, sports leagues, and more.
Pepper
Location: New York, United States
Founded: 2019
Pepper is a social media platform dedicated to food content only. Its user base ranges from foodies to chefs, and they can share the new food they tried and their recipes and connect with food lovers worldwide.
Next, we will study a few logistic startups you should follow in 2022.
4 Best Logistics Startups in 2022
According to Statista, in 2022, the global supply chain will grow to over $19.5 billion, which is a $4 billion increase from the estimated value in 2020. The following are the top companies to follow in the category.
1.Lalamove
2. Shipwell
3. Mothership
4. Alibaba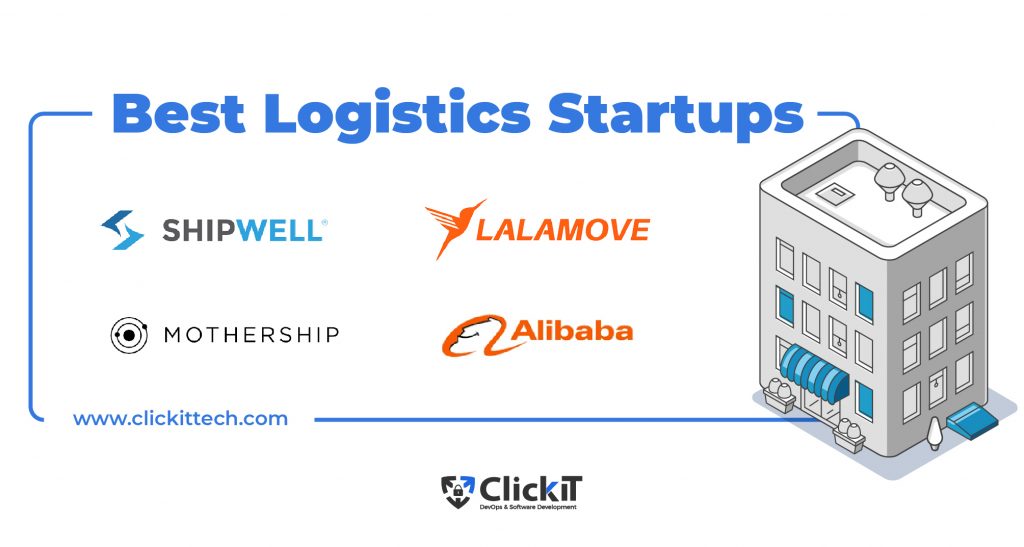 Lalamove
Location: Hong Kong, Hong Kong Island
Founded: December 2013
Run by Sequoia China, Lalamove is a logistics startup providing delivery services using their web and mobile apps to connect users with delivery drivers. It has continued to step up its last-mile delivery and praise-worthy fulfillment times, reaching a search growth of 733% in the last five years.
As of 2021, the company has more than 700,000 delivery drivers and over 7 million users across Latin America and Asia. It takes 12 seconds to match drivers and customers, and the deliveries typically arrive within an hour to 55 minutes.
Shipwell
Location: Austin, Texas, United States
Founded: 2016
Shipwell is a tech-based transportation management system platform. Its SaaS platform is connected, combining the functionality and features of a transportation management system (TMS) with advanced visibility. Additionally, Shipwell utilizes workflow automation and data analytics to reduce the total cost of ownership. Shipwell was featured in the 2020 Next Billion-Dollar Setup by Forbes and in the 2021 Gartner Magic Quadrant as a Niche Player.
Mothership
Location: Austin, Texas, United States
Founded: 2017
Mothership aims to modernize the freight industry by connecting companies with immediate solutions for freight transportation. In September 2021, this fast-growing startup added a feature to allow senders to route hundreds of shipments instantly. With its route optimization algorithms, technologies for tracking any unprecedented shipment, predictive dynamic dispatching, and growing marketplace, Mothership has also introduced same-day delivery.
Alibaba
Location: Hangzhou, Zhejiang, China
Founded: June 1999
Alibaba is one of the most known and oldest multinational technology companies worldwide. It operates and owns a diverse portfolio of enterprises globally in various business sectors. The company offers business-to-business (B2B), consumer-to-consumer (C2C), and business-to-consumer (B2C) sales services through web portals, shopping search engines, electronic payment services, and cloud computing services.
While tech, food, and logistics startups are ruling the markets, we can't deny the rise of the education industry. The next section is on educational startups.
4 Best Educational Startups You Should Follow
During the pandemic, the education sector has undoubtedly been the most affected. Some learners and beginners started looking for safe online platforms like Studocu to keep studying. The following startups have provided innovative, promising, and digital methods fitting for the post-pandemic times of today.
Teachers pay Teachers
Blackboard
Coded Minds
Labster
Teachers Pay Teachers
Location: New York, New York, United States
Founded: 2006
Teachers Pay Teachers, or TPT, is a platform and the largest online marketplace in the world for allowing teachers to buy and sell materials, particularly authentic educational material, with other teachers. As of 2022, their platform has over 1 billion resources downloaded and holds over 5 million lessons created by over 7 million teachers worldwide.
Moreover, about 85% of the educators and teachers in the United States, including homeschoolers, use TPT religiously. In 2019, TPT was placed on the top 50 most innovative companies list by Fast Company and took the first spot in the education sector.
Blackboard
Location: Washington, District of Columbia, United States
Founded: 1997
Blackboard is the global leader in innovative solutions and enterprise technology for improving the experience of millions of learners and students worldwide. It designs education and learning software for school groups and enterprises. The company's solutions include K-12, higher education, corporate, government, and professional organizations to expand online learning and teaching, security and campus commerce facilitation, and effective community communications. It has offices in Europe, North America, Australia, and Asia.
Coded Minds
Location: Dubai, Dubai, United Arab Emirates
Founded: March 2018
Coded Minds aims to revolutionize the tech education paradigm by following its methods of starting with the problem and instilling practical and project-based hands-on curriculums.
The curated contents of this technology-education startup are for adults and children ages four to 16. They are continuing to provide education to students in North Africa, the Middle East, the Americas, Asia Pacific, and South Asia. The company's future alumni can pursue mobile, web, game, e-business experience, and programming proficiency.
Labster
Location: Copenhagen, Hovedstaden, Denmark
Founded: 2011
Labster is an electronic learning company offering simulations of virtual laboratories based on mathematical algorithms. From cancer treatment to DNA sequencing, the company's software was successfully developed for students to experiment in more than 200 excellent virtual labs. Its most valuable customers are Harvard, Stanford, MIT, ETH Zurich, and Exeter University.
By combining storytelling, gamification, and a scoring system, the company aims to stimulate students' natural curiosity and highlight the correlation between real-world problems and science. In the last five years, its search growth increased by 325%.
Read our blog, Starting a SaaS Startup: All You Need to Know!
Need a Dedicated Team for Your Startup?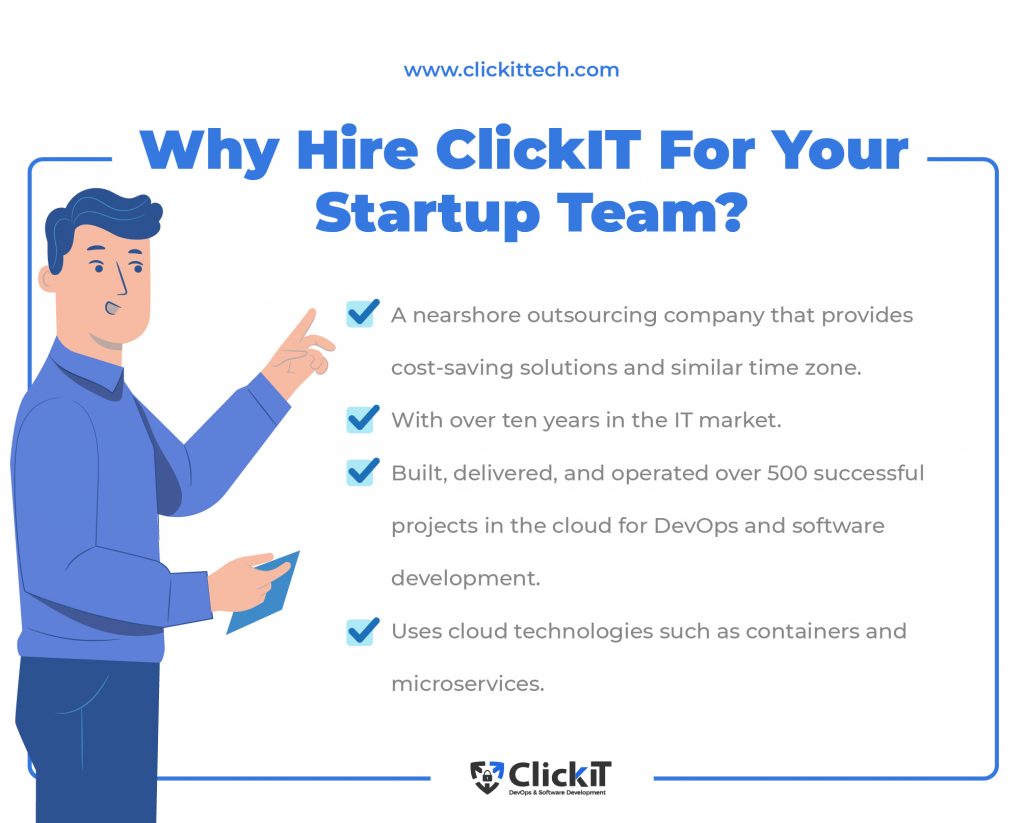 If you want success similar to the above startups, you might need some help. Why not check out ClickIT? It is a Mexican software and IT outsourcing company holding the "best place to code" title by the 2022 Empressa accreditation. There are a few other reasons to consider ClickIT for hiring your startup team.
ClickIT is a nearshore outsourcing company that provides its clients with cost-saving solutions, a similar time zone, cultural alignment, and geographical proximity.
With over 10 years in the IT market, ClickIT provides top-grade solutions to companies of all sizes and standings worldwide.
ClickIT's software and DevOps engineers are committed to continuously providing applications delivery and high-value solutions and shortening the development life cycle.
The company has built, delivered, and operated over 500 successful projects in the cloud for DevOps and software development performances.
ClickIT uses cloud technologies such as containers and microservices for on-demand infrastructure and cloud flexibility pairing. Our services also include system optimization in the cloud.
Conclusion
With the advancement of technology and the rise of industry 4.0, studying the top startups in 2022 is the best way to understand trends and success rates in the highly competitive digital world. Statistics show that, in 2021, startup funds reached over $240 billion in just nine months.
If 2022 follows last year's growth and pushes it further, it will be a new record for the global startup community. These startups will continue to expand and create new product lines, so follow their journey. If you are looking for assistance for your startup, reach out to the ClickIT team today!
FAQs
What are the hottest startups currently?
Various startups are trending in different industry sectors. 
-Rewire, Payoneer, and VALR are the most popular startups in fintech. 
-Envisionit Deep AI, Wasteless, Audioburst, Neurala, and Tessian are trending among AI-developing companies.
-Molecule, Dapper Labs, and Mythical Games are leading in blockchain technology. 
-Funnel, Hopin, and ironSource are the hottest startups in the marketing and advertising industry. 
-Flytrex and Gorillas are two popular startups in the delivery service industry. 
-Labster is taking the lead in the education technology sector. 
-Aleph Farms, BlueNalu, Inc., and Upside Foods lead in the cell-based protein or meat technology industry.   
What is the fastest-growing business in 2022?
With a growth of 4.7% since the pandemic in 2020, the banking and finance industry is estimated to be the fastest growing in 2022. It is followed by the software and technology industry, as the demand for software developers has increased in post-pandemic times by 25%. The other notably fast-growing industries in 2022 are healthcare, manufacturing, AI, data science and analytics, biotechnology and biomedical, mental health, tourism, and digital and internet marketing.

Which startup is best to invest in?
For bettering the world, human development, and innovation, the best startups to invest in our UpDog, which highlights a restaurant's atmosphere and the venue itself instead of only food in their review, Hopper, which provides deals on hotels; and GenoVive, a personal fitness trainer and nutritionist curated by healthcare specialists. Other noteworthy startups are ThinkUp, Plated, Packback Books, Samba, Groundwork, Pillpack, and Jazinga.