The magic of developing custom software can only happen with the right partner, and so it happened to us. We have been working with BrandVerge for the last 4 years, keeping an excellent relationship; that's why this time, our team supported them by developing custom software for their platform.
"A wonderful experience with ClickIT, as an extension of our team", said Mollie Kehoe, CEO of BrandVerge.
BrandVerge is an advertising agency dedicated to connecting media properties and advertisers to enhance collaboration, allowing them to save time in the process and increase transparency to their clients.
They were looking to build a new feature set into their product, and as BrandVerge has already worked with our ClickIT team and had excellent outcomes, they allowed us to develop custom software for their platform.
We assisted them by migrating their application from Angular to React, with the support of three full-time JavaScript engineers to renew the app, implementing best code practices, optimizing the backend based on Node.js, and modernizing the entire software development cycle in order to bring the feature to life. We currently incorporated another engineer under a retainer agreement model for a few hours per month to follow up on the application's adjustments.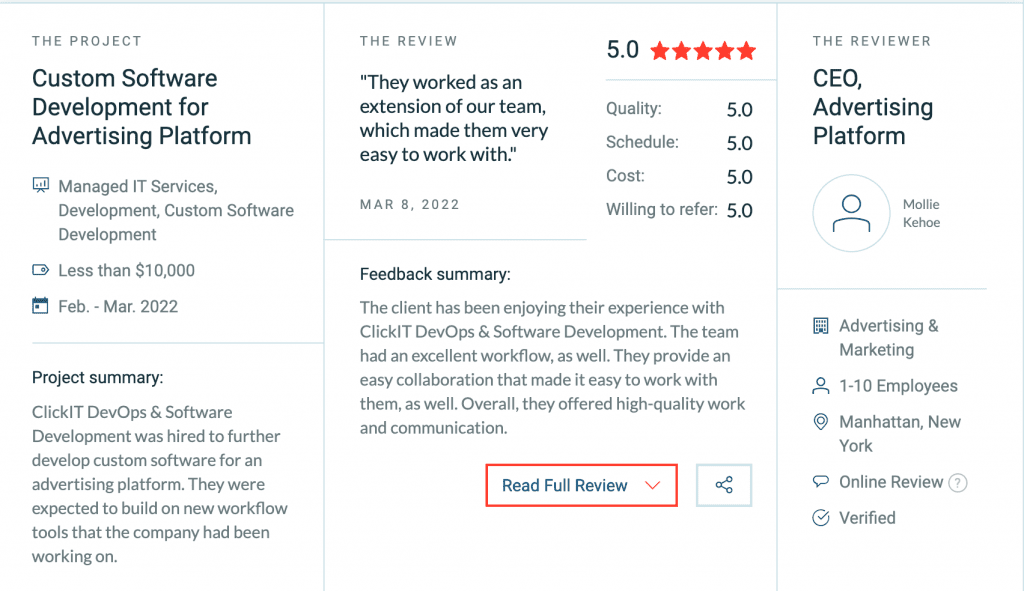 The expertise of our team resulted in a successful delivery in time and quality for the development of custom software, while our clickers were part of an extension of the BrandVerge team, which made these collaborations very practical, being one of the outcomes of the project.
Our fellow Mollie Kehoe, also shared the delight with the project management, as the communication through JIRA and Slack were great tools that helped them have a solid workflow and good project tracking.
This collaboration was a wonderful experience for us because providing the best service to our clients it's a way of thanking them for their loyalty.
Watch our video to know about BrandVerge's experience with ClickIT last year.
We enhance you to successfully develop custom software by hiring our software developers to assist you with unique software solutions.