Working with Boundless for the past six months has been very gratifying; that's why they share their experience about how Boundless augments its staff. "ClickIT team members feel like an extension of our team" says Sang Venkatraman, Co-Founder and CTO of Boundless.
Boundless focuses on building multiple Software companies, partnering with aspiring and experienced entrepreneurs as a venture studio. To build great businesses, they go deep into niche markets with acute pain points that could use specialized software to be more efficient and better serve their customers and to achieve this goal, they foster mentorship and coaching along the way.
ClickIT had the opportunity to support boundless augment its staff, as we characterize by being one of the top DevOps and Software Development companies. We assisted them in working with cloud providers such as AWS, writing frontend and backend code using various technologies; the projects involved multiple greenfield development opportunities and managing DevOps.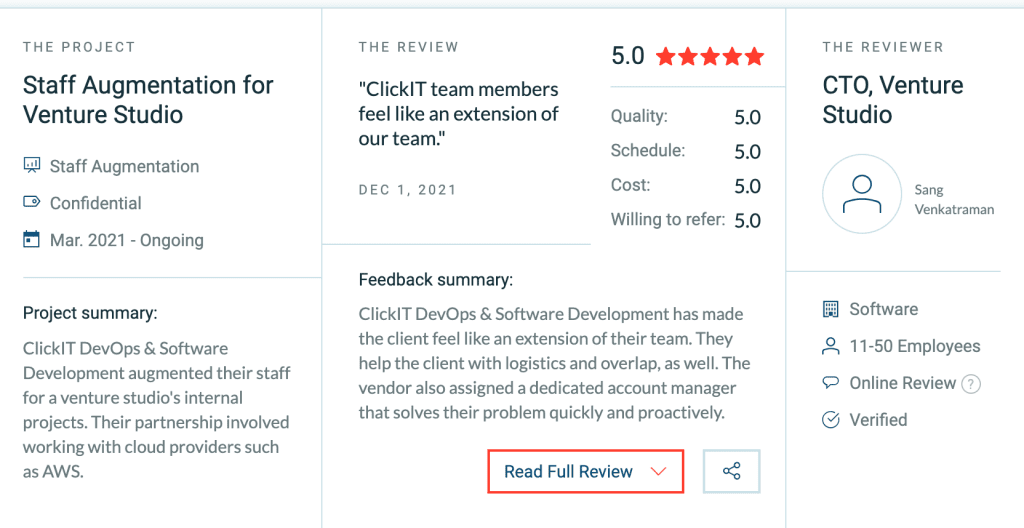 This was supported by our team of a Project Manager and 8 developers. As well, the assignment of a dedicated account manager that solved their problem quickly and proactively; The engineers have been included every 1-2 month.
On the other hand, the recruitment process consisted of presenting prescreened candidates, which would help provide an idea of their seniority and communication skills. Secondly, the candidates were interviewed in multiple rounds for technical expertise and culture fit.
When Boundless augmented its staff, our fellow Sang Venkatraman mentions that one of the outcomes that demonstrated progress in these projects was building multiple products leveraging engineers from our ClickIT Team, like launching the MVP and continuing to build on it with additional features.
The work method and the Augmentation Staff service of ClickIT had a significant value to Boundless. Having the same time zone and workdays helps the company with logistics and overlap.
Take a look at the benefits of IT staff augmentation in our slideshow.
Hiring DevOps engineers in your same time zone is just a click away. Contact us, and our team will get back to you as soon as possible!