How can Outsourcing IT Services improve your business?
Outsourcing IT Services gives you access to a broader talent pool with great expertise. This allows you to accomplish your company's goals while saving resources and focusing on core operations as an expert team handles your IT project.
Companies around the globe have turned their attention towards Outsourcing, which has especially emerged as a relevant trend in the IT industry during the last few years. The most popular reason businesses choose Outsourcing IT Services is to find a cost-effective solution to their IT needs. Still, the benefits cover more than that and can lead to a huge improvement in every business.
In this blog, we will review more about what are Outsourcing IT Services and how they can improve your business.
Table of contents
How can Outsourcing IT Services improve your business?
What is Outsourcing IT Services?
What are the most popular Outsourcing IT Services?
Outsourcing IT Services: Benefits
Outsourcing IT Services: Challenges
How do ClickIT Outsourcing IT Services improve your business?
Wrapping up
FAQs
What is Outsourcing IT Services?
Outsourcing IT Services is the process of engaging a non-affiliated third party to execute certain IT activities for a firm. Outsourcing IT Services employs an outside organization's established personnel to accomplish activities and an external organization's resources for services and producing products.
What are the most popular Outsourcing IT Services?
All IT processes that can be handled remotely can be outsourced. IT functions commonly outsourced include:
Data center operations
Development and maintenance of websites and apps
Network management
Technical support
Data security and recovery
Telecommunication.
On-site tasks may also be outsourced, but most companies prefer handling them in-house.
You should consider Outsourcing your IT Services when you require a higher tech stack and expertise for your project. When there's an unavailability of staff within your company, you can count on outsourcing to incorporate great talent into your team through IT Staff Augmentation.
Outsourcing IT Services can also be the way to go when your company needs to invest your time, effort, and other resources into handling other tasks.
Outsourcing IT Services: Benefits
There are several benefits of Outsourcing IT Services to improve your business:
Increased efficiency.
Having a professional group focused on developing your product provides efficient and quality results. All while you focus your efforts on other priorities.


Manage difficult tasks that are out of your control.
Your outsourced IT partner is prepared to achieve the goals you've established as they're experts in the matter. Also, they will likely be ready for any complications that could appear, so you don't have to handle issues outside your area of expertise.


Highly trained personnel are available for your specific needs.
By Outsourcing IT Services, you have access to a vast talent pool of IT experts with the proficiency needed and availability for your project.


Reduced and/or controlled operating expenses.
The price is another reason to choose Outsourcing IT Services. For example, the hourly rate of software development in Latin America is around $45.
Check out the Top IT Outsourcing Companies in LATAM.


It allows you access to better technologies without the necessity of training your personnel to use them.
An outsourced IT team has the necessary tech stack, abilities, and equipment to perform the requested tasks. The company that hires this team is responsible for training and providing these resources, so your business won't have to worry about that.
Outsourcing IT Services: Challenges
The challenges you might face by Outsourcing IT Services will vary according to the outsourcing model you choose and also the partner you work with.
Management issues: With a reputable outsourcing company, you'll be able to peacefully delegate IT tasks to a well-prepared team.
Communication issues: You must be aware of the time zones and agree to implement the right communication strategy.


Still not sure about Outsourcing? Read the blog for a full comparison between In-house vs Outsourcing.
How do ClickIT Outsourcing IT Services improve your business?
All of our outsourcing IT services are focused on the idea that anyone can create their own website or application and manage them through the right hosting. ClickIT offers the valuable proposal of creating a functional, scalable, and complete development product while also improving and managing it when you cannot find enough resources to do it by yourself.
Our Outsourcing IT Services will help you improve your business based on your needs, the size of the team you need, and the type of project you have.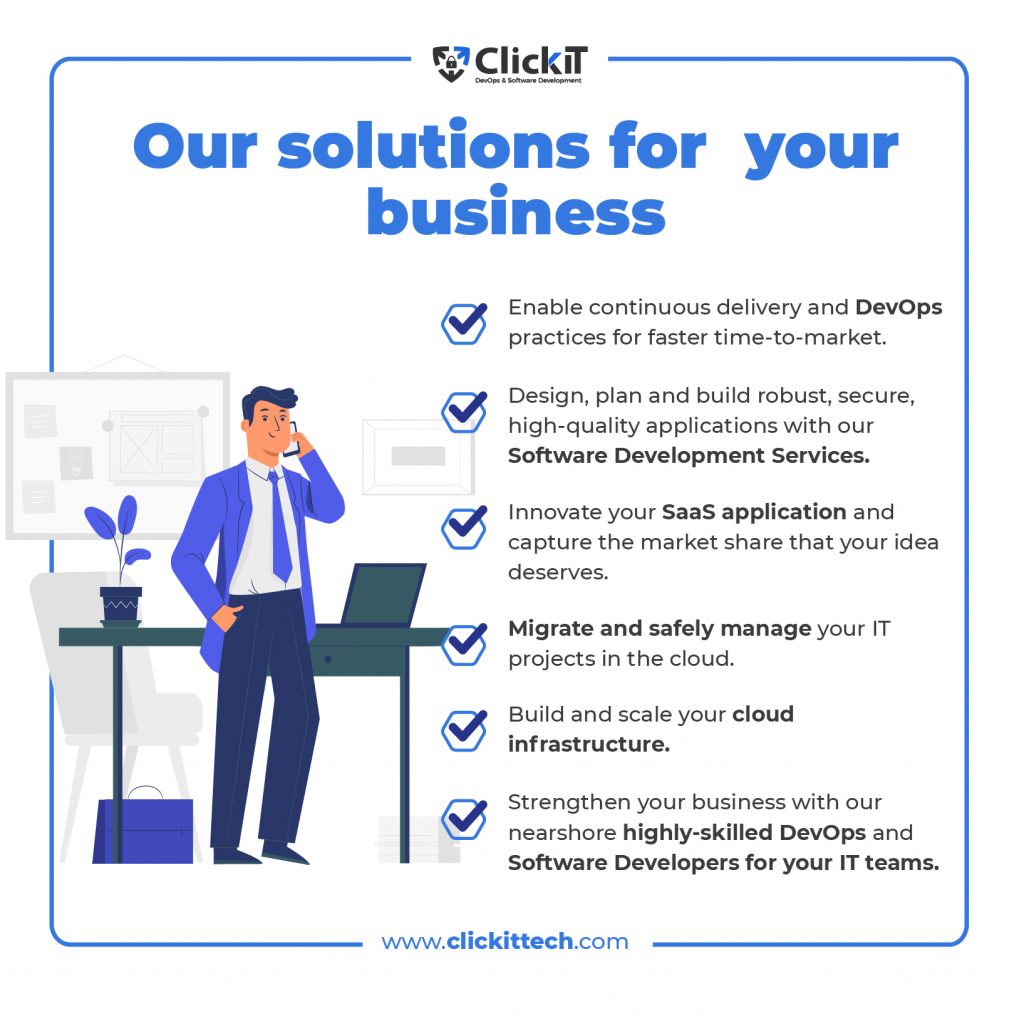 Wrapping up
Outsourcing IT Services can improve your business by developing and delivering an efficient IT project. An experienced outsourced team is highly trained to manage the tasks that might be out of your control, offering a cost-effective solution and access to the needed technology to achieve your project's goals.
When hiring Outsourcing IT Services, you must focus on your business specifications to find the right IT staff that meets those standards. You can start by choosing the right outsourcing model. Followed by defining the characteristics your team must have and the tasks they'll work on, and then reach out to trusted sources and reviews to explore the huge talent pool Outsourcing IT offers.
ClickIT offers services to Startups, SME's or even big companies, depending on what you're looking for, what type of business you are in, and your goals and objectives. We can help you start, grow or manage a significant part of your business through Outsourcing IT Services.

FAQs
What are the most popular outsourced services? 
Outsourcing can be applied in different departments, such as:
Information technology-related services, Human resources-related services, Healthcare services, Financial services, Engineering services, Web analytic services, Content writing, Design services, Research and analysis services.

Which outsourcing models are available?
Nearshore, offshore, and onshore are the top outsourcing models.
– Onshore: Outsourcing services with a team located in the same country whose headquarters or business operations are usually in a different city. 
– Nearshore: Outsourcing services to a company in a different country but sharing similar time zones and cultural affinity. A more cost-effective solution than other types of outsourcing, and it ensures the same level of expertise as in-house teams.
– Offshore: When a company outsources projects to a company in a different country, with an opposite time zone. 


Why do companies choose Outsourcing IT Services?
The most common reasons to Outsource IT Services are reducing the cost of building an in-house team, the unavailability of staff and resources to complete an IT project by themselves, and the need to focus on their main operational tasks.

How does an Outsourced team compare to an In-house team?
An in-house team requires constant resources provided by the company but allows fast communication and complete knowledge of their values and goals. An outsourced team involves fewer resources and costs coming from the company. It offers high expertise in the tasks they're performing and adapts to the client's needs.