Ready to start a new chapter of your life by being part of a multicultural and innovative company? Allow us to introduce ourselves so you get to know us better. This Is Us, This Is ClickIT.
We are a top Nearshore DevOps & Software Development company, entirely dedicated to our collaborators, nurturing talent, and launching careers through certifications and meaningful knowledge, helping them create the professional future they are looking for.
At ClickIT, we count on an extended network of certified engineers all over Latam, always seeking new ways to improve themselves through software development.
With more than 1500 yearly applicants, we've grown more powerful and faster together. While enjoying our job, ClickIT is a place where we feel free to create, laugh, and share innovative ideas.
There's always room for more Clickers! We count on personalized opportunities to develop your career in your area of expertise, such as:
DevOps Engineer
Frontend Developer
Backend Developer
Full-stack Developer
While you grow your career with us, you can also enjoy the additional perks of being part of ClickIT, like;
International paid certifications
Certificate in the area of ​​your interest, we take care of it.
Flexible hours
Adjust your schedule in a way that is best for you.
Remote work
Feel free to work in the comfort of your home.
Performance bonuses
You will be recognized for your effort and performance.
Referral bonuses
Receive a bonus for referring a person to work with us.
Computer equipment
You will have the necessary equipment to carry out your tasks.
Leaders support and mentoring
Receive support from our leaders team.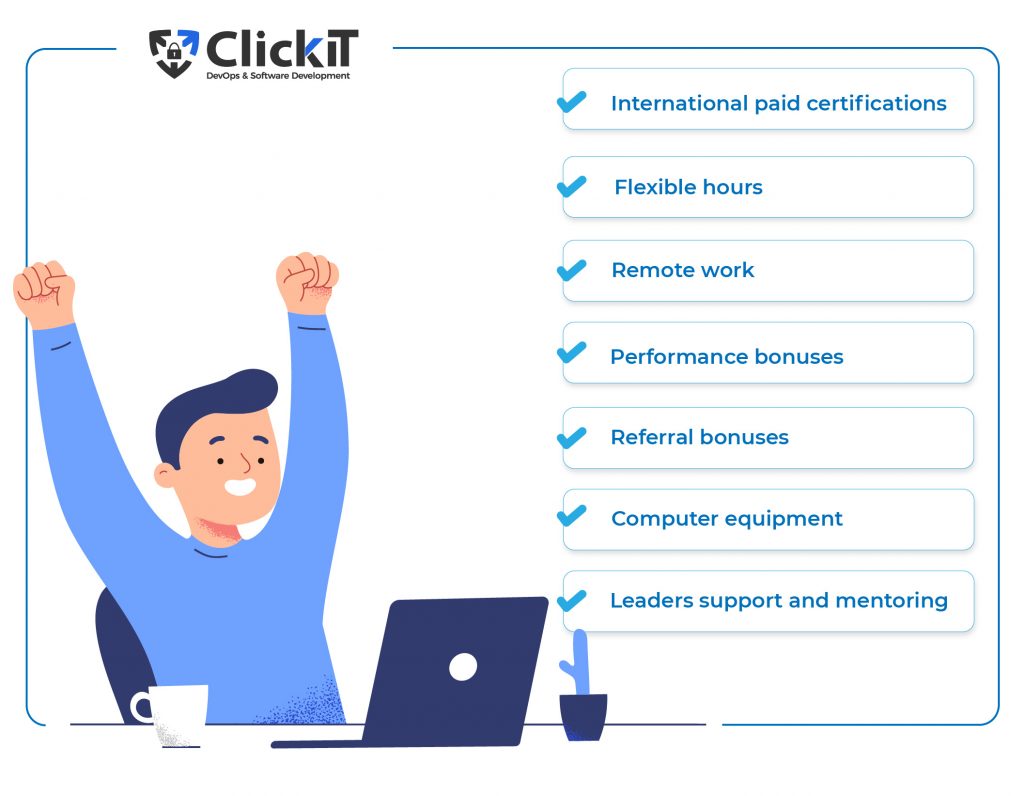 To know more about ClickIT, we are delighted to share with you our video "This is us & what we do," which shows what being a true clicker is all about.
The creation of the video "This is us & what we do" makes us feel very proud of what we have achieved together as clickers and what we will continue to accomplish.
Do you want to be part of this?
We are looking for hidden talent ready to their expand horizons. Get ready to be a Clicker! Join the team.

Visit our Youtube channel to know more about our team culture.