ClickIT Smart Technologies was recognized as one of the top IT outsourcing Mexico 2020 Reviews by Clutch due to its service delivery of Cloud Computing, DevOps, Software Development and Managed Services.
Through the years, ClickIT has been offering the best IT Outsourcing Services for its customers, implementing emerging technologies in order to provide high value for Web and Mobile development. We have built more than 200 cloud-native SaaS applications whether for startups or enterprises, through the adoption of the AWS Cloud, CI/CD pipelines, Microservices, Serverless, and DevSecOps.
Our location in Saltillo, Mexico makes us a suitable partner for those enterprises that are willing to outsource an IT team to a reliable and experienced company through a cost-effective solution; specifically for those in the USA and Canada.
Clutch 2020 Reviews
Every year, Clutch.co provides an annual report to note the leaders of each category, based on client reviews and experience, and their market presence. In addition, Clutch makes these researches in several categories including Web & Software Development, Mobile App Development, and IT Services & Solutions.
Certainly, ClickIT team is proud to announce that thanks to our customer's preferences and our employees' hard work, we have been recognized by Clutch as one of the Top IT Outsourcing Companies of 2020 reviews.
Furthermore, this year we appear as one of the tech leaders in the following areas:
We are decided to create the best outcomes for our clients, which involves providing them with the best solution to their infrastructure. We are equally grateful and proud of our team efforts due to their expertise and continuous dedication.
Our Customer Words
These are some of our customer words:
This saves us time and money and keeps our development team focused on what they do best."
They're efficient and the code is clean. I can't say enough good things about them. They're diamonds in the rough. I wasn't expecting to find such brilliant engineers to work with when I first hired them. I was blown away."
They designed and developed our platform, which included an online payment system […]. They were always available, open to any questions, and willing to help."
By its part, Clutch is the leading B2B ratings and reviews platform. IT conducts researches getting in touch with real clients, by gathering information and making comparisons between competitors to find the best service providers for the projects of the companies.
To ensure the review process is trustworthy, Clutch interviewed our clients in order to confirm the delivery quality of the services implemented by ClickIT in their companies.
As technology evolves and people are looking for fast development and agile processes, we continue learning to provide our customers with better solutions and continuous innovation. All this, accomplished with lots of creativity and talent.
With over 10 years of experience, we are a certified company by AWS, GCP, Accelerance, and Clutch.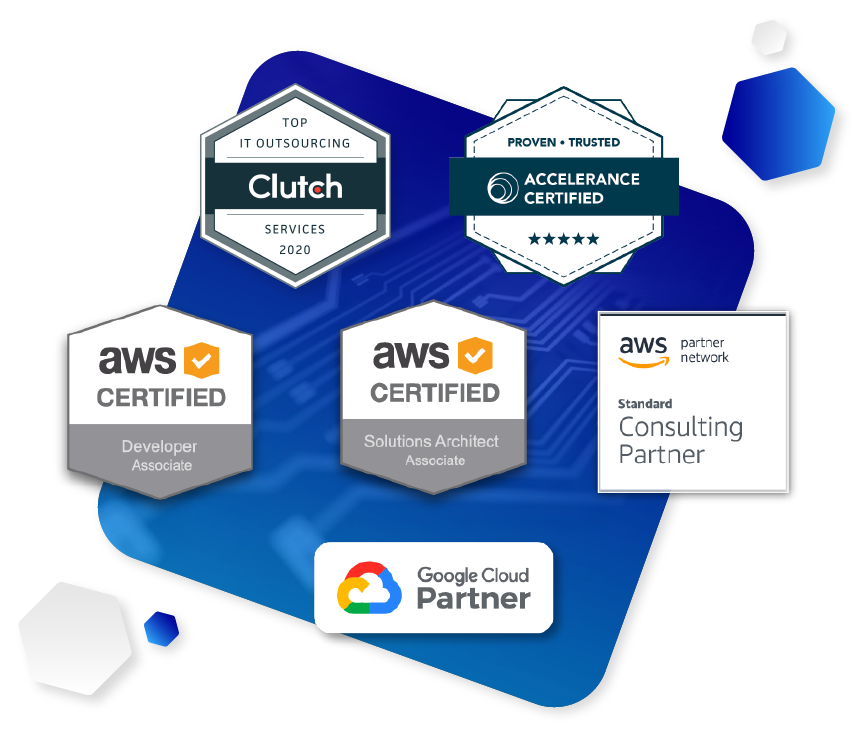 ClickIT is a premium provider of nearshore solutions in the cloud of DevOps and Software Development services, which aims to help all-size enterprises to undertake the digital transformation. Principally to Financial Services, Healthcare, Martech, and SaaS companies. ClickIT focuses on the implementation of high-tech solutions through Cloud Migrations, CI/CD, DevSecOps, Microservices, and AWS Managed Services.