Since the last few years, we have been experienced the process of globalization and its effects around the world, one of them is the technological changes that we have today. Thanks to those communication facilities, Remote Collaboration is a practice that is increasingly growing and it seems to have a bright future.
Just imagine, according to a new survey provided by Clutch, two-thirds of employees are currently working remotely at least part of the week.
Amazing, right?
That's why the focus of this blog is Remote Collaboration, its easiness, and practicality. But also, there will be presented some tools that can help you to work efficiently with your remote team, and of course, the best practices to succeed.
Well, probably you may already know what Remote Collaboration is, or you still have a vague concept in mind, so let's review it so we can be on the same page.
What is Remote Collaboration?
Sometimes the word Remote Collaboration itself can be seen as a big challenge, but it doesn't have to be any hard!
Remote collaboration is the process of bringing together a team from anywhere in the world with no specific geographic location to work. While working remotely you still have lots of opportunities to collaborate and be productive. All it takes are basic communication tools and smart strategies to involve everyone as a work team.
Going into the IT world, one of the biggest branches of Remote Collaboration is Nearshore.
Nearshore collaboration is an outsourcing option where you can get your services or your IT processes performed by people in neighboring countries. The thing here is that your company can get the same benefits of an in-house team, such as language skills, reliability, and expertise, but with the plus of being cost-effective. Like any type of collaboration, Nearshore has many benefits for your company in multiple ways.
Here is a video that I love about a comparison between Nearshore and Outsourcing to another continent!
Benefits of Remote Collaboration
Working with a remote team has numerous benefits, one of the greatest is that your business expenses can considerably decrease by 50%. Wait! What? That's quite a lot, right? And this is just one of the benefits!
There are many more that you can enjoy along with your remote team and you can obtain them using the appropriate Remote Collaboration tools and of course, following the best practices.
Here is a blog that emphasizes the Benefits of Remote Collaboration, if you want to know more about them, I'll suggest you go straight to the previous link.
Best practices for Remote Collaboration
1. Keep in touch with your remote team
Communication is essential for collaboration. Meetings and calls are necessary to take everyone involved in the tasks that are being done, and of course, this will generate more sync within your team.
A good practice is to have daily meetings where everyone in the team can share the activities did yesterday and the ones to be worked on today. This way, all the team will be on the same page and this will be reflected in excellent teamwork.
Meetings are not only for being in constant communication with your remote team but also, they can help to raise the team spirit and boost productivity.
2. Find the Remote Collaboration tools that best fit your team
Tools are indispensable for Remote Collaboration and you can't overlook them. Keep in mind that you need tools that allow your remote team to have chats, video conferences, real-time collaboration, task trackers, calendars. All these in addition to the specific issues you require for your projects.
Every remote team is different, and for this reason, each one will select the tools that work better for them. Whatever tools you choose, consider that they need to have all the features mentioned. Bear in mind that a remote team is about improving the communication experience; on a two-way flow through the adoption of the best practices and tools for the team.
Later on this blog, we will talk about the tools required for Remote Collaboration.
3. Create some non-work-related spaces
Sometimes it is good to clear the mind and get involved with other activities, it's all about balancing the scales.
Schedule some time to dedicate to your remote team. For example, you can plan activities to get to know each other or establish free discussions about something interesting. There are many things that you can plan in order to have a good time with your team, it's a matter of finding creative ways to get engaged with everyone.
Just remember that it is also a bonding moment for your team!
4. Recognize good work
Taking some time to stop and celebrate good work is always a good idea!
Everyone likes to be motivated and feel that your work really matters. You may find a way to let your team knows their work is being noticed. For instance, you can just say "Thank you" for all their contributions, or maybe you can make individual comments to each member and share with them the things that you like about their work.
With these practices, not only your team members will feel recognized but also they'll continue making great efforts to produce at a high level.
5. Define responsibilities for each member
When working with a remote team, communication is a challenge —but not an obstacle—. If you are willing to work with a remote team, make sure to primarily meet their working framework.
The people on a remote team can get confused with all the things they have to do. Hence the importance of specifying responsibilities for everyone on a team. You can start making a responsibilities list, indicating who is responsible for what and then share it with your team. Furthermore, don't forget to highlight the team priorities so everyone can stay tuned for the most important tasks that are required to be done.
Once everyone has their responsibilities clear, use any Remote Collaboration tool to have visibility of the project status, because no matter the hour or where you are, you can still see its progress, the things that have already been done and the ones that need to be completed.
Note: Don't forget to document everything in case of further questions or doubts.
Before starting, just let me tell you that there are three different types of tools.
Domain-specific tools facilitate collaboration in one specific domain. For example, technological companies use specific tools for the different departments they have.
Project management tools keep everyone on the same page and you can track all the tasks and projects. It is important to mention that if your team is working with clients, you must select a tool that has a client-portal as well.
Communication tools, as its name says, these tools help you to be in contact with your remote team.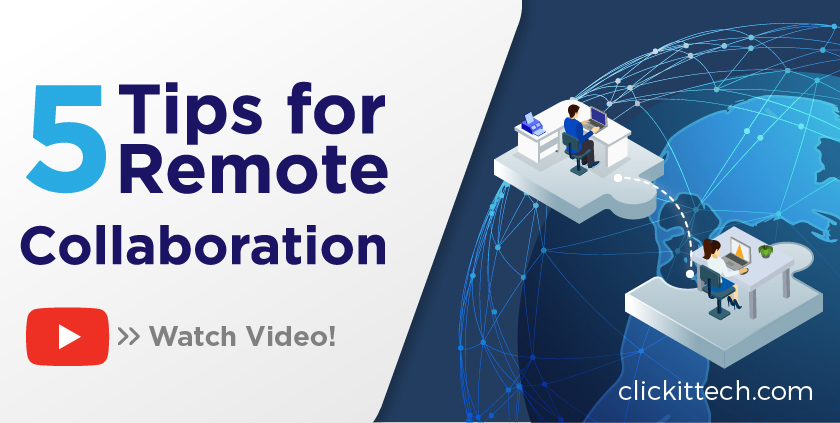 Top 5 Remote Collaboration Tools
1. Slack
Slack is one of the most used tools for Remote Collaboration because it allows you to stay engaged with your team from anywhere. Thanks to the communication easiness, you can stay productive and aligned with your remote team all the time.
One of the benefits is that it is adapted to have communication and tools in just one place. No matter where you are, Slack helps you to stay connected with your team, getting instant feedback from your colleagues and making collaboration work easier.
2. Zoom
While working remotely, it is important to look for a tool that has all the functions required for meetings and video conferences, and Zoom is one of them. This platform has an interactive way to stay engaged with the whole team and it is perfect to make Remote Collaboration easier and more reliable.
With this easy-to-use app, you can get in touch with your remote team or clients anytime that you need it!
3. Jira
With Jira, you can create and assign tasks, track each member's performance, and check the status of everyone's workload. Jira is convenient for monitoring all the projects and tasks assigned to each team member, this way, your remote team can deliver tasks and projects in a timely manner.
If your remote team has a project management environment, definitely this tool is for you!
4. Proofhub
Proofhub is a very helpful tool because you can have multiple features in just one place! It allows your remote team to plan projects and collaborate on them, organize different files and documents, create reports and timesheets when necessary.
The collaboration quality is as good as having all the team together at the office!
5. MURAL
MURAL is very useful for those remote teams that love to work with maps, diagrams, and notes.
It is a great tool to collaborate with your team in a dynamic and easier way because it can help you to organize all the ideas in a visual manner. With this app, your remote team can be able to think and collaborate visually wherever they are!
To sum up!
Remote Collaboration is a practice that is gaining ground all over the world and more and more companies are adopting it as a model, even more during these pandemic days.
To succeed while working with a remote team is necessary to get the right tools and follow the best practices. This way, you will have the opportunity to achieve greater goals and your team will thrive.
On ClickIT, we understand the importance of having a remote team, that's why we are continuously improving our Remote Collaboration with customers in order to keep their infrastructures up and running all the time. All of our services integrate the best practices of remote collaboration with a tech stack and the best tools in the market to make use of.
Let's start putting into practice all the things learned and start collaborating remotely with a team!