Just a few decades ago, credit cards and ATMs were considered revolutionary in the financial industry. However, as technology continues to shape our lives, our expectations have significantly evolved. Now we have the debate between fintech vs banks.
Today, we no longer find mobile banking and crypto exchange payments surprising. Yet, the current financial system still relies on outdated processes and practices. Traditional banks, in particular, remain time-consuming and inefficient, creating unnecessary friction. In this fast-paced world, people are seeking a financial solution that is quick and seamless.
The latest fintech trends have completely turned the table, compelling traditional banks to abandon their traditionalism. In recent years, the conversation has focussed on the relative advantages of fintech-vs-banks. As per the analysis, 46% of people use at least three fintech services to manage their finances.
According to the World Retail Banking Report 2022 survey, 75% of customers are attracted to fintech for cost-effective and smooth services. Traditional banks, on the other hand, are struggling to meet high delivery expectations due to limited data analytic capabilities.
This article will look at the differences between fintech and banks, how they can work together, and why they should collaborate. Continue reading if you want to learn more.
Table of contents
What is Fintech?
Financial Technology, shortened as FinTech, refers to emerging technologies that enhance and update the requirement of financial services. Business owners, corporations, and consumers use fintech to manage their financial and business activities effortlessly. It executes using algorithms and specialized software running on desktop computers and smartphones. It also involves cryptocurrency development as a part of the banking sector.
Apart from the obvious uses in the financial sector, fintech is spreading its roots into retail banking, education, investment management business, and even charitable organizations. As fintech advances, its focus is increasingly centered around end users.
Fintech contains a variety of tasks that previously required human involvement and are now entirely digital. This includes using a mobile device to deposit checks, manage investments, apply for credit, and any assistance that relies upon technology rather than human intervention. Some of the example use cases are as below.
Retail banking
Investments management
Fundraising and non-profit endeavors
Flexible payment options
Education
Cryptocurrency
Peer-to-peer money transfer
With the rise of mobile banking, decentralized access, and accurate analytics, opportunities have emerged for consumers, B2B customers, and B2C customers who are increasingly interested in fintech services.
What are the Benefits of Fintech?
Fintech can benefit both consumers and businesses in a number of ways, including.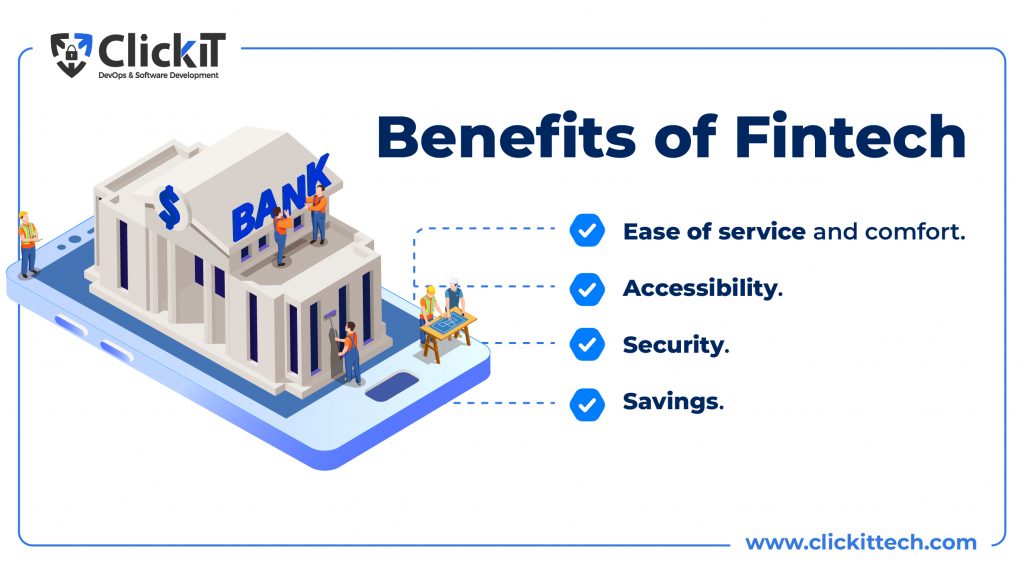 Ease of service and comfort: Through fintech, you can pay your bills, make direct deposits, encourage bank transfers, or find the answer to your question immediately through chatbot technology.
Accessibility: Fintech provides credentials to people living in isolated areas or who have disabilities. Now, they can quickly opt for financial transactions and services that were not offered earlier.
Security: Fintech provides additional security actions to save people from defrauding activity.
Savings: Fintech apps enable users to save money by linking their credit card accounts with their bank accounts.
What are Traditional Banks?
Banks are typically licensed financial organizations that accept deposits, grant loans, and offer other financial services to customers. It includes safe deposits, money management, and currency exchange. They can further classify into corporate banks, retail banks, and investment banks. However, bank operations are limited due to the need to visit bank branches.
Government and central bank regulations are usually in control of banks. Therefore, this leads to the blocking of capital and low profitability. Fintech is now targeting the limitations of banks by delivering outstanding services to customers.
What are the Benefits of Banks?
The bank has the following advantages including:
Being able to visit a nearby branch and speak with a staff member.
Positive impact on client and suppliers perceptions which develops trust.
Personalized service.
Making cash payments and withdrawals easier.
More financial products are accessible.
Fintech vs. Banks: Technological Approach
How is fintech supposed to be different from banks? Here are some of the main differences
FinTech emphasis on leveraging technology.
Fintech and Banks are both registered to supply financial services to consumers. In other words, fintech companies are supposed to be competitors to conventional banks. The distinction is that fintech companies use new technology, while traditional banks are hesitant due to their outdated legacy infrastructure. Such legacy systems are limited in their ability to establish an interface with another system, thus slowing down the whole process.
Fintech, in contrast, is unaffected by these legacy systems. Instead, it leverages the latest technologies, such as
cloud computing
machine learning
artificial intelligence
big data
These technologies enable fintech firms to provide a frictionless experience to consumers when compared to the tools offered by traditional banking institutions.
Fintech offers a wide range of digital applications.
Today, various categories of fintech companies are available. It ranges from digital platforms and mobile banking applications to blockchain-based cryptocurrencies. They are a digital-first approach to providing financial services that offer
Secure payments,
Greater convenience,
And personalized service to consumers.
In contrast, what are banks' challenges to adopting new technologies? Bellow are the encounters that banks need to overcome to be a part of the wide range of digital applications.
Reluctance to change legacy culture mindset.
Employees are incompetent in using new technology.
Cost and availability for the purchase of new equipment and technology.
The speed of technology is making it very difficult to stay up.
The strategy for new technology implementation is ineffective or nonexistent.
Fintech is Agile and adaptable to technological advancements.
Fintech is Agile and adaptable to technological advancements, making it well-suited for remote work environments.
Post-pandemic, there has been a sudden growth in the banking and fintech sector. Traditional banks began offering online credit card services and other utility services, while fintechs emerged around the world. Nowadays, both firms need to adopt authentic technology faster than ever while ensuring quality and safety.
Agile is a very effective approach to developing software for its ability to integrate with existing systems. Moreover, fintech is known for its agile behavior that quickly adapts to technological advancements.
In contrast, traditional banks rely on physical branches and personal interactions between customers and bank staff members. Digital banks challenge this model by offering financial services online and eliminating physical branches. As a result, traditional banks are being forced to strike a balance between traditional and digital infrastructure.
Fintech vs. Banks: Customer Experience
Fintech focuses on a flawless and user-friendly experience
Fintechs prioritize consistent and user-friendly frameworks that provide simple, easy-to-use access to financial services.
The main highlight is to build a platform that would be easy and simple for your customers, preventing any single point of failure. It also confirms that your app or platform is optimized for different screen sizes, no matter how old or new the smartphone is.
On the other hand, banks improve digital offerings by providing 'mobile banking'. This offers services such as account balance inquiries, money transfers, payment of bills, and conducting transactions through the Internet and mobile phones. Said digital tools are helpful, but they pale and still have limitations compared to the framework adopted by fintech firms.
Convenient and accessible financial services
Financial services are today more convenient, accessible, efficient, and affordable than ever before. Thanks to the development of digital platforms and advancements, fintech transforms the financial services market network and develops new prospects for businesses and consumers.
In traditional banking, customers have to follow red tape (bureaucracy) to set up and maintain their banking accounts. This situation is exposed with activities like:
Paperwork (filling out forms to provide personal details)
Personal visit to the nearest bank branches in person (for any particular banking services)
Pay slips
Even though they are designed to help keep everyone on track, bureaucracies are often criticized for being clumsy and emphasizing process and policy over efficiency. Bureaucracies aren't going away, no matter how you feel about them-positive or negative. They are a part of the process of many banks.
Fintech based on personalized solutions through data-driven insights
Data is essential for fintech companies as it allows them to gain insights into customer behavior & preferences, detect and prevent fraud, and monitor & mitigate risk. Furthermore, data analytics is necessary for fintech companies to remain competitive in a dynamic environment.
Fortunately, data analytics explores both structured and unstructured data from various sources. This includes transaction data and customer profiles so that fintech companies can better understand their customers and offer tailored services and products.
Conversely, how are banks sensitive to potential gaps in meeting customer expectations?
Check out the following reasons:
Not serving personalized recommendations and services based on individual needs and preferences.
Painful online banking platform while doing transactions due to some errors or server issues.
Not user-friendly interfaces
No regular updates to improve the digital banking experience etc.
Read our blog on how to build a Fintech app.
Fintech vs. Banks: Product Range
Fintech expertise in specific areas of finance
Fintech is a business technology model that innovates in the financial sector to improve its use and delivery of financial services to customers. Its core specialization in certain areas of finance covers:
Digital banking
Payment
Trading & Cryptocurrency
Insurance
Deposit & lending
Capital raising
These specific areas can bounce the following:
Disrupt the present industry structure and boundaries
Establish a strategic mediation facility
revolutionize the way companies generate and deliver products and services
Provide significant privacy protection
Law Enforcement & Regulation Challenge
Create new avenues for entrepreneurship
Plant the seeds of inclusive Growth
Robo-advisors, digital payments, peer-to-peer (P2P) lending applications, investment apps, and crypto apps are instances of fintech applications. Anyone with a smartphone can download an app and get professional investment guidance with minimal human involvement and surprisingly low fees.
Fintechs are increasingly considering expanding into broader financial services in order to unbundle offerings to firms and generate new markets for them.
On the other hand, a bank or financial organization provides products and services to its customers. It offers a wide range of financial products & services, including:
Checking current and savings accounts
Credit and debit cards
Loans, such as mortgages & auto loans
Investment outcomes such as mutual funds and stocks
Insurance products
Online and mobile banking services
Foreign currency exchange
Wire transfer and direct deposit services
These products and services help customers to manage their money and reach their financial plans.
Potential partnerships with fintech companies for innovation
Banks are currently embracing Fintech technologies to improve the user experience and fulfill the customer's technological needs. Developing a sector for the digital future by combining innovation (fintech) and trust (banks) is a win-win situation. In addition, the partnership would assist banks in regaining skills they had lost earlier and acquiring new skills.
The following are the most often cited reasons for the best tech companies to partner with fintech.
Growth in loan volume and loan productivity
Development of new product
Enhancing deposit account opening productivity
Of course, these collaborations are not always successful and might result in financial and time losses. But one thing is sure, collaborating with fintech gives access to innovative technologies, faster and more advanced innovations.

Fintech vs. Banks: Regulatory Environment
Fintechs need regulatory attention due to rapid growth
The rapid development of fintech services and the increasing use of technologies also bring risks. Fintech companies do not have specific regulations. That is one of the most important reasons why huge fintech startups are starting to emerge.
Since they do not follow strict guidelines, startups are free to make changes in their business. Therefore, it is easy to adapt to the needs of their customers and provide customized solutions. This is actually a risk too.
One of the main regulatory challenges for fintech is keeping up with Know-Your-Customer and Anti-Money-Laundering regulations. Fintechs must comply with these rules to protect consumer and data privacy and prevent money laundering.
Several regulatory authorities have embraced a revived 'regulatory sandbox' model to protect customer privacy. It is a collaboration between fintech and regulators that allows eligible applicants to test their technology-enabled financial application for a specified period.
Sandboxes are characterized by providing regulatory guidance and play an important role in promoting entrepreneurial and innovative activity among Fintechs.
Bank regulation is a comprehensive regulatory framework aimed at promoting safe and well-managed banking. Its primary objective is to safeguard consumers' data, assure the financial system's serenity, and prevent monetary crime. In addition, it emphasizes considerations of systemic importance and stability by ensuring customers have access to information about their rights and choices.
For example, regulations may include
Ban any fee or limit the interest rates that banks can charge on loans.
Promoting competition that keeps prices low for consumers and fostering innovation in the banking sector.
Furthermore, bank regulators also monitor the activities of banks and enforce regulatory compliance. By doing so, bank regulators guarantee that banks operate safely and well and that consumers are protected from fraud and abuse.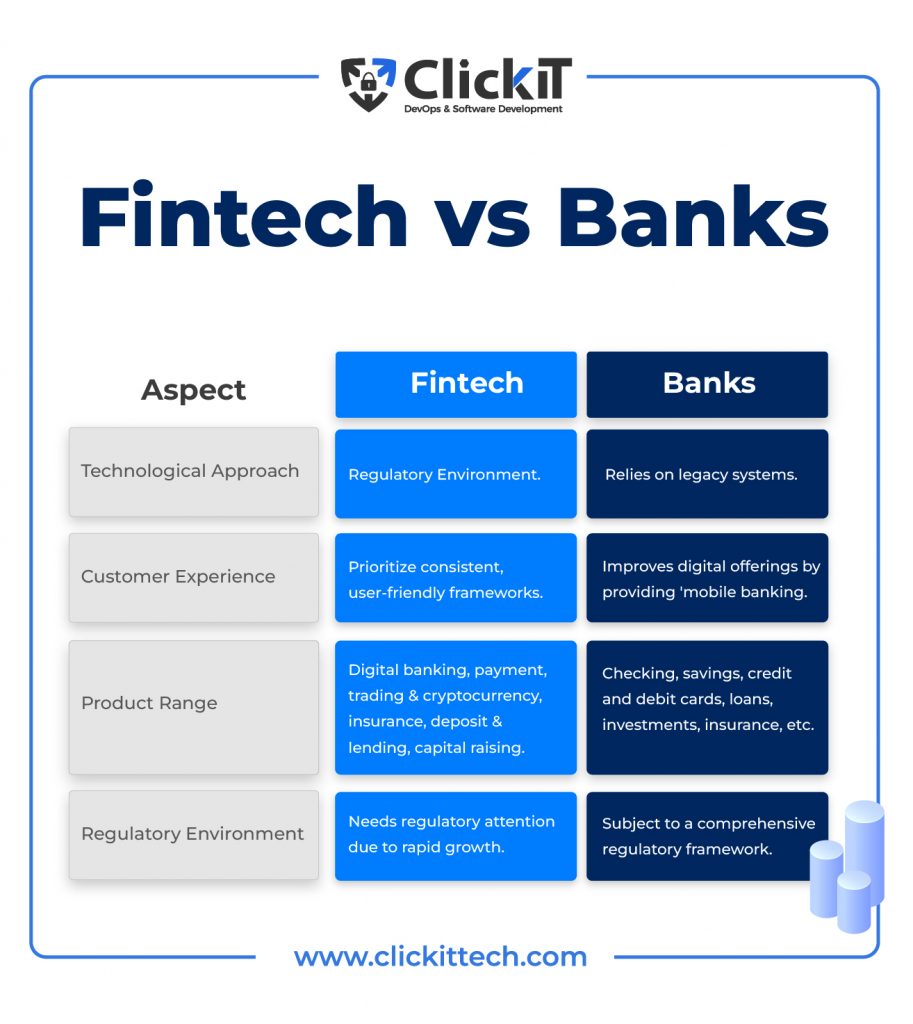 How Fintech and Traditional Banks are Working Together
Both Fintech vs. Banks firms acts as financial intermediaries. Banks have to make significant changes to stay in the present scenario and meet modern customers. However, when it comes to fintech, users can access many advanced features.
If both financial industries- fintech and bank cooperates, the customers can access innovative fintech applications and traditional bank services.
Here are a few extra benefits.
It will build trust if both are partnered and regulated under similar legal firms.
It will create a perfect financial system if they both collaborate. As banks have enormous monetary deposits, they will be a great source for banks.
The entire financial system can revolutionize with the help of the latest technologies that fintech brings to banking.
How does ClickIT Support your Fintech?
ClickIT is a leading provider of software development in Latin America. It offers comprehensive services in web development, mobile apps, and product design. In addition, the business has won awards for its exceptional services and outstanding work.
Their proficiency in developing Fintech applications is unmatched. It has numerous advantages, including the following:
It provides an affordable and cost-effective solution without compromising on its quality.
They specialize in migrating on-site workloads to the cloud.
Skilled teams have a solid understanding of their project, which enables them to implement solutions that meet customer needs.
Deliver highly scalable products on time.
Advanced security recommendations.
Conclusion
As seen in this article, deciding between Banks and Fintech is difficult. It's tough to say, as both systems have substantial advantages. Yet, the world is technologically changing and updating on a daily basis, with new technologies entering the market.
Fintech has arisen as the best choice available in the market. It enables people to access all financial facilities through their smartphones anytime and anywhere.
Ultimately, the "better" option depends on your specific requirements, preferences, and the specific services you need. Some individuals may find fintech more suitable due to its convenience and innovation, while others may prefer the familiarity and comprehensive services of traditional banks.
Visit ClickIT to develop your Fintech application with us.

FAQs
How are the bank's online banking tools different from fintech platforms?
Many fintech platforms offer a lean operational model that defines fintech startups and provides customized financial solutions as per the needs of their customers, which is not allowed in banks.


Will fintech substitute traditional financial organizations?
Banks are likely to adapt to these by improving their customer experience and offering services such as remote account opening and artificial intelligence that work with legacy infrastructure.

How does machine learning influence the banking approach?
This can save banks and fintech providers money and time while controlling scams and cyber attacks. The fintech industry uses machine learning in a number of ways, including preventing cyber attacks, stock/investment data analysis, chatbots-based client service, and stopping financial fraud.
What is the future of Fintech?
Fintech, now accounting for only a 2% share of international financial services income, is calculated to generate $1.5 trillion in revenue yearly by 2030.