Our team is always willing to face new challenges, and this time was no exception. ClickIT supported Card-Dynamics by building a PCI platform on AWS.
"Thanks to ClickIT, we have been able to advance the audit date by a month," said Antonio Carbonell Piñeiro, CTO of Card Dynamic.
Card-Dynamics is a B2B platform that connects banks with e-commerce to update payment methods and create new users in merchants with verified banking information.
They discovered us through our video AWS Architecture of PCI Compliance for a Fintech Web Application.
We had the opportunity to support them by building a PCI platform on AWS since our team has the necessary knowledge they needed, such as; Continuous Integration/Continuous Delivery models, Container Orchestration, Infrastructure as code, Server provisioning, Cloud monitoring, Cloud security, and PCI Compliance.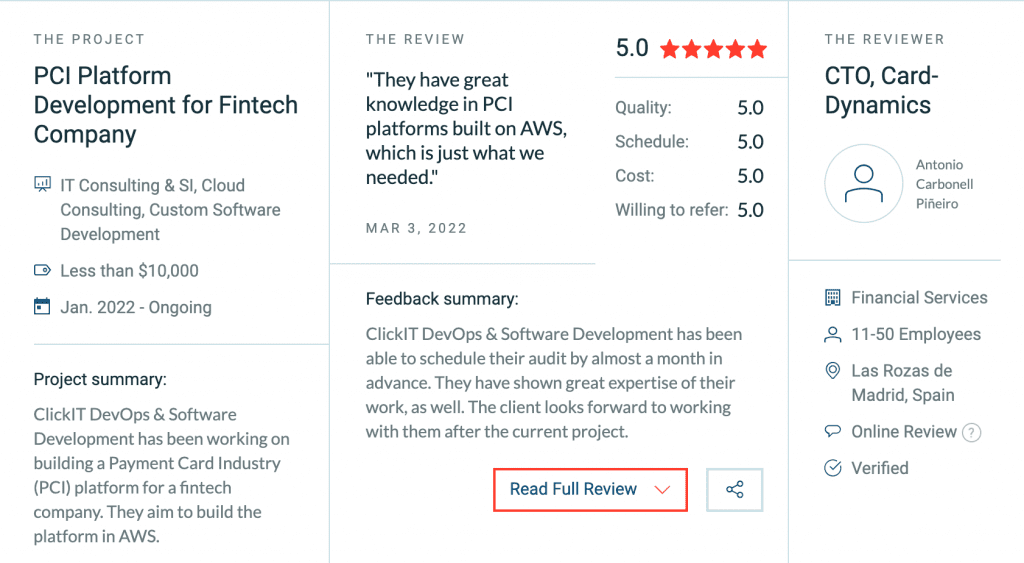 One of our DevOps Engineer provide them consulting in these activities:
Install and maintain Firewall
Delete default settings
Protect card and user information (if applicable)
Encrypt all information in transit
Update antivirus software regularly (service and threat database)
Deployment of secure applications and systems
Restrict owner information as necessary
Assign access identification by user
Restrict physical access to information (DB must not be public)
Network monitoring
Testing of systems and processes
Creation and maintenance of policies and documentation
Our fellow Antonio Carbonell Piñeiro shared that thanks to the support of ClickIT they were able to advance the date of their audit by a month as one of the outcomes of this collaboration. They were also pretty satisfied with the workflow of the communication through Slack, having weekly follow-up meetings with the team.
We are thrilled with the result of this PCI Platform on AWS for project, every word our clients express is very refreshing and a boost for us to keep doing a good job, thank you clickers, and thank you Card-Dynamics.