DevOps is leading your company way to efficiency.
DevOps is a top trending methodology/philosophy nowadays, and many business owners strive for including it in their development, service and management particular processes. Despite this, few of them know the real DevOps advantages not only at a technical level but also on general business activity; in the present article, we will explain some of those business-level advantages. Download our FREE BROCHURE "Bridge your company's gap with DevOps".
Table of contents
With DevOps you can automate your application and business processes to decrease time to market, increase efficiency and reduce your IT costs.
What are the DevOps advantages in overall business operations?
DEVOPS ADVANTAGE 1: It involves multidisciplinary teams. DevOps is based on collaboration.
Development, System Administration, Quality Assurance and Management members work together either under the same roof or not, allowing to save valuable time for feedback analysis and troubleshooting.
Some of the most frequent problems when working with an offshore team is to obtain the results until the next day through a different time zone. There are different ways to outsource a DevOps team, it can be whether offshore or nearshore/onshore depending on your needs.
Plus this, constant communication about progress and results among team members and customer is a fundamental principle of DevOps methodology. This communication generates a work environment in which everyone is always informed about issues, solutions and improvement opportunities on all areas inside the team; all of this enables the team to be more responsive and capable in case of any problem.
OUR EXPERIENCE TELLS YOU:
Each 3-4 months, organize meetings with all your team for discussing failures, experiences, successes, etc. from your projects. Identify your weak spots and prepare Improvement Plans accordingly, this way you will create a work environment focused on continuous improvement in all areas.
DEVOPS ADVANTAGE 2: It provides agility to overall business deliveries.
Since DevOps is based on iterative and continuous deliveries, it significantly helps to fulfill customer's most critical requirements according to priorities, at the same time that it allows the customer to provide the proper feedback for each delivery faster and more precise for all team. This way customers feel really attended and satisfied with their particular requirements for each delivery.
OUR EXPERIENCE TELLS YOU:
Implement DevOps along with Agile methodologies for your projects just like SCRUM and KANBAN, which are based on iterative releases, testing and deployment; they provide a great way to keep delivering new features for your customers and keep them satisfied.
DEVOPS ADVANTAGE 3: Continuous improvement is the core.
When working over DevOps, teams always look for those processes, tools, workflows, etc., that can be improved to achieve better and faster deliveries, generating a positive culture on which there's always something inside the current methodology that can be improved or enhanced for getting customer satisfaction.
OUR EXPERIENCE TELLS YOU:
Each 3-4 months, organize meetings with all your team for discussing failures, experiences, successes, etc. from your projects. Identify your weak spots and prepare Improvement Plans accordingly, this way you will create a work environment focused on continuous improvement in all areas.
DEVOPS ADVANTAGE 4: DevOps is focused on goals and not on processes.
When working over DevOps approaches, teams are interested in satisfying customer needs in the best way possible at the same time they adapt to customer's particular processes and methodologies, which allows teams to be more responsive to overall changes on work environment and customer to be more confident on activities being done.
OUR EXPERIENCE TELLS YOU:
Make your internal processes dynamic and open to change. Adapt your processes on your customers' and create an organizational culture based on customer satisfaction and not on processes which may be hard to follow. This will be valued by your customer and will make your team more responsive and prepared for changing work environments.
But what are those DevOps advantages that will help my business to expand and increase earnings?
Continuous Integration and Delivery = Faster feature or functionality release = Faster earnings
ClickIT's recommended tool is: Jenkins, since it offers much simplicity to integrate on your approaches as well as a wide variety of plugins such as Slack monitoring, Github integration, etc., which will make you work a lot easier.
Highly available applications or websites = Permanent presence/influence on the internet = More business opportunities
ClickIT's recommended stack is: DOCKER + AWS ECR + AWS ECS, because it offers you the possibility to easily create, launch and manage containers, compared to other providers, as well as the possibility to increase automation level of container launching and destroying by using another AWS solutions like Fargate and CloudFormation.
Automated IaaS = Permanent application/website capacity to attend demand = Customer confidence in your business
ClickIT's recommended tool is: Terraform, since it offers a lot of portability, allowing you to adapt it on AWS, MS Azure, Google Cloud and more cloud providers using the same language.
Constant monitoring on development /integration /building /testing /deploying /operation processes = Better capacity to attend to emergencies = Lower risk for losing business or customers
ClickIT's recommended tool is: New Relic, because it offers you the possibility to keep full vision on most time consuming application processes, transactions, status on external services, database monitoring, among other big variety of services that will ensure you are always aware on your app's performance at all time.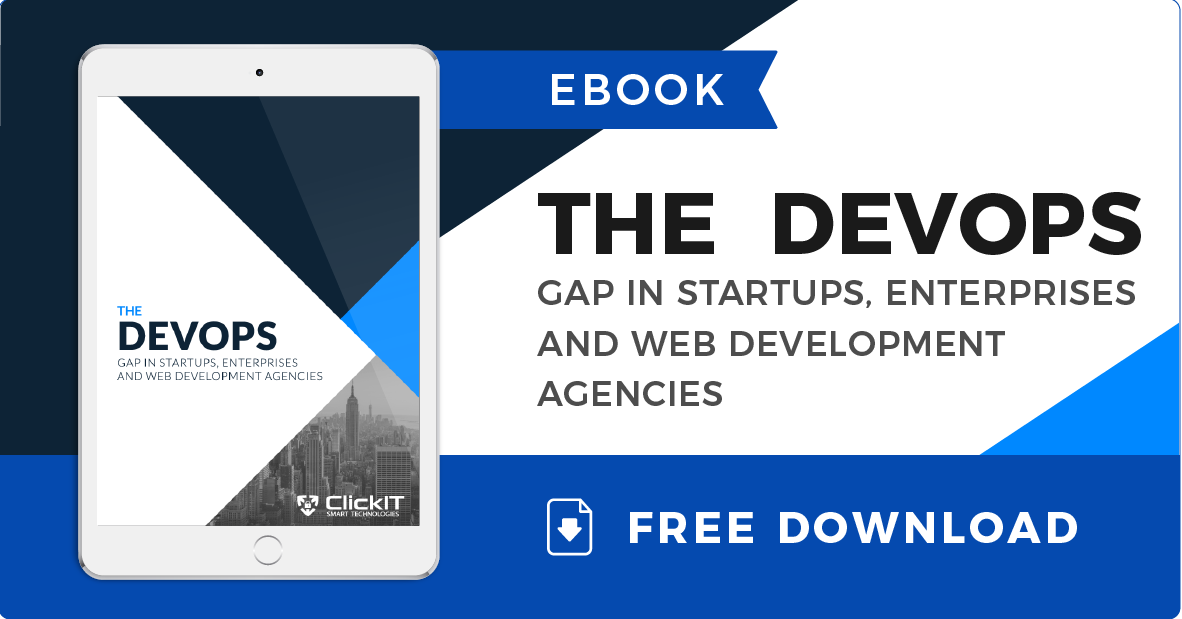 Who should be interested in getting the best from DevOps advantages?
C-level executives who are looking for better ways to run their digital businesses and interested in being on top digital trends
Startups which want to expand their presence in the internet market quickly.
Digital businesses who want to modernize their current processes and stay up to date on customer growing demands.
Digital businesses who require high availability, high response capacity for emergencies and a constant need for increasing their cloud resources according to the variable needs of its customers.
DevOps agencies and digital businesses with a low tolerance for failure and risk on their online businesses.
DevOps agencies who are constantly releasing new features on their online applications/websites for their customers.
DevOps agencies focused on saving costs from their development/integration/deployment processes.
Also, you can get more DevOps advantages for your digital business by getting onboard on new trends like:
1. Serverless approaches
This is not a new concept on IT, but it has recently expanded its presence on digital companies plans given that it removes the necessity of having a full-time system administrator looking for all processes inside server infrastructure, and therefore it allows businesses to save costs on human resources and save valuable effort.
ClickIT's recommended tool is: AWS API GATEWAY & AWS Lambda.
2. Define and keep a full track of Key Performance Indicators
An essential part of opting for new approaches on your business is to measure the results and improvements they have brought after implementation; businesses can keep effective track on this by defining precise Key Performance Indicators which give full vision over DevOps benefits for Directors and Managers.
QUICK TIP:
Always keep constant monitoring over response time, average real delivery time, delivery time deviations, time due to rework, time/costs losts on projects, among the other Key Performance Indicators you consider valuable for your company. This can be done by keeping simple daily registers made by every manager on projects; these results can be shared by your management team on weekly meetings where you can identify which are your weak spots and process gaps in order to determine the corrective actions for them.
3. Microservices architecture
This kind of approach, allows digital companies to provide high availability and stability to their applications. This is because all the parts of applications (database, backend, frontend, etc.) are independent and, if one of those fails, it doesn't imply that the whole app goes down, instead of that, the other parts will continue working in the meantime the affected component is restored. High availability means continuous presence on the market and more profits, both of the core elements for small business packaging ideas.
ClickIT's recomended tool is: Docker + AWS ECR + ECS, you can get every app's component such as frontend, backend, session management, etc. into separate containers in order to create a microservices approach for your application and ensure it has high availability.
Now you know some Devops Benefits
After learning some DevOps advantages that you can get not only for improving your internal technical processes but also for increasing customer satisfaction and profits perhaps you are wondering Where should I start?, What should I do first?; if this is your particular case, then you should contact us, here on ClickIT Smart Technologies we have significant experience on generating the best DevOps approaches for customers from all over the world, and we will surely help you enlighten your path towards DevOps.