Table of contents
What does Outsourcing your IT Department means?
What should I consider before Outsourcing IT Department?
Roles in an IT Department you can Outsource
FAQs
What does Outsourcing your IT Department means?
When enterprises and companies subcontract their IT personnel to a third-party company, the process is known as Outsourcing IT. More companies are choosing this business model as it offers benefits like cost-effective solutions, a large talent pool, and an increase in productivity.
Let's give an example: You require a Load balancer Setup for your website or application since its traffic is growing considerably and you are ready to expand your business globally. You don't want your customers to leave because that will mean a significant loss of revenue. Your requirements are:

Quality
Excellent Support
Budget Friendly
Efficient


So you want a fully capable team of IT administrators to start managing your cloud infrastructure. Your first idea might be to hire personnel or even build a whole IT department. You'll soon realize this is a huge task that requires a great number of your company's resources. Beyond that, it could take a long time to find the right team for your project.
This is where you should consider an Outsourcing IT Department, as this option can provide you with a more cost-friendly solution for your project. This also can reassure you that you'll get great results by hiring a professional team with the right abilities and technology to perform the tasks your actual team might not be able to.
Read our blog for a full comparison between In-house vs. Outsourcing.
What should I consider before Outsourcing IT Department?
You should consider this when hiring an outsourcing team:
Understand the Outsourcing Model your business needs.
The outsourcing model you choose must cover your project's needs. Whether we're talking about a specific budget, communication process, or cultural affinity. The top outsourcing models include onshore, nearshore, and offshore. 

Get the free ebook to learn more about Nearshore and other Outsourcing Models; click here.



Determine the technical expertise you're looking for.
Your outsourcing partner should be certified in crucial areas of your interest, such as the technologies your application is running in or the cloud that hosts it. 

Hire our dedicated DevOps Engineers.


Look for references and reviews.
Request feedback from former and current clients, look for reviews from trusted sources like Clutch, and ask for samples of previous projects.


Inspect communication and client management systems.
Evaluate with your outsourcing provider the working hours you'll share and agree on which communication platforms you'll use to follow up on the project. Especially if you'll be in different time zones.


Check infrastructure and technologies.
Your outsourcing partner should assist your company's needs and requirements with the right technology and infrastructure.

For example, if you're developing a SaaS application, your team must choose the perfect SaaS tech stack.


Calculate costs and define the budget.
It must be a combined effort to determine the budget you'll assign to your project and the actions your team will implement to optimize every resource available. This is a perfect example of how important it is to establish a great communication process with your outsourcing partner.


Evaluate your team.
Besides comparing their technical knowledge, you should constantly evaluate soft skills, values, culture, and discipline when working with an outsourced team. To make sure they align with your company in every essential aspect.

Read our blog on Remote Collaboration to learn more about the best practices for your team.


Another important aspect to consider before you decide to Outsource your IT Department is the list of cons and pros.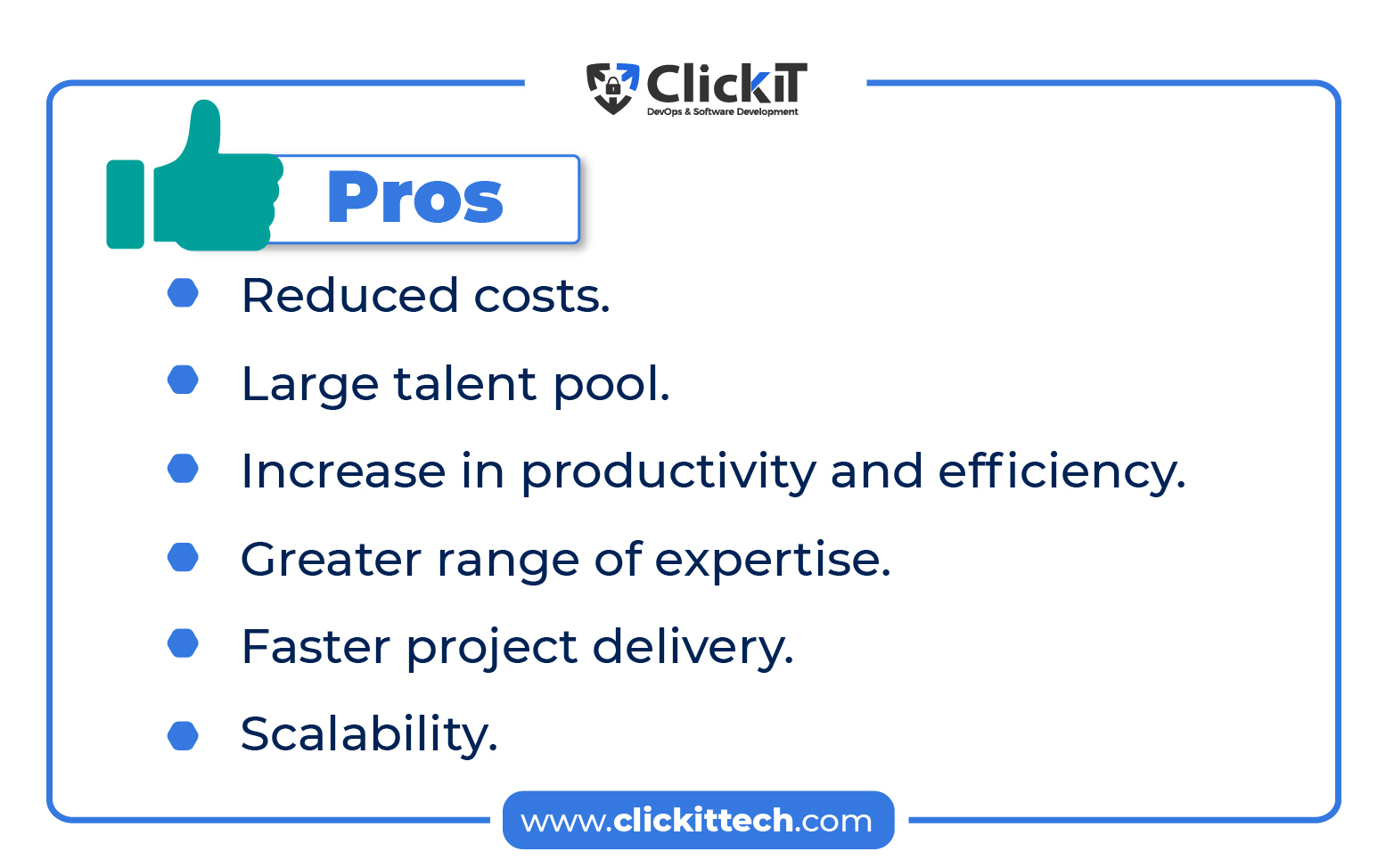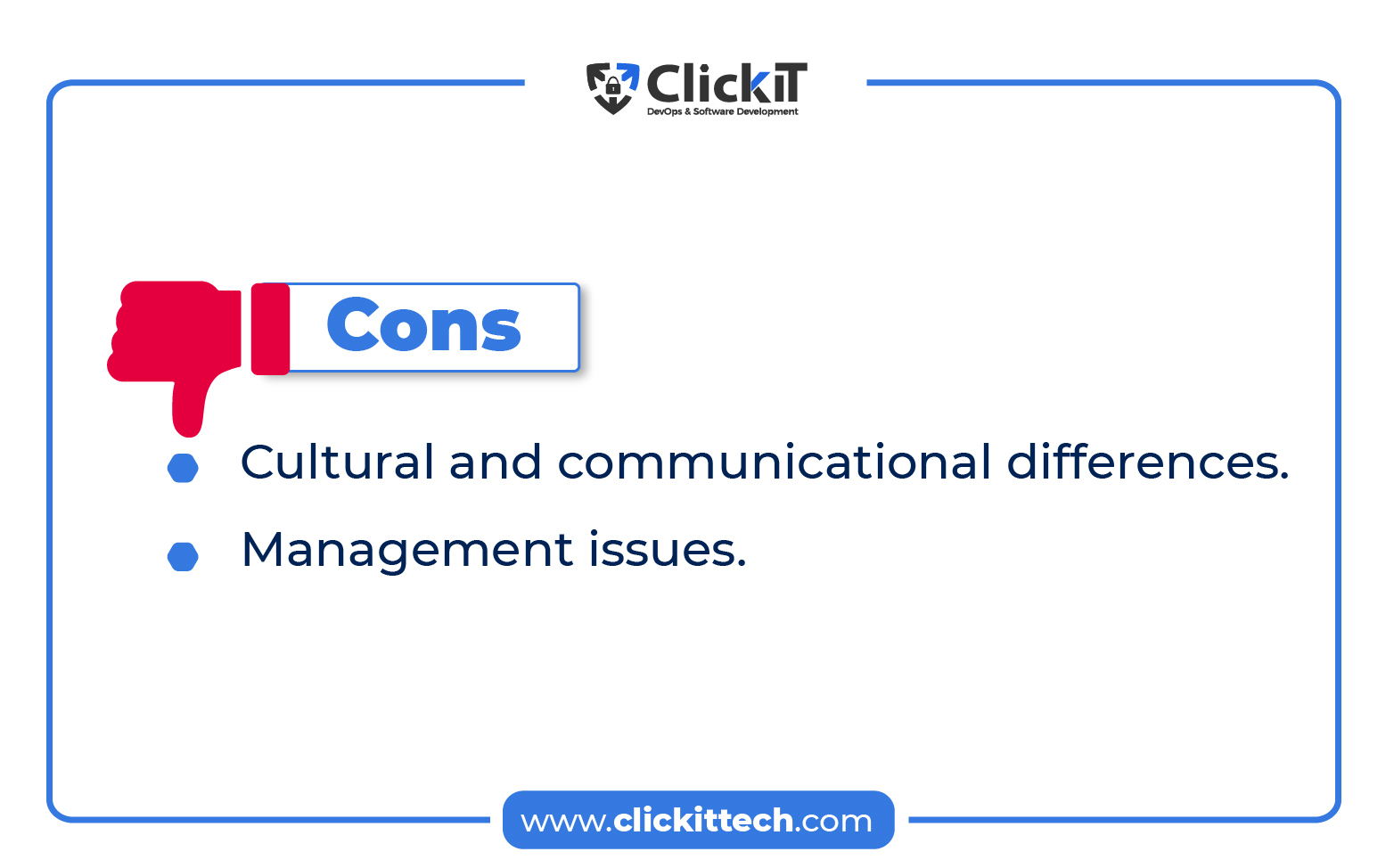 Roles in an IT Department you can Outsource
All IT processes that can be handled remotely can be outsourced and developed by a professional team.
These are some roles that apply for an Outsourcing IT Department:
Junior, Middle, and Senior DevOps
Business analyst
Architect
Project manager
Junior, Middle, Senior, and Lead Developer
Junior, Middle, and Senior QA
Junior, Middle, and Senior UX/UI Designer
Graphic designer

Conclusion
But before you choose Outsourcing IT Department, there are some important factors to consider. Your project's specifications, budget, and deadline are some of the most important aspects to evaluate. Also, remember the tech stack and expertise you need to determine if an Outsourcing IT Department can cover them for you.
If you want to see how an Outsourcing IT Department can directly affect your business, feel free to contact our ClickIT team today. We provide full-time support services that adapt to your tech needs. Our agile team also includes leading IT experts in application migration in the cloud, web security, web development, IT automation, clustering, scalability, and nearshore support.
FAQs
What is Outsourcing?
Outsourcing is the process of engaging a non-affiliated third party to execute certain IT activities for a firm. Outsourcing IT employs an outside organization's established personnel to accomplish activities and an external organization's resources for services and producing products.

Why choose Outsourcing?
When you decide to outsource, it means you automatically have access to a broader talent pool with greater expertise than you could find close to you. Besides, you can save time and money by outsourcing the work and focusing on familiar tasks.
What IT services can you outsource? 
All IT processes that can be handled remotely can be outsourced. IT functions commonly outsourced include Data center operations, development and maintenance of websites and apps, network management, technical support, data security and recovery, and telecommunication.