Most of the people want to have a website, but having one means managing a server so they think that managing it can be painful and costly and they fear about it. Let me tell you that there are Graphical User Interfaces (GUI's) that can help you with the management of a Linux server with just installing them. You can do as much as you want on your server with just a few clicks and all of this in your web browser, no need to access the server command line.
Here are a few examples:
WHM
Web Host Manager, designed for system administrators providing full control of the server as if you were logged into the command line. It allows to web hosting providers to add unlimited hosting accounts, new technologies, applications, security, etc.
WHM allows to the host provider basically the same functions as it was a cPanel but with full system access to it. Credentials for authentication, support sections, security, server configurations, everything for their clients. They can set up different hosting plans, according to the client needs and server requirements for everyone. Set reseller plans is very simple as setting a cPanel account giving certain privileges to them.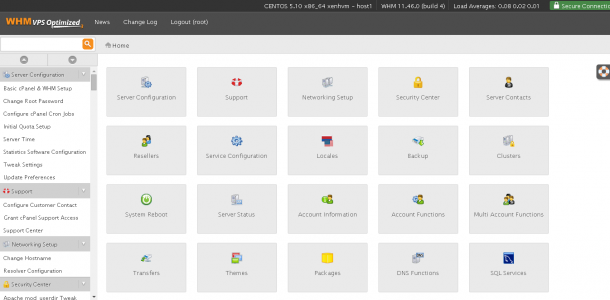 This image shows most of the WHM interface
cPanel
cPanel is a user interface that any person or website owner can use in order to make and manage their website. It is mostly used and provided by Web hosting companies to help website owners perform essential tasks quickly and easily and control every aspect of their websites.
With cPanel you can manage users, passwords, subdomains, upload files, create FTP users, emails, install shopping carts, create and delete databases,protect your directories, backups, etc.Pretty much you can install any software you need and/or your web hosting can provide.
Cpanel Domain Owner Interface
Virtualmin
Virtualmin is a powerful and flexible free web hosting control panel for Linux a-like systems based on Open Source web-based systems management. There you can manage your virtual domains, mailboxes, databases, applications, and the entire Linux server, from one comprehensive and easy interface.
There are also paid versions of Virtualmin depending on the number of domains that you need, from 10 to unlimited domains and like every GUI available, it counts with support.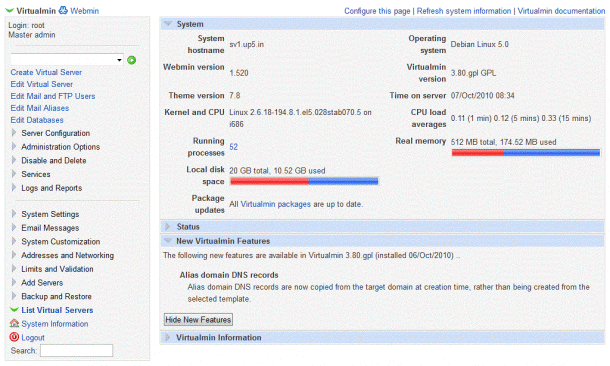 Virtualmin User interface
Webmin
Webmin is an Open Source web-based interface for system administration. You can use it with any web browser, you can setup user accounts, Apache, DNS, file sharing and much more. It also removes the manual edition of the Linux a-like configuration of servers and allows you to manage a system from the console or remotely.
It works like cPanel, you do not have full access to the server specs, you can't control everything but your own folder/domain in which you are. You can change everything within your rank of permissions but you won't have full access to do anything you want.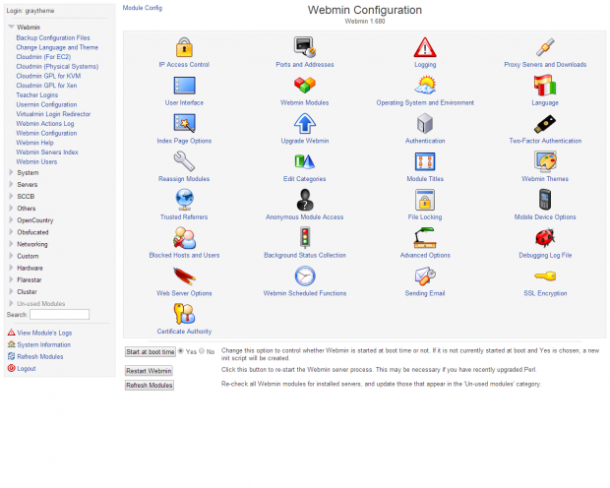 This image shows the OpenSource Webmin Control Panel Interface.
Conclusion
Utilizing user interfaces that allow you to control and manage your server needs are a huge help to website owners that don't know how to use the command line, or for people that do not want to get into troubles with the server needs or anything. You can always find well known hosting providers that will offer you these tools in order to make your experience better and pleasant.
Advantages of using a GUI:
Simple installation process: Installation of these interfaces are very simple and can be installed in a few steps.
Preconfigured Services: After installation, you can find preconfigured services which can help you to start setting up your required environment.
Friendly user interfaces: the interfaces are very simple to understand and start configuring your server as you like.
Automatic processes: With just clicks, you can add users, mails, etc
Easy management of the server(through a web browser): You can access from any browser and configure it without even login into the server.
No command line knowledge required: You don't need any knowledge of the command line since they do your job automatically.
Disadvantages of using a GUI:
Slower response time of the Hosting providers: if you encounter a problem with your configuration, you can always request technical support, which in some cases you will need to wait from 5 minutes to 24 hours for them to reply, depending on the customer service.
Slows the server down: sometimes installing any Web hosting manager system can slow your server down.
License Costs (WHM and cPanel): most likely you need to attain a license to start using them.
Restricted for size: Panels are most meant for websites that fall in the range of small and medium.
Hosting systems Vulnerabilities: Remember these systems can vulnerable as it can prove a security risk to your content due to its time of update process.
If you want encounter any troubles with any of these control panels, ClickIT team is always here, ready to help you ASAP. Our Agile Team also includes leading IT experts in application migration in the cloud, web security, web development, IT automation, clustering, scalability and near-shore support. Contact Us Now!".