Martech on the Cloud
As the marketing technology landscape is continously growing, is important that marketers learn what it takes to be effective. Foremost, it is crucial for marketers and digital agencies to stay up to date with industry trends. Mass personalization, digital content and ad technologies, have transformed Marketing into a practice that involves creating and operating software. The number of platforms and technologies that marketers use nowadays to scale and increase the velocity has exploded, and the benefits of the Cloud are more evident than ever.
Table of contents
Digital Agencies are adopting the Cloud
These days, Digital Agencies have adopted a modest hosting environment either on Cpanel/WHM or as a VPS to build their hosting in a Datacenter. Any of these approaches are becoming obsolete since the AWS Cloud was born. But, why the cloud? What's the thing about the cloud? Why startups, enterprises and digital companies are moving to the cloud?
According to Gartner and its Magic Quadrant for Cloud Infrastructure as a Service (IaaS), Amazon Web Services is the leader in the Cloud Hosting industry. In these terms, we are choosing AWS for many reasons, and surely you have heard about integrating AWS into your websites and SEO strategy, as well as many other worldwide digital agencies that have already implemented it. Therefore it is clear that AWS is the best option to help achieve your digital transformation.
It's just that simple: The Cloud brings a new level of flexibility and velocity on every website or application.
If you are new to AWS, you may know that it has dozens of sophisticated technologies to play with. From an AWS load balancer to an AWS EC2 (Web server running WordPress), every component of AWS needs in-depth knowledge to take advantage of its benefits wisely. This is where, counting with a highly experienced Could Technology Partner, becomes really important to guide you in your journey into AWS.
If you are a digital agency that is willing to adopt the Cloud but don't know the business benefits, use cases and cloud scenarios, download our AWS Cloud Scenarios Ebook. I'm trying to open your mind to all those benefits that an IT partner could provide you. There, we covered some business scenarios and their impact on your Marketing IT strategy.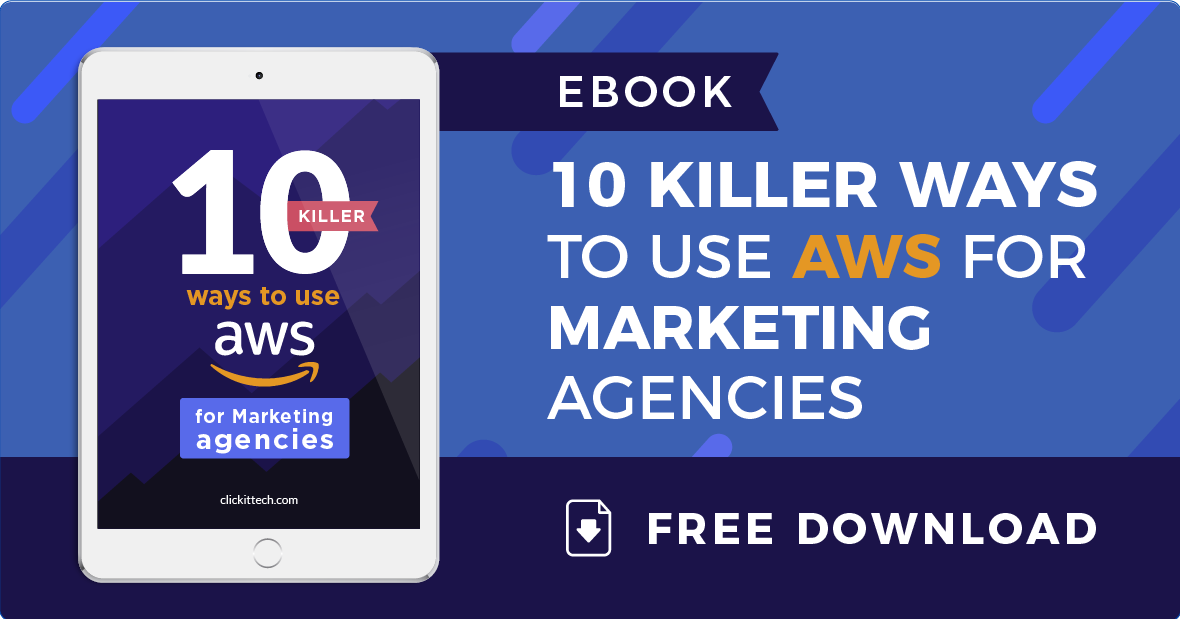 Why should Digital Agencies be interested in AWS Cloud?
Why does the migration of all websites or apps to the cloud matters to a Digital Agency? Well, this is just a part of your digital transformation and should be considered as an essential point of your SEO strategy.
Using AWS can improve your conversion rate and SEO rankings, bringing more visitors and leads.
When your websites and apps are living in the Cloud, you minimize downtimes at the same time that you significantly reduce the time used for deploying code changes. Also, the Cloud provides a major feasibility to increase your overall server/website/app performance. A fast website results in better Google ranking, allowing your revenue to increase in the long-term. A modern and automated infrastructure enables your organization to get focus on innovative products and not on developing your digital assets, which can be potentially delivered by a Cloud Technology Partner.
Additionally, since you are creating different far-reaching marketing product campaigns, it is essential to have your products ready to go global in minutes, so your digital assets can serve and consume traffic from another side of the world without experiencing any data delay or impact on user experience.
Why do you still have a slow website on Cpanel or a conventional Hosting (VPS)?
All agencies are looking for agility, scalability and lean processes. The AWS Cloud is the driver to get this disruptive transformation globally and empower your conversion rates.
If you want to learn about How to migrate WordPress from CPanel to AWS EC2, read our blog here.