How were applications made before, and how should they be made now? In a dynamic but turbulent market, tech companies must adopt comprehensive solutions from a business and technological outlook when building applications. That will be the main topic of this next AWS Webinar 2023.
Building Cloud Native SaaS Applications
This webinar hosted by ClickIT focuses on leveraging the power of Amazon Web Services (AWS) to create Cloud Native software as a service (SaaS) Applications as a fundamental strategy to increase business value and deliver reliable products.
"ClickIT foundations were built on the cloud. Over the ideal that any new business, any new product, can be transformed with the integration of modern services on the cloud, on AWS. And we are committed to keep on helping new business owners to discover and experience all the opportunities that cloud native environments can bring to get their ideas and applications to the highest level", says Juan José Rodríguez, VP of Engineering at ClickIT.
As estimated by Gartner, more than 95% of digital workloads will be deployed on Cloud Native platforms by 2025. So, to join this tech revolution, the key questions are what parts do a cloud native application need, and how to start building it?
ClickIT DevOps and Software Development understands the need to explore new technologies and promote the debate on how to improve app development through a Cloud Native approach. That is why they are pleased to extend an invitation to join the AWS webinar 2023, "Building Cloud Native SaaS Application," scheduled to take place on May 11th.
The webinar will be released during the 5-day event "MasterIT," which will take place from May 8th to 12th. The DevOps company launched the MasterIT week to host a series of conferences, workshops, webinars, challenges, and more. For their collaborators to immerse themselves in an environment of collaboration, sharing, and growth. Current partners, universities, and the local community are also invited.
Speakers and topics
Rahul Kochhar, Sr. Partner Management Solution Architect from AWS, will join this AWS webinar 2023 as a guest speaker. He'll cover the bases of creating a Cloud Native Application successfully, along with Fernando Cabrera, Senior DevOps Engineer from ClickIT.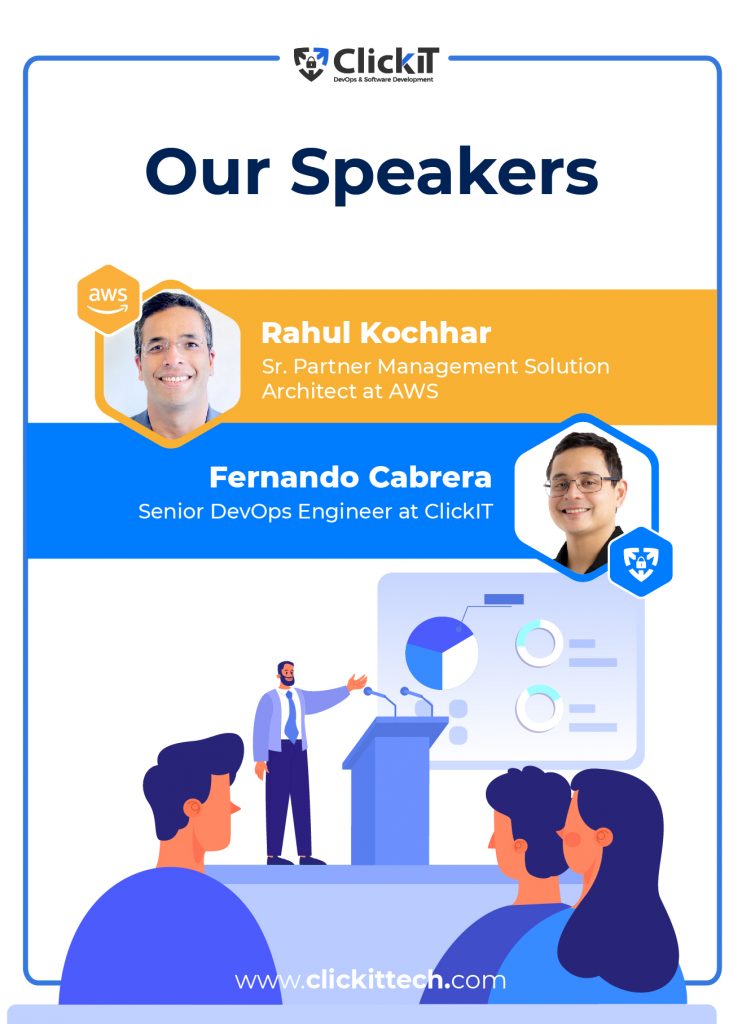 This conference will board relevant topics like how applications were made before and how they are built now. All thanks to the evolution of the cloud. Assistants will also be able to explore the process of building a Cloud Native SaaS application. From what their app needs, to how to maintain it, and the benefits of building it on AWS.
Join ClickIT's team and AWS guest, Rahul Kochhar. On May 11th, 2023, at 3 pm CST. You will find the registration process here.
About ClickIT DevOps and Software Development
ClickIT is a DevOps Services and Software Development provider. As an IT Outsourcing Company in Mexico, we collaborate with over 50 certified AWS engineers.
We employ only "A-Players" for our highly skilled engineering team, to provide end-to-end solutions in North American businesses and industries. Our goal is to partner with you for long-term success.