Reaching the ideal sync between your team and a staff augmentation company can be tricky, but with ClickIT is just perfect.
Recently ClickIT has received a positive review in Clutch from a Web Services Company for being efficient, hardworking, and skilled.
As an industry leader in the IT field, at ClickIT we train our DevOps team to reach the effectiveness of their impressive aptitudes, giving us a pool of qualified developers to select from.
In this collaboration, we provide ongoing DevOps Staff Augmentation for stacks in AWS using CI/CD, understanding the requirements, job posting, and presenting candidates.
Thanks to our nearshore model, same timezone, and culture alignment, the outcomes were enriching for our team and our client.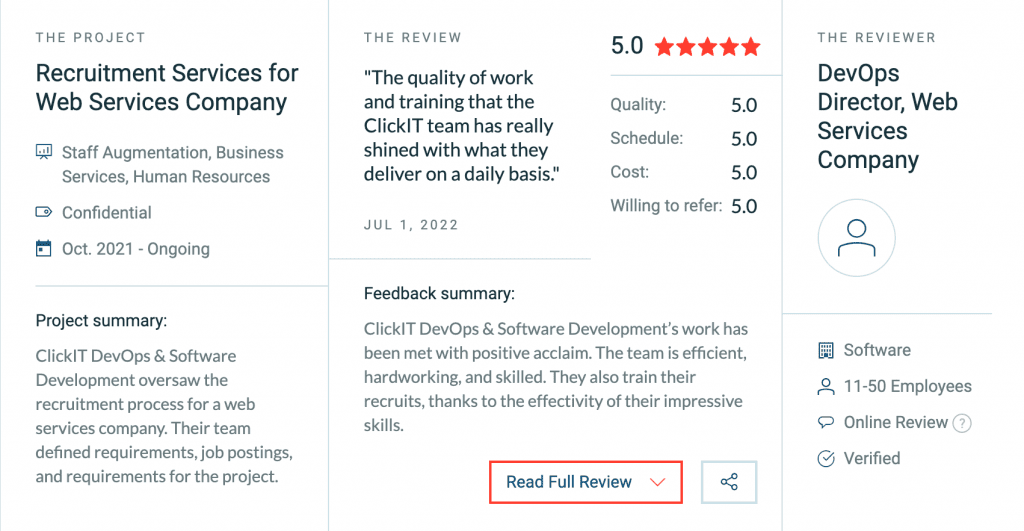 We are proud of our team as the DevOps Director of this Web Services Company shared how impressed he was with the experience and professionalism of our DevOps engineers.
"The quality of work and training that the ClickIT team has really shined with what they deliver on a daily basis."
-DevOps Director.
Thanks to our Clickers for giving their best in each project. Their dedication is visible in every aspect. We also thank our clients for their honest opinions that motivate us to continue the excellent work.
ClickIT as an IT staff augmentation company has a team of dedicated and experienced engineers for your DevOps team. We have the perfect nearshore model for companies looking to fill in the existing gaps.